Do you want to purchase custom tumblers that are distinctive, present elegant surface processing treatments? What are custom tumblers used for? How to design custom tumblers? In this article, KingStar will answer the above questions, striving to facilitate your understanding towards the knowledge about custom tumblers. Keep reading and you will find the answers.
I. What Are Insulated Tumblers
In general, tumblers in the drinkware market can be divided into two types: the one made by stainless steel SUS304 (sometimes SUS316) and the one made by plastics. The former is suitable for holding both piping hot and icy cold drinks while the latter is designed for cold beverages like carbonated soft drinks, lemonade and chilling cocktails. In fact, plastic tumblers are not capable of retaining the heat inside of the tumblers and are thus not insulated tumblers.
An insulated tumbler is often made by stainless steel 18-8 (SUS304), a kind of food grade material that has been widely used in many industries and is eco-friendly. Insulated tumblers equipped with double-walled stainless steel are capable of keeping drinks warm for 4 hours or cold for up to 8 hours.
The big opening of an insulated tumbler offers convenience when it comes to drinking and cleaning, while it may also give you a face wash if used carelessly. Most of the lids of insulated tumblers are not leak-proof so you are not supposed to put them in the bag while on the go. Since insulated tumblers are also perfect for holding cold liquids, it is often the case that most of the tumblers have a straw, which can be made either by stainless steel or plastics. However, a stainless steel straw is better than a plastic one as the former will not impart odors to your favorite drinks and can present to you the authentic flavor of drinks.
Nowadays, insulated tumblers in bulk are designed into fashionable and slender shapes, and with benefits such as portability, versatility and durability, they are also adored by office men & ladies as well as outdoor sports enthusiasts.
II. How Vacuum Insulated Stainless Steel Tumbler Works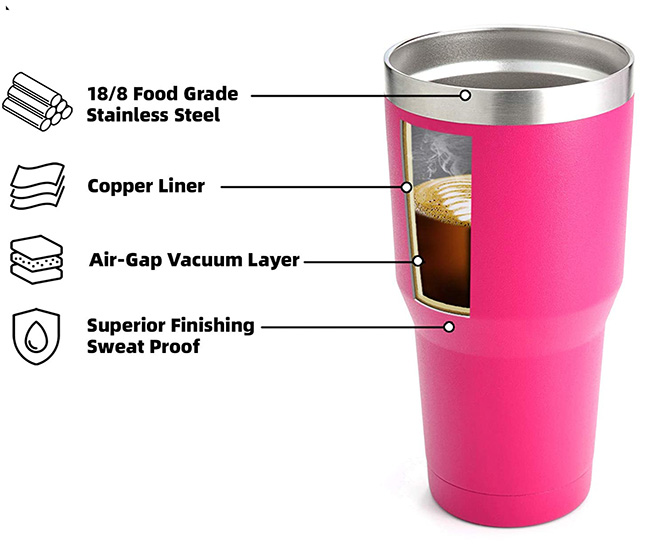 How does a double wall stainless steel tumbler keep water hot for 12 hours or icy cold for 24 hours?
There are three ways of heat transmission:
Radiation
Convection
Transmission
The silver-white surface inside the thermal insulation cup can reflect the radiation of the hot water, the vacuum layer between the double-layer stainless steel walls can block the heat transfer, and the tumbler cap that is not easy to transfer heat can prevent the heat convection.
Copper plating of the inner tank can significantly enhance the heat preservation effect. Please refer to this article for details: Insulated Water Bottle: Thermal Insulation Effect of Copper Plating on the Inner Wall
III. What Companies Manufacture Tumblers?
More than 95% of the world's stainless steel tumblers are manufactured in China, and KingStar is one of the leading vacuum insulated double wall stainless steel tumbler manufacturers.
stainless steel tumbler manufacturing

IV. Custom Color Tumblers
Color plays a crucial role in promoting and selling goods. If the color you customize well matches your tumblers, it is believed that your tumblers will hit the market. Custom color can be realized through an array of surface treatments including spray painting, ceramic coating, powder coating, polish, glitter painting, electroplating and so on.
Different surface treatments will yield different functions and properties. For example, powder coating is often adopted to enhance the durability, anti-rust and anti-scratch performance of tumblers. And spray painting is used to make tumblers much more colorful and appealing.
Before choosing surface treatments to realize various appearance of colors on tumblers, you must pick up one or several colors. So how to choose colors? Is there a convenient way to find and determine the adoption of colors? In fact, a single color "Blue" may have hundreds of variants such as Azure Blue, Little Boy Blue and Cameo Blue. You can hardly tell the difference between two similar blues. And when this happens, you can turn to the Pantone Color Card.
You just have to tell your tumbler suppliers the code number of Pantone Color Card, which has been set and recognized by the entire line. If you do not know the exact number of the color, you should use Pantone's Color Finder function to search for the color you want, which is not time-consuming yet is quite interesting!

Tumblers with elegant and exquisite graphics are also popular among tumbler fans. The unique patterns can make your tumblers stand out, helping obtain better sales. Custom graphic tumblers are realized through a variety of surface treatments (also called decorating techniques). These surface treatments can be mainly classified into two types, namely, coating techniques and printing techniques.
Not every tumbler manufacturer can have complete surface treatment options due to limited equipment and experience. Some tumbler suppliers may be good at using printing options while others may be expert at applying printing techniques.
Luckily, KingStar has been offering custom graphic tumblers for decades and master complete decorating techniques including both printing options and printing options. You can see them in the chart below:
| | |
| --- | --- |
| Coating Options | Printing Options |
| Spray Painting | Silk Screening /Silk Printing |
| Powder Coating | Sublimation Transfer |
| Rubber Coating | Heat Transfer |
| Ceramic Coating | Water Transfer |
| Glitter Painting | Air Transfer |
| Electroplating | Digital Printing |
| Polish | Water Decal |
| | 3D Printing |
VI. Custom Logo Tumblers
Custom logo tumblers, perfect gifts for companies, organizations and holidays, have been pursued by people for years. Logos are helpful when it comes to promoting your brands or branding with other corporations. Different logo processing techniques can transfer a single logo into entirely different shapes and styles. In general, the simple techniques requires less costs while several complicate processing options are comparatively expensive.
If you have your own logos, you can give them to your tumbler supplier in the form of ai or esp. And the next thing you have to do is pick up a kind of processing technique and wait for the final products. But if you do not have a ready-made logo, you can communicate with your custom tumbler distributor working out together. It should be noted that the extra logo design fees shall be borne by yourself. Apart from logos, it is often the case that texts such as monograms are printed on insulated tumblers.
Again, if you want to sell custom logo tumblers, you can turn to a professional custom tumbler supplier who is capable of mastering all the processing techniques about custom logos. The following chart presents to you complete processing options available in KingStar:
| | | |
| --- | --- | --- |
| Logo Printing Options | Engraving and Embossing | Labeling |
| Silk Screening/Silk Printing | Laser Etching/Engraving | Metal Emblem |
| Heat Transfer | Embossing (by Punching or Stamping) | Tag |
| Digital Printing | Debossing (by Punching or Stamping) | |
| 3D Printing | | |
VII. Custom Shape Tumblers
Custom shape tumblers undeniably cost you a lot. If your tumbler business is not so big or faces financial constraints, it would be better for you to seek for other cheaper custom options. However, by molding tumblers of a brand new shape, you can really amaze customers or business partners, which may in turn bring you tremendous benefits!
Since some tumbler manufacturers on a small scale can not offer complicated and time-consuming molding services, you are supposed to find an experienced and reliable custom shape tumblers manufacturer who can assure the quality of custom tumblers. As the biggest wholesale tumbler manufacturer, KingStar shares with you our entire molding options:
Custom design body mold
Custom design cap / tumbler lid tooling
Custom electronic module of smart tumblers

 

water pressure forming mold
plastic injection mold
stretching forming mold
welding mold
This chart clearly shows that different parts of a tumbler require corresponding tooling methods. If you decide to sell tumblers of brand new shapes, you have to prepare a 3D drawing before contacting a tumbler manufacturer, otherwise you may have to first discuss your ideas with suppliers' R&D team who will later offer you a 3D drawing. The 3D drawing fees are often charged by tumblers manufacturers while KingStar is an exception! We can make and adjust FREE 3D drawings until we receive customers' recognition.

VIII. How to Design Custom Shape Tumblers / Custom Mold Tumblers
IX. Custom Shape / Custom Mold Tumbler Processe
6 steps! Turn your product idea into a popular product!
NDA is the abbreviation of Non-Disclosure Agreement. Before you expose any confidential information (such as drawing or design concepts) about your custom water bottle project, we sign NDA with you.
Step 2: Complete Design drawing
Basing your drawing, our engineering team will release DFM (Design For Manufacturing) report and help revise the drawing. If you only have a design concept but without drawings, our R&D team offers design support to complete the drawing.
Step 4: Tooling Fabrication & Sample Approval
Lead time of tooling fabrication is 5 weeks. You will get 3D printed prototype sample to finalize the design, and T1, T2 samples for final approval on your custom mold design bottle tumblers.
After T2 tooling sample approval and receiving deposit payment, we start mass production. The lead time of mass production is 45 days. It'll be even longer for custom design smart water bottle projects.
X. Custom Tumblers Are Excellent for Corporate Gifts
Custom tumblers are excellent for corporate gifts. Here are the reasons. First, corporate gifts should be practical, universal and also attractive. And these features can also be observed in custom tumblers. Insulated tumblers are now welcomed by people such as office men and ladies who use them to get hydrated. Besides, these practical sports gears are also used in outdoor activities like camping, hiking and mountain climbing. Frankly speaking, every one in this green planet can use tumblers to live a healthy drinking life, which proves the universality of this great drinkware.
Second, custom tumblers with company's logos can be used to enhance the cohesion of your company. Once the employees received special custom tumblers from their employers, they might feel a sense of belonging, working much more actively and aggressively.
Last, custom tumblers are also perfect tools for promoting brands. Tumblers are widely used in our daily life, if them are printed with brands' logos or designed into some nice shapes, people will gradually recognize the status of these brands! Even if you are not a tumbler company, you can make full use of tumblers to promote your own company & brand, which is actually an economical advertising.
XI. Custom Tumblers Are Great for Private Label Brands
Custom tumblers in bulk are now increasingly welcomed by private label brands. First, private label brands can purchase practical and unique custom tumblers from tumblers manufacturers at a comparatively low price. These brands do not have to manufacture tumbler themselves yet can design the shape, logo, graphics or packaging according to their own intentions, which is convenient and money-saving. The ingenious idea enables tumblers to become much more attractive and popular.
Second, compared with large companies that have been selling tumblers for years, custom tumblers promoted by private label brands have price advantages at the beginning, which will be noticed by customers. As time goes by, private label brands will gather much more popularity with quality custom tumblers and will even share the same market position in the tumbler line. Again, the price advantages are also exploited by local shops who are willing to replenish stocks in smaller quantities. In contrast, supermarkets prefer to purchase tumblers of famous brands in bulk. Although local shops may buy custom tumblers from you in a small quantity, these shops are large in number, which means there is actually a huge market beneath the sea!
Third, private label brands are now occupying an increasingly large market share. According to an authoritative report, one out of every five products sold at American shops belongs to private label brands. And it is expected that custom tumblers will enjoy a much more promising future when labeled with these private brands.
stainless steel water bottle manufacturing video
Vacuum Insulated Stainless Steel Bottle Tumbler Manufacturing Process
Brief description: Stainless steel arrives at the factory in the form of pines and sheets –> Produce outer bottle and inner bottle –> Assembly and welding –> Vacuuming –> Decorating.
1. Manufacture Outer Bottle
1.1 Pipe cutting: Cut raw material – stainless steel pipe – to the appropriate length.
1.2 Expansion
There are basically two different ways to make stainless steel into the shape of a bottle: water expansion and stretching.
Water Expansion: Stainless steel pipes are raw material for this method. First, stainless steel pipe is put on the water expansion machine. The pipe swells into a bottle shape under the huge pressure of the water. With this method, the bottle formed is with no bottom, so a round stainless steel plate will be welded onto it to form a complete bottle.
Stretch: Stainless steel sheets are raw material for this method. First, the stainless steel sheets are cut into round plates at appropriate size, and then we use a punch press to stretch the stainless steel plate into a cylinder with a bottom.
The outer bottle can be formed by any of these two methods. Water expansion is more popular.
1.3 Separating: If using water expansion process to form outer bottle, then separating process is a must.
1.4 Shaping: Use a large press and follow the "Bottle Shaping Guide" to ensure that the pits, size and shape of the outer bottle meet the requirements.
1.5 Necking: Use a machine to squeeze the upside of the bottle to be a bottle neck.
1.6 Thread Rolling/Making: Threads are made with a special threading machine. Ensure that the thread meets requirements.
1.7 Cleaning: Removes lubricating oil and dust during molding.
1.8 Inspection
2. Manufacture Inner Bottle
2.1 Pipe cutting: Cut raw material – stainless steel pipe – to the appropriate length.
2.2 Expansion. Water expansion or stretch. The inner bottle can be formed by any of these two methods. Water expansion is more popular.
2.3 Separating
2.4 Shaping
2.5 Necking
2.6 Thread Rolling/Making (Normally if outer bottle is designed with thread, there's no thread on inner bottle)
2.7 Cleaning
2.8 Inspection
3. Assembly (Bottle Mouth Matching)
Assemble the inner bottle and the outer bottle together by pressing machine.
4. Bottle Bottom Assembly
Assemble the bottom to the bottle by pressing machine.
5. Assembly (Bottle Mouth Welding)
Weld the inner bottle and outer bottle together to prepare for vacuum insulation. Ensure smoothness, no bumps or solder joints.
6. Assembly (Bottle Bottom Welding)
Weld the outer bottle and the bottle bottom to prepare for vacuum insulation. Ensure smoothness, no bumps or solder joints.
7. Leaking Test
Check whether inner bottle and outer bottle were well welded.
8. Vacuuming
Vacuuming with a vacuum machine.
9. Temperature Test / Insulation Test
Blow hot air into each bottle. If the outside of the bottle is kept cool, it means that the heat from the hot air will not be diverted and the bottle is vacuum insulated. On the contrary, if the bottle gets hot, there is a problem with vacuum insulation.
10. Electrolysis Polishing
Through the interaction of current and electrolyte to improve the micro-geometry of the metal surface, reduce the surface roughness of the metal, so as to achieve the purpose of bright and smooth surface of the stainless steel bottle. Surface of inner bottle to be bright and even, no watermark, yellow dot.
11. Mechanical Polishing
Polish the surface of outer bottle to ensure it is smooth and bottle mouth is smooth and bright. There must be no obvious drawing, scratching, black wire and pits.
12. Cleaning
Clean the bottle and dry it. Make the bottle ready for external coating / decorating.
13. Temperature Test / Insulation Test
Blow hot air into each bottle. If the outside of the bottle is kept cool, it means that the heat from the hot air will not be diverted and the bottle is vacuum insulated. On the contrary, if the bottle gets hot, there is a problem with vacuum insulation.
14. External Coating(surface decorating)
The bottle is now ready for external coating –powder coating or spray painting. KingStar is capable of doing both spray printing and powder coating process.
15. Pattern and Logo Printing
Print the pattern design and logo on the bottle with various techniques – screen printing, thermal transfer printing, water transfer printing, laser etching and so on.
16. Temperature Test / Insulation Test
Blow hot air into each bottle. If the outside of the bottle is kept cool, it means that the heat from the hot air will not be diverted and the bottle is vacuum insulated. On the contrary, if the bottle gets hot, there is a problem with vacuum insulation.
17. Packing
After inspect each bottle, including visual inspection and lid leak test, the bottle is place in a separate bag for packaging.
Order Custom Water Bottles & Tumblers
Get competitive price and premium custom drinkware from KingStar — Short lead time, door-to-door global shipping, strong Engineering support!