Looking for wholesale stainless steel tumblers? It's time to come to KingStar and start up your new cooperation. KingStar offers your company a choice of stainless steel tumbler in different styles and variants. Don't settle for overpriced wholesale quotations and limited selection, KingStar always provides you with good quality, more customization options, better insulation effect, and good price.
KingStar is your best choice. More than 95% of the world's stainless steel tumblers are manufactured in China, and KingStar is one of the leading vacuum insulated double wall stainless steel tumbler manufacturers. We focus on developing and manufacturing high quality stainless steel water bottles, tumblers, flasks, coffee cups, travel mugs, coffee pots, wine bottles, food containers, beer pints, beer growlers and other vacuum insulation stainless steel containers. KingStar brings a variety of stainless steel water containers that are specifically designed to be shared with people. Our mission is to provide high quality products and perfect customer service, as well as effective cost reduction and new product development technics. We have never stopped exploring the world's market, and our marketing network has spread throughout Europe, the United States, Japan and Southeast Asian countries and regions.
KingStar Tumbler Production Line
Why Choose KingStar
1. Strong Research and Development Strength 
In order to achieve the vision to promote reusable tumblers and reduce resource waste, we continue to innovate in product development, material procurement, manufacturing, brand design and operations. We have strong R&D team to integrate and update the whole vacuum insulated stainless steel bottles industry. We focus on production line modernization and automation, at the same time we have established and improved the modern enterprise management system, carried out the lean production management mode. In KingStar, we have complete modern production equipment and advanced technology equipment with a strong marketing and service network system. We have excellent engineers with 38 years' experience of shaping, cutting, necking, stamping, injection, powder coating, painting and vacuum testing to make sure the quality of your orders.
2. Modern and Automation Production Lines
Over the years, KingStar has emphasized not only providing high quality products, but also manufacturing functional and modern products in bulk. What are the methods and techniques for quickly producing and supplying products to customers? This is our thinking process when we developed the stainless steel water bottles. We are committed to continually accelerating the modernization and automation of our production lines and improving our products through testing and collecting feedback from customers on their experiences. All procedures from raw stainless steel material to manufacturing, coating, testing, shipping and after-sales service are under strict control with professional quality management system to ensure the production efficiency. In KingStar, you can experience and enjoy our automation technology and modern production lines in a comprehensive service. Our goal is to improve the productivity, efficiency, speed and quality of our products in order to make us more competitive in exploring the global market and leading in the manufacture of insulated stainless steel tumblers.
3. Quality Management and Lifetime Warranty 
All items are strictly designed to meet global quality standards: RoHS, FDA, LFGB, Prop65. Unlike the cheap tumbler mugs with plastic lids and some single wall drink bottles in the market, KingStar uses high quality stainless steel in line with the relevant national or industry standards as raw material for its products, which has strong corrosion resistance and good durability. Each bottle undergoes an extensive testing and quality control procedure. KingStar tumblers are from premier stainless steel and reusable coating with a high quality and built for the sustainability which means no wasting, fading, or cracking in its whole life. At the same time, KingStar offers a comprehensive warranty on all of KingStar stainless steel tumblers. You are taking no risk with your every purchase. We offer after-sales service if your product has any defect.
4. Support for Customization
Our stainless steel tumbler cups are designed just like the brand showing, simple, easy to travel with, and fits comfortably in both your cupholder and daily routine. We have perfectly matched the size and shape of the stainless steel insulated tumblers to ensure that they are safe, reusables and practical in our daily life. Colored powder coating techniques and spray painting techniques give bottles a textured and vibrant surface that adds some color to your life and assures that you stand out with a very durable and beautiful bottle. You can also enjoy the logo custom service of the highest quality as well. We have many ways to customize the logo such as laser etch, silk screening, heat transfer, digital printing and 3D printing. Besides, the sizes, shapes and colors of KingStar wholesale tumblers in bulk can be customized to suit all of your needs. Packaging is also customizable.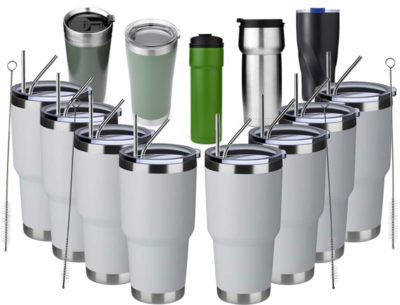 KingStar custom shape tumblers
5. BPA Free and Premium Insulation Technology
Because of the vacuum insulation design, the KingStar tumbler cups are sweat-free regardless of whether the inside is hot or cold, so you can feel comfortable enough when hold the glass. KingStar makes sure your hands stay dry and clean. As a supplier of healthy and insulation tumblers, we only adopt BPA free, Eco Friendly and food grade material for your double walled tumblers. Stainless steel construction and fully BPA free material means you never have to worry about toxic plastic, and our water thermal sealed tumblers are healthy for your daily water drinking. Also, we've designed our water beverage containers to be dishwasher safe, saving your time from cleaning up.
6. Global Door-to-Door Shipping Service
Business in KingStar is based on international logistics and aims to provide fast and inexpensive shipping solutions for our customers around the world. Shipping samples or large goods plays a key role in our order management, customs and trade compliance, and is often integrated into our customers' order service. Our commitment to you is 7 days for your sample delivery, and 28 days for the official orders. We have extensive experience in getting your cargo to the designated port or destination. We insist on the combination of shipping services with our sample shipping, production and after-sales services to provide a one-stop solution for your order needs. From the time you purchase a sample to the time you place an order, we would provide the best mode of shipping for your goods, aiming to provide a cost-effective option for timed shipments. Our supervision and solutions offer competitive pricing and innovative designs that seamlessly integrate into your order service.
7. Customer Services

Last but not the least, we value the response of every customer and provide friendly and quality customer service to meet 100% customer satisfaction. We are respectful of every customer's time and needs by having a quick and professional response within 24 hours. Also, if you are not satisfied with our products, please feel free to contact us. From pre-sale communication and consultation to after-sales service, we will strive to achieve 100% quality service and are willing to help you solve the problems in any way. We sincerely hope that you can enjoy buying our products and enjoy the happy life that our tumblers bring. If you are looking for the best tumblers for your branding, trade shows, business events and gifts giveaways, we have the largest selection of stainless steel tumbler styles and types and have a customer service team ready to answer your questions any time. Just contact with us, we would happy to reply you if you have any question.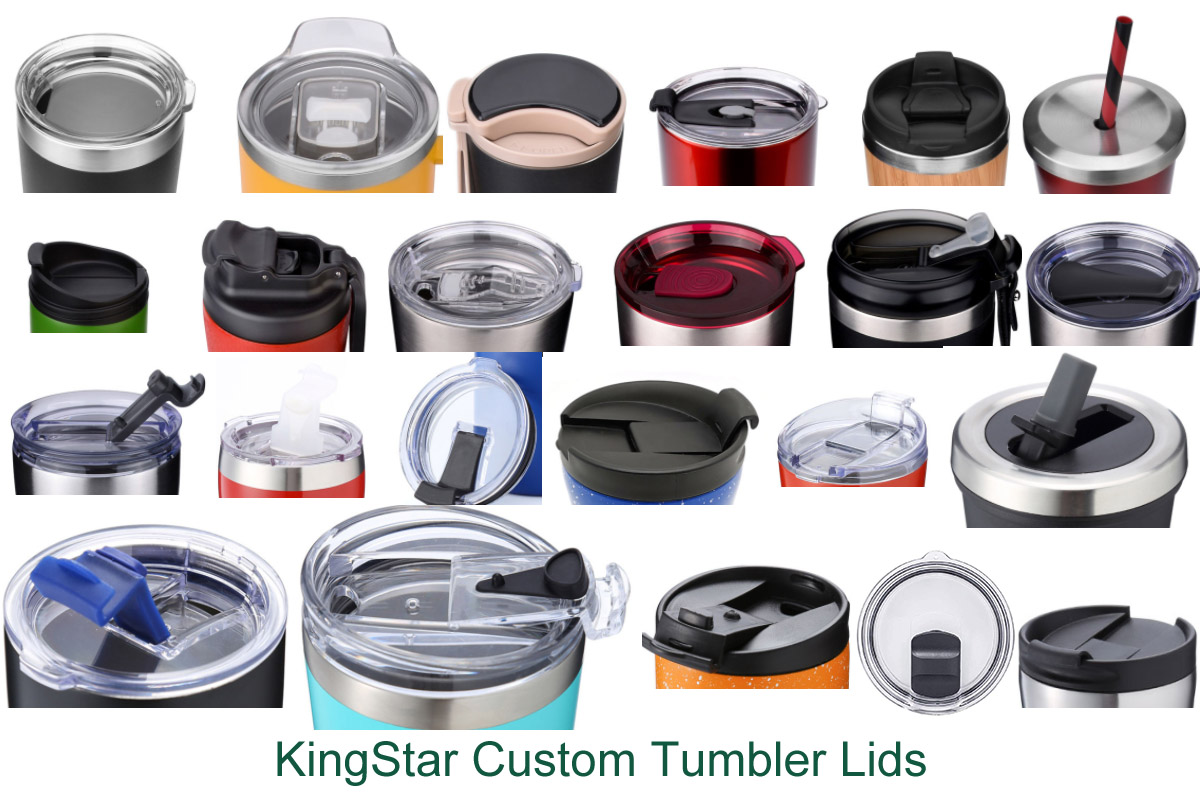 KingStar manufacturers custom lids for wholesale tumblers
Knowledge About Stainless Steel Tumbler
Tumbler is a reusable coffee mug that is a great helper during your rush hour. With advanced insulated design, it will keep your beverage hot or cold for hours. For those who enjoy outdoor activities such as hiking and camping, a sturdy portable tumbler will suit all your needs. Commuters who often go to work often can let you enjoy the morning brew during the journey. For those who enjoy barbecues, birthday parties and holiday celebrations, this is a stylish and practical gift for you and your family!
Type 304, 201 and 316 Stainless Steel
When it comes to the material of the tumblers – stainless steel, the three most commonly used types are 201, 304 and 316. Here is the description of each type to help you understand that which is the best option for your tumblers. The Type 201 stainless steel with higher strength was used to reduce cost. Type 304 stainless steel is a common type of austenitic stainless steel, also known as 18/8 stainless steel. The water bottles production lines of KingStar have superior quality to manufacture the highest quality stainless steel products. Type 316 stainless steel has stronger chemical corrosion resistance and oxidation resistance than Type 304. In terms of price, 304 stainless steel is more affordable and cheaper than Type 316.
Recommended Capacity of the Tumbler
As for the capacity of the tumblers, we usually have 20oz and 30oz. 20 oz insulated tumblers are suitable for children and adults to drink milk, cocktails, wine, beer, coffee, fruit juice or any beverage. The size of a 20 oz tumbler is perfect for everyday use and will fit most car cup holders. The 30 oz tumbler is an ideal partner for some large events such as hiking, camping, and traveling, and keeps you hydrated all the time. We also have various sizes for your selection and customization, all of which are backed by our lifetime guarantee.
Many Straw Lids for Your Choose
KingStar also has a variety of matching lids that are not only easy to use, but also splash proof and heat resistant. KingStar tumblers come with different lids such us straw lid, flip lid, sliding lid and so on. The tumbler lids in KingStar are designed for dust proof and leak proof which also easy to use. When you open the straw lid, you can drink freely and easily. In addition, you can open your sliding lid bottle with one hand. We also provide silicone straw lids which allows you to enjoy splash proof sipping in a convenient way.
Kingstar is leading stainless steel tumbler supplier and tumbler cups wholesaler. You are welcome to contact us if any questions or inquiries on tumblers in bulk.