Stainless steel thermos bottles are generally vacuum insulated, and the bottles are made of double-wall stainless steel. The vacuum structure between the outer wall and the inner wall can avoid the loss of heat to achieve the heat insulation effect. However, if you want to get better insulation performance, it is difficult to support this task with vacuum insulating alone. In order to better the insulation effect, as a leading thermos drink bottle manufacturer, KingStar started the research and development of new technology in 2006. At present, KingStar mainly applies vacuum copper plating technology, which is also called vacuum side copper plating on the inner wall. The copper plating process is a vacuum which is not in contact with water inside the inner wall. Copper is plated between the outer wall and inner wall. It is not on the side that touches the water or beverage.
There are two kinds of stainless steel electroplating processes developed by KingStar: water electroplating and vacuum ion plating, vacuum ion plating, also known as vacuum coating. Vacuum plating is now a popular practice. The products produced are strong in metal and high in brightness. Compared with other copper plating methods, the cost is high and the pollution to the environment is small.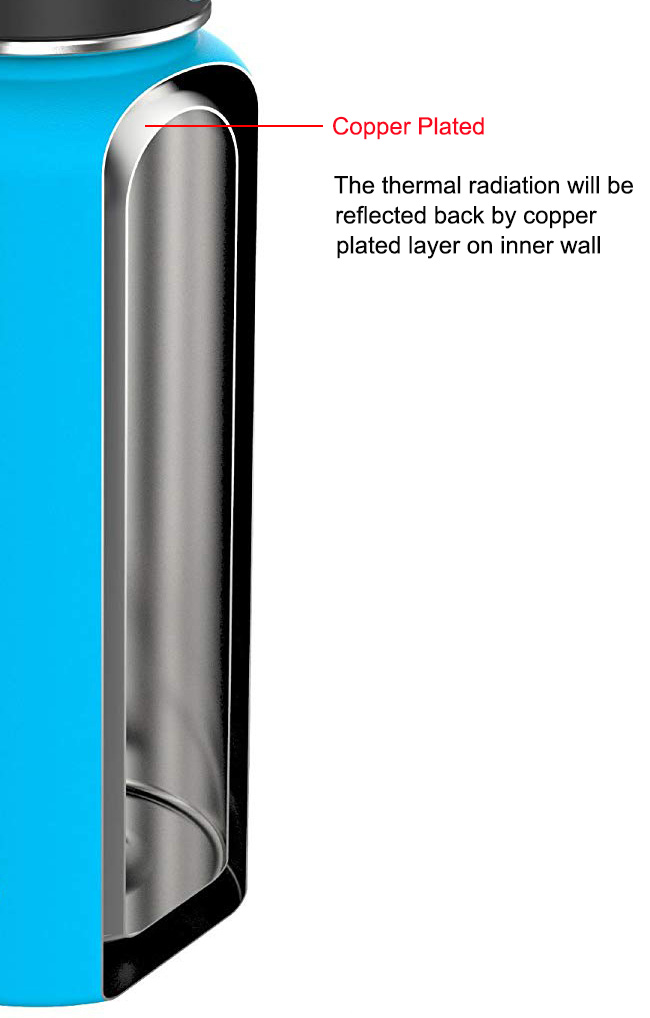 Thermal Insulation Effect of Copper Plating on the Inner Wall
Under normal circumstances, the heat transmission path of the insulated water bottle has radiation, convection and transmission. The inner wall with the copper-plated layer reflects heat radiation, effectively reducing the heat lost due to heat radiation. The copper plating on the inner wall thus forms a heat-insulating layer in the vacuum insulated water bottle.
The vacuum insulated stainless steel water bottle with copper plating on the inner wall has a thermal insulated effect of about 30% better than that of the ordinary same type vacuum insulated stainless steel water bottle.
The copper plating performance of the liner is stable and the corrosion resistance is strong. The thermal radiation on the inner wall will be reflected back by the copper plating layer, which effectively reduces the loss of heat and greatly enhances the effect of heat insulation and cold preservation.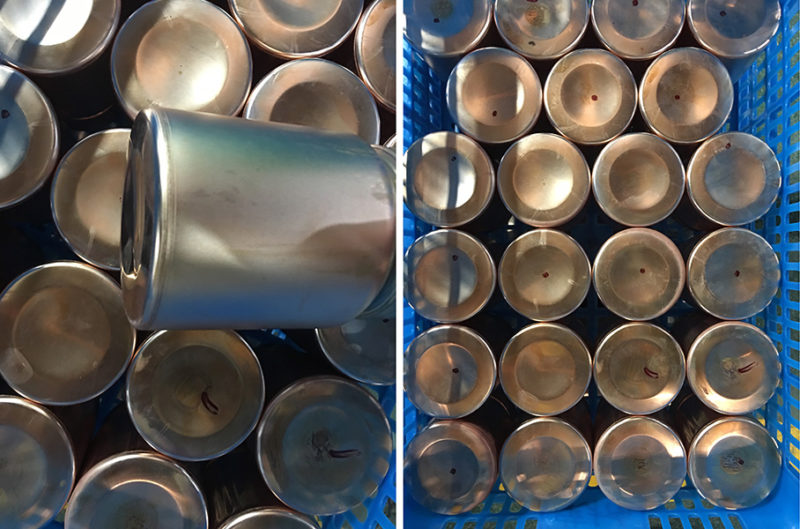 Safety
Regarding the vacuum insulated stainless steel water bottles with a copper-plated design, as long as they meet safety production standards, consumers do not have to worry about copper being harmful to the body because copper is harmless and the copper layer is not exposed to water or beverages. On the contrary, it will enhance the insulation effect by 30%.
Order Custom Water Bottles & Tumblers
Get competitive price and premium custom drinkware from KingStar — Short lead time, door-to-door global shipping, strong Engineering support!