Selecting the right Amazon location to sell water bottles is a crucial decision for any aspiring seller looking to tap into the vast online marketplace. With Amazon's global reach and diverse customer base, choosing the appropriate location can significantly impact the success of your water bottle business. This introduction will outline key factors to consider while making this important choice, ensuring that you maximize your sales potential and effectively target your desired audience. From understanding regional demand and competition to navigating language and logistical challenges, making informed decisions will set the foundation for a thriving venture in the ever-growing e-commerce landscape. So, let's explore the essential considerations you should keep in mind when selecting Amazon locations to sell water bottles.
1. What is Amazon location?
To sell drink bottles on Amazon, you must first register a seller account. Amazon seller accounts are registered based on individual locations and once you have registered an account for a specific location, you can start selling on that location. However, if you wish to sell on other Amazon locations, you will need to register an account for each of those locations.
It's essential to note that when applying for an account, if a specific site corresponds to a region, opening one account will allow you to sell on multiple locations within that region. For example, if you open an account for the United States location, you can also sell in Canada and Mexico. One set of seller account materials can successfully register and manage sales in the United States, Canada, and Mexico using a single account. Similarly, if you open an account for the United Kingdom location, you can sell on eight different locations, including the United Kingdom, Germany, France, Italy, Spain, the Netherlands, Sweden, and Poland.
2. How many Amazon locations are in the world?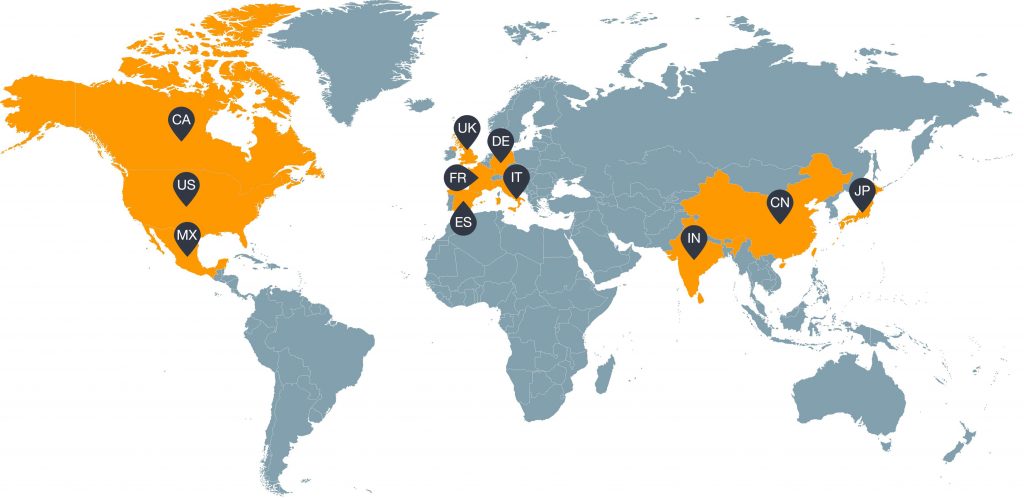 As of now, Amazon has a global presence with 20 locations covering 9 countries, including: United States, Canada, Mexico, United Kingdom, Germany, France, Italy, Spain, Netherlands, Sweden, Poland, United Arab Emirates, Saudi Arabia, Egypt, Turkey, Japan, India, Singapore, Australia, Brazil. These countries have dedicated Amazon online shopping platforms, offering sellers a vast sales market and providing consumers with a wide range of shopping options. Whether you are a local business or aiming to expand your operations to international markets, choosing the appropriate Amazon location will significantly impact your business growth. Understanding the unique characteristics, culture, and consumer habits of different sites will help you formulate targeted sales strategies, boost sales performance, and cater to the specific needs of different countries and regions.
 North American sites (United States, Canada, Mexico)
The world's largest retail market.
Holds at least 45% or more of the market share.
Holds a leading position among e-commerce websites in the United States, Canada, and Mexico.
Large market size with a population of 500 million and a high proportion of Prime members (over 100 million).
European sites (United Kingdom, France, Germany, Italy, Spain, Netherlands, Sweden, Poland)
Direct access to eight European countries, with a broad market.
E-commerce market scale comparable to North America.
Fast growth, high overall consumption level, emphasis on quality, and high product profitability.
Japan site (Japan)
The third-largest economy globally, with a leading e-commerce scale.
Strong consumer purchasing power, high repurchase rate, and low return rate.
Geographical advantage with excellent logistics and operational cost advantages.
Flexible and lightweight for launching and restocking.
Strong promotion culture in Japan, with continuous promotional seasons throughout the year.
Australia site (Australia)
Southern hemisphere location creates a distinct off-season sales characteristic.
High per capita living standards, willingness to accept higher-priced wholesale custom water bottles.
Equipped with Amazon logistics centers, supporting FBA delivery with the fastest next-day delivery.
India site (India)
India has 850 million young people, with a 61% growth in e-commerce users.
Sellers can cooperate with service providers, and FBA mode is available without the need for Indian company qualifications.
Amazon's big data provides accurate and high-profit product recommendations, reaching high-quality Indian consumers.
Middle East sites (United Arab Emirates, Saudi Arabia, Egypt)
Leading e-commerce website in the Middle East with active users.
Average order value of up to $1.5 million, higher than many developed countries.
High internet coverage encourages more Middle Eastern consumers to shop online.
Continuous year-round online activities with rich on-site marketing resources to drive traffic and increase sales.
Strong religious atmosphere with various taboos that need to be taken into account.
Singapore site (Singapore)
Amazon's services have been deeply rooted in Singapore for many years, gaining trust from Singaporean consumers before entering the market.
Focused on opening up to sellers in 10 major categories, offering many benefits and preferential policies.
High internet penetration rate, suitable for developing online shopping.
Main consumer group consists of the younger generation, providing significant opportunities for sellers.
Turkey site
Over 50% of Turks love online shopping, and local internet users rank first in PC searches in Europe.
Rapidly developing e-commerce market with significant potential.
Brazil site
Brazil has the largest population in Latin America, with substantial consumer potential, with 70% being middle class and fewer competitors.
High internet penetration rate, reaching 70%.
Abundance of seasonal activities and holiday shopping behavior.
High search interaction rate.
3.1 Have a deep understanding to the country where your targeted Amazon location in
When considering selling water bottles to a foreign location, it is essential to have a basic understanding of the overall situation in that location. Each country's economic and social development stages are different, leading to varying demands, selling methods, and focuses. In short, when dealing with a country in the context of cross-border e-commerce exports, the following aspects can be examined:
Size and growth of the retail market in the country
The retail business in a country can be likened to a cake, where a larger cake implies more space but often indicates a more competitive and mature market with many players. On the other hand, a smaller retail market doesn't necessarily mean fewer opportunities. Some smaller or less developed countries might have smaller cakes but experience rapid economic growth, which can lead to an expanding market. Getting in early in such countries may lead to more significant profits than in mature and larger countries.
Proportion and growth of e-commerce sales in the country's retail market
When engaging in cross-border e-commerce exports, the proportion and growth of e-commerce sales in the country's retail market are more crucial than the overall retail development situation. Countries with a lower e-commerce sales proportion but a high growth rate indicate greater potential for e-commerce growth. Similarly, if a country has a low e-commerce sales proportion but a rapidly increasing rate, it signifies a fast transition into the e-commerce era.
E-commerce penetration rate and growth in the country
The e-commerce penetration rate measures the percentage of people who have made online purchases in a country. A country with a low but rapidly rising e-commerce penetration rate, especially with significant growth in mobile-based e-commerce, is rapidly entering the e-commerce era.
Countries with low e-commerce penetration rates are generally in the early or mid-stages of economic development, and consumers in these countries often prefer a wider range of water bottles available through online platforms. In such countries, the eruption of e-commerce is an expected occurrence.
3.2 Understand the consumers in targeted Amazon location
Considering the diverse geographic locations, population demographics, cultural backgrounds, and economic development in each country, consumer habits and preferences also differ. To analyze information about consumers in a country, the following three aspects can be considered:
Consumer preferences are heavily influenced by geography. For example, a country near the Arctic Circle, such as Canada, will have a high demand for water bottles like down jackets, while countries in the Middle East may not have such a demand. Additionally, shipping costs and profit margins can vary depending on the shipping distance.
Population demographics play a crucial role in consumer preferences. Countries with an aging population tend to favor rational choices and relatively cost-effective water bottles, while countries experiencing rapid economic growth with a growing young population may lean towards water bottles tailored to young consumers.
Cultural differences have a significant impact on consumer behavior. For example, Japan, which belongs to the East Asian cultural sphere, has many consumer habits similar to China. Home decor items often have an Eastern design flair. In contrast, India has its unique religious and cultural customs, leading consumers to prefer more colorful and richly designed home decor items. Similarly, European countries like Germany and the United Kingdom have distinct consumer preferences due to historical and cultural differences.
3.3 Assess your own capabilities
After gaining a general understanding of a country's retail market and consumer behavior, one can evaluate whether entering that country is suitable. At this point, four factors should be considered:
Personal strengths, such as language skills, life experiences, overseas connections, industry expertise, and supply chain resources (e.g., manufacturers, retail industry, and export industry chains), can help sellers perform better on various levels. For instance, understanding the language of a specific country can help craft product descriptions that resonate with consumers there. Studying abroad or having relatives in a foreign country can help select water bottles that are more likely to appeal to local consumers.
Besides identifying strengths, it is crucial to acknowledge one's weaknesses. No one can excel in every aspect, and it is essential to objectively analyze and recognize weaknesses. In the process of operation, improvements can be made, or areas in which one is not proficient can be avoided. Amazon, for example, provides support systems and services for sellers in different regions, helping them overcome weaknesses. As long as weaknesses are objectively assessed and addressed scientifically, they are not to be feared.
For example, some Middle Eastern countries may have developed economies but extremely low e-commerce penetration rates and high growth potential. If a seller has relatives residing in such a country and possesses an understanding of local customs, preferences, and product shortages, the Middle East region might offer significant opportunities. Another example is a seller who learned that in Japan, consumers tend to give towel sets as gifts. By improving product packaging and adding exquisite cards with authentic Japanese expressions of good wishes, the seller's water bottles gained immense popularity.
Evaluating potential risks
Potential risks often involve changes in policies and regulations in the target country, such as trade policies, tax policies, regulations on specific types of water bottles, and exchange rate stability. Therefore, when selling water bottles to a foreign country, one must stay vigilant about the country's ongoing developments to respond appropriately.
4. Conclusion
In conclusion, selecting the right Amazon country location to sell water bottles requires thorough research and careful consideration. By making well-informed choices and tailoring your approach to suit each market's unique characteristics, you can establish a thriving water bottle business on Amazon and tap into its global reach to maximize your sales potential. If you want more information, please contact with us!