In Amazon's customer reviews, on Facebook, and Twitter, there are many consumers complaining about two problems with the tumbler lid. One complaint is that the tumbler lid is too loose. If you put the Tumbler in the cupholder, as the car shakes, the lid loosens and the drink spills. Another complaint is that the insulated coffee mug lid is too tight and hard to open.
The truth is that. If the lid is too tight, it will be difficult to open. If it is too loose, the lid of the cup will easily come off, and then the drink in the cup will spill out.
Maybe you are a coffee lover, maybe you are a fan of Yeti Rambler tumbler/insulating mug, maybe you are a buyer of bulk insulated cup, you have all thought about these questions, how does the thermos cup manufacturer test the lid? What is the test standard? How much force is required to lift the lid of the Insulated stainless steel tumbler? How tight should be?
As the world's leading vacuum insulated stainless steel cup manufacturer, KingStar will share the detailed information about the cup lid pull test of bulk thermos cups below.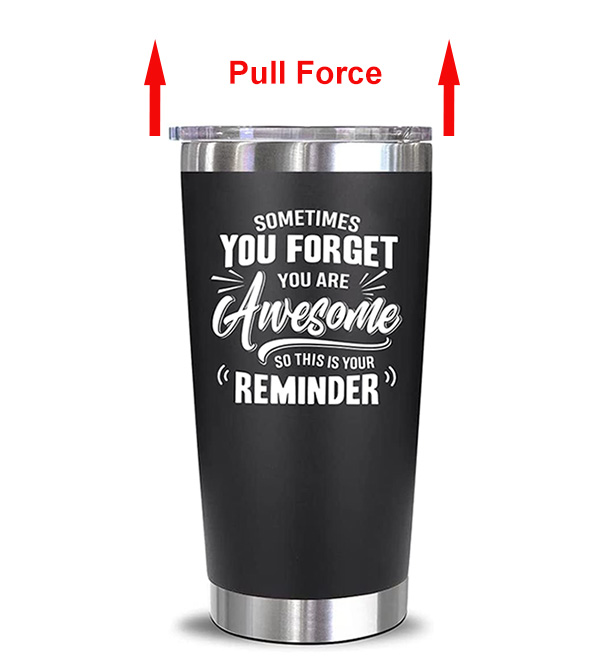 tumbler cup lid pull force test
Testing Purpose
To test how much pulling force the tumbler cup lid can withstand
Testing Equipment
Tensimeter
Testing Procedure
Apply stainless tumblers/mugs/cups for testing and turn on the power on instrument stand
Install tensimeter, turn on the power supply, and select the appropriate unit after the machinery is shown as stable. Then record the peak data
Press zero key to reset data, and observe and test any data change in no time
Control functioning of tensimeter according to the ascending and descending of instrument stand, and control speed of stand by rotating speed control
After testing, press stop key to end test, read data, turn down the power and remove the product

Testing Criteria
Lower limit: Total weight of tumbler/mug/cup filled with water. That means tumblers /Cups with different capacity will have different lower limit of testing standard.
That is, when the tumbler/mug/cup is filled with water, grab the lid with your hand, and the lid will not be detached from the cup.
Upper limit: 2.5kgf
Precautions
1 During operation, the operator should remain in the site to observe ascending and descending position and stop testing after reading data in time.
2 Position of screws on machine should be checked weekly and tighten every loose.
If you have more questions about reliability testing of vacuum insulated cup/thermos flask, or about custom water bottle manufacturing, please write to sales@waterbottle.tech or leave an online message, we will reply you soon .