Selling products on Amazon has become a popular way for entrepreneurs to start their own businesses. As one of the largest and most well-known e-commerce platforms in the world, Amazon provides numerous benefits and advantages to those who wish to sell their products online. It has a massive customer base, with millions of active shoppers around the world. This means that sellers have access to a vast pool of potential customers who are already searching for products to buy. Also, Amazon has a user-friendly interface that makes it easy for sellers to set up and manage their online stores. The platform offers a variety of tools and resources to help sellers create and optimize their product listings, track sales, manage inventory, and more.
If you're considering selling stainless steel water bottles on Amazon through their Fulfillment by Amazon (FBA) program, you'd better have a clear understanding to what the cost is and how can save your cost. Otherwise you may suffer a great loss at the end.
1. What must you pay for to start your selling on Amazon?
Generally speaking, you must pay for the following 3 items no matter what you sell on Amazon.
Product costs: Needless to say, this is the most important part to your total cost. As a seller, you source products from manufacturers and then sell them to individuals at a higher price so that you can make profits. And you're easy to make money if you find a manufacturer providing high-performance but low-cost products.
Packaging costs: The packaging costs for Amazon sellers can be influenced by a variety of factors, including the size and weight of the product, the type and quantity of packaging materials used, and the volume of sales. Amazon sellers can choose between using Amazon's fulfillment services (FBA) or fulfilling orders themselves (FBM), each with their own associated costs. To minimize packaging costs, sellers can consider negotiating with suppliers for bulk orders or comparing prices from different suppliers. Ultimately, carefully considering the costs of packaging and shipping is crucial for Amazon sellers to ensure profitability and competitiveness in the marketplace.
Shipping costs: Since delivery is required, it's essential to consider the shipping costs. The amount you pay for shipping your product to Amazon will depend on how soon you want it to arrive. If you're introducing a new product, we suggest sea shipping, which is not time-sensitive and can save you money on shipping costs, thereby increasing your profit margin. You can use this additional time to learn new FBA tactics. You can either employ a third-party freight forwarder or have your supplier locate a shipping company. It's important to compare prices from various shipping companies that suit the size and weight of your product. Once you've agreed on a shipping cost, you can calculate the per-unit shipping cost by dividing the total cost by the number of units and entering this number into the profit calculator.
Monthly Subscription Fees: Amazon charges a monthly fee of 39.99 dollars for sellers who want to use its Professional selling plan which offers additional benefits such as access to bulk listing and reporting tools. And 0.99 dollar is for basic individual plan cost. You can choose based on your needs but here we recommend you the professional one for better service.
UPC code: To begin selling your product on Amazon, you will need a recognized barcode to generate an 'FNSKU'. Thisis a barcode from Amazon's proprietary and your product packaging must be printed with it. To obtain your FNSKU, Amazon's Terms of Service (TOS) requires you to have a Global Trade Identification Number (GTIN), typically in the form of a UPC code. As of 2018, Amazon's TOS was updated to mandate that barcodes must come from GS1, the leading global provider. Fortunately, GTIN/barcode is provided for only $30 by GS1, making it a cost-effective option for Amazon sellers. By following these guidelines, you can ensure that your products are properly identified and ready to sell on Amazon.
2. What may affect your cost on Amazon selling?
Besides three musts above, you also need to pay for some tools or service from Amazon or something else to improve your sales.

Referral Fees: Amazon charges a percentage of the item's sale price as a referral fee for each sale. The percentage varies depending on the category of the product.
Fulfillment Fees: If you use Amazon's fulfillment service (FBA), you need to pay for packing, storage, picking,shipping your product and packing.
Advertising Fees: Amazon provides several advertising choices to sellers, such as Sponsored Products, Sponsored Brands, and Sponsored Display. These options come with associated costs, which can vary depending on the ad type and the competition for the targeted keywords.
Other Costs: Additional costs may include product listing fees, payment processing fees, and any necessary software or tools to manage your Amazon store. (For more information about listing tools, please read …)
Photo taking: You have to admit that high-quality product photos are essential for capturing customer attention and driving sales. As part of your budget, investing in professional photoshoots is crucial to making your online products stand out. Your pictures must showcase your product from various angles, providing customers with a clear view of the item in a professional light. Using low-quality images will fail to communicate a high-quality offering.
Trademarking: If brand owners wish to enroll their brand into the Amazon Brand Registry, a registered trademark is required. It's worth noting that a trademark is not necessary to sell on Amazon, but registering for the Brand Registry program can offer some otherselling privileges and benefits like A+ Content, Amazon Stores, and advanced advertising products like Sponsored Brands Ads and Sponsored Display Ads. However, sellers need to apply for a trademark and wait for it to be approved before accessing additional features of Brand Registry. The trademark process can take several months, so it's best to invest early and get the trademark process underway. Doing so will ensure that your brand is registered as soon as possible, and you can take advantage of the program's advanced features. It's essential to conduct thorough research when creating a brand to ensure that you can apply for a Trademark without infringing on any existing trademarks or brand names in the future. The cost of a trademark is approximately $350.
3. How much money do you need to start selling stainless steel water bottles on Amazon FBA?
After having a clear understanding to the factors which have influences on your cost, let's take a look at how much exactly you need for selling stainless steel water bottles on Amazon.
As an experienced stainless steel water bottles manufacturer in China, we'll take our own products as examples for your better insight. The hot-sale wholesale custom stainless steel water bottles from KingStar usually cost $2.15-$6.31, whose prices vary from sizes and shapes. Our customers usually choose sea transportation and each water bottle normally costs 1 dollar for shipping. You needn't pay for packaging if you source water bottles from us. Cause it's already included in the product fees. Supposing that you just source 200 water bottles, let's have a calculation of how much cost you need basically. Here is a basic cost table for you:
| Basic Items | Cost |
| --- | --- |
| Products | $430-$1262 |
| Shipping | $200 |
| Monthly Subscription Fees(Professional) | $39.99 |
| Packaging | $0 |
| UPC Code | $30 |
| Total | $699.99-$1531.99 |
If you want to make your pages and products look better, or want to improve your sales by some listing tools, you need to pay for extra money such as the photoshooting fees, depending on what kind of pictures you take and trademark fees of around 350 dollars.
4. How to reduce your cost on selling stainless steel water bottles on Amazon FBA?
When it comes to selling products on Amazon FBA, the quality of the products you offer can greatly impact your success. This is especially true for stainless steel water bottles, which have become increasingly popular among consumers looking for eco-friendly and reusable options. Investing in high-quality stainless steel water bottles can not only attract customers and boost sales, but it can also reduce costs associated with returns, negative reviews, and frequent replacements due to low-quality materials. By choosing durable and food-grade stainless steel water bottles, you can provide your customers with a product they can trust, while also protecting your reputation as a seller on Amazon FBA.
5. Where to find reliable stainless steel water bottles to reduce the cost?
Here we are willing to show you two ways of finding a proper stainless steel water bottles manufacturer to start your business in a more easy way – Google and Canton Fair.
5.1 How to find a reliable stainless steel water bottle manufacturer.
Here we are willing to show you how to search by Google:
Step 1: Use specific keywords
Start by using specific keywords in your search query, such as "stainless steel water bottle manufacturer" or "reliable stainless steel bottle supplier." This will help Google show you more relevant search results.
Step 2: Look for reputable websites
Once you have your search results, focus on the websites that appear on the first page. These are usually the most reputable and trustworthy websites. Look for manufacturers that have a professional-looking website with clear information about their products and services.
Step 3: Check reviews
Reviews can be a great way to get an idea of a manufacturer's reputation. Check for reviews on the manufacturer's website, Google My Business, or other third-party review sites. Look for manufacturers that have mostly positive reviews and respond to any negative reviews in a professional manner.
Step 4: Contact the manufacturer
Once you have a shortlist of potential manufacturers, reach out to them directly. Ask questions about their production process, materials used, and any other concerns you may have. A reliable manufacturer will be happy to answer your questions and provide any necessary information.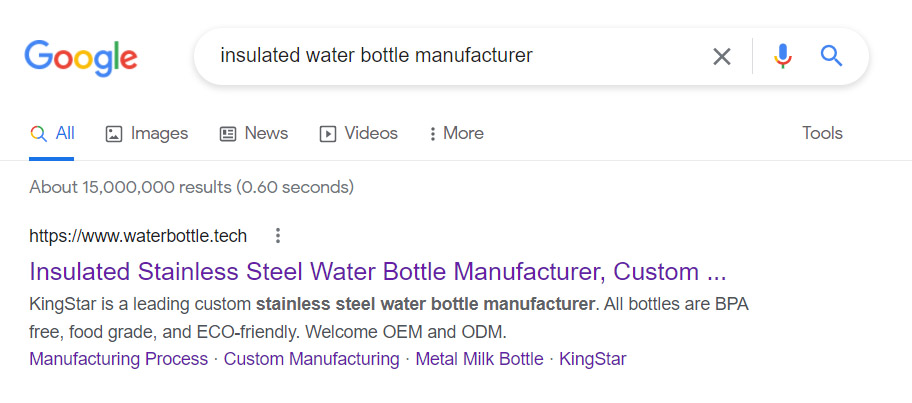 5.2 Why choose Canton Fair to find a reliable reliable stainless steel water bottle manufacturer?
The Canton Fair, also known as the China Import and Export Fair, is one of the largest trade shows in the world. It takes place twice a year in Guangzhou, China and attracts thousands of manufacturers and buyers from all over the world. With a wide range of exhibitors, quality control measures, face-to-face communication, and competitive pricing, it offers a unique opportunity to find the right manufacturer for your needs.
Wide range of exhibitors:The Canton Fair attracts a large number of exhibitors, including many manufacturers of stainless steel water bottles. This makes it easy for buyers to find a variety of options in one place.
Quality control:The Canton Fair is organized by the Chinese government, and the organizers take quality control very seriously. They carefully vet all exhibitors to ensure that they meet certain standards, such as having a valid business license and complying with environmental regulations.
Face-to-face communication:Meeting with manufacturers in person is an effective way to establish a relationship and build trust. At the Canton Fair, buyers can meet with manufacturers face-to-face to discuss their needs and negotiate prices.
Competitive pricing: Due to the large number of exhibitors and the intense competition, buyers can often find competitive pricing for stainless steel water bottles at the Canton Fair.
If you are looking to start a business selling stainless steel water bottles, KingStar can be a valuable partner to have on your side. Lower price allows you to purchase products at a more affordable rate, which can help you to maximize profits and grow your business. As a leading wholesale insulated stainless steel drink bottle manufacturer, KingStar offers excellent customer support and can assist you with everything from product selection to customization and branding.

If you are looking to start a business selling stainless steel water bottles, KingStar can be a valuable partner to have on your side. Lower price allows you to purchase products at a more affordable rate, which can help you to maximize profits and grow your business. As a leading wholesale insulated stainless steel drink bottle manufacturer, KingStar offers excellent customer support and can assist you with everything from product selection to customization and branding.
6. Conclusion
Starting to sell stainless steel water bottles on Amazon FBA requires a certain amount of investment. The amount of money required depends on various factors such as the cost of the product, shipping fees, Amazon fees, marketing expenses, and more. To calculate the minimum amount of money required, you should do proper research and analysis of the costs involved in the process. However, finding proper sourcing wholesale manufacturer, selling stainless steel water bottles on Amazon FBA can be a lucrative business opportunity. It is essential to keep track of expenses, continually optimize the listing and marketing strategies to ensure profitability and growth in the long run. For more information, please contact us.