Who Owns Owala?
Owala is a US-based brand owned by Trove Brands, a privately held conglomerate which also owns other brands such as BlenderBottle, Avana and Whiskware. Trove Brands has sold its products in more than 90 countries and remained a business partner with thousands of retailers around the world.
Owala's products include stainless steel water bottles and pet bowls. It was launched in 2020, since then, its stylish water bottles including Freesip and Flip have won a large number of fans on social platforms and gained praise among customers.
We will delve into the details of Owala water bottles so you can have a better understanding of its products.
Why Owala Water Bottles are Popular?
Owala's popularity boils down to several reasons. One is the creative design of the bottle lid. To avoid asking customers to make a decision of whether to buy a bottle with a wide-mouth opening or a straw, Owala has created the FreeSip spout—a surprising design that combines both that allows people drink from the built-in straw, or the wide-mouth opening. The first small hole allows you to suck up the water without tilting it, and the bigger opening allows for a bigger sip (or ice cubes if you want) that you need to tilt the water bottle.
Second, they are made of stainless steel and vacuum insulated, keeping drinks cold or hot for a long time. This is especially important for people who prefer to have their drinks cold or hot for several hours.
Third, they come in many different colors and sizes, and a variety of bottle boots are available on its webiste. Besides, they even have specially designed water bottles for kids.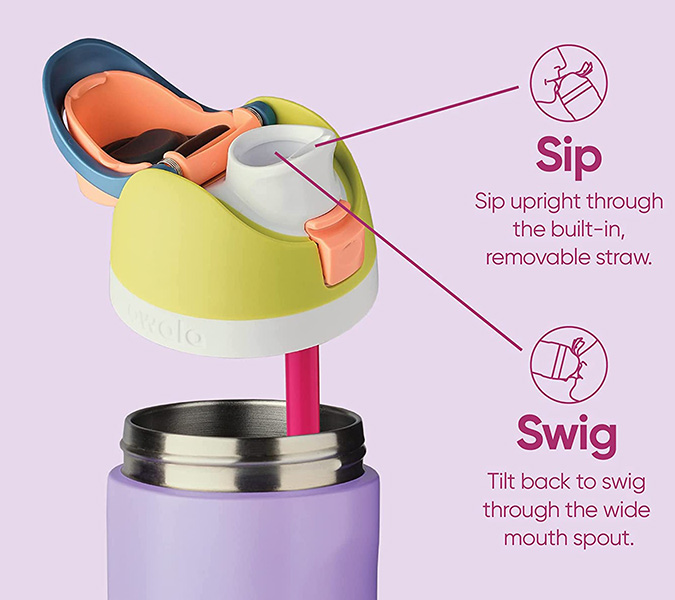 Are Owala Water Bottles BPA Free?
As the leading insulated stainless steel water bottle manufacturer factory, KingStar promises that all Owala's drink bottles are BPA-free. Owala water bottles are made of safe materials and technologies, which enjoys the standard of any high-end water bottles. In addition, the lids and straws can be put into the dishwasher. Even though the cups are also technically dishwasher safe, we strongly recommend you wash them by hand for a longer lifespan.
How does Owala Insulated Water Bottle Work?
When it comes to hydration, people deserve options. These three classic Owala water bottles will make it happen. The FreeSip will allow users to hold it upright to drink through the built-in straw or tilt back a little to gulp through the wider opening. This insulated bottle is completely leak proof.
The Flip one will wow you with its one-handed flip straw, triple-layered insulation, and various color options. The bottle can make sipping enjoyable. Its straw is easy to open and the lid can be easily closed with one hand. What's more, the flip cover comes with a carrying ring, which is convenient for you to carry around. The triple insulation function can better keep the water at a low temperature. Last but not least, its sealed cover won't leak, no matter how many times you turn it upside down.
The Kids' Flip is a kid's best friend. There is a locking lid and a wonderful flipping straw. This beautiful bottle has all the same popular features as the Flip bottle, but in a size created just for kids. First, it has a flipping one-handed straw which is easy to use. Second, the lockable lid protects schoolbags from spills. Third, the design is super cute and fun for activities on the playground or outside sports.
Owala insulated water bottles are equipped with triple-layered vacuum-insulated stainless steel which will keep your drink cold for up to 24 hours; the wide opening makes it easy to clean and adding ice; you can easily put it into the cup holder; its water bottles offer a wide range of color and size options and are BPA and phthalate-free.
However, there are things you need to consider: If you don't like dents, you should get a rubberized base or a Owala bottle boot. Or you can also purchase a bunch of Owala stickers for the dents you already got. It is worth noticing that the 30 oz bottle might be too big for most car bottle holders. You may want to have a smaller one if you prefer to put the bottle in your car but having a larger volume is also a trade off. Though it is leak-proof, it is not recommended to put the bottle upside down when you carry it in a backpack. To fully prevent leakage, make sure the bottle is standing upright and not overfilled.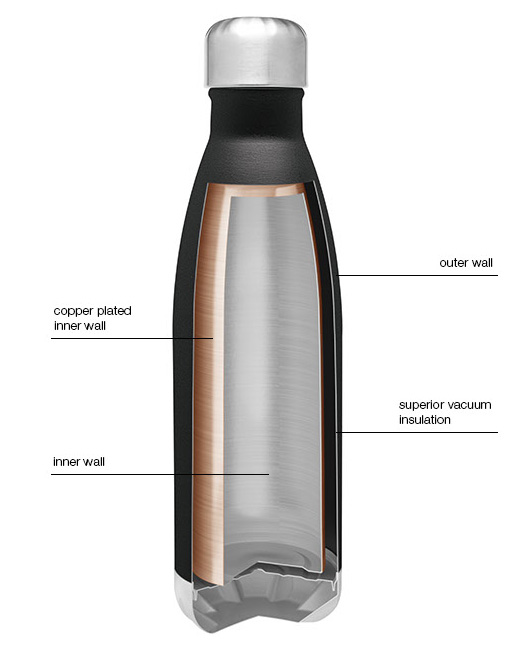 How to Design a Unique Bottle Cap Like Owala's?
If you want to create a water cup brand as successful as Owala and want to have a unique lid, you can hire a designer to design it for you, or you can entrust this task to KingStar. Our strong design team can quickly transform your product idea into a real product.
Click and read more about water bottle cap design:
How are Owala Stainless Steel Water Bottles Made?
The manufacturing of Owala insulated water cups can be simply summarized as: production of the inner wall of the water cup – production of the outer wall of the water cup – welding of the inner and outer walls – vacuuming – spray powder – printing Owala logo – injection molding production of the water cup lid – assembly + packaging.
Where are Owala Water Bottles Manufactured?
Owara is an America-based company, and the company operates in the United States. However, some parts of Owala are manufactured in China or completely made in China.
However, no matter where the product is produced, the popularity has made it clear that both the quality and design are reliable and well-received. The sipping lid is a very clever design with the straw on the bottom and the larger mouth besides it is also proven necessary. Its various color options are regarded as an additional boost. If you want an easy to sip, gulp, and stylish water bottle, go visit owalalife.com, we believe you will find the perfect product for you and your family!
How to Establish a Brand like Owala?
If you are about to start a water bottle business and establish a great brand like Owala, you are at the right place. KingStar is the leading stainless steel thermos flask manufacturer in China. We provide one-stop water bottle manufacturing service from product design, tooling fabrication, mass production, certificate application to global shipping. Write to sales@waterbottle.tech, you will get a quick reply within 24 hours.