CamelBak is ruling the hydration vessel market with its top-notch products and inventive designs. Since its inception, CamelBak has been a forerunner in creating convenient hydration solutions. The brand's products especially water bottles have become essential equipment for outdoor enthusiasts, athletes, and active individuals who require constant hydration during rigorous activities. With its dynamic approach and exceptional product quality, CamelBak is definitely making waves in the hydration industry. And in this article, we will take you go deeper about this leading water bottle brand CamelBak, hoping you can make wiser choices while selecting water bottles among different water bottle brands! As a leading water bottle manufacturing supplier, KingStar shares more details information here.
1. What is CamelBak?
CamelBak is a well-known brand that specializes in hydration products, primarily water reservoirs and water bottles designed for outdoor activities, sports, and everyday use. CamelBak products are popular among hikers, cyclists, runners, campers, and anyone engaged in outdoor activities where staying hydrated is essential. They are also commonly used by military personnel and athletes. In addition to hydration packs, CamelBak produces a range of water bottles, filtration systems, and accessories related to hydration and outdoor adventure.
2. What does CamelBak sell?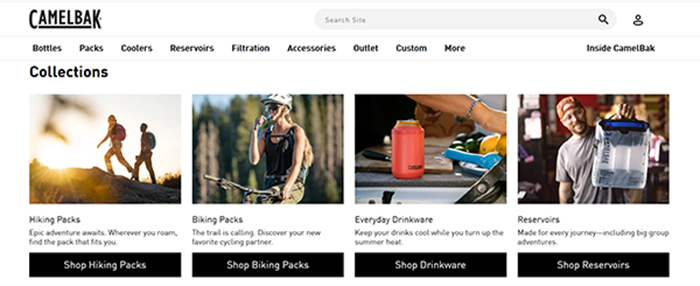 CamelBak primarily sells a range of hydration-related products and outdoor accessories. This includes:
Hydration Reservoirs: CamelBak is well-known for its hydration reservoirs, also known as "bladders" or "hydration packs." These are flexible plastic water reservoirs that come in various sizes and are designed to be placed inside backpacks. They typically have a drinking tube for easy access to water on the go.
Hydration Packs and Backpacks: CamelBak offers a variety of backpacks and hydration packs designed to carry their reservoirs and provide additional storage space for gear and supplies. These packs are designed for various outdoor activities like hiking, cycling, and running.
Water Bottles: In addition to reservoirs, CamelBak manufactures water bottles, which are typically more traditional in design compared to their reservoirs. These bottles often include features like spill-proof caps and integrated straws.
Coolers: CamelBak also produces coolers designed to keep beverages and snacks cold while you're on the go.
Accessories: CamelBak offers a range of accessories to complement their hydration products, including replacement or additional straws for their hydration reservoirs and bottles, replacement caps and lids for water bottles and reservoirs or cleaning kits designed specifically for cleaning hydration reservoirs and accessories.
3. What is the CamelBak water bottle?
CamelBak offers a range of water bottles / jugs / metal tumblers / food containers / insulated coffee cups designed for outdoor enthusiasts, athletes, and individuals who need convenient and reliable hydration solutions. These water bottles are known for their innovative features and durable construction. Here we'll show you some series of CamelBak water bottles as follows: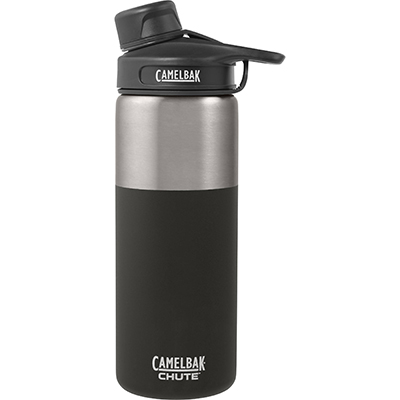 CamelBak Chute: The Chute series features a simple, ergonomic design with a wide-mouth opening for easy filling and cleaning. Besides, you needn't worry about spills while drinking with the tethered cap of Camel Chute water bottle. It's available in various sizes and materials.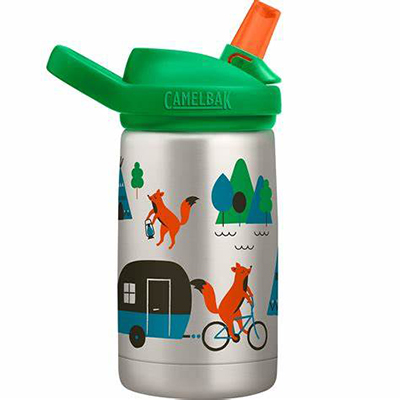 CamelBak Eddy: The Eddy series isfor kids! It is known for its spill-proof bite valve, integrated straw, specially designed size for kids' convenient holding. CamelBak Eddy water bottles are available in both plastic and stainless steel versions, gaining popularity among parents who want to prepare water bottles for their kids' hiking or school.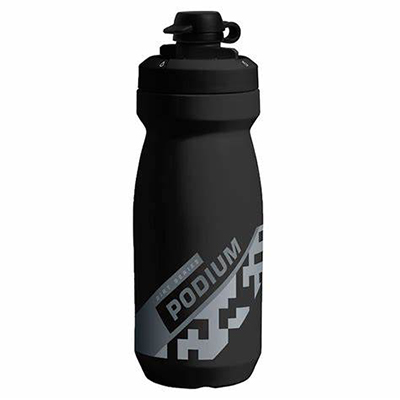 CamelBak Podium: The Podium series is designed for cyclists and athletes. It features a high-flow, self-sealing Jet Valve cap that allows for quick sips without the need to open or close the lid.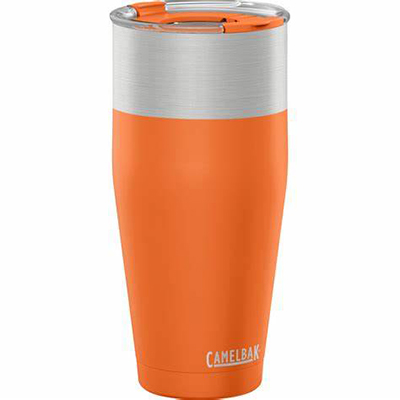 CamelBak KickBak: The KickBak tumblesfeature a vacuum-insulated design to keep beverages cold for an extended period. They also have a convenient flip-top cap for easy sipping.

4. What are CamelBak water bottles made of?
Different types of water bottles use different materials, which are all high-quality, safe and durable. The main materials used for CamelBak water bottles include:
BPA-free plastics: Many CamelBak water bottles are constructed from BPA-free plastics. BPA (bisphenol A) is a chemical that was once commonly used in plastics and has been associated with potential health concerns. CamelBak's use of BPA-free plastics ensures that their bottles are free from this chemical.
Stainless steel: Some CamelBak water bottles are made from high-grade stainless steel. Stainless steel bottles are known for their durability and resistance to corrosion. They are an excellent choice for both hot and cold beverages and are often used for their insulation properties.
Vacuum-insulated stainless steel: In particular, CamelBak offers vacuum-insulated stainless steel bottles for superior temperature retention. Your beverages in CamelBak insulated water bottles can keep cold or hot for longer. The double-wall vacuum insulation helps maintain the desired temperature.
Depending on the specific model and features, CamelBak water bottles may incorporate other materials for components like caps, straws, and seals. These materials are also chosen for their durability and safety.
When choosing a CamelBak water bottle, it's a good idea to check the product's description and label to confirm the specific materials used for that particular model. This way, you can choose a bottle that best suits your preferences and needs, whether you're looking for a lightweight plastic bottle or a rugged stainless steel one.
5. Why CamelBak water bottles are so popular?
CamelBak water bottles are popular for several reasons, including their innovative designs, high-quality materials, and the following key factors:
Hands-free hydration: CamelBak is known for pioneering hands-free hydration systems. Their water bottles and hydration packs feature convenient drinking tubes and bite valves, allowing users to sip water without stopping their activity. This feature is highly valued by athletes, hikers, and outdoor enthusiasts.
Durability: CamelBak products are designed to withstand rugged outdoor use. Their water bottles are often made from high-quality materials like BPA-free plastics or stainless steel, which are durable and resistant to wear and tear.
Innovative features: CamelBak constantly introduces innovative features to their products, such as magnetic caps, insulated designs, and self-sealing valves. These features enhance the overall user experience and convenience.
Variety of models: CamelBak offers a wide range of water bottle models, catering to different preferences and activities. Whether you need a lightweight plastic bottle for everyday use or a vacuum-insulated stainless steel bottle for keeping beverages cold on a hot day, there's likely a CamelBak bottle that suits your needs.
Safety: CamelBak is committed to producing water bottles that are free from harmful chemicals like BPA. Their use of BPA-free materials ensures that the bottles are safe for holding and drinking water.
Brand reputation: CamelBak has built a strong reputation for quality and reliability over the years. Customers often trust the brand for their hydration needs, knowing they are getting a well-designed and durable product.
Outdoor enthusiast and athlete appeal: CamelBak products are popular among outdoor enthusiasts, athletes, and adventurers who rely on effective hydration solutions during their activities. The brand's focus on functionality and performance resonates with this target audience.
Environmental consciousness: In recent years, CamelBak has also taken steps to address environmental concerns by producing reusable water bottles that reduce the need for disposable plastic bottles. This environmentally friendly approach aligns with the values of many consumers.
6. How much is a CamelBak water bottle?
The price of CamelBak water bottles vary from the bottle type, size, material, and additional features. Generally speaking, CamelBak water bottle series like Eddy(for kids), Chute, Podium, Forge, MultiBev, Peak Fitness sell ranging from $15 to 50$.
Also, please keep in mind that prices may vary based on the retailer, location, and any special promotions or discounts available at the time of purchase. Additionally, limited edition or customized CamelBak bottles may be priced differently. It's always a good idea to check the CamelBak website or visit a retailer to get the most up-to-date pricing information on the specific CamelBak water bottle model you're interested in, as prices can change over time.
7. Can a CamelBak water bottle get customized?
Of course, CamelBak water bottles can often be customized. CamelBak offers customization options that allow you to personalize your bottle in various ways. Here are some common ways in which you can customize a CamelBak water bottle:
Color and design: CamelBak typically offers a variety of colors and design options for their water bottles. You can choose a bottle with a color or pattern that suits your style and preferences.
Engraving or personalization: Some CamelBak bottles, especially stainless steel ones, can be engraved or personalized with your name, initials, or a special message. This can be done through CamelBak's website or authorized retailers that offer engraving services.
Accessories: CamelBak offersaccessories that allow you to customize your bottle further. For example, you can purchase different types of caps, straws, or magnetic tube traps to personalize the functionality of your bottle.
Limited editions: CamelBak occasionally releases limited edition bottles with unique designs and features. These can be considered a form of customization, as they cater to specific themes or events.
When seeking customization options for a CamelBak water bottle, it's a good idea to visit the CamelBak website or contact authorized retailers that offer customization services. Keep in mind that the extent of customization options may vary depending on the specific CamelBak model and the current offerings available.
8. Where to get CamelBak water bottles?
CamelBak water bottles are widely available, and you can purchase them from various retailers, both in physical stores and online. Here are some common places where you can find CamelBak water bottles:
Sporting Goods Stores: Major sporting goods retailers often carry a selection of CamelBak products, including water bottles. Stores like REI, Dick's Sporting Goodsand Academy Sports + Outdoors are good places to check.
Online retailers: Websites like Amazon, eBay, and the official CamelBak website offer a wide range of CamelBak water bottles, including various models, sizes, and customization options.
Camp and hike retailers: Stores specializing in camping and hiking gear, such as Backcountry, typically has a variety of CamelBak bottles suited for outdoor activities.
When shopping for CamelBak water bottles, it's a good idea to compare prices, read reviews, and check for any promotions or discounts that may be available. Additionally, if you're looking for specific models or customization options, you can visit the official CamelBak website to explore their full range of products and customization features or you can try finding water bottle manufacturers to bring your ideas into real customization.
9. How to buy cheaper CamelBak water bottles?
CamelBak water bottles are not cheap despite its high quality and high performance. Sometimes you may find that price of CamelBak water bottles on Amazon is even higher than on its official website. So if you want to get cheaper CamelBak water bottles, one alternative to consider is sourcing similar water bottles from experienced water bottle manufacturers. Such like KingStar, we can offer you numerous benefits. Sourcing wholesale water bottles directly from us can often result in significant cost savings. We typically offer competitive pricing because they produce bottles in larger quantities and have streamlined production processes. Also, we often provide discounts for bulk purchases. If you need multiple water bottles, buying in larger quantities can further reduce the cost per bottle. Besides, we offer customization options, allowing you to design water bottles that meet your specific needs. You can choose the size, material, color, and even add your own branding or logos.
Most importantly, we are reputable water bottle manufacturers prioritizing product quality and safety. You can expect the same level of quality and durability as you would from well-known brands like CamelBak. You can have direct communication with our production team. This can be valuable for discussing product specifications, making adjustments, and ensuring your requirements are met. If you want more detail about water bottles, feel free to contact us!