When you pour your favorite cool beverages, ice cubes or piping hot coffee into the tumbler, you certainly want to enjoy it to the last drop with a satisfying temperature. However, the truth is that the insulation performance of most tumblers in the market are not so excellent. As a result, the chilling ice cubes may melt after one or two hours and the hot coffee may become lukewarm soon. As it is known to all, tumblers are not thermos bottles, we can not ask them to do better, but you must have heard that there are some vacuum insulated tumblers of premium quality that are capable of keeping drinks hot for 3 hours or cold for up to 6 hours. Is that true? And what are they?
Technically speaking, both RTIC insulated tumbler 30 oz and YETI Rambler have the excellent insulation performance. YETI Rambler is more durable while the RTIC 30 oz is only half the price of a YETI Rambler. So in this article we will share with you two best insulated tumblers—YETI and RTIC.
RTIC Insulated Tumbler 30 oz
Compared with YETI Rambler, the RTIC insulated tumbler 30 oz is really a bargain, but this tumbler boasts really excellent insulation capability and a spill-proof lid. This lid can seal the tumbler efficiently without leaking issues, dwarfing other tumbler brands in the market. But it should be pointed out that this tumbler is still not safe to be put in the bag while you are walking.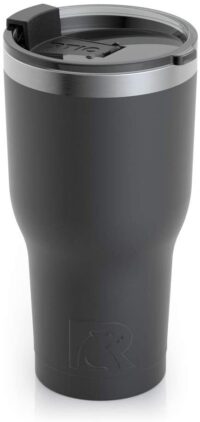 Key takeaways:
High quality stainless steel with double-walled structure yields satisfactory outcomes and deserves the price.
The RTIC Insulated Tumbler 30 oz is a cheaper drinking container that can keep your drinks hot or cold for an agreeable duration.
The outstanding anti-leak functionality owes to the flip-up stopper. But the this tumbler is still not suggested to be put in the bag or backpack.
The plastic lid holds the insulation performance back, otherwise the entire rating of RTIC would be higher.
The plastic "foot" indicates that the Insulated Tumbler 30 oz is not so sturdy, but it indeed drops the price.
The no sweating shell of RTIC Insulated Tumbler 30 oz offers strong grip and is applicable for most of the holders.
YETI Rambler 30 oz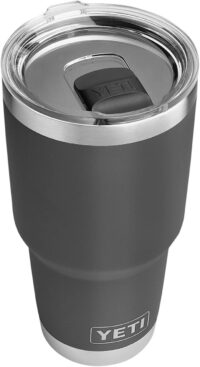 Despite its expensive price, YETI Rambler 30 oz can nearly overshadow all the stainless steel vacuum insulated tumblers in the market. YETI Rambler 30 oz is famous for its incredible durability and easy-to-use design. The drinking lid adopts magnet design, which greatly facilitates your hydration. However, the easy-to-use lid is made of plastics, which indicates the degradation of the insulation capability of YETI Rambler. The durability of YETI Ramble comes from high quality stainless steel and sturdy coating of the shell. The body part tolerates no condensation or sweating so that your hands can be dry and you can enjoy comfortable grip. YETI Rambler 30 oz has long been pursued and favored by outdoor enthusiasts who frequently take this great tumbler to various outdoor activities such as tailgating, mountain-climbing and camping. Actually, during our tests, we have found that this Rambler 30 oz is not so suitable for drinking coffee (small volume is better for drinking coffee). So if you are a coffee lover, it would be better for you to pick up YETI Rambler Mug 14 oz.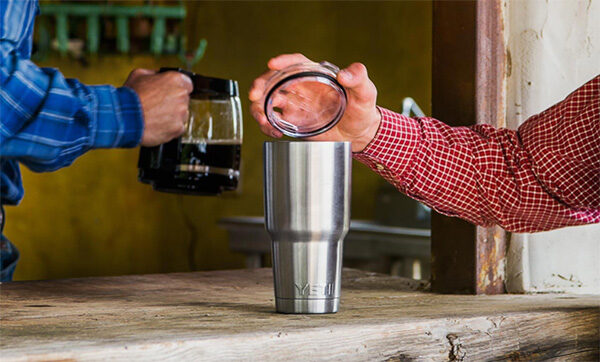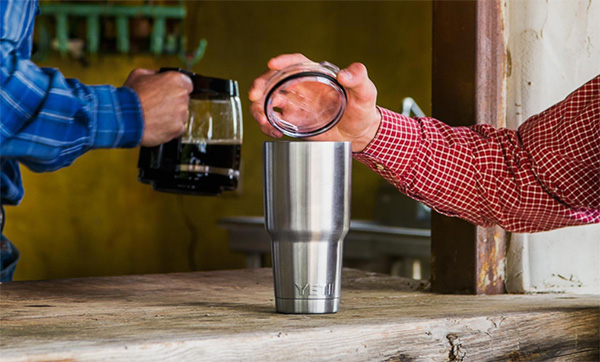 Key takeaways:
The body material is made by stainless steel 18-8 (SUS304) that contains no BPA and other toxin.
The plastic lid is easy to use, but directly degrades the insulation performance.
The slip-lid is not leak-proof so do not put it in the bag. You will get dribbles if you put YETI Rambler 30 oz upside down, so be careful!
The quality of YETI can be guaranteed for sure. After all, it is YETI.
YETI Rambler 30 oz boasts wide applications as it is designed to fit in standard sized cup holders.
YETI Rambler offers you multiple color options for your choice.
Yeti Tumbler VS RTIC Tumbler, Which One Is Better
Let us compare RTIC and Yeti tumbler through this detailed list below.
Features
Yeti Tumbler VS RTIC Tumbler, Which One Is Better
Yeti Tumbler
RTIC Tumbler
Leak Proof
√
Spill Proof
√
Insulation Performance
√
Warranty
√
Pricing
√
Brand popularity
√
Durable
√
Portable
√
√
Fit Cup Holder
√
√
Copper Plated
√
√
Material 18/8
√
√
BPA Free
√
√
ECO Friendly
√
√
Made In China
√
√
Conclusion
 Compared with other vacuum insulated tumblers in the market, both RTIC Insulated Tumbler 30 oz and YETI Rambler 30 oz are really good tumblers in bulk. They feature different strengths and are worth buying. If you want to enjoy a longer service life, then the durable YETI Rambler is the better choice. But if you care more about your budget and intend to buy a tumbler of high cost performance, then you can take a look at RTIC Insulated Tumbler 30 oz.
How Are YETI & RTIC Tumblers Made?
The production manufacturing processes for RTIC Tumbler is the same as that of stainless steel Yet Rambler tumbler at China water bottle manufacturer supplier.
The main process is as below:
Manufacturer inner tank
Manufacturer outer tank
Welding outer tank with inner tank
Vacuuming
Insulation test
Polishing
Decorating
Insulation test
Packaging with lid
Order Custom Water Bottles & Tumblers
Get competitive price and premium custom drinkware from KingStar — Short lead time, door-to-door global shipping, strong Engineering support!