Lately, we've been receiving frequent emails from insulated water bottle / tumbler consumers who need guidance on identifying counterfeit or counterfeit Yeti ramblers. The huge success of the Yeti glass not only inspired Yeti to make further progress, but it also attracted some risk-takers who unexpectedly made "Yeti Rambler Tumbler" with the same look and quality as genuine Yeti thermos cup. However, they are basically fake, so some methods can be used to spot them. In this blog post, KingStar, as the leading tumbler manufacturer, suggests the following 11 ways you can try to uncover the secrets of counterfeit Yeti water bottles/tumblers in bulk.
How to Spot a Fake or a Counterfeit Yeti Tumbler?
The Insulation Performance
Compared to a real one, the fake Yeti tumbler is a trash in terms of the insulation performance. A real Yeti can keep ice cubes intact for 6 hours. However, ice cubes in a fake Yeti tumbler may be watered down in just 1 or two hours. That's because the real one adopts thickened stainless steel as the body and brass as the core, whereas an inferior or a fake one uses bad stainless steel without a layer of extra copper. The outstanding chillness-retaining property of the Yeti tumbler makes sure that it is entirely sweat-free, offering users a pleasant and dry touch.
Some fake tumblers are not made of 18/8 stainless steel (SUS304). As we all know, substandard stainless steel is harmful to the body.

When customers are closing the tumbler, they would hear a noise coming from the strewing action. It is quite normal for a real Yeti tumbler. But, the noise would be much more louder if it is a fake Yeti due to the inferior stainless steel. Besides, when it is placed on the table, a real Yeti needs no coaster.
The texture of the lid between a counterfeit Yeti tumbler and a real one varies a lot. The counterfeit one has a tough touch yet the good one touches good with a great grip.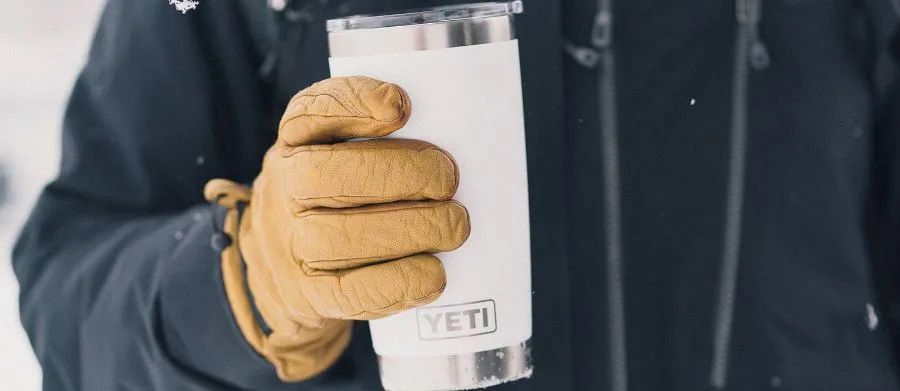 How Can You Tell a Fake Yeti Rambler 30 oz?
Yeti rambler 30 oz is equipped with a BPA-free plastic lid that is of high quality. And it is the lid that helps to offer important information. The lid of a fake or a counterfeit Yeti tumbler has more or less glue tints to the cover, whereas a real one has not such glue smudges.
Authentic Yeti ramblers are heavier than a fake one. Customers can take off the lid before weighing them to see the differences. Yeti ramblers 30 oz adopt thickened stainless steel walls and the brass core inside to improve the durability and the insulation property, hence the increased weight. By contrast, a fake or counterfeit Yeti rambler 30 oz will never use quality stainless steel as they need to save costs earning more.
On the bottom of the Yeti tumbler 30 oz there is a Made in China text and series numbers. A fake or counterfeit Yeti tumbler does not have a clear lettering and its series numbers are often fabricated, whereas the series numbers of an authentic Yeti tumbler can be traced and checked. It is recommended by KingStar that customers look at them side by side at the bottom to catch the details. Also, the real Yeti tumbler has a smooth touch on both the logo and the bottom.
How Can You Tell If a Yeti Rambler 36 oz Is Real?
Apart from the above introduced methods, there are more ways to tell if a Yeti rambler 36 oz is real.
When it comes to a Yeti rambler 36 oz, the label can tell the truth. A fake or counterfeit Yeti rambler usually misspells the words or just replace several words with others in the label on the shell. For example, a fake one may have a "un-frosthit" instead of "un-frostbit", which is the right version. Sometimes, parenthesis and punctuation are purposefully omitted so as to reduce the possibility of infringement. Such behaviors are annoying and shameful.
Just like labels, documentation expresses a lot. Usually, a fake documentation copies most of the information covered in a real one with only several variables. For instance, in a counterfeit documentation "double-wall vacuum" is rewrote into "double-wallvacuum" deleting the indispensable space. And this calls for sharp eyes to tell the differences.
One touch at the small packaging card helps to distinguish the real one from the fake one. And the reason is quite simple. The packaging card of a fake Yeti rambler 36 oz is much more flimsy. So what about the real one? The real card is close to the thickness of a greeting card.
It is a tough fight for customers to tell the differences between pamphlets of two Yeti ramblers 36 oz. In general, the printing quality on the real pamphlet is better than the counterfeit one.
Want to Establish a Tumbler Brand Like "Yeti"?
You are in the right place. KingStar is the leading vacuum insulated stainless steel water bottle tumbler manufacturer who provides one-stop ODM/OEM manufacturing service.
Over 95% of the world's stainless steel drinking utensils (including water bottles, thermos tumblers, mugs, jugs, etc.) are produced in China. Unique production strength, relatively low prices, and convenient delivery channels give Chinese water bottle suppliers an unparalleled advantage.