Logos speak for companies. Remember the capital letters of YETI, and the adorable pattern of giant bear of RTIC? It's an effective propaganda which boosts the publicity of your company – thus to stimulate sales volume. If you're considering placing an order of bulk thermos flasks, why don't you get some custom printed logos with distinct uniqueness onto these thermos flasks? A brilliant insulated-bottles wholesaler will be qualified enough to provide water jugs with excellent quality and logo accorded with your needs perfectly, but here in KingStar, we get this job done way more than perfect.
What Seems to Be Your Choices for Logos?
If you've got your special sign – your unique design, so to speak. The next thing to do is to place it onto your hydro jug water bottle and get ready to enjoy your uniqueness. But what will be your final choice among all these customization methods offered?
Logo Printing
Sounds familiar, right? It's the most common choice among clients. Our main technologies are listed below for you to check out.
Laser Printing – This technology suits logos with simpler pattern with one color. For companies who prefer things not to be complicated, logos of concise style highlights their high-class tastes.
Screen Printing – Excellent choice for vivid logo with colorful outlook! Doesn't an insulation water cup with brightly printed logo sound wonderful when a dull logo with only one color can't fully express your bright character?
Engraving and Embossing
Similar techniques without any duplication in-between.
Engraving – Logos printed by this technology lasts longer than your imagination. Its robustness will be so remarkable that it survives nicely through wearing and abrasion.
Embossing – Best choice for orders with relatively large quantities! Let's say you just ordered about few hundred pieces of insulating flasks – then the technology of embossing will finish this task perfectly – and saving costs at the same time.
Labelling
Metal emblem or tagging.
In this case, your stylishly carved logo made from durable and sturdy metal will protrude from our insultation water bottles / mugs tumblers / glasses– Attractive display, isn't it? Place your hands on it and you can feel the subtle craft we applied during labelling.
Other Assigned Technologies
Digital Printing – Remember the adorable floral prints of Hello Kitty on double walled insulated cups? Bingo – they are craved by digital printing.
Heat Transfer – A more cost-effective customization compared with regular silk screen print. The attachment will stick robustly and durably to your ordered custom-made drinkware.
As professional wholesalers with more than rich experiences in labelling vacuum insulation drink bottles, KingStar specializes with a numerous number of technologies in attaching your logo on and thus benefiting publicity of your company with our products.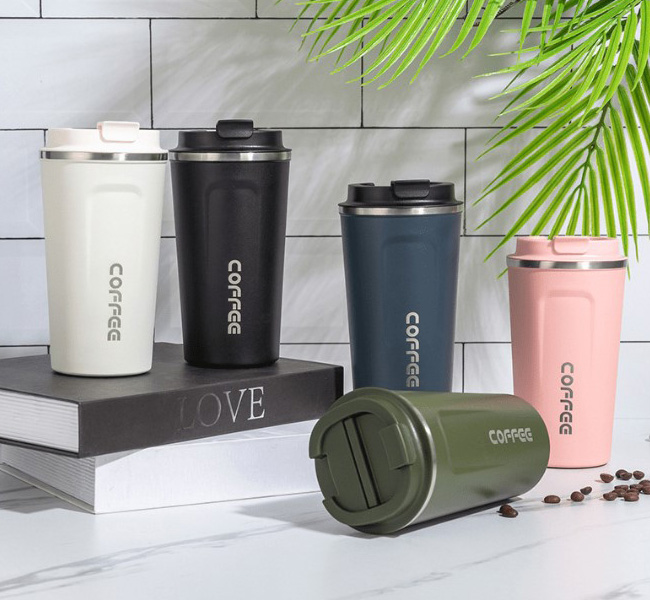 Types of Logos Usually Made
Besides those cases coming with a decided logo famous enough to catch eyes, what if you're just a starter in business, considering among several patterns for an eye-catching logo? See if our experiences could offer you any inspiration.
Text
It could be a word or a sentence expressing the spirited culture of your company, a heart-warming holiday greeting on Christmas or New Year's Eve, or maybe catchy short sentences to impress others while declaring a lifestyle – you tell me! A vast number of personalized tumblers will make perfect gifts on exhibitions or for holidays/big events.
Monogram
   What is a monogram? The meaning doesn't seem to be related with all effects ever created – a motif of more than two letters that combines as a symbol. But do you remember LV for Louis Vuitton, or NASA for National Aeronautics and Space Administration? A nicely designed, easily remembered monogram for logo impresses customers and thus to speak for your business.
And here comes the best part of having a monogram printed on double-walled insulating cups – there will be plenty of spaces to compose a neat, slinky design!
Graphic
Photos usually work well in information transferring – it's more visual and more vivid. Therefore, if you find texts not enough for your ideas, why don't you try graphics? Imagine a delightful graphic or a humorous comic printed on practical customized drinking water cups – isn't it nice?
For instance, Kingstar once made a patch of metal insulated water jugs which are attached a picture of T-rex as customization. The T-rex tries to bend over to finish a yoga position while its claws are too short to touch the yoga pad, and its head bumps to the ground – it's hilarious!
Other Patterns
Besides these designs mentioned, is there any other patterns (hilarious memes, for example) manufacturers usually make.
Kingstar –Familiar with the Most Advanced Technology
Besides the humorous T-Rex mentioned, symbols vary here in Kingstar. We rule different logo-manufacturing styles primely.
Kingstar applies 3D printing alongside these common technologies above. With 3D printing, we skillfully handle every symbol comes to mind.
Place an Order of Wholesale
Connect for order – Step one is to connect with product managers who are rich in experiences and always willing to help. They will be there to solve all your worries and concerns before ordering.
Quantity – It's up to you! How many pieces of drink tumblers are you thinking of?
Packing and delivery – Would you want our thermos cups delivered to a specific address? Which delivery term do you prefer? They're all negotiable.
Other issues – Materials, colors, certifications…You can discuss all these requirements with us.
Connect and Provide Your Ideal Logo Wanted
Now here comes the logo confirmation part – your ideal logo.
What to do to provide? A document of your logo wanted will be nice. The format includes but not limited to PDF, DOC, CDR, AI and JPEG…Anything that could be read on computer will do!
Alongside these documents mentioned, you could also connect and describe the designs that you're picturing. Don't worry about the actual effect – we will confirm with you before production.
Looking Forward to A Patch of Beautiful Insulating Water Cup
Now with all works prepared, all you need to do now is to wait for finished work of your ordered number of custom water tumblers with custom printed logos robustly attached.
KingStar – Private Label Water Bottle Manufacturer
The vacuum sealed water cup manufacturer you're looking for stands here in front of your eyes – KingStar. We are skillfully experienced with multiple cooperation with all kinds of brands (both classic and emerging).
How to Make Sure That Our Works Meets Your Requirement
Your concerns are totally understandable, but as a trustworthy water jugs manufacturer supplier, KingStar can guarantee for what we promise – Flawless customization for each customer in need.
Our manufacturing of logo will be divided into three parts –
First – Handling your format or idea to our skillful designer
Your idea or file of ideal logos will be handed and fully explained to our designer who always keeps mind in meeting customers' requirement for a nicely printed logo on a stylish vacuum insulation cup.
Second – Check and accept preliminarily completed version
Practiced sales managers here in Kingstar will be the first gatekeeper to verify strictly. When it comes to customization, not a single sight mistake will be tolerated.
Third – Connecting with you to confirm
Logo completed will be sent to you for confirmation. Your idea plus our skill equals a neat, fashionable logo which impresses people around you.
With all these carefully gated processes, accuracy could be 100% guaranteed so could the flawlessness of your assigned logo.