Have you noticed the daily growing of wholesale mode in industry of water cups? As a thermos bottles manufacturer, Kingstar's decently designed, beverage-restoring tumblers are popular to clients worldwide. Maybe you're already drawn by this popular trend and planning to order a comparatively bulk quantity, but here comes a question – do you know what should be figured out before clicking the "Pay" button?
Should You Order at Wholesale Price?
Yes, buying in bulk is becoming a trend, and many of our orders of drink tumblers are of bulk quantities. But is it a trend you should follow? Check these suggestions out below. If you're accorded with any of them – then don't hesitate and start planning!
Hight Cost-efficiency
One of the benefits of purchasing in bulk lies in accompanied discounts. Unlike personal customers, enterprises tend to order a comparatively bulk amount of stainless-steel thermos to enjoy discount. Besides, it will be more convenient during picking up.
Gifts to A Large Crowd
Have you ever experienced picking out presents to a large crowd? For example, as a host of a relatively large activity, you're facing the dilemma picking an appropriative gift for those who participate; or you're considering among many presents to your clients of importance (which could be a large number) on Christmas. If you're in these cases, then why don't you choose a bulk of decent and practical insulated thermos water bottle?
Premiums of Main Products
Can you recall the premiums coming alongside toothpastes or shampoos in supermarkets or on Google? People don't usually expect too much of what's for free, but in certain circumstances there are those special little gifts which excite them more.
Kingstar, an outstanding manufacturer of thermos tumblers, has always been dedicated to cooperating with famous brands in offering premiums of what they mainly sell. Our tumblers work great.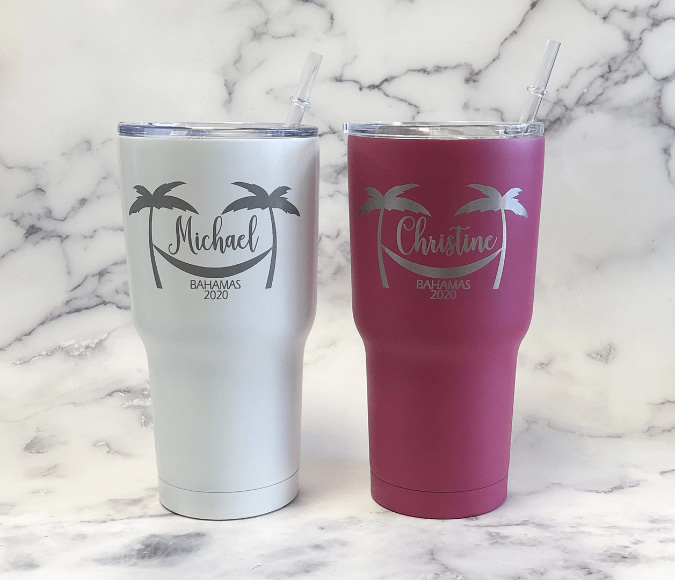 Questions Before Purchasing
Which Type of Bottle Are You Looking For?
Here comes the first question – Which one do you prefer?
Vacuum insulated water bottles, coffee mugs, tumblers with straws…this list goes on!
And considering of different preferences of different customers, we provide multiple choices for every type, such as wide or narrow mouth for vacuum sealed water jugs, or with or without straws. We suggest that you could select one of each type, so everyone could choose freely as their wishes.
Who Are Your Target Audiences/Clients?
   Customers – Market research before purchasing will help a lot. Or you can click the "Inquiry Now" button for our assistance – Kingstar's professional sales managers with rich experiences will guide precisely to help in picking the most popular hydro bottle flasks welcome to your clients.
Guests of Your Big Event – Your company holds an exhibition activity which all important clients (including potential ones) are invited to. Gifts you prepared require both practicality (daily products work well) and attractive (attractive enough for them). What will be your final decision?
   Kingstar recommends a set of stainless-steel tumblers with your private logo which not only impresses your guests but also advertises your business in an invisible way.
Do You Want Them Customized or Not?
Customized – Trust it or not, vacuum insulation cups printed with unique decorations definitely catch more eyes than those without. Customization could be involved with logo of your company or a special sentence to thank their long-termed support.
Original – There is a chance that your target clients don't want any customization. What if they prefer original stainless-steel for appearance rather than coating? You could avoid a lot of trouble if you figure out about customization first.
What Kind of Decoration Are You Thinking of?
Color – You can always add customized graphic decorating on your thermos cups for both attractive appearance and protective layer reacting against denting and abrasion. Spray painting, powder coating, polishing…Feel free to pick one.
Text – Would you like a hilarious little joke, or your favorite pearls of wisdom printed on your thermos water bottle? Or if you're ordering these hydro jugs as presents, it will be a great idea to customize a word or two for celebrating or greetings.
Other Decorations – Do you want some patterns on your thermos flasks? Such as a fascinating pattern of starry sky?
What Decorations Can Kingstar Provide?
As a hydro bottles manufacturer, Kingstar provides countless types of customizations from shape to color. Our decorations are always appealing to customers from multiple countries.
Where to Purchase Your Wholesale Insulation Bottles?
Pick a Wholesaler/dealer Who Deserves Your Trust.
Step one is to find someone who deserves long termed cooperation. You definitely don't want to deal with those who charge you a load of money for water bottles which couldn't work after two days. But how to verify if a water bottle manufacturer deserves your trust?
Products – Check out the dealers you found. Do their wholesale tumblers look good? Which one looks the best?
Customization – Since you're looking for ordering in bulk, customization matters a lot.
Certifications – Can they provide certifications which guarantee security? Wholesalers whose products can pass quality examinations do care about customers' health.
Communicate with Them So They Could Help.
Let's assume that you've finished locking an ideal dealer of hydro jug containers. What to do now?
The answer is obvious – to connect. Only in this method you could confirm all you need to know. Where are they located? Do they provide customization? Can they provide BPA free certification? If you're looking for their help, don't hesitate to pop the question.
Try with Little Amount First
Testing program, as we call it. Try ordering a relatively small and acceptable quantity first to check the look and quality of hydro tumblers. You can take it as a trial-and-error process during finally locating the ideal wholesaler.
Kingstar – Reasons to Trust Us
Products – Check out our various tumblers and bottles! Each of them comes with a stylish design, not to mention their qualities witnessed by customers in global.
Customization – Just see how many customizations we are able to offer – molding, manufacturing, decorating, logo and packaging.
Certification – We pass all kinds of quality examination such as FDA, REACH, etc.
Send email to sales@waterbottle.tech
You can connect us here.
See the "Inquiry Now" button in the top right-hand corner? Just click it and Kingstar's professional product managers will be online, ready to solve any of your question. There will be suggestions in picking, recommendations for varieties, sizes and logos, techniques you might use for, and all helpful answers to your all kinds of questions!
You can search us on Google or Bing.
It will be convenient to search Kingstar on Google or Bing. Our dazzling products will catch your eyes.