When it comes to the debate about the best insulated tumbler cup, people would always fall into varied points of view. Some firmly believe that Yeti rambler is the best, while others may cling to the emerging brand BrüMate. Still others think highly of Tervis insulated tumbler cups. In this article, as the top insulated tumbler manufacturer, KingStar will tell you our top pick(s).
I. What Are the Best Insulated Cups?
As you may have noticed from the subtitle that we use "Are" and "Cups" instead of the singular form. Yes, we have two top picks. The BrüMate insulated tumbler and Yeti rambler cup are the best insulated cups. Yes, we have voted both of them based on our actual using experience and strict quality & insulation tests.
A Yeti rambler can keep icy cold drinks cold for 7 hours and hot ones warm for 5 hours. And there is little difference between a Yeti rambler and a BrüMate insulated tumbler in terms of the insulation performance. However, these two tumbler cups adopt entirely different insulation methods to achieve the same agreeable results. So what are they?
A Yeti rambler uses ultra thickened stainless steel to build the walls in which heat is trapped (the so-called vacuum space). The thickened insulation structure greatly enhances both the insulation performance and the anti-impact function. And that's partly the reason why a Yeti rambler is so durable. In fact, Yeti drinkware and sports gears all adopt this upgraded stainless steel to make their products much more competitive, which is worth modeling.
In contrast, a BrüMate insulated tumbler, apart from being equipped with a double-walled stainless steel heat-retaining structure, is also plated with an extra copper that boosts the insulation property.        Similarly, such a cup is capable of keeping icy cold liquids cold for nearly 6 hours and hot drinks warm for approximately 6 hours. BrüMate has initiated this heat retention tech, which is later followed by other water bottle brands.
Therefore, from the above two cases, it is advisable for you to combine the thickened material with an extra copper layer plated on the outer surface of the inner stainless steel wall to obtain the ideal heat-retaining outcome.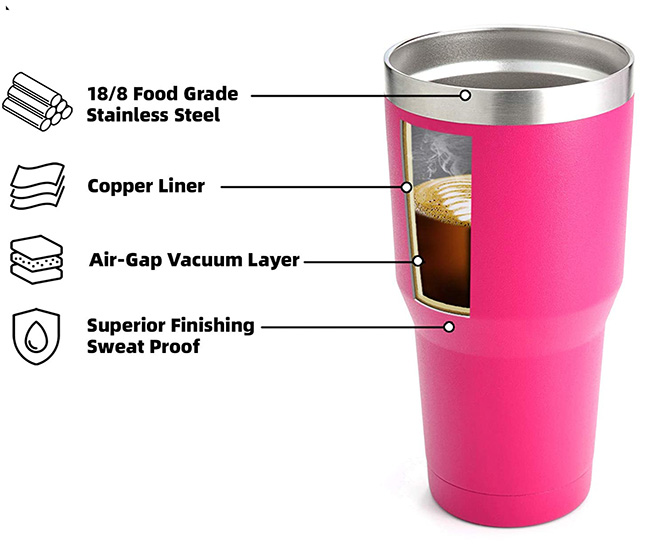 II. What Type of Cup Keeps Ice Cubes from Melting?
In general, there are plastic tumbler cups, ceramic tumbler cups, glass tumbler cups and stainless steel tumbler cups on the market. These cups feature different properties and are suitable for some certain uses. So which one or which type of cup can keep ice cubes from melting?
Let's look at plastic tumbler cups first. Plastic tumblers are suitable for holding icy cold liquids, yet they are bad for containing hot drinks because harmful chemicals such as BPA will be released into drinks. This material is not eco-friendly and is not good for health, either. Although such a tumbler can hold ice cubes, it fails to keep them from melting. Once they are put into the cup, ice cubes will melt fast, and the melting speed depends on the room temperature. If the cup is placed around the North Pole, ice cubes in it will not melt until the global warming reaches an incredibly high level. You know, I am joking. Plastic tumbler cups are not the choice.
What about ceramic tumblers? Ceramic tumblers have unique texture and can be used as a kind of elegant garniture. The nice look of them have managed to attract people's attention, but ceramic tumblers can not prevent ice cubes from melting, either. Unlike plastic tumblers that are not suitable for containing hot liquids, ceramic tumblers handle with them easily without poisoning people's health. But there is an obvious disadvantage of ceramic tumblers–they are fragile and prone to impact. If it is dropped onto the ground even from a low height, a ceramic tumbler may be crushed. Even worse, the scattered ceramic chips may result in skin bleeding. In a word, ceramic tumbler cups are not the choice.
Do glass tumbler cups keep ice cubes from melting? No, they don't. Glass tumbler cups in bulk are somewhat similar to ceramic tumblers. They are both applicable for holding cold and hot water, yet both fail to achieve insulation function. Glass is a durable material but it succumbs to impact right away just like a ceramic cup does. Both of the two can not trap the heat/chillness, nor can they become our choices.
Here the only option left is the stainless steel tumbler. Luckily, this is The choice. A single-walled stainless steel tumbler is not insulated, instead, only the tumbler with a double-walled stainless steel structure succeeds in realizing the goal. The two stainless steel walls are void of air and form a so-called vacuum space in which heat conduction, convection and radiation are minimized, hence the outcome of heat retention. All in all, it is the insulated stainless steel tumbler cup that manages to keep ice cubes from melting fast.
III. 5 Ways to Keep Ice Cubes from Melting in a Cup
Often, a cup is in line with the room temperature containing considerable amount of heat. So when people pour cold drinks into this cup, heat will be transferred from the cup into the liquids swiftly. As a result, ice cubes will melt quickly.
So a practical approach is to pre-chill the cup reducing the temperature of the tumbler before putting ice cubes into it. KingStar suggest customers put the tumbler in the freezer for at least 2 hours letting the cup be chilled thoroughly. It must be mentioned that before placing the tumbler in the freezer, customers should remove the lid first in order to "destroy" the complete insulation system, which in turn enhances the cooling performance.
Another reason of ice cubes melting fast in the cup is that the drink has not been cooled. You can also pre-chill the drink to prolong the existence of ice cubes. This time customers are advised to chill drinks in a cooler or a freezer 1 hour before putting ice cubes into the tumbler cup.
Use a vacuum insulated cup
As stated above, the only cup that prevents ice cubes from melting quickly is a stainless steel cup with a double-walled insulation structure. The vacuum space between the two stainless steel walls greatly retains heat/chillness.
Guess what? Using larger blocks of ice can be helpful. As a general rule, the larger the ice cubes, the slower they melt in the tumbler cup. Therefore, it is advisable for customers to use larger blocks of ice in pace of little cubes.
Avoiding direct sunlight also slows the speed of ice melting. So before using the tumbler, store it in the shade. The less sunlight the cup is exposed to the longer the ice cubes will last.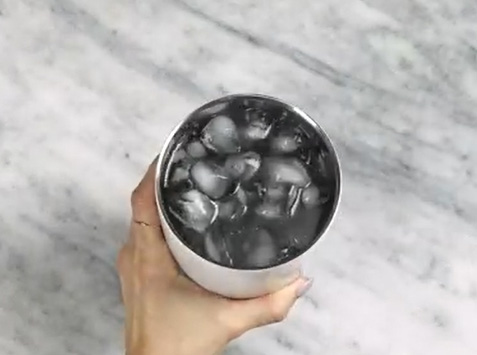 IV. What Cup Keeps Your Drink the Hottest?
We have tested for many times and the BrüMate stainless steel insulated tumbler is the best insulated tumbler cup for hot liquids. BrüMate tumbler cups are equipped with double-walled stainless steel walls together with an extra layer of copper. This ingenious design helps this brand win the title. But from KingStar's perspective, if BrüMate models on Yeti's thickened material, their drinkware can yield a better heat-retaining outcome.
V. Are Yeti Cups Spill-proof?
No, Yeti cups are not leak-proof or spill-proof. Yeti has devised their MagSlider Lid that uses the power of magnets to seal the tumbler. As a result, their tumblers in bulk are leak-resistance, not leak-proof. In other words, it is not recommended for customers to put a Yeti cup in the bag when commuting. Drinks contained in the cup is likely to spill over the Yeti cup wetting stuffs such as the wallet, tissue or the phone in the bag.
Order Custom Water Bottles & Tumblers
Get competitive price and premium custom drinkware from KingStar — Short lead time, door-to-door global shipping, strong Engineering support!