Americans love drinking coffee. The National Coffee Association reported in 2020 that almost 64% of Americans consume coffee regularly and nearly 90% of people aged 30 to 40 drink coffee every day. In the past, Americans were fond of drinking coffee with dixie/paper cups and plastic cups that were cheap, convenient and disposable. However, as people become more aware of environmental protection, dixie/paper cups as well as plastic ones are less favored as they pose threats to both the human body and the environment. It is speculated by experts that stainless steel tumblers in bulk for coffee will lead the field. So what is a stainless steel tumbler and can you put coffee in it?
What Is a Stainless Steel Tumbler?
Stainless steel tumblers are mostly made by stainless steel 18-8 (SUS304), a kind of food grade material that has been widely used in many industries and is eco-friendly.
According to the number of tumbler wall and whether it has thermal insulation performance, stainless steel tumbler can be divided into 3 types:
Single-wall stainless steel tumbler
Double-wall stainless steel insulated tumbler
Double-wall stainless steel non-insulated tumbler
At present, most tumblers on the market are double walled stainless steel insulated tumblers
According to the stainless steel model of the inner wall, the stainless steel tumbler can be divided into:
304 stainless steel tumbler (18/8 stainless steel tumbler)
316 stainless steel tumbler
Basically, an insulated stainless steel tumbler is a beverage container that is suitable for holding liquids such as carbonated drinks, coffee, tea and of course, water. It is normally equipped with a straw (either of stainless steel or BPA-free plastics), allowing you to consume the liquids in it more conveniently. Nowadays, insulated tumblers are designed into fashionable and slender shapes, and with benefits such as portability, versatility and durability, they are also adored by office men & ladies as well as outdoor sports enthusiasts.
Can You Put Hot Coffee in a Stainless Steel Tumbler?
Some people cling to the belief that coffee is a kind of acidic liquid that may react with the stainless steel, changing the authentic flavor of coffee, damaging the tumbler cup itself, and releasing harmful elements. On the contrary, coffee will never react with the stainless steel, and the PH level of a standard coffee is between 4.5 to 6.0, close to the neutral level. It may surprise you that the PH level of a bottle of coke is nearly 2.6! Some people tend to add milk to their coffee for better taste and nutrition. It is okay as milk is more neutral than coffee in terms of the PH level.
So the answer of this question is undoubtedly "yes". There is no chemical reaction between hot coffee and stainless steel. Besides, stainless steel will never impart smell to coffee, offering you the original pure taste, which is hardly realized by a paper cup or a plastic cup.
If you are still worried about drinking coffee with a stainless steel mug, just have a look at the coffee machine that provides you with delicious hot cappuccino and latte. In fact, the major part of a coffee machine adopts food grade stainless steel 18-8 (SUS304) and coffee made by the machine is inevitably exposed to the stainless steel for a certain period of time. If the stainless steel material is incompatible with coffee or milk, why is it still extensively adopted?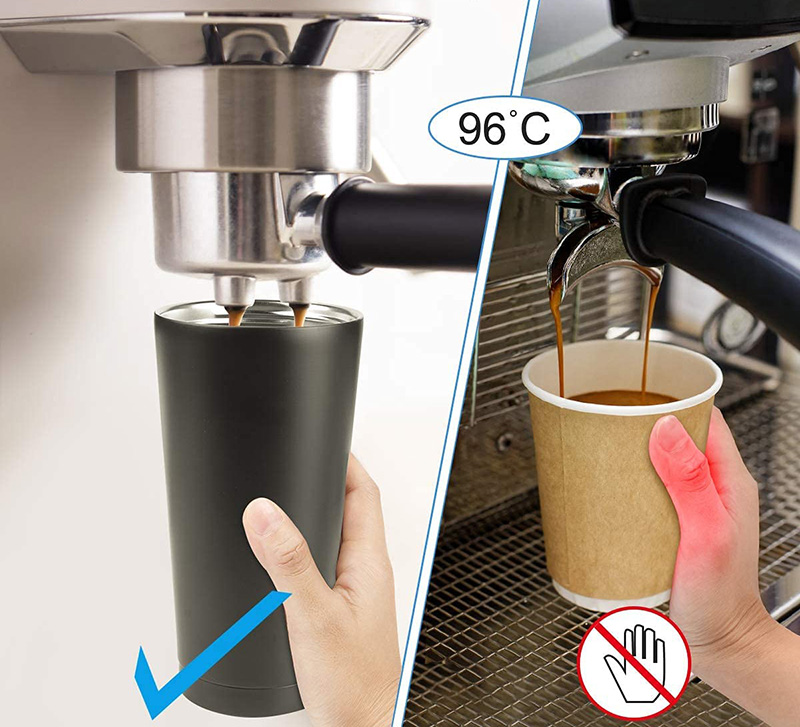 Insulation Capability of a Insulated Stainless Steel Tumbler
If you want your coffee to stay hot longer, you have to buy a vacuum insulated tumbler of premium quality that uses double-walled stainless steel structure. Such a tumbler is able to keep your piping hot coffee hot for up to 4 hours or icy cold coffee cold for 6 hours. There is a so-called "vacuum space" between the two stainless steel walls through which the heat is difficult to penetrate.
Here KingStar shares with you a tip about how to improve the insulation capability of your stainless steel tumbler. Virtually, the beginning temperature of the coffee plays an important role in influencing the final insulation performance. If your coffee is at boiling temperature when you pour it into the vacuum insulated tumbler, then the stainless steel tumbler can keep your coffee hot for 6 or more hours or lukewarm for even 10 hours! However, if the starting temperature of your coffee is low, say, about 122ºF (50ºC), your powerful tumbler may not yield agreeable insulation outcomes and the coffee may only stay hot for 1 to 2 hours. Why? Because the inner wall of lower temperature will absorb heat from the coffee.
Therefore, you have two approaches to enhance the insulation capability of your stainless steel tumbler—either boiling the coffee hot or preheating the inside wall of the tumbler with boiling water. KingStar suggests you to choose the second method, which is much more convenient and practical. Simply leave the boiling water in the tumbler for 2 minutes and then discard it, and you can store you favorite coffee in the tumbler. You can also use a towel or a piece of warm cloth to wrap the tumbler, which is conducive to improving the insulation performance, too.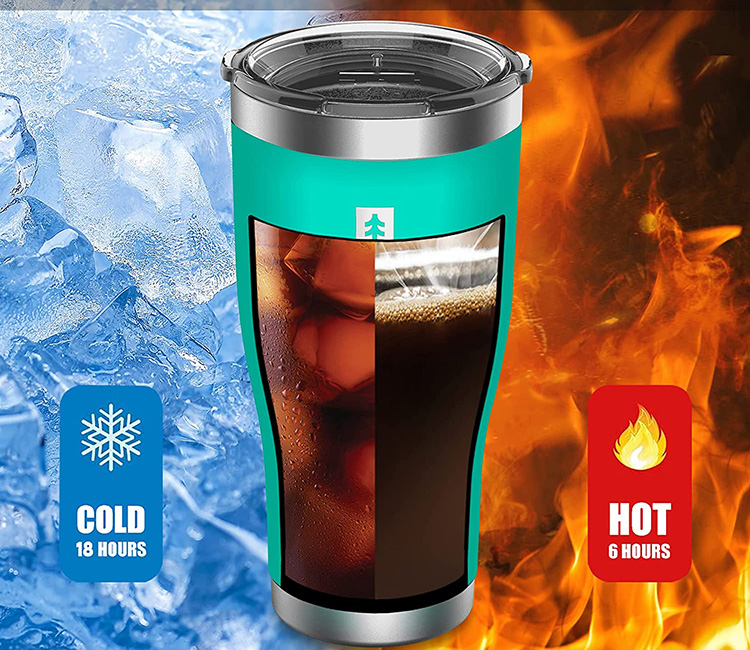 How Vacuum Insulated Stainless Steel Tumbler Works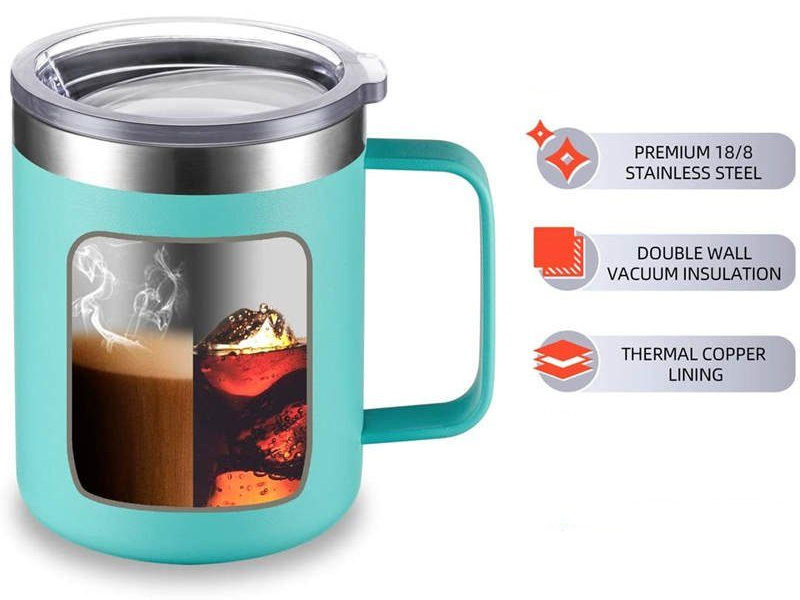 How does a double wall stainless steel tumbler keep coffee hot for hours?
There are three ways of heat transmission:
Radiation
Convection
Transmission
The silver-white surface inside the thermal insulation cup can reflect the radiation of the hot water, the vacuum layer between the double-layer stainless steel walls can block the heat transfer, and the tumbler lid that is not easy to transfer heat can prevent the heat convection.
Copper plating of the inner tank can significantly enhance the heat preservation effect. Please refer to this article for details: Insulated Water Bottle: Thermal Insulation Effect of Copper Plating on the Inner Wall
Benefits of Drinking Coffee with a Stainless Steel Tumbler
 So, what benefits will drinking coffee with a stainless steel tumbler bring you? First, compared with a plastic cup, a tumbler made by stainless steel 18-8 is unquestionably healthier to use. This food grade material allows you to enjoy every sip of your coffee safely and purely. Some plastic cup may be safe to use in the beginning, while they may release harmful elements during your hydration gradually, and your health will be harmed soundlessly and stirlessly. Drinking coffee with a stainless steel tumbler can thoroughly eliminate this potential problem, bringing you a healthy coffee intaking.
From a broader perspective, using stainless steel tumblers is safeguarding our natural environment. We have long been suffered from the natural resource depletion, the "white pollution" resulted from plastics and other serious issues like global warming. By adopting durable, recycled and eco-friendly stainless steel tumblers, we can actually reduce the exploitation of natural resources (paper cups are made by wood) and the application of plastics, contributing to protecting our environment. What's more, the prevalence of stainless steel tumblers is helpful to improve the whole country's awareness towards a green life and a sustainable development.
Some companies who commit to social responsibility have already promoted the use of stainless steel tumblers. For example, Starbucks happily helps you to fill their tasty coffee with your own tumbler, which directly reduces the waste of paper cups and improves your drinking experience. This practice is believed to be nice and environmental-friendly, and has been learned and popularized by some other shops across the world.
How to Clean a Stainless Steel Coffee Tumbler?
After you have finished your coffee, you need to wash the tumbler carefully to keep it hygienic. It is easy to clean a stainless steel tumbler, which only takes you a few minutes. Before cleaning your tumbler, you need to prepare the following things:
Vinegar
Dish soap
Baking soda
Carefully wiping the tumbler with vinegar/a dish soap/baking soda to remove the smell and annoying stains of coffee on the tumbler. It is suggested to wash the lid, straw and the body separately with warm water.