As it is known for some insulated stainless steel container manufacturers, business beginners may have trouble realizing the launch of their products due to an array of issues. Some may stew over the entire launching processes, while others are prone to give up even if they happen to get some nice ideas. As the best experienced vacuum sealed container supplier, KingStar has been offering assistance to our honored clients for decades, and now share with you knowledge about new vacuum insulated container development: from idea to product launch.
I. Generate Product Idea
The first step you gonna take is to have your idea. You can either generate it yourself or just innovate other's. But one thing is for sure: this idea must be original and unique. A proper and strong idea helps you better win the competition. To facilitate the explanation, we hereafter take vacuum insulated stainless steel container(vacuum flask, insulated water bottle, thermos drink bottle, insulating cup, stainless steel tumbler mug, lunch box, vacuum sealed food container, beer growler, thermal jug, ice bucket, reusable metal drinkware, kitchen grade barware, double wall dog bowl, custom tool insulated medical grade vessel compartment for electronic parts placement etc) as an example.
There are so many thermos stainless steel containers in the market featuring different traits and function. Some containers are characterized by elegant appearance and some may be famous by the durability; some have incredible heat-retaining capability and some may have an edge on keeping contents cold.
So once you have got a matured idea, you are supposed to validate it through detailed market research, which minimizes the possibility of failure.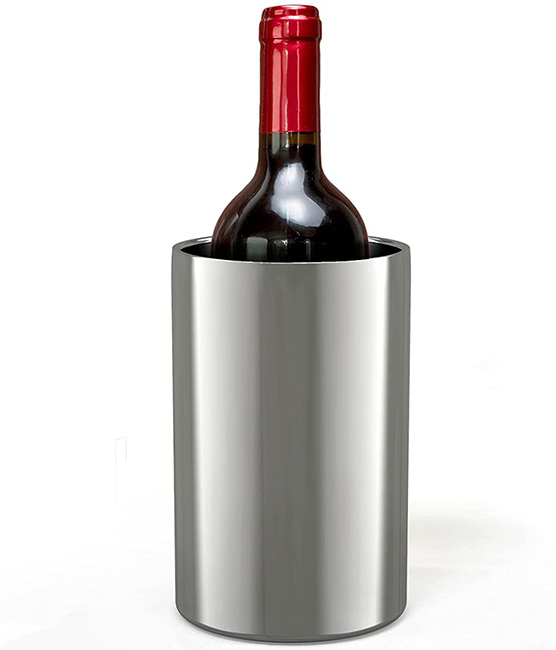 II. Conduct Market Research
You should never underestimate the importance of conducting market research. And here are the reasons. For one thing, you may have a good product behind that excellent idea, but do you ever compare it to its counterparts in the market? The fact is that your vacuum insulated metal container may fail to be competitive enough to stand out for lack of traits. When this happens, custom mold tooling enclosure is a perfect option for you to materialize your idea. For another, you should pay close heed to customers' needs that in turn directly determine the launching scale. Once you have checked the above mentioned two takeaways, go and carry out step 3.

III. Work with Your Manufacturer
A reliable and capable manufacturer can materialize your idea in the time he or she is given. But, it's not easy for many business beginners to establish long-term cooperation with manufacturers due to a variety of factors. For example, most thermos stainless steel container suppliers are not equipped with advanced manufacturing machines, let along have a complete production line. In most cases, they may choose to make a part of the product and contact other factories to do the rest. So if you work with such an inadequate vacuum insulated metal container provider, you are expected to confront with a number of potential issues such as delay of delivery, poor quality and unsatisfied after-sales services.
So how to find a trustworthy thermos stainless steel drinkware manufacturer? Well, there are three things that deserve your attention. First, the scale of production. In general, suppliers with a larger production scale are supposed to be qualified. When they receive your mass production order, they are capable of arranging the production and delivering them on time. Second, the experience of production. Those who have been dedicated to making vacuum sealed containers / bulk water bottles / bulk tumblers for decades are worthy of contacting. Third, the alternatives of custom options. A capable and reliable thermos stainless steel container maker is expected to provide you with a complete set of custom options including custom color, molding, packaging, and decoration etc.
Let's suppose you have found such a good insulated stainless steel drinkware manufacturer, what should you do next? Well, scroll down and see step 4.
IV. Choose Custom Options
A unique and fascinating design is always pursued by customers around the world. And it is the custom mold tooling enclosure instead of custom color that makes a difference. KingStar is reliable vacuum insulated metal container supplier that are able to offer clients a complete set of custom molding options. In KingStar, we have a strong research and development team and an experienced engineering team who are responsible for your reasonable requests.
If you plan to sell private label water bottles/tumblers/mugs/cups with fashionable shells, then you can choose welding mold, stretching forming mold, or water pressure forming mold services. If you desire to make the cap or the lid unique, you are advised to pick up plastic injection mold. Besides, KingStar also have custom services related to electronic module of smart water bottles. With a complete set of custom mold enclosure choices, you will eventually find the type that seizes your eyes.
In addition, custom variations such as embossing on the outer shell or engraving on container sleeves or rings are also highly recommended.

V. Test Your Product
Now you have your dreaming products, it's time for you to test every corner of your vacuum sealed containers for quality control before launching them officially.
This step is of vital importance as an inferior product hidden between quality counterparts will also ruin your business, causing bad reviews and finally losing  credibility. It is suggested by KingStar that you prepare multiple batches of insulated containers in advance for quality control. As long as you can find flaws, you will fix them and avoid potential losses.
The special tests required for Vacuum Insulated Stainless steel drink vesells are as follows:
Identify stainless steel
Insulation test / temperature change record
Sealing test
Torque test for lid thread
Fastness test for surface decorating (powder coating, spray painting, transfer printing, etc.)
Firmness test of silkscreen logos
Drop Test
Salt spray test
Weight test for carrying handle
Other tests required by project
Some of the above tests require special laboratory equipment to test, so you may need the cooperation of the vacuum flask manufacturer to complete. If you need help, please feel free to contact us.

VI. Align Your Team
Align your entire team will facilitate the launch of your products, avoiding the occurrence of misinformed cases. In other words, if your team is not 100% clear about your launching schedule, you may confront with potential losses. KingStar suggests you to offer your team informational material in time in case of misfire.
VII. Check Your Stock
Some inexperienced business beginners may jump to release their products without checking their inventory and business infrastructure. Well, such impatient measures may bring about losses. If you fail to have adequate stock due to lack of delivery, you can't fulfill orders and will lose trust among your customers. So do check your stock before meeting customers' demands.
VIII. Generate Hype & Awareness
According to some researches, people are not only buying products, they are also buying stories behind them. If you want to earn some big money in the metal container market, you are advised to hype the containers using several strategies. Once your customers become excited about your products, they would beg to buy.
Here KingStar shares with you several practical and helpful tips to generate awareness. You can directly drive traffic to your website, post corresponding blogs on Instagram and Meta, or just promote your products on online shopping website such as Amazon and eBay.
IX. Prepare Your Sales & Customer Service Teams
The last thing you need to do before releasing your products to the public is to make the sales & customer service teams ready. People will not buy your vacuum insulated metal containers without asking about, say, the usage, the functions and the service life of them. Therefore, you must prepare such teams ready for answering all kinds of business-related questions. Kind and considerate services will further help you win the loyalty and trust of your customers.
X. Launch Your Product
Congratulations! You can eventually launch your products following the above 9 steps. But, this is not the end. You should keep collecting feedback on your products from customers and making continuous adjustments according to their needs.
As the top vacuum insulated container manufacturer, KingStar provides one-stop manufacturing service from product design, mold tooling fabrication, quality control to global logistics. If you need any assistance during the product development, please feel free to submit online inquiry form, send email to sales@waterbottle.tech or call us.