Hydro Flask, one of the most capable water bottle brands in the United States, is famous for the elegant design, incredible insulation performance, durability and portability of its drinking gears. The iconic Hydro Flask water bottles have won customers' loyalty and trust, overshadowing many counterparts in the reusable stainless steel water market.
Last year, Hydro Flask released its new Hydro Flask 2.0. This innovated water bottle has hit the market resoundingly and obtained quite popularity. In today's blog we will share with you information about Hydro Flask 1.0 and Hydro Flask 2.0, laying the focus on the comparison between the two. Now just follow us and scroll down.
I. What is Hydro Flask made of
Instead of promoting and selling disposable plastic water bottles, Hydro Flask is devoted to offering customers a healthy hydration solution with its reusable and sustainable water bottles. Guided by this principle, Hydro Flask creates insulated water bottles with stainless steel 18-8, an eco-friendly material often adopted in kitchenware and drinkware.
All Hydro Flask water bottles are made of stainless steel, containing no chemical such as BPA and offering people pure tastes. Its bottles are engineered with a double-walled insulation structure, namely, double stainless steel walls that manage to create a vacuum space to achieve the ideal heat-retaining outcome. Hydro Flask creates TempShield technology to further seal the bottle with the lid. The lid of Hydro Flask stainless steel drink bottle is made of 5#plastics (polypropylene plastic resin). This material is approved by FDA and has been widely adopted in food containers. What's more, all Hydro Flask drinking gears are compliant with FDA and California Prop 65 regulations, safe for hydration for sure.
II. Hydro Flask water bottle sizes
Frankly speaking, there is a vital factor why Hydro Flask can enjoy such a large market share: the versatile product size lineup. Hydro Flask provides customers with wholesale custom water bottles whose size cover 12oz, 16 oz, 18 oz, 22 oz, 25 oz, 32 oz, 40 oz, 50 oz and 64 oz. This complete product size lineup helps the brand to meet customers' varied demands and showcases the product depth, because a small brand may fail to explore such a possibility due to a variety of reasons.
Hydro Flask standard mouth water bottle 24 oz is the most popular one in the Hydro Flask drinking gear family. For one thing, this size is big enough for customers to enjoy hydration while achieving the goal of less refilling. For another, this size is also small enough for people to put the bottle into the bag bringing it during the daily commuting. This bottle is equipped with TempShield technology and can therefore keep coffee hot for up to 12 hours, or beverages cold for 24 hours. As a result, this 24 oz Hydro Flask water bottle is an ideal option for office workers to stay hydrated.
Compared to smaller bottles that are mainly used indoors, Hydro Flask bottles of 32 oz and bottles of 64 oz are much more suitable for various adventures. The large capacity bottle is able to meet outdoor enthusiasts' hydration demand and is quite durable, withstanding most impacts and cracks.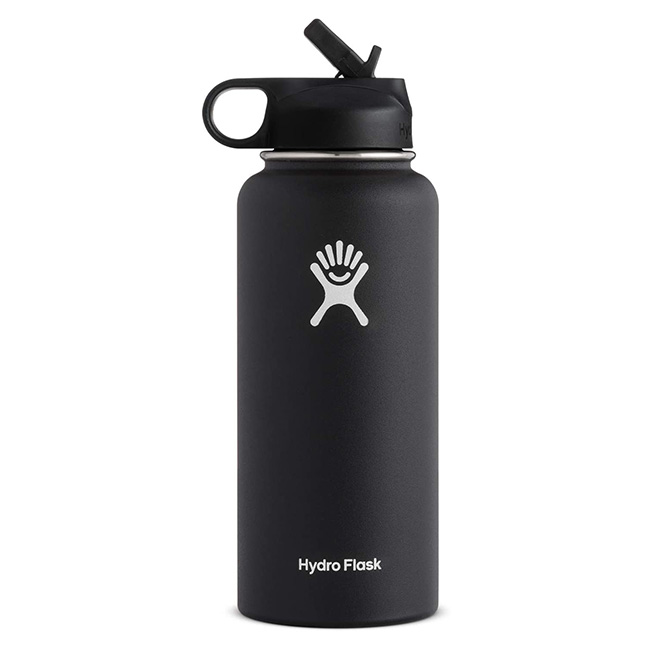 III. Hydro Flask 1.0 VS Hydro Flask 2.0
What are the differences between Hydro Flask 1.0 and Hydro Flask 2.0? How does Hydro Flask succeed in promoting the new series? Hydro Flask 1.0 water bottle VS Hydro Flask 2.0 water bottle, which one is better? In this part we will elaborate on these questions facilitating your understanding.
3.1 Differences between Hydro Flask 1.0 and Hydro Flask 2.0
Hydro Flask 1.0 water bottles are coated with moderate paints that succumb to the dishwasher. Although such a layer of finish is capable of withstanding most scratches, it is not flawless. Hydro Flask aims to provide customers with the best drinking gears in the world, and after receiving feedback from customers, this brand decided to improve the quality of the coating. As a result, Hydro Flask released the Color Last technology that enables the 2.0 water bottle to be entirely dishwasher-safe. To tell you the truth, this technology can be easily realized by capable water bottle manufacturers and is not so magic.
Hydro Flask innovated the shape of 1.0 water bottle. This brand chose to remove the original metal lid next to the top of the bottle neck and replace it with a flat band. In this way, the 2.0 water bottle becomes much more portable and is much more easier to lift. Another change in shape lies in the bottom design. The old Hydro Flask wide mouth water bottle has a squared edge at the bottle's bottom, whereas the new one has a curved edge at the bottom of the bottle. This subtle change in shape is conducive to offering a comfortable touch, increasing stability, and minimizing the occurrence of annoying dents.
In addition, the trademark of Hydro Flask 1.0 water bottle is removed for a clearer appearance, and the logo becomes smaller in size. By the way, this subtle change has always been ignored by most customers.
3.2 How does Hydro Flask succeed in promoting the new series
Hydro Flask innovates and revolutionizes the old bottle based on customers' reviews and feedback. The improved bottle directly showcases Hydro Flask's dedication to the business as well as its principle of offering the best drinking gears across the globe. It is worthy of modeling on Hydro Flask who takes customers' feelings into consideration.
Also, the importance of a quality water bottle manufacturer must be mentioned. Hydro Flask is backed by reliable hydro flask manufacturer in China. With the great support, Hydro Flask has premium quality always.
3.3 Hydro Flask 1.0 VS Hydro Flask 2.0, which one is better
There is no doubt that Hydro Flask 2.0 is better than the old 1.0 water bottle. The 2.0 water bottle is completely dishwasher safe, is much more convenient in use due to the flat band, and becomes much more stable and stronger due to the curved edge at the bottom of Hydro Flask 2.0 water bottle.
IV. Does 2.0 water bottle boast the same superior insulation function
Yes, it does. In spite of the above mentioned changes, the Hydro Flask 2.0 water bottle holds the same good heat-retaining capability. This new bottle is equipped with the proprietary TempShield tech, and according to our tests, it can keep juices cold for up to a day and hot coffee warm for up to half a day! The adjusted shape does not exert any influence onto the Hydro Flask 2.0 water bottle in terms of the insulation structure, instead, it only makes the new bottle more capable and nice.
Besides, made of kitchen-grade premium 18-8 stainless steel, this new bottle is also phthalate-free and BPA-free, 100% safe for hydration. The reusable, sustainable and eco-friendly material makes customers at ease, follows the trend of the times, and will thus continue to be shining in the water bottle market.