Staying hydrated is key to living a healthy life. In the past, people were accustomed to consuming water with disposable water bottles that were normally made of plastics. This type of water bottle does harm to the environment and will be gradually replaced by reusable water bottles. Hydro Flask provides customers with reusable stainless steel water bottles. The quality drinking gear of this brand can keep lemon juices cold for up to a day and coffee hot for nearly half a day. You may wonder that what is a Hydro Flask made of and how do the products function so well?
All Hydro Flask drinkware products are made by premium stainless steel SUS304 (18-8), a food-grade material that contains no chemical like BPA. Unlike some poor water bottles that are engineered with liners, Hydro Flasks has no inner liner and the shell is coated with quality molding powder, a kind of thermoset polymer. The good insulation functionality comes from the vacuum space where air is evacuated by virtue of the TempShield technology, hence the minimization of transmission, convection and radiation.
Hydro Flask water bottles are ingeniously designed to meet people's drinking needs without compromising their physical health. They can enjoy their favorite drinks at an agreeable temperature, be exposed to the pure taste, and bring them into a variety of adventures.
I. What Material Are Hydro Flasks Made From?
Simply visiting the Hydro Flask website and you will find that all Hydro Flask drinking gears are made from kitchen-grade 18-8 stainless steel. This material is fundamentally a kind of alloy featuring stability and reliability. The number 18-8 refers to the ratio of chromium and nickel contained in stainless steel. Chromium enhances the corrosion-resistance performance of stainless steel and nickel is conducive to making stainless steel stronger. With the help of them, stainless steel 18-8 withstands warps and cracks effortlessly.
Hydro Flask drinking bottles are not constructed with any lining. Also, there is no other metal film or plastic film on the inner wall. In other words, water and other liquids are directly exposed to stainless steel, and that's why Hydro Flask bulk water bottles can retain the original flavor of drinks. The amazingly outstanding insulation performance owes to the triple-layered insulating structure, and according to our thermal tests, a Hydro Flask wide mouth water bottle of 32 oz can keep cold water cold for up to 24 hours or piping hot coffee warm for 12 hours.
II. What Plastic Is Used to Make Hydro Flask Lids?
Again, you can visit the official website of Hydro Flask to obtain lid-related information. However, Hydro Flask does not elaborate on the lid material and only claims that these lids are BPA-free. It is quite understandable that customers may wonder what kind of plastic is adopted to make Hydro Flask lids. And it is recommended to make sure that customers are fully aware of the bottle they are using on a regular basis.
As a leading hydro vacuum flask manufacturer, we ensure that all lids of Hydro Flask drinking gears are made of polypropylene plastic resin, also known as 5# plastic. This plastic has been recognized and approved by FDA and has been adopted to make containers suitable for directly contacting food. It is characterized by an incredible heat tolerance capability and is capable of being heated in a microwave.
When it comes to talking about the lid material, the material of the soft loop is always mentioned as customers will notice this distinctive part for sure. The loop in the lid is actually made of TPE (thermoplastic elastomer), a BPA-free and eco-friendly material that has also been widely adopted in kitchenware and drinkware products. It is this soft loop that helps to better seal the Hydro Flask water bottle.
III. Why Powder Coating on Hydro Flask?
One of the most striking and appealing point of Hydro Flask water bottles lies in the multiple and fashionable color designs. The outer shell of Hydro Flask water bottles is painted by virtue of powder coating techniques. The unique and durable paint is applied to the bottle through electrostatic processing before being cured and baked under heat (usually 180 Celsius degrees) for 30 minutes.
Hydro Flask adopts quality molding powder to make the paint and enables the paint to be much more durable and stronger. According to our tests, the colorful paint seldom surrender to scratches, let alone rusts. The durability of this material makes sure that customers will not come across peeling or dripping issues while staying hydrated with a Hydro Flask water bottle. There are many processing techniques to make your water bottle coated, each featuring different traits, feeling and texture. So if you long for custom water bottle decoration services, you can contact us for help.
IV. Why Hydro Flask Double Walled? What's Between The Walls?
This is a question that has been frequently emailed by our clients. Why double walled? What if I sell and promote a water bottle that is only equipped with a single stainless steel wall? Will it have the same insulation performance?
Yes, manufacturing a single-walled stainless steel water bottle saves you money, yet such a water bottle is not insulated. Hydro Flask creates TempShield technology to make sure its bottle is entirely vacuum-sealed. Between the two stainless steel walls there is a airless space (vacuum space) that manages to minimize the occurrence of heat transmission, convection and radiation. And that's because heat can not be transferred without the help of air, the medium. In other words, the single stainless steel wall can not create such a vacuum space, let alone make the bottle well-insulated.
Frankly speaking, the so-called TempShield is no different from other insulation technology, namely, all the thermal water bottles are equipped with a double-walled structure to function well. And some bottle brands such as Hydro Cell even add an extra copper layer onto the inner stainless steel wall to further boost the heat-retaining capability. That's a good example, isn't it?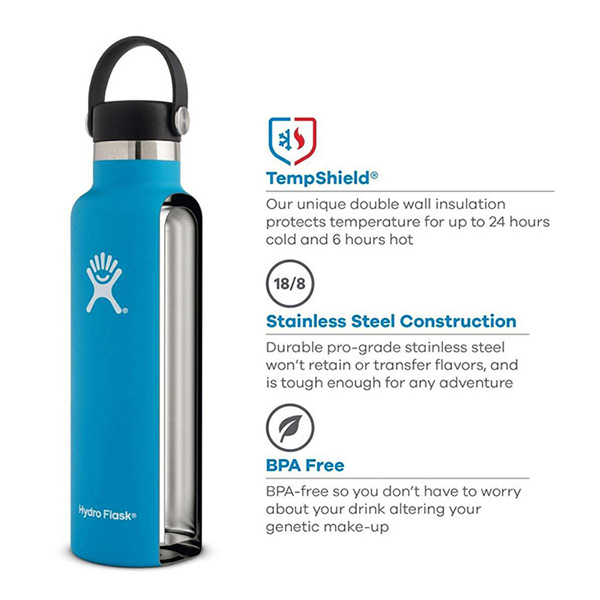 V. Where Are Hydro Flask Water Bottles Made?
This is another question that has been repeated asked by our clients: Where are Hydro Flask water bottles made? Why we can't find an American or European drink bottle manufacturer? Well, before unveiling the answer, ask yourself whether you have seen Hydro Flask's manufacturing industries, factories or plants in the United States or Europe. Well, the answer then seems to be quite clear: there is no Hydro Flask water bottle that is made in the United States, instead, these bottles are manufactured and assembled in China.
Want to establish a water brand like "Hydro Flask"? You are at the right place. KingStar is a leading insulated water bottle tumbler manufacturer in China. We provide one-stop manufacturing service form design, mass production to global shipping.
Qualified Chinese water bottles supplier can meet bulk orders and arrange production in order. We have supportive polices from governments, decades of production experiences, complicated & advanced manufacturing equipment and experiences in dealing with international water bottle businesses. What's more, we can offer the best water bottle products with the most luring prices. And compared to making bottles in the United States or Europe, it is much more lucrative and economical to work with a Chinese water bottle supplier who can be your solid backing.