Features such as add-ons, artworks, logos, texts, monograms, colors, exclusive functionalities, logos, and flexibility of stainless steel cup design are all regarded as different types of customization.
Why Customized Metal Cup So Popular?
Metal cup customization is an important way of meeting customer's needs and improving their experience, which is a key to further increasing customer loyalty, boosting customer satisfaction and improving their experience. Here are some reasons that help explain the popularity of customized metal coffee cups.
Help gain loyal customers
One of the reasons why customization has become so popular is that it makes customers satisfied, which will help make them become loyal customers in the future.
Some studies have shown that successful personalization helps win more engaged customers and boost sells. Customers who enjoy the rights to customize their goods will also find more value in the product and from their experience.
Help companies understand their customers better
There's little doubt that customization can be a luxury experience which does not only take time and money but also needs to offer multiple versions for the same product to their customers. By experimenting with different versions of the same product, the development team will understand the customers' needs better like how do they use the product or what do they expect from your company.
Marketing strategy
Another reason that why customized water bottles are so popular is the marketing strategy. Customers can choose what they want to put on their bottles and it is also a way for people to show their personalities as well as preferences. Therefore, custom labels on bottles become a master plan for companies and they often offer a wide range of options for their customers and make customized drink bottles one of the best marketing and advertising strategies.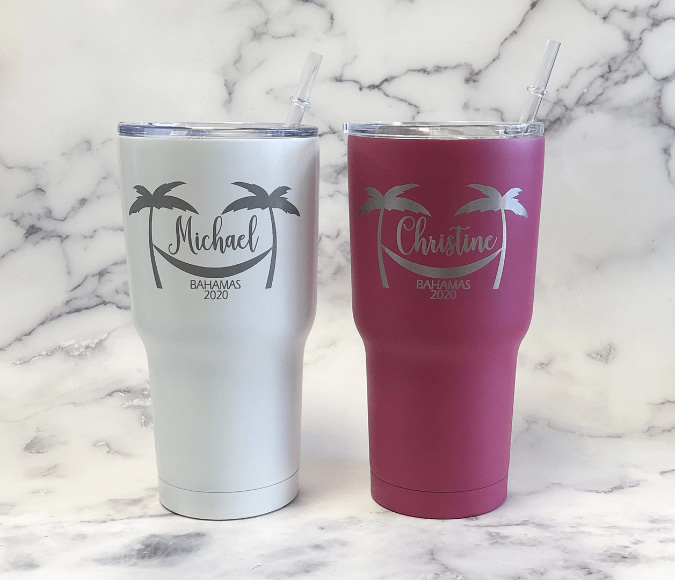 How Many Options of Customization?
The biggest question for manufacturers from customers is probably "what about my customizations". It's tricky because the manufacturer may do not understand what customizations the customer is talking about. Here are some tips on the options that you can choose to customize your goods.
Kingstar enjoys a strong R&D team and years of experience customizing and manufacturing vacuum insulated stainless steel bottles, custom designs, custom colors, custom imprints, custom logos and custom packaging, which enables us to meet customers' demands and offer satisfying service.
1. Custom molding
Custom molding can be used for entirely new shaped items such as bottles, vacuum flasks and mugs.
Custom design bottle mold often involves water pressure forming mold, stretching forming mold and welding mold.
Custom design cap / vacuum cup lid use plastic injection mold
Electronic module of smart water bottles
2. Custom manufacturing
In addition, as a leading vacuum insulated stainless steel water bottle manufacturer, Kingstar also offers custom manufacturing services. We have committed to developing and producing high quality metal water bottles, tumblers, flasks, vacuum cups and other types of vacuum insulation stainless steel cups.
3. Custom Decorating
Kingstar has a wide range of decorating options for the vacuum insulated stainless steel water bottles, including coating options and printing options.
Coating Options:
Spray Painting
Powder Coating
Rubber Coating
Ceramic Coating
Glitter Painting
Electroplating
Polish
Printing Options:
Silk Screening /Silk Printing
Sublimation Transfer
Heat Transfer
Water Transfer
Air Transfer
Digital Printing
Water Decal
3D Printing
4. Custom Logos
Kingstar can provide its customers with OEM and ODM water bottle manufacturing services. Here are some techniques that we use for designing logos.
Logo Printing Options:
Silk Screening
Heat Transfer
Digital Printing
3D Printing
Engraving
Laser etching
Embossing
Debossing
Labeling
Metal emblem
Tag
5. Custom Packaging
Kingstar can also offer the customization of packaging materials which include gift bags and bubble bags to help elevate our customers' brand value.
Customers can send packaging design files to us, and it doesn't matter if you do not have design files because our graphic designers will help you make the design and send for customers' approval.

Can I Design My Own Logo?
 Many companies such as Kingstar now offer the service for their customers to create and design a logo. It may involve some steps for you to design your own logo such as colors, layouts, fonts, and symbols.
Enter your brand name
To design your logo, first you need to put the name of your firm or business.
Tell Kingstar about your logo
Tell us the logo of your company so our logo generator can understand your needs.
Share your design style
To choose a design style from the various style options so we can make a customized logo for your brand.
Customize your logo design
Choose a logo and customize things like the size, color, icon and fonts to make it the way that represents your company.
Download your logo
You can get the high-quality image files and put your custom logo design on any of your products.
Can I Have Customized Photos on Insulating Cup?
 Of course you can put customized photos on your insulated cup or bottle, and here are three basic steps for you to do that.
First, upload a clear and no-reflective photo of your favorite, and you can use a picture of anything that you want like people, animals or landscape photos.
You can tell us whether you want to engrave text on the bottle or not and we can do that for you.
Finally, send us your requirements and all the files to us.
Can I Stick Decorations by Myself?
 The answer is yes. You can choose whatever decorations you like or make them yourself and put them on the goods you are selling.
How to Get a Customized Insulated Cup?
 Kingstar has been making progress in the customized insulated cups for years and has gained experience during its service for its customers. We offer all kinds of service related to customization. We are partners with customers from more than a dozen of countries and our customized insulated cups have won a good reputation from them. We believe that you can get the satisfying goods from Kingstar and if you have any further questions about customized insulated cups, please feel free to contact us!