Koozie has long been favored by wine, beer and soft drink lovers who are fond of enjoying new drinking experience with the new gear. Since 2018, many koozies of a variety of brands and shapes have come out and hit the market one after another. Famous brands such as BrüMate, Coleman and Yeti are gaining an increasing popularity among the public. In this article, KingStar, the leading insulated koozie manufacturer, will focus on the comparison between BrüMate Hopsulator and Yeti Colster, and you are expected to make your own judgement on the basis of the results. Scroll down and let's find facts together.
Overall comparison: BrüMate Hopsulator vs Yeti Colster
| | | |
| --- | --- | --- |
| | BrüMate Hopsulator | Yeti Colster |
| Material | Stainless steel (double walls) |  Stainless steel (double walls) |
| Volume | 12 oz | 12 oz |
| Item dimensions | 2.86 x 2.86 x 6.13 inches | 2.34 x 2.34 x 6.13 inches |
| Price | $19.99 (regardless of color) | $39.99 (depends on the color) |
| Lifetime warranty | Yes | No, only 5 years |
| Dishwasher safe | No | Yes |
| An extra copper layer | Yes | No |
| Fit Heineken cans | No | No |
| Application degree | ★★★★☆ | ★★★★☆ |
| Durability | ★★★★☆ | ★★★★★ |
| Portability | ★★★★★ | ★★★★★ |
| Color options | ★★★★★ | ★★★★☆ |
| Brand popularity | ★★★☆☆ | ★★★★★ |
| Value for money | ★★★★★ | ★★★☆☆ |
| Insulation performance | ★★★★★ | ★★★★☆ |
| Locking performance | ★★★★★ | ★★★★★ |
| Grip performance | ★★★★★ | ★★★★★ |
When it comes to the cleaning, a Yeti Colster can cooler does a better job. It is feasible for customers to wash a Colster cooler either by hand or using a dishwasher. Yes, Yeti Colster can coolers are 100% dishwasher safe, setting people free from the annoying cleaning work. It should be noted that before putting a Yeti Colster into a dishwasher, users must take it apart in case of damage or dislocation.
However, if it is a BrüMate Hopsulator, customers must clean it manually so as to avoid failed insulation function and discoloration.
| | |
| --- | --- |
| Yeti Colster | Color options cover Aquifer Blue, Black, Chartreuse, Copper, Coral, Granite Gray, Graphite, Harvest Red, Highlands Olive, Ice Pink, King Crab, Navy, Prickly Pear, Sandstone Pink, Seafoam, Sharptail Taupe, Stainless, and White (to be continued). |
| BrüMate Hopsulator | Color options cover Aqua, Blush, Carrara, Daisy, Denim, Desert Tan, Glitter Aqua, Glitter Blush, Glitter Charcoal, Glitter Merlot, Glitter Mermaid, Glitter Peacock, Glitter Violet, Glitter White, Hunter Orange, Matte Black, Matte Clay, Matte Gray, Matte Navy, Matte Pecan, Neon Pink, OD Green, Plum, Rainbow Titanium, Rose Gold, Royal Blue, Seafoam, Stainless, Textured Camo, Walnut (to be continued). |
At present, Yeti Colster can coolers in bulk have 18 color options whereas BrüMate Hopsulator offers 30 color options! The detailed color alternatives are listed above in the chart. It is quite obvious that BrüMate Hopsulator koozies are much more stylish and attractive while Yeti Colster koozies adopt classical and normal colors.
In addition, color plays a vital role in the pricing of Yeti Colster koozies, not in the pricing of BrüMate Hopsulator koozies. All of BrüMate Hopsulator can coolers in bulk, regardless of color, sell for unanimously $19.99 on Amazon currently. On the contrary, the cheapest one (the Sharptail Taupe) of Yeti can cooler is sold at the price of $24.89 whereas the Prickly Pear (the most expensive one) koozie sells for $47.67! In fact, there is nothing different between the two except for the color.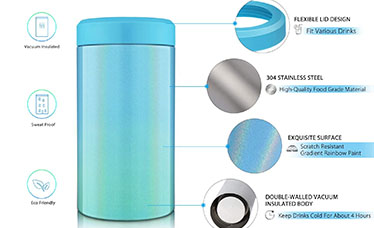 Yeti is most famous for the durability of its products and has taken a large share in the drinkware market, whereas BrüMate is an emerging brand established by a young entrepreneur. In fact, when Dylan Jacob, the founder of BrüMate, started this company, he was only 21-years old.
Compared to BrüMate, Yeti is much more popular as this brand seized the opportunity earlier than other brands and has been promoting relatively outstanding marketing strategies.

A BrüMate Hopsulator of 12 oz is much more cheaper than a Yeti Colster with the same capacity. More exactly, a Yeti Colster ($39.99) is almost twice as expensive as a BrüMate Hopsulator ($19.99).
Given their own strengths and disadvantages, it is much more cost-efficient to get a BrüMate Hopsulator. You can pay the same money for different colors and styles. However, just as we have mentioned above, the price of a Yeti Colster can vary from $24.98 to $47.67 based simply on the color.
Both of them are superior koozies. If you care more about your budget, go and get a BrüMate Hopsulator.
Our conclusion comes first: both BrüMate Hopsulator and Yeti Colster koozies are well-insulated, and BrüMate Hopsulator can coolers do a better job in terms of the insulation performance.
According to our temperature tests, when a BrüMate Hopsulator is filled with ice cubes, the temperature inside of the koozie only rises 2 degrees Celsius in 2 hours. When it comes a Yeti Colster with the condition given above, the temperature rises 5 degrees Celsius.
So why does a BrüMate Hopsulator boast a better insulation function? The answer is quite simple. Apart from adopting a double-walled insulation structure in a BrüMate Hopsulator koozie, the can cooler is also plated with a layer of copper that greatly enhances the heat-retaining capability. It is this extra layer of copper that makes a difference.
Inventing two strong locking designs respectively, both BrüMate Hopsulator and Yeti Colster koozies yield perfect locking performance.
BrüMate Hopsulator can coolers adopt Push-lock technology to lock cans firmly in the koozie, and Yeti Colster uses Close Tie tech to make sure that the can stays in place.
Do you want to establish a can cooler brand like "Yeti" or "BrüMate"?
Do you want to estimate a can cooler brank like "Yeti" or "BrüMate"? If yes, you are at the right place. Top can cooler manufacturer in China, such as KingStar, has rich experience in provide insulation drinkware OEM & ODM manufacturing service for small start-up business and top brands. KingStar strong engineering team offers fully support from product design, prototype fabrication, tooling building to mass prouction.
Products of world-famous drinkware brands including BrüMate, Yeti, Simple Flask, S'well, K2, Hydro Flask and RTIC are all made in China. And nearly 95% of the world's stainless steel drinkware such as water bottles, tumblers, koozies and mugs are all made in this country. The matured manufacturing experience, advanced and complete production equipment and comparatively cheap labor jointly bolster the growth of the stainless steel water bottle industry in China.
The bottom line
Both BrüMate Hopsulator and Yeti Colster koozies are superior ones in the can cooler market. It is expected that having such high-quality products will make your business promising and profitable.
Get competitive price and premium custom koozies in bulk from KingStar — Short lead time, door-to-door global shipping, strong Engineering support!