Yeti is a renowned water bottle brand that sells quality water bottles, tumblers and coolers. This drinking gear brand is famous for the durability and functionality of its products, and is praised by customers all over the world. However, Yeti's premium water bottles are sold at relatively high prices and may not be affordable for everyone, which becomes a shortcoming of this popular water bottle brand. Despite the price, Yeti stainless steel water bottles are capable ones that are designed for both indoor use and various adventures.
Hydro Cell is an emerging drinking gear brand that also sells and promotes superior stainless steel water bottles. As talked in previous articles, Hydro Cell shares the same quality with Hydro Flask, another water bottle brand giant in the line, hence the popularity of Hydro Cell water bottles. When it comes to evaluating Hydro Cell water bottles, one is expected to observe the unique advantage of this brand, namely, the price edge. Frankly speaking, people can get two nice Hydro Cell reusable water bottles with the money paid on one Hydro Flask water bottle of the same capacity. Really a bargain, isn't it?
In today's blog we will make a brief comparison between Hydro Cell and Yeti water bottles, displaying their advantages as well as shortcomings respectively. Just scroll down and we shall start.
I. Hydro Cell – The Most Popular Items
The most popular drinking gear released by Hydro Cell is the 32 oz wide mouth water bottle with replaceable lids. This bottle, characterized by incredible durability and multiple color options, is easy to carry, especially when customers make bundle purchase of the parachute cord handle for a comfortable lifting. The 32 oz wide mouth water bottle is equipped with a double-walled insulation structure plus an extra layer of copper, which succeeds in enhancing the overall heat-retaining outcomes. According to our tests, such a premium water bottle even does a better job than a Hydro Flask in terms of the insulation performance.
There is an important reason why Hydro Cell wide mouth water bottle is popular: the considerate services. Hydro Cell offers customers an extra free lid for replacement. The straw lid and the screw lid feature different functions and can be used interchangeably to make the bottle clean.
1.1 Hydro Cell Wide Mouth Water Bottle 24 oz
Smaller than a 32 oz Hydro Cell wide mouth water bottle, the one of 24 oz possesses better portability and is designed for indoor use. The small volume may not be able to meet travelers' large water consumption in the wild and is thus much more suitable for people who take the bottle in daily commutes. The wide mouth enables users to swill down water and other liquids contentedly and makes it easier for people to refill the bottle.
Similarly, Hydro Cell wide mouth 24 oz water bottle is well-insulated. It is engineered with double-walled stainless steel and is quite durable. The quality paint on the outer shell of the bottle will not peel or flake as times goes by and is both scratch-resistant and rust-proof, save for hydration.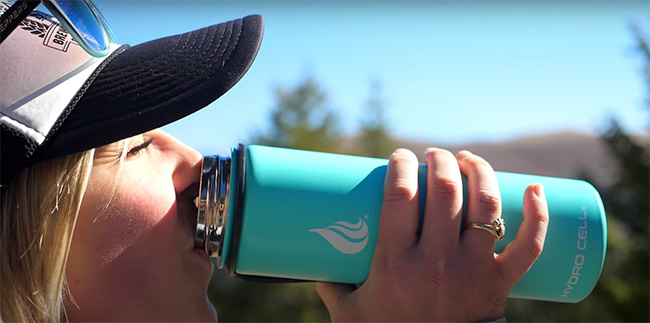 1.2 Hydro Cell Standard Mouth Water Bottle 24 oz
Hydro Cell standard mouth water bottle 24 oz is also an ideal alternative to Hydro Flask standard mouth water bottle. This type of Hydro Cell is much more suitable for ladies who will never come across a face wash while getting hydrated with a 24 oz bottle. There are over 20 color options available, and customers are believed to find the one that is pleasing to their eyes. This bottle also adopts Grip-tech powder coating that is comfortable to hold and grasp. Like other drinkware products of Hydro Cell, the 24 oz standard mouth water bottle contains no BPA and reflects Hydro Cell's commitment to protecting the environment.
Where to buy Hydro Cell water bottles:
Online store:
Hydrocellusa.com

https://www.amazon.com/Hydro-Stainless-Steel-Water-Bottle/dp/B088GYX3HY/
II. Yeti – The Most Popular Products
The best sell of the Yeti drinking gear family is Yeti Rambler 20 oz tumbler. This tumbler is one of Yeti's most successful products, and is extremely well-made. The 20 oz Rambler is made of premium 18-8 stainless steel without any flaws, displaying agreeable insulation performance. Every Rambler tumbler is equipped with a MagSlider lid that manages to keep coldness or heat remained inside of the tumbler. This ingeniously designed lid is easy to use yet is not leak-proof, which is virtually understandable due to the earned easiness.
Yeti's drinking products are characterized by incredible durability, and the 20 oz Rambler tumbler is no exception.This tumbler is coated with premium paint that will never fade or peel, and can withstand crack and impact effortlessly. This tumbler is absolutely the one that customers will not regret buying.
2.1 Yeti Rambler 26 oz Bottle
The Yeti Rambler 26 oz bottle is made of kitchen-grade stainless steel SUS304 containing no harmful chemical such as BPA. This bottle exceptionally withstands scratches, dents, punctures and impacts due to the quality alloy. The insulation performance of the Yeti Rambler bottle has been recognized and praised by customers across the globe. Apart from using a double-walled insulation structure, Yeti adds a layer of copper on the inner stainless steel wall, which successfully boosts the overall heat-retaining capability. When the lid is completely tightened, the Rambler bottle will not leak or drip. Honestly speaking, the Yeti bottle of 26 oz is a perfect industrial product yet the only weakness lies in the high price.
2.2 Yeti Rambler Half Gallon Jug
Yeti is also famous for the versatile lineup of drinking gears. This brand not only sells tumblers and bottles, it also releases the Rambler half gallon jug that is perfect for outdoor activities including hiking, camping and barbecues. This Rambler jug is also made by stainless steel and can keep liquids cold or hot for longer. The large volume enables people to bring with them more beverages that can be kept frosty or steamy for hours. If your customers are seeking a campsite drinking gear, promote the Yeti Rambler half gallon jug to them immediately.
III. Hydro Cell vs Yeti, Which One is Better
Here comes our topic today, Hydro Cell vs Yeti, which one is better? In order to facilitate your understanding, we make this comparison chart below so that you can see clearly their strengths as well as disadvantages.
| | | |
| --- | --- | --- |
| | Hydro Cell | Yeti |
| Type | Wide Mouth 24 oz Bottle | Rambler 26 oz Bottle |
| An extra copper layer | √ | √ |
| BPA & toxin free | √ | √ |
| Dishwasher safe | √ | √ |
| Leak-proof | √ | √ |
| Spill-proof | √ | √ |
| Thickened stainless steel walls | √ | √ |
| Zero condensation | √ | √ |
| Brand popularity | ★★★★☆ | ★★★★★ |
| Color options | ★★★★★ | ★★★★★ |
| Durability | ★★★★★ | ★★★★★ |
| Easy of use | ★★★★★ | ★★★★★ |
| Insulation performance | ★★★★★ | ★★★★★ |
| Lids options | ★★★★★ | ★★★★☆ |
| Locking performance | ★★★★★ | ★★★★★ |
| Portability | ★★★★★ | ★★★★☆ |
| Price competitiveness | ★★★★★ | ★★★☆☆ |
| Product lineup | ★★★☆☆ | ★★★★★ |
| Taste | ★★★★★ | ★★★★★ |
Hydro Cell wide mouth 24 oz bottle is a little more portable as Yeti rambler 26 oz adopts heavier material and is of a larger capacity.
Hydro Cell provides customers with more lid/cap options than Yeti does.
When it comes to the product lineup, Yeti does a better job. Yeti's business covers bottles, tumblers, mugs, jugs and coolers, whereas Hydro Cell only sells water bottles.
Hydro Cell is less popular than Yeti as it is an emerging water bottle brand. But with its quality products, Hydro Cell is quite promising.
Both Hydro Cell and Yeti are good water bottle brands. Hydro Cell promotes cheap yet quality water bottles, whereas Yeti sells its' drinkware products at really high prices.
Want to establish water bottle brands like "Yeti" or "Hydro Cell"? Try to find a reliable drink bottle manufacturer? Contact us and send an email to sales@waterbottle.tech, you will get response within 24housrs.