Everyone could use a good tumbler, whether you are using it in your office to keep your coffee warm or you are carrying one when biking in summer to keep your drink cold as long as possible. With all those tumbler brands on the market, two of the most popular and acclaimed brands are Yeti and Beast. Both are reliable tumblers, and their tumblers are quite durable and costly. Beast is a relatively versatile tumbler because it can hold various beverages, including coffee, tea and smoothies. Yeti, however, enjoys a better performance in keeping your drink cold and warm for a longer time.
But naturally, you may wonder all the important details the two stainless steel tumblers before making your own choice. Please read this brief introduction about their upsides and downsides and those similarities they have in order to chose one that suits you.
The Yeti: Pros, Cons, and the Origins
Yeti Cooler was founded by Roy and Ryan Seiders in 2006. With the goal to create a cooler that can keep drink cold all day for people to enjoy, the company has launched many products and made its tumblers one of the best. The Yeti cooler was designed for outdoor enthusiasts which means they have to be   durable and efficient. That is why they chose stainless steel and finally made its drinkware a popular and famous product.
Now let's have a look at some advantages and disadvantages of its tumblers.
Pros
The Yeti tumbler is designed to keep drinks cold which makes it ideal for refrigerating beer, wine, other beverages in summer. They come in various sizes, from 16 ounces to 64 ounces. You can free your hands and just put them into a dishwasher. Yeti tumblers are made of stainless steel and aluminum, so they are quite durable and the tumbler will not rust, sparing you the worry to leave it in a humid environment. Yeti has been the pioneer of the tumbler-making industry to make durable and versatile tumblers. Its leading thermal insulation is able to keep the ice for up to 12 hours and hot drinks for up to 8 hours.
One of its features is the cone at the end of the tumbler. This helps make the tumbler fit almost all common cup holders, meaning that you can carry it with you and there will always be a place to put it. Another advantage is that the cup does not sweat, so you do not need to worry about getting your hands wet and leaving water stains on the cup.
Cons
Every coin has two sides, despite all the acclaim Yeti's tumblers has won from its customers. Yeti tumblers tend to use plastic covers which can produce a funny smell when you just start using it. You can buy a cover to replace the original one, but few people want to fork out extra dollars for a new one. Its mag-slider cover is not completely leak proof, which can be a headache for many if they have to carry their tumbler around in their bag. Yeti tumblers do have a plastic O-ring to fix spillage, but with time and overuse, the ring will finally wear off.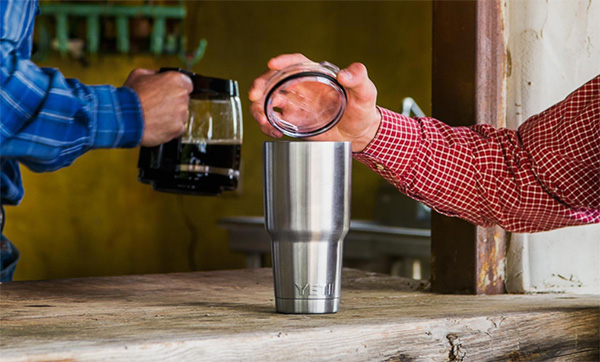 The Beast: Pros, Cons, and the Origins
Established in 2015, the company Green Steel makes Beast has committed to making environmentally friendly products given the rising concerns about the environmental damage and pollution. Everything they produce from tumblers to coffee cups and straws is totally sustainable. To make healthy drinkware is also one goal for the company, and the materials they use will not change the taste or release harmful chemicals into any drinks.
Pros
Like Yeti's tumblers, Beast also makes their tumblers with stainless steel and double-layer vacuum insulation wall. This means that their tumblers are just as durable as Yeti's and can withstand most scratches and dents. Besides, there are more than 17 colors available to customers and you sure can find one that satisfies you from its various designs and sizes.
Unlike most Yeti's tumblers, you can find some of Beast tumbrels are equipped with two straws made of different metals and a straw cleaner. The straw is made with green and durable material and can be a useful tool to clean the straw whenever needed.
Beast's leak-proof and spill-proof design is also one of its popular features. Yeti's tumblers do have a mag-slide cover to keep the lid close, but it is not very effective to keep the water from leaking when put into your bag. Beast's lids work better in preventing leaking, so it can be a better choice if you worry about spillage.
The company is committed to producing environmentally friendly products, which is one of its greatest advantages. As stated on its website, the company makes every effort to ensure that all its products are non-toxic and affordable. They strive to ensure that their products are the best for the environment and customers.
Although they are not as expensive as Yeti tumblers, Beast can be a good deal for those who are on a limited budget.
Cons
The advantages of the Beast tumbler pale in comparison to its disadvantages, but it is worth knowing everything about the product you are going to get.
Compared with Yeti's tumblers, Beast's are sometimes cheaper and thus the quality may be slightly reduced. And experiences have shown that Beast's tumblers do not perform as well as Yeti's when it comes to keeping your drink in a certain temperature for a longer time. Some may tolerate this since they pay less for the Beast tumbler, however, others may don't mind paying a few extra dollars for better quality.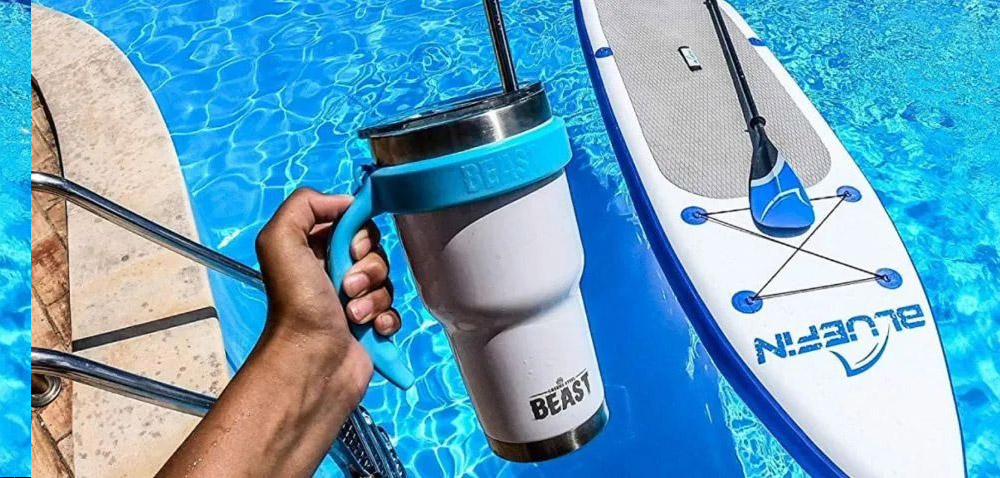 What Do Beast Tumblers and Yeti Tumblers Have in Common?
Now you are aware of some upsides and downsides of both tumblers, let's have a look at what they have in common. Start with the price, which is the priority for most buyers. Their tumblers cost from $20 to $40. Though, Beast tumblers can be cheaper sometimes, in most cases, they are usually the same.
Second, Yeti's and Beast's tumblers come in various sizes. They have comparable designs and structures and both are made of stainless steel with internal insulation. Other water bottles produced by both brands are BPA-free and can be washed in the dishwasher.
Last but not least, you can trust their quality. Their tumblers are durable, resistant to cracking and breaking, which gives them longer lifespan and helps save you some money.
It would be a wise choice whether you choose a tumbler from Yeti or Beast, because you can not only get a good product that helps you stay healthy but also a trendy accessory.
Want to know more? Please feel free to contact us. KingStar is leading stainless steel tumbler manufacturer. We have rich experience in custom tumbler manufacturing from product design, tooling fabrication to mass production.