I. 24Bottles
24Bottles is an emerging water bottle brand that sells eco-friendly and reusable water bottles. Water bottles of this brand are made by high quality stainless steel 18/8 (SUS304), an environmentally friendly material that has been adopted in the manufacturing of healthy drinkware for decades. 24Bottles is dedicated to protecting the world we live by promoting stainless steel water bottles in place of harmful plastic ones. In addition, 24Bottles is famous for their elegant and exquisite patterns on and styles of bottles, which manages to help this brand march towards the fashion circle.
II. Who Owns 24Bottles
24Bottles, co-founded by Matteo Melotti and Giovanni Randazzo, was born in Bologna, Italy in 2013. This company aims to reduce the impact of single-use water bottles made by plastics on people's lives and the planet. The original idea of establishing 24Bottles was to find and offer the most easy, convenient and healthy way of getting hydrated elegantly and ecologically.
24Bottles is missioned to reduce the pollution caused by plastic water bottles and believes that functional and eco-friendly stainless steel water bottles is the answer to a healthy drinking lifestyle. Just as their co-founders say, "Aesthetics is a powerful engine to push people adopting healthy lifestyles." Apart from designing water bottles from the perspective of practicality, 24Bottles gives their bottles a flair of charming so that the sustainable and quality drinkware products can be better recognized by the public.
24Bottles gives priority to the perfect combination of function and form to provide customers with a spectrum of splendid and versatile water bottle gears. Currently, 24Bottles is selling stainless steel products including bottles, kids' drinkware, travel tumblers, travel snack pots, and various accessories.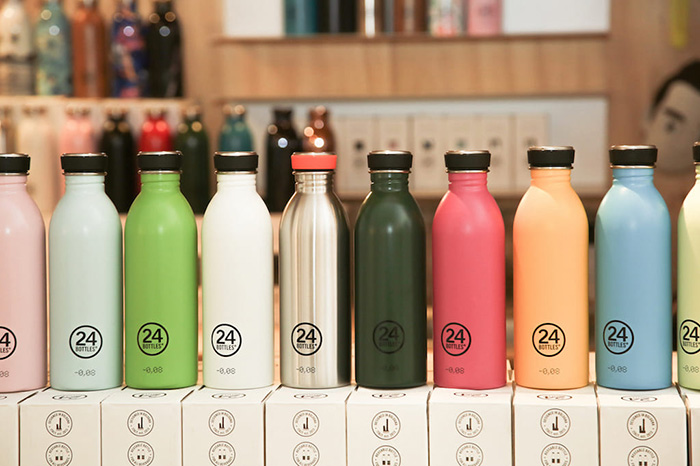 III. How 24Bottles Works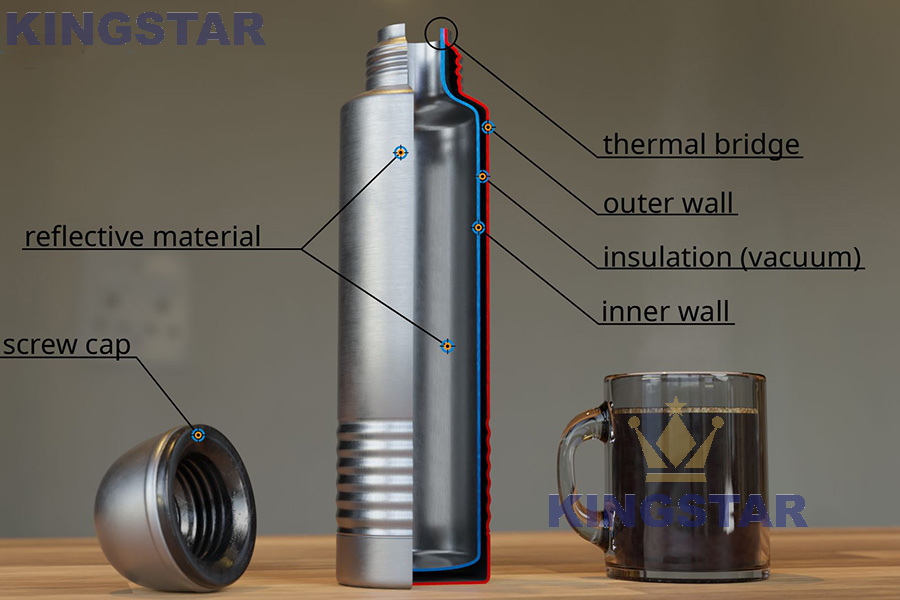 How does 24Bottles double wall stainless steel drink bottle keep water hot for 12 hours or icy cold for 24 hours?
There are three ways of heat transmission:
Radiation
Convection
Transmission
The silver-white surface inside the thermal insulation cup can reflect the radiation of the hot water, the vacuum layer between the double-layer stainless steel walls can block the heat transfer, and the bottle cap that is not easy to transfer heat can prevent the heat convection.
Copper plating of the inner tank can significantly enhance the heat preservation effect. Please refer to this article for details: Insulated Water Bottle: Thermal Insulation Effect of Copper Plating on the Inner Wall
IV. Why is There a Round Sticker on the Bottom of the 24Bottles' Insulated Water Bottle?
In order to achieve the function of insulation, the air between the two walls of 24Bottle has to be pumped away by a vacuum machine. The vacuum point is in the middle of the bottom of 24Bottles.
Why put a circular sticker on the position of the vacuum point? There are two reasons:
1. After covering the vacuum point, 24Bottles looks more beautiful.
2. The round patch can protect the vacuum point from impact, thereby prolonging the service life of 24Bottles.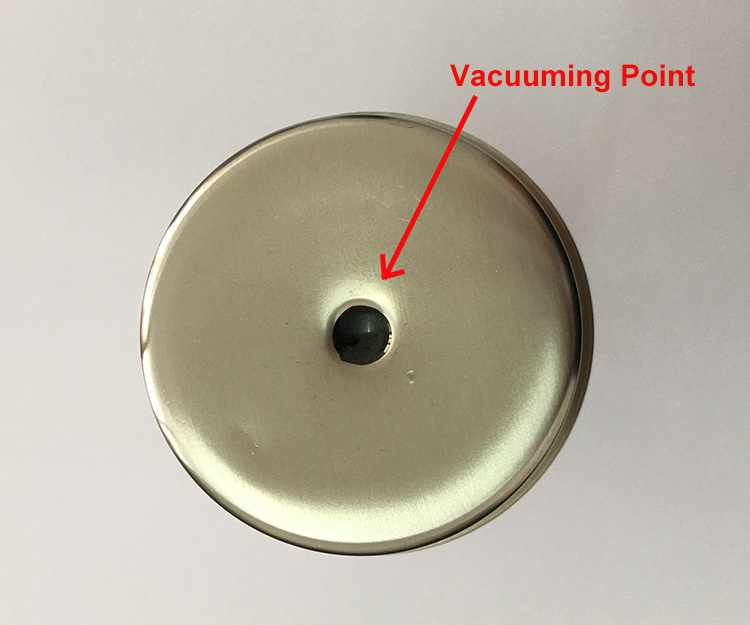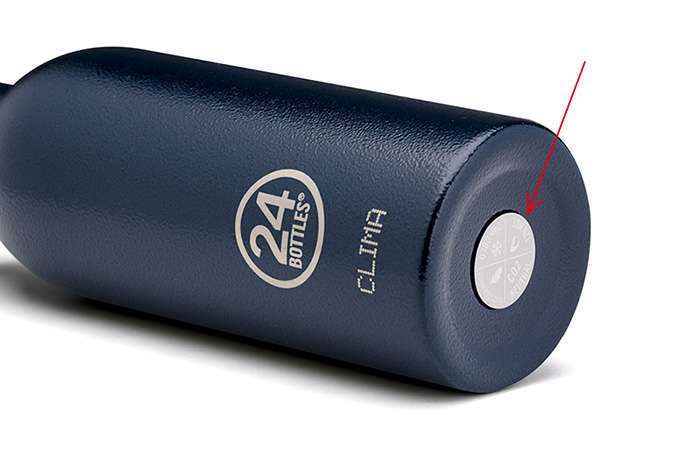 24Bottles vacuum point covered by sticker
V. Why is 24Bottles So Popular?
5.1 Ingenious Design
 24Bottles features original Italian design that helps this brand stand out from the crowd. Stainless steel water bottles of normal shape and design in the market somewhat bear some resemblance to water bottles of some famous brands. On the contrary, 24Bottles is determined to create water bottle gears that combine versatile function and absorbing form. And it is their original Italian design that succeeds in attracting customers.
5.2 Compact and Portable Design
Another reason why 24Bottles water bottles are so popular is their compact and portable design. Their stainless steel water bottles are especially designed to offer a lighter weight yet the same containing volume. The elegant shape of 24Bottles water bottle does not affect its overall functional capacity and indeed is conducive to reducing the space & weight. The perfect-sized water bottle also features a portable design, making it much more convenient to carry on the go.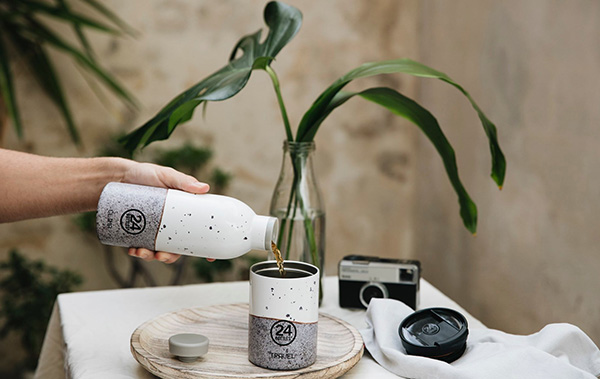 5.3 Premium-quality Materials
Still another reason lies in the premium-quality materials adopted by 24Bottles. According to the co-founders' explanation, their success greatly relies on the portable, durable, eco-friendly and high-performance materials. 24Bottles uses food grade stainless steel 18-8 (SUS304) that avoids quality issues of cheap material such as aluminum. In consequence, their drinkware products are completely BPA free, suitable for holding both carbonated and acidic drinks.
VI. How Can I Build a Water Bottle Brand Like 24Bottles
24Bottles water bottles stand the test of time and have won the loyalty and trust of customers all over the world. 24Bottles is made in China. China has a complete industrial chain and complete water bottle manufacturing equipment and processes, and several top custom drink bottle manufacturers like KingStar. This is why top brands such as Yeti, Hydro Flask, 24Bottles produce their products in China. As you may know, 95% of the world's stainless steel water bottles are made in China. If you want to build a successful and profitable water bottle brand like 24Bottles, then it is recommended to worth with a reliable and trustworthy top water bottle manufacturer like KingStar in China. KingStar provide one-stop drink bottle OEM manufacturing service from product design to mass production.
Quality water bottle products together with well-targeted marketing is key to making your own water bottle business profitable and promising! KingStar can offer you premium drinkware products- wholesale stainless steel water bottles, tumblers in bulk, Koozies, thermos lunch boxes, custom beer growlers, with agreeable prices in bulk, and with our great products, you can make your brand competitive.
VII. Is 24Bottles ECO-Friendly?
When it comes to environmental protection, no other water bottle brand is capable of beating 24Bottles. In general, most of the water bottle brands adopt eco-friendly material during the manufacturing of water bottle gears. They do a good job in terms of hygiene and health. Some companies endeavor to minimize the impact of poisonous ingredients on both environment and human beings. They may either improve and upgrade the waste disposal methods or search for alternatives to industrial additions. However, none of them would pay heed to the compensation for the CO2 emissions.
24Bottles virtually realizes Zero CO2 emission. By calculating the carbon prints of 24Bottles' products throughout the entire process from raw material to final transportation, this company plants trees to absorb the CO2 equivalents in Oxygen (the name of their forest) in different continents. And they have succeeded in maintaining the neutral balance between CO2 emission and consumption.
On their website there is an interactive map offering you information about 24Bottles' current achievement. They choose the right crop for the right land — cacao in Cameroon, Spanish cedar in Colombia, avocado in Kenya, etc. In this way, these trees can grow more lushly, better adsorbing CO2. At present, they have planted 8,654 trees in 6 different countries and approximately 2,025,865 KG of CO2 are consumed by their forests.
In a 24Bottles water bottle of regular volume there is a lettering "-0,08". What does that mean? The above picture is of a smaller volume, hence the lettering of "-0,04". In fact, "-0,08" refers to -0,08 kg of CO2 equivalents, a quantity that will be saved when the 24Bottles water bottle is refilled for one time. So, this lettering constantly reminds the users that he (or she) can save that amount of CO2 emission every time he (or she) refills the bottle instead of drinking with a disposable plastic water bottle.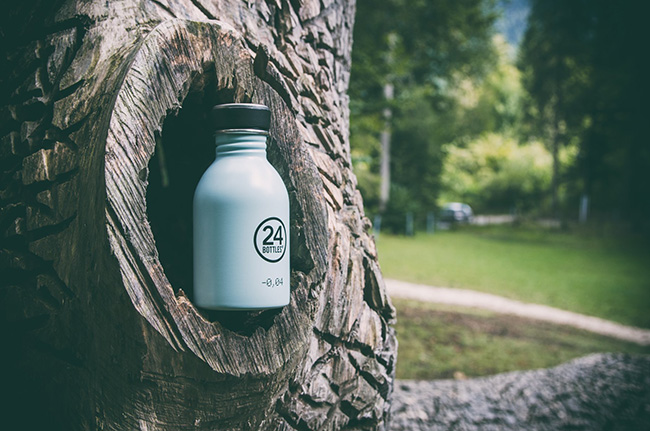 VIII. Why Is 24Bottles Expensive?
24Bottles water bottles are sold at a relatively high price. There are three reasons why 24Bottles is expensive. First, 24Bottles adopt high-performance material. Their stainless steel water bottles, tumblers and snack pots are all made by premium quality stainless steel 18-8 (SUS304). The BPA-free products of 24Bottles are certified to pass corresponding authoritative tests, offering customers healthy and soothing drinking experience. In addition, this brand uses high-end mounding powders to form the coating that is extremely durable and resistant to both scratch and rust. The quality water bottles of 24Bottles imply that the price will not be so agreeable to some extent.
Second, 24Bottles aims at the high-end market and fully taps the market potential. Their elegant and good-looking products draw large customer groups and are regarded as one of the fashion kings among Italian water bottle brands. The successful positioning of 24Bottles partly leads to the pricy price of 24Bottle water bottles.
In the end, 24Bottles is devoted to undertaking the environmental protection cause by planting trees to adsorb CO2 emission. They have pumped a great deal of money into this grand cause and a small part of money should be reasonably borne by the customer. Although they do not express this idea obviously, it can still be deduced.
Order Custom Water Bottles & Tumblers
Get competitive price and premium custom drinkware from KingStar — Short lead time, door-to-door global shipping, strong Engineering support!