We gradually cultivate a good habit of pursing quality life amid the improvement of living conditions. And as one of our closest friends as well as a member of the family, dogs should also lead healthier lives just as we do. There are many ways to make our loyal friends' lives better. For example, we can let them use food grade stainless steel dog bowl to have meals. Today KingStar, the top stainless steel dog bowl manufacturer, will focus on introducing Yeti Boomer dog bowl, the best double wall stainless steel pet bowl on the market.
What Is Yeti Dog Bowl
Yeti is not only famous for its quality drinkware gears, but also has expanded its business to stainless steel pet supplies such as dog bowls. Just like other classical products of Yeti, the Boomer dog bowl is also characterized by the adoption of a double-walled stainless steel structure. The double wall stainless steel is conducive to remaining the warmth of food in the bowl, enabling dogs to enjoy their meals at a proper temperature. But the bowl is not equipped with a cover (few pet bowls do), and the insulation performance is thereby not so strong compared with an insulated Yeti Rambler with lid.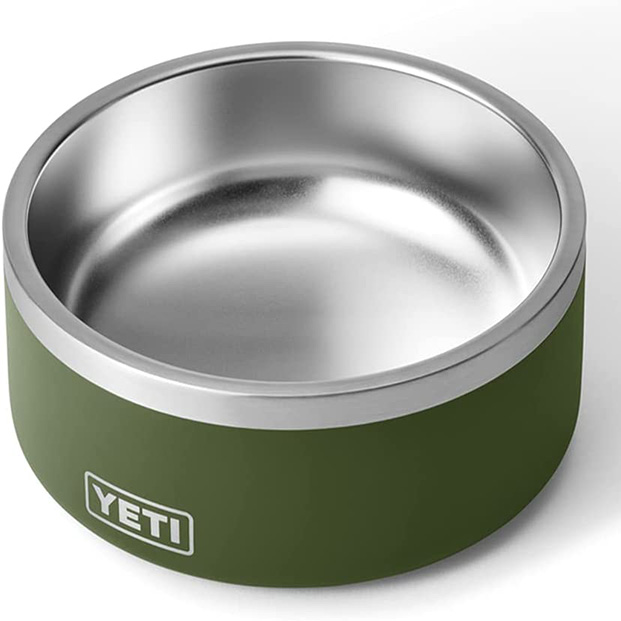 Yeti Boomer dog bowl is made by premium stainless steel 18/8 (SUS304) that contains no harmful addition like BPA and phthalate. In other words, the safety of Yeti Boomer is 100% guaranteed. Besides, the smooth and pure stainless steel does not hurt dogs when they are eating and retains the original taste of foods to the maximum. This useful bowl, both suitable for holding food and water, is coated with a finish on the outer stainless steel shell to better protect the bowl itself. The coating is durable and anti-scratch, so dogs can not vandalize it easily and the nice look manages to stay.
At the bottom of the Boomer dog bowl there is a silicon foot that is in charge of the non-slipping function. The foot plays a vital role in stabilizing the bowl when being used as it greatly enhances the friction. What's more, it is the silicon foot that virtually protects the finish around or beneath it from wearing off. This practical and original design of Yeti Boomer hit the market resoundingly.
Yeti Dog Bowl Size
| | | | |
| --- | --- | --- | --- |
| Item | Outside | Empty Weight | Volume |
| Yeti Boomer 4 | 3.1 x 6.75 x 6.75 inches | 1.2 lbs | 32 ounces |
| Yeti Boomer 8 | 3.5 x 8 x 8 inches | 1.93 lbs | 64 ounces |
Currently, there are two types of Yeti Dog Bowls available, namely, Boomer 4 and Boomer 8. The former is suitable for smaller dogs such as miniature schnauzer and poodle, while the latter of 64 oz is designed for big dogs, say, golden retriever and Siberian husky. Compared with Boomer 8, Yeti Boomer 4 is more compact and portable due to its lightweight.
Yeti Dog Bowl Reviews
Good product. Glad Yeti made the Boomer 4 dog bowl, perfect for my 10-pound corgi. I use it as a water dish. But the bowl is a little bit pricy.
I bought this bowl from Amazon for my puppy John. And before that, he had been using a plastic water bowl for 3 months. I thought a stainless steel dog bowl would be a better option so I ordered it. The bowl is really durable and sturdy. I would like to give Yeti Boomer five stars.
I like this bowl's sleek design, various colors and incredible durability. I got clumsy with it several times and the bowl never broke. The Boomer 4 is also capable of withstanding my pup's bite.
Before I got it, I read a lot of reviews and complaints about Yeti Boomer 4. Some people said that the bowl did not hold the specified capacity and others felt angry toward the rusty stains. Well, I think the bowl is definitely good. And the so-called rusty stains can be removed easily as they are not rust at all, just some remains of food.
We love Boomer 4s and got 3. The 32 oz is a perfect size for our puppies. They are durable and anti-slip, never sliding around on the ground. I wash them every time my puppies finish meals, and these bowls now are as brand new as before!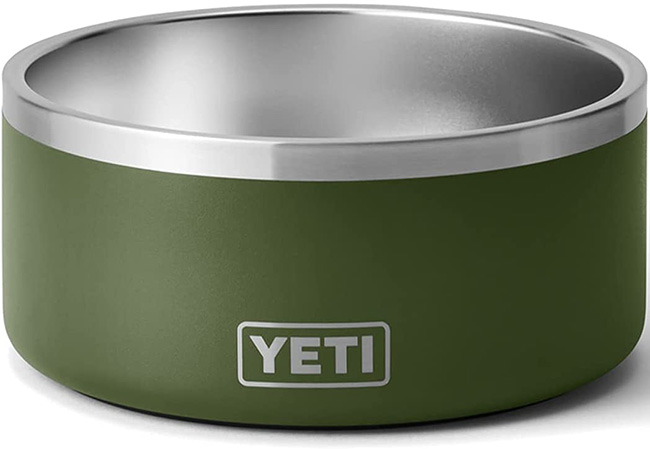 What Material Is the Yeti Dog Bowl Made Of
The Yeti Boomer dog bowl is made by food-grade stainless steel 18-8 (SUS304) as the main body, and silicon as the foot. Stainless steel helps the bowl stay away from rust and scratch while the BPA-free silicon foot offers stability.
Unlike plastic bowls that succumb to high temperature, Boomer 4 is made by stainless steel that can withstand high temperature without generating harmful things. Such a material is also much more sturdy and durable. It has been tested that the Yeti Boomer dog bowl succeeds in passing all the dropping and anti-biting tests. More importantly, dogs can not bite through the stainless steel bowl for sure, but when it comes to a plastic one, they may break the fragile bowl when chewing enthusiastically, which is possible to bring about undesirable physical injuries.
The silicon foot at the bottom of the bowl is installed tightly and integrally, which further protects pets from eating it by mistake.
How Can I Build A Dog Bowl Brand Like "Yeti"
Find a suitable stainless steel dog bowl manufacturer, such as KingStar. KingStar's R&D engineer team will customize the unique dog bowl you want according to your product concept, so that your product quality is high-quality and supply chain management is easy.
You only need to do market research and market development.
Determine the industry attribute of the pet bowls. This is mainly because the consumer groups of different products have different characteristics. Determine the industry attribute so that you can understand more clearly how to do products in this industry, which can help you lock in consumption Group, secondly, you can refer to many existing brands, and then do your own brand innovation. It does not require major changes, just a small innovation is enough.
After determining the industry attributes, give your own brand a position, which is the difference of your brand in this industry, what kind of role it is, and this process of communication can help the consumer group quickly understand you. The positioning can bring many loyal consumer groups.
Why Is Yeti Dog Bowl Non-Slip?
The Yeti Boomer dog bowls in bulk seldom slide around on the ground/floor, why? In fact, the non-slipping property owes to the silicon foot at the bottom of the bowl. The silicon foot is especially designed for the bowl and is thickened to offer a stronger grip. Even when the floor is wet and inclines to a certain direction, the Boomer is able to stand still. This great design enables dogs to have meals or drink water enjoyably without flipping over the bowl while licking enthusiastically.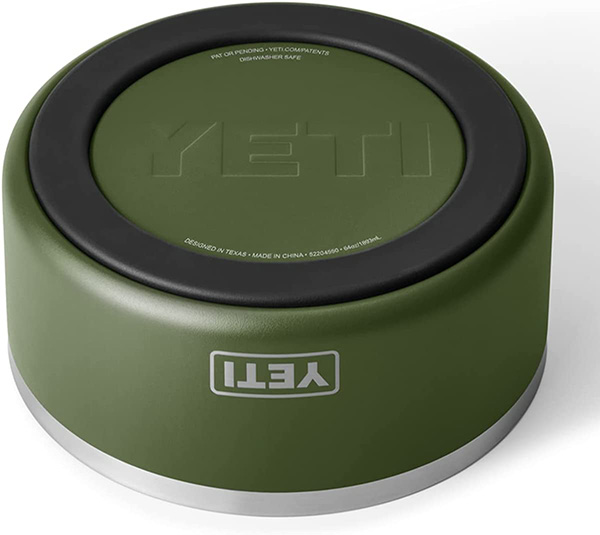 How Often Should I Clean Yeti Dog Bowls?
It is suggested to clean the Yeti Boomer dog bowl every day so as to provide dogs with a healthy dining supply. Regular maintenance is conducive to eliminating the presence of unpleasant molds and stains. Yeti claims that their pet supplies like dog bowls are entirely dishwasher safe. So it is feasible to put the bowl in the dishwasher or simply clean the bowl by hand. In fact, washing a bowl by hand only takes a minute.
Are Yeti Dog Bowls Worth It?
Yes, Yeti Boomer dog bowls are worth it.
High Quality: Yeti Boomer dog bowls are made by 18-8 (SUS304) stainless steel that contains no BPA. The double-walled stainless steel structure enhances the insulation performance as well as the quality of the bowl itself.
Durability: Yeti dog bowls are coated with a layer of durable finish to achieve the anti-rust and anti-scratch function. The thickened stainless steel also partly bolsters the durability of the bowl. Besides, Yeti Boomer bowls are puncture-resistant and impact-resistant.
Nice Look: Yeti dog bowls offer a spectrum of color options with refreshing ones like river green and seafoam color. The diversity of colors has received highly favorable reviews.
Never Flip Over: The silicon foot boasts a remarkable grip and the round and unique design of the bowl minimizes the possibility of a paw or a nose flipping over the Boomer bowl.
Although Yeti Boomer wholesale dog bowls are pricy, they are the best double wall stainless steel pet bowls in the market.
How Are Yeti Dog Bowls Manufactured?
stainless steel dog bowl stretching process
Yeti double wall non-insulated stainless steel dog bowl manufacturing process as below:
Outer wall stretching–>Outer wall forming–>Outer wall cleaning
Inner wall stretching–>Inner wall forming–>Inner wall cleaning
Welding outer wall with inner wall
Polishing
Fabricate anti-slip bottom ring
Assemble anti-slip bottom ring onto the dog bowl
Inspection
Packing

Order Custom Dog Bowls
Get competitive price and premium custom pet bowls from KingStar — Short lead time, door-to-door global shipping, strong Engineering support!