Hydro Flask has released a new lightweight thermos called the Trail series which is very popular in the market. If you are about to buy lightweight HydroFlasks and are about to understand how they differ from regular Hydro Flasks, then this article will help you.
I. How Hydro Flask Made Its Lightest Water Bottle Yet
Launched in 2009, Hydro Flask has become one of the most famous water bottle brands around the world. After years of growth, Hydro Flask water bottles are admired and pursued for their sleek designs, a spectrum of color options and unparalleled insulation performance. Their quality products can keep drinks cold or hot for a long time, which is partly the reason why Hydro Flask is so popular. Recently, this brand has released a new bottle series, namely, Hydro Flask Lightweight Trail Series that are designed for customers who long for a lighter hydration experience.
Hydro Flask picked up its classical and iconic design, shaving off 25% of the original weight without compromising the quality of Lightest water bottles. In this way, these bottles become much more suitable for outdoor activities like hiking, mountain-climbing and picnicking. Currently, the Lightweight Trail Series offer customers bottles of 21 oz, 24 oz and 32 oz. So, how did Hydro Flask manage to make its lightest water bottle? According to John Cupit, the chief director of Hydro Flask's design team, there are three factors:
Thinner Yet Durable Stainless Steel Walls
Hydro Flask succeeded in reducing the space between two stainless steel walls while maintaining the same insulation performance. Besides, by elongating the bottle, the wall becomes thinner yet remains satisfactory durability.
Another important innovation lies in the lighter flex cap. Hydro Flask reduced the material adopted in the cap by taking out the pivots and using aluminum in place of stainless steel 18-8. And this worked. In addition, the design team devised a perforated carry strap that also helped to reduce the overall weight of the bottle itself. The data shows that nearly 40% of the reduced weight of the Lightweight water bottle owes to the newly designed flex cap. By making small changes of ting parts, Hydro Flask makes a good balance between functionality and portability.
John Cupit said, "TempShield technology is our core, and we want to apply our proprietary insulation tech to the Lightweight Trail Series. It is our enduring pursuit that Hydro Flask water bottles, regardless of the volume and type, should be able to keep water hot for 12 hours or cold for up to 24 hours. And luckily, we made it. We reduced the weight of material, but kept the amazingly outstanding heat-retaining capability."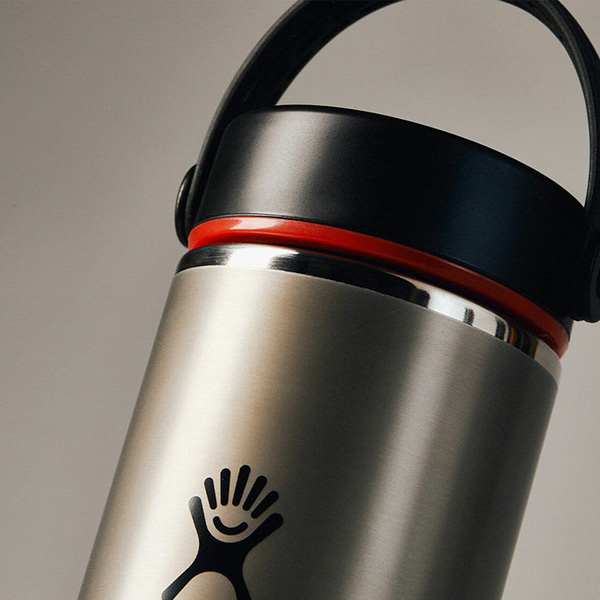 II. Why Hydro Flask Lightest Water Bottle So Special
Lighter Than a Regular Hydro Flask
The most striking feature of Hydro Flask Lightweight Trail Series bottles is the decreased weight. Hydro Flask overcame the difficulty of shortening the distance between two stainless steel 18-8 walls while maintaining the normal operating of insulation functions. Also, the Lightweight Trail Series bottles are optimized in terms of the size to offer a comfortable touch.
In generally, a Hydro Flask Lightest water bottle is 20% to 25% lighter than a Regular Hydro Flask bottle. The credit should be given to the thinner stainless steel walls and the lighter flex cap. First, the design team of Hydro Flask, after countless prototypes and dropping test, managed to shave down the vacuum space between walls. They elongated the bottle and allowed the possibility of applying thinner stainless steel SUS304. Second, the reduced weight of the flex cap occupies 2/5 of the entire efforts. In the past, the material inside of the cap was stainless steel, which is now replaced by aluminum, an eco-friendly material that is lighter yet shares the same good quality. As a result, the new construction continues to be reliable and durable.
Insulation Performance
Hydro Flask water bottles are famous for their remarkable insulation performance, and the newly released Lightweight Trail Series water bottles are no exception. According to KingStar's rounds of insulation tests, a Hydro Flask Lightweight water bottle of 32 oz is capable of keeping water hot for 12 hours and icy liquids cold for 24 hours. So this bottle overshadows many counterparts in the market in terms of the heat-retaining capability.
The outstanding functionality of Hydro Flask Lightweight Trail Series bottles owes to the TempShield technology. This proprietary tech combines the entire construction, food-grade stainless steel SUS304 and the double-walled vacuum structure together to yield the agreeable thermal performance. Although the material is reduced to make the bottle lighter, the insulation still remains the same. Just as Hydro Flask said about their bottles, "Without our TempShield technology, Hydro Flask water bottles are definitely mediocre, and no one will know us."
Shape
This time Hydro Flask restored and replicated the original and ironic shape of its water bottles. And the innovation of it lies in the elongated body. Hydro Flask Lightweight Trail Series bottles are elongated to make the stainless steel walls thinner. This new shape is also friendlier for customers to carry. In addition, it it also easier for users to put Trail Series bottles into a small backpack or a pocket due to the admirable streamlined silhouette.
According to John Cupit, the Lightweight Trail Series aims to provide services in the backcountry. The new shape enables customers to have a better grasping experience when their hands get sweaty in the backcountry. And the original design philosophy of the Trail Series is to reflect the functionality and performance of Hydro Flask drinking gears.
Color Option
Currently, there are Slate, Obsidian and Celestine bottles available. Hydro Flask has promised that it will release more color options in the days ahead, and the delayed project is resulted from the pandemic. So it is quite understandable that Hydro Flask now does not have sufficient color options.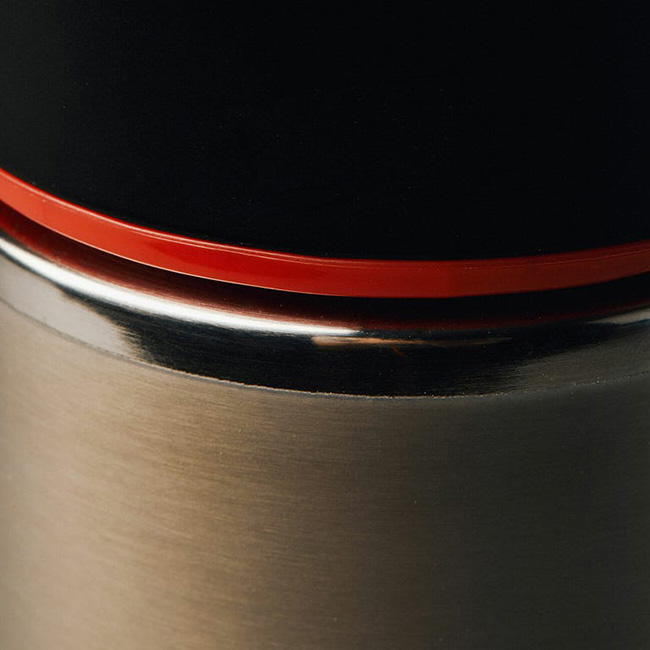 III. Hydro Flask Trail vs Regular: Which Is Better?
Hydro Flask Trail vs Hydro Flask Regular
| | | |
| --- | --- | --- |
| | Hydro Flask Trail | Hydro Flask Regular |
| An extra copper layer | × | × |
| BPA & toxin free | √ | √ |
| Dishwasher safe | √ | √ |
| Spill-proof | √ | √ |
| TempShield technology | √ | √ |
| Zero condensation | √ | √ |
| Color options | 3 colors available | a variety of color options |
| Lid options | Wide mouth | Wide/Standard mouth |
| Price | $44.95 RRP / 24 oz | $34.95 RRP / 24 oz |
| Size | 21, 24, 32 oz | 12, 16, 18, 20, 21, 24, 25, 32, 40, 64, 128 oz |
| Weight | 352.7g / 32 oz | 440.7g / 32oz |
| Durability | ★★★☆☆ | ★★★★☆ |
| Insulation performance | ★★★★☆ | ★★★★★ |
| Locking performance | ★★★★★ | ★★★★★ |
| Portability | ★★★★★ | ★★★★☆ |
| Price competitiveness | ★★★★☆ | ★★★★★ |
It is clearly shown that both Hydro Flask Trail Series bottles and Hydro Flask Regular bottles have their own strengths and shortcomings. Compared to the Regular one, the lightest water bottle is not so durable as it is comparatively susceptible to impact. It is the thinner stainless steel walls that should be blamed when it comes to the durability of Hydro Flask bottles. Besides, the insulation performance of the Trail Series bottles is not so ideal, especially when the bottle is crashed. Again, the shortened distance between two stainless steel walls increases the possibility of colliding, hence the failure of insulation performance.
However, when it comes to the portability, Hydro Flask Trail Series bottles undoubtedly do a better job. This type of bottle is designed for adventures in backcountry and is easier to carry & handle.