You must have heard of The Coldest, a time-honored water bottle brand that sells high-quality stainless steel insulated water bottles. The Coldest water bottle can keep drinks the coldest, and is thus worth modeling on. In this article, KingStar aims to share with you information about this company and its products.
The Story of The Coldest
Born in 2014, The Coldest actively participated in the war against plastic pollution. This brand has been determined to offer customer clean hydration solutions in place of unsustainable drinking styles. The Coldest managed to create the coldest stainless steel water bottle in the world, hence the story of their struggle and growth.
Simply using a reusable water bottle like a stainless steel bottle can help to save approximately 1400 plastic bottles annually. That's what they discovered in 2014, and that had changed everything. Although The Coldest had superior products and quality engineering, this company was bootstrapped due to lack of finance. Fortunately, their labor did not end in vain. In 2016, their stainless steel water bottles in bulk were recognized by the public and had gained an increasing popularity. Many Internet celebrities as well as famous websites & news reports started to promote their quality drinking bottles, which later boosted the growth of The Coldest.
After 5 years' struggle and development, The Coldest has expanded their business scope into a variety of drinkware products. Also, while keeping selling their hot bottles, this company endeavors to upgrade their bottle techs and constantly applies them to The Coldest water bottles. Just as what had inspired them in 2014, The Coldest never forget their commitment to the environment, and fulfills social responsibilities by offering assistance to EPEA (Environmental Protection and Encouragement Agency) and other public welfare organizations across the world.
The Coldest Water Bottle Review
The following reviews and comments are picked up for your better understanding toward The Coldest water bottles.
I am a delivery man who drive all day without an air conditioner in some hottest states in the United States. I really need to consume a gallon of water a day to stay well-hydrated against my body fluid loss, and I was bored with icy cold water turning to hot water in 3 hours when I was driving. One of my colleagues suggested me buying The Coldest water bottle, and I followed his advise. The first day I drank water with this bottle, I felt the magic of it. This baby kept water cold all day long! I bet this bottle can keep drinks cold for 48 hours, though they said the ceiling is about 36 hours for cold drinks. GREAT PRODUCT!
I bought the bottle last week. To be honest, I really love the look and the quality. The Coldest water bottle is very solid and easy to use. When I was using the bottle, I could hear a whistling sound coming from nowhere, and I then contact the company who responded to me quickly and helped me solve the issue by replacing a new one for free! I believe in The Coldest as they offer considerate after-sales services. Good product and good company.
This water bottle is so amazing. In the morning I took ice cubes from my refrigerator and put them into the bottle, and I later found them stay frozen in the evening. Good insulation performance. Though it is a little bit expensive, I love it.
the coldest water bottle review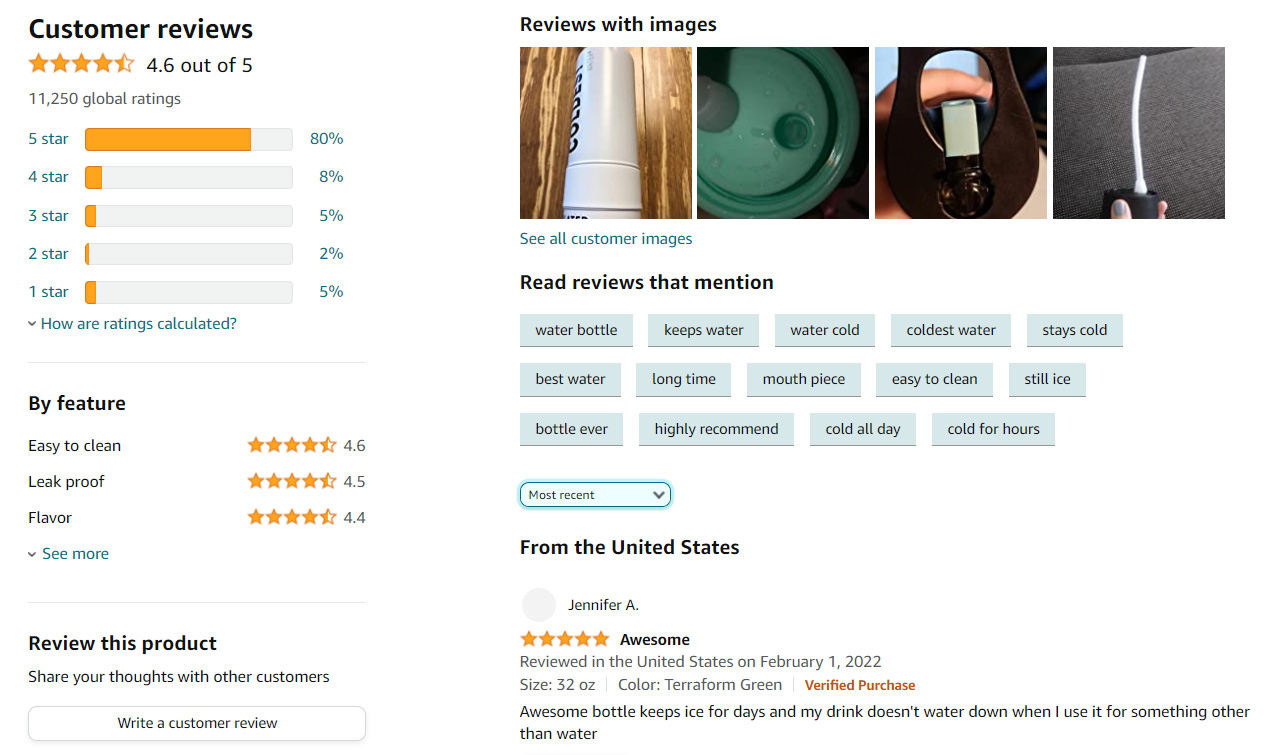 Where Are The Coldest Water Bottles Made?
Just like other well-known water brands such as Yeti, S'well, Hydro Flask, Simple Flask and BrüMate, The Coldest water bottles are made in China. Compared to other regions that make water bottles, China has the best price edge and the best bottle. Chinese water bottle manufacturers invented stainless steel insulated drinking bottles and keep upgrading water bottles since the day they were born.
Up to now, quality Chinese water bottle suppliers (like us KingStar) have realized a complete set of stainless steel drinkware manufacturing equipment, a group of processing experts, and the incredible capability of making insulated water bottles in bulk with the lowest price in the world. The plentiful material, years' custom stainless steel vacuum flask manufacturing experience and the convenient shipping routines make Chinese water bottle manufacturers unique and unparalleled.
Are The Coldest Water Bottle Good?
Yes, they are good. The Coldest water bottles are made by food-grade stainless steel 18/8 (SUS304), an eco-friendly material containing no harmful chemicals such as heavy metals and BPA. They are completely safe for hydration.
The Coldest water bottle is characterized by an adoption of double-walled stainless steel structure, thickened stainless steel walls and a layer of plated copper. The entire insulation mechanism greatly enhances the chillness-retaining capability. KingStar's esnures that, The Coldest water bottle can keep icy cold drinks cold seriously for up to 36 hours. The bottle also has a good heat-retaining property. It keeps piping hot water warm for 18 hours. The Coldest water bottles' outstanding insulation performance virtually overshadows most of its counterparts in the stainless steel insulated water bottle market.
The Coldest water bottles are designed for outdoor activities (indoor use is recommended, either) such as camping, basketball, football and so on. In other words, the bottle should be durable and anti-impact enough to withstand unexpected issues during every adventure. Luckily, they do. The wide opening makes it easier for customers to clean and allows them to swill the water at ease.
The Coldest Water Bottle VS Hydro Flask Water Bottle, Which One is Better?
The Coldest water bottle vs Hydro Flask, which one is better? Here KingStar makes a comparison between The Coldest Wide Mouth water bottle and the Hydro Flask Wide Mouth water bottle to facilitate your understanding.
The Coldest Water Bottle VS Hydro Flask
Model
The Coldest Wide Mouth
The Hydro Flask Wide Mouth
Capacity
32 oz
32 oz
Dimensions
3 x 3 x 10 inches
3.58 x 3.58 x 9.4 inches
Weight
2 Pounds
2 Pounds
Material
Stainless steel
Stainless steel
Price
$39.99
$49.99
Leak-proof
Depends on the lid
Depends on the lid
Replaceable lids
√
√
Sweat-free
√
√
Extra copper layer
√
√
Dishwasher-safe
×
√
Color options
★★★★☆
★★★★☆
Brand popularity
★★★★★
★★★★★
Durability
★★★★★
★★★★☆
Portability
★★★★★
★★★★★
Heat-retaining performance
★★★★★
★★★★★
Cold-retaining performance
★★★★★
★★★★☆
Locking performance
★★★★☆
★★★★☆
Price competitiveness
★★★★☆
★★★★☆
Overall rating
37/40★
35/40★
The above chart clearly presents the differences between as well as the rating of The Coldest Wide Mouth water bottles and the Hydro Flask Wide Mouth water bottles. Both of them have many color options and have satisfactory heat-retaining performance. The Coldest water bottles have a better cold-retaining property, yet are not dishwasher-safe. Hydro Flask Wide Mouth stainless steel water bottles are less durable and are prone to dents. It is advisable for customers to buy a protective boot to better shield the Hydro Flask bottle. Beside, compared to other quality water bottles such as Simple Flask water bottles and Hydro Cell water bottles, both of The Coldest and Hydro Flask drinking bottles are much more expensive.
The Coldest Water Bottle VS Hydro Flask
How Long Do The Coldest Water Bottles Keep Water Cold?
The Coldest stainless steel water bottles are made of stainless steel 18-8. Their water bottles use a double-walled stainless steel structure to better seal the temperature inside of the bottle. What's more, The Coldest bottle self-sealing lids are ingeniously designed, succeeding in minimizing the escape of heat.
Are The Coldest Stainless Steel Bottles Dishwasher Safe?
Yes, The Coldest stainless steel water bottles are 100% dishwasher safe. Their bottles adopt quality molding powders to make the durable finish/coating on the shell, which will never succumb to the dishwasher, nor will the insulation function. What's more, The Coldest other drinking gears are all dishwasher-safe, too.
Can You Put Beer in The Coldest Water Bottle?
Although the The Coldest stainless steel water bottles are designed mainly for bike and are used to hold liquids such as water and sports drinks, it is feasible for outdoor enthusiasts to use the bike bottle holding beer and wine. The bottle is entirely BPA-, BPS- and BPF-free, enabling people to enjoy a healthy hydration during their adventures. However, it should be noted that while the bottle is filled with beer, do not shake it violently, which may damage the sealing performance. And customers should clean the stainless steel bike bottle thoroughly at once when beer in it is finished.