I. Where Are RTIC Coolers and Tumblers Made?
As a strong competitor to Yeti, RTIC has attracted attention from customers around the world. Their coolers and other drinkware products are characterized by durability and high quality. KingStar recently received several emails asking for the country of origin of RTIC coolers and tumblers – are they made in the USA or overseas factories in China? In view of that, we decide to solve your concerns and is now unveiling the answer for you.
RTIC coolers, water bottles, wholesale tumblers, and other drinkware products are all assembled and manufactured in China. RTIC manages to find 2 reliable and capable water bottle manufacturers that has been dealing this business for decades. Their complete manufacturing equipment as well as the expert research and development team has won RTIC's trust. This company is quite open about this question and has told their customers about the country of origin of their high quality coolers and tumblers. In fact, RTIC stands ready to continue their strategic cooperation with their powerful manufacturers in China.
Guess what? Many other famous water bottle brands such as K2, S'well, Yeti, Hydro Flask and Canyon all choose Chinese drinkware manufacturers as their solid back. RTIC was established in the United States and is based out of Cypress, Texas. This company annually import their products such as coolers and tumblers from China and then deliver/ship them across the USA through their own distribution centers.
There are five different fulfillment warehouses of RTIC in the United States that play a vital role in distributing RTIC water bottle products. They are:
Atlanta, Georgia
Chicago, Illinois
Fresno, California
Harrisburg, Pennsylvania
Houston, Texas
Again, despite the base as well as the 5 distribution centers in the United States listed above, all products of RTIC are made overseas in China. RTIC's honesty on their customers have won mutual trust and respect as the high quality of RTIC water bottle products has been recognized by them. However, there are still many water bottle brands that purposefully cover the country of origin and try to sidestep this issue.
II. Who is the supplier of RTIC? Why Can't I Find RTIC's Manufacturer on Any Trading Shows? Does KingStar Produce Tumblers for RTIC?
KingStar, like other water bottle manufacturers, has signed NDA agreements with customers. KingStar is not allowed to display customized products such as water bottles, tumblers, can coolers, etc. Therefore, at the exhibition, buyers could not find any clues about RTIC or Yeti suppliers. However, at the annual Canton Fair, you can see the huge booths of leading drinking bottle manufacturing factories like KingStar. You can talk with them, and then you can find a lot of clues.
III. Are RTIC and Yeti Coolers Made in the Same Factory?
Just like RTIC coolers, Yeti coolers are not made in the United States, either. According to Yeti, they have found reliable and trustworthy water bottle manufacturers & suppliers who are responsible for the entire production. But, are they made in the same factory?
While RTIC cooler are made and assembled in China, Yeti coolers are mainly produced in the Philippines. In other words, Yeti coolers and that of RTIC can not share the same manufacturing factory or the same manufacturer.
However, what about other products such as tumblers and water bottles? According to these two companies, despite Yeti coolers, all other water bottle products of these two giants in the line are made in China. Jacobsen, founder and owner of RTIC, once said in an interview, "I do think Yeti tumblers and ours are made in the same factory, but these factories are located in the same area, or rather, the same county."
RTIC coolers and Yeti coolers have sightly different designs. The most obvious one is that Yeti coolers are smaller that that of RTIC in terms of the same model number. A Yeti cooler 45 features a capacity of 35.6 L whereas an RTIC 45 has a volume of 42.6 L.
Yeti was established by Roy and Ryan in Austin, Texas and then sold to Cortec Group a major ownership in 2012. And RTIC didn't come to this world until the year 2015 by Jim and John in Cypress, Texas. Two founder of RTIC aim to offer high quality products to customers with a lower price as Yeti really charges a lot. Fortunately, they found a Chinese manufacturer with a strong production capability and then started to ship and deliver products through online websites like their own and Amazon.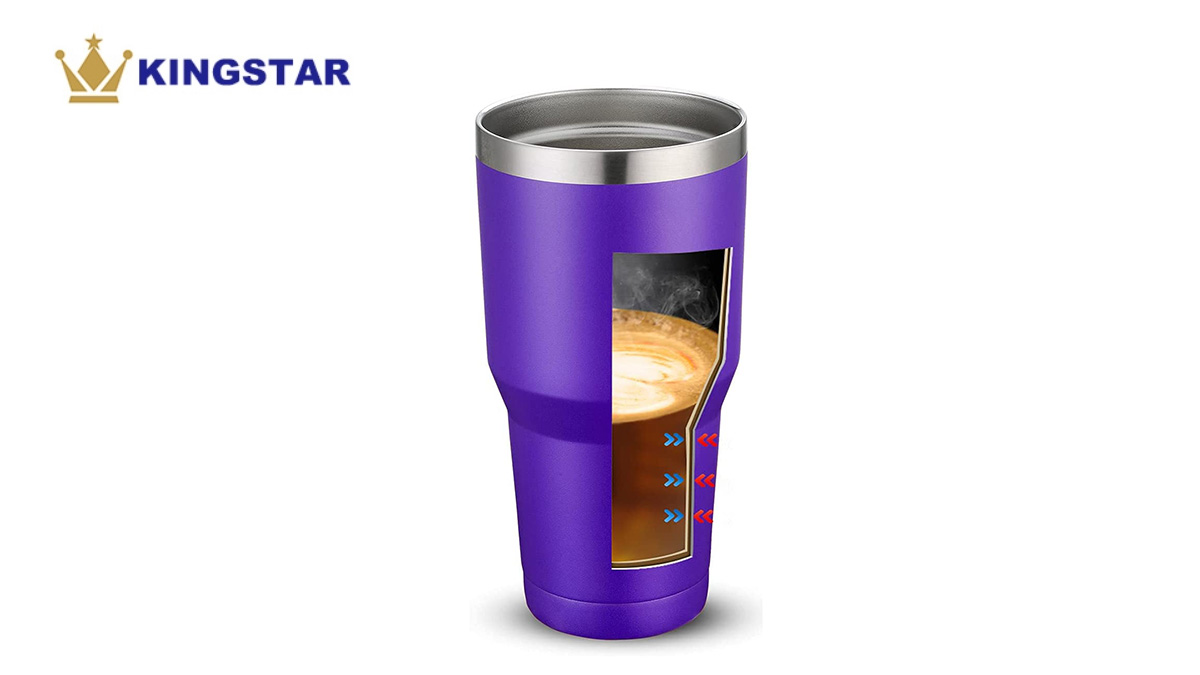 IV. Is RTIC A Good Brand?
Some of you may still have the concern that products made in China may not be so durable and reliable. Well, KingStar fully understands your concerns and can 100% guarantee the quality of our products. Besides, just like other famous water bottle brands, RTIC also assigns the manufacturing job to Chinese manufacturers and their coolers as well as tumblers are really welcomed by customers in the United States.
In fact, more than 95% of vacuum flasks in the world are made in China. Moreover, the world's top brands such as Yeti, S'well, Hydro Flask, Hydro Cell, 24Bottles, Chilly's, Stanley, Starbucks, Lululemon, Simple Flask etc. are all manufactured by the leading custom water cup manufacturer such as KingStar, EcoShine Drinkware etc. The drinkware top sellers on Amazon in the United States, Germany, the United Kingdom, the European Union, and Japan are all produced in China.
RTIC coolers are characterized by an incredible heat-retaining capability that even outperforms Yeti and sell for a more agreeable price. RTIC gives a one-year warranty on their coolers while Yeti extends it to 5 years. What about other products? Well, RTIC's other products come with a ninety-day warranty, which means you can do little about quality issues after the first ninety days. In addition, RTIC water bottle products are not dishwasher safe whereas Yeti tumblers and other water bottle gears are 100% dishwasher safe.