When customers are picking up water bottles, what do they value most? The good appearance, the elegant patterns, or something much more practical such as the insulation performance? Well, customer have their own preference over the choice of water bottles. But one thing is for sure: none of them would like to use bottles that do harm to their health. KingStar believes that a popular and appealing water bottle should have good insulation performance, which is an indispensable factor. What's more, the good look is also of vital importance. Only when both the practical and aesthetic function of bulk water bottles are achieved can they succeed in hitting the market resoundingly.
The stainless steel water bottle family now has included many members. There are premium ones and also inferior ones on the market. As an insider in the water bottle industry, KingStar here shares with you best vacuum insulated water bottles, and hopes you can have a better understanding towards the following water bottle brands.
I. The Coldest Sports Water Bottle
What bottle keeps the water coldest? It is The Coldest water bottle! Sounds like a pun, isn't it? In fact, The Coldest Sports water bottle has the best cold-retaining capability. As the leading insulated stainless steel water bottle manufacturer, KingStar has the confidence that The Coldest Sports water bottle can keep icy cold soft drinks cold for up to 36 hours! By contrast, an insulated water bottle can keep water cold only for 24 hours (the maximum).
The Coldest water bottle is designed for both outdoor enthusiasts and professional athletes. The wide application of the bottle together with the bright color options are relatively popular among customers. The Coldest Sports series are not dishwasher-safe, so it would be best for customers to wash them manually.
Capacity: 32 oz
Weight: 2 pounds
Price: $39.99
II. Hydro Flask Wide Mouth Series
There is no need to introduce Hydro Flask, our old friend who is loved by outdoor enthusiasts. Hydro Flask Lightweight Wide Mouth Series is recommended. This bottle features a double-walled stainless steel structure (TempShield Technology) that can yield amazingly superior heat-retaining results. According to KingStar's tests, the lightweight wide mouth bottle can keep hot water warm for half a day and icy cold drinks cool for almost a day.
The lightweight design (25% lighter than other bottles with the same volume) enables outdoor fans to carry the bottle during a variety of adventures such as mountain climbing, hiking and camping. The durable coating does not peel off easily unless it is used improperly. The bottle tolerates no sweating or condensation, allowing customers to enjoy a pleasant hold.
Also, Hydro Flask water bottles of the lightweight series are dishwasher-safe as they are plated with durable finish.
Capacity: 32 oz
Weight: 12 oz
Price: $48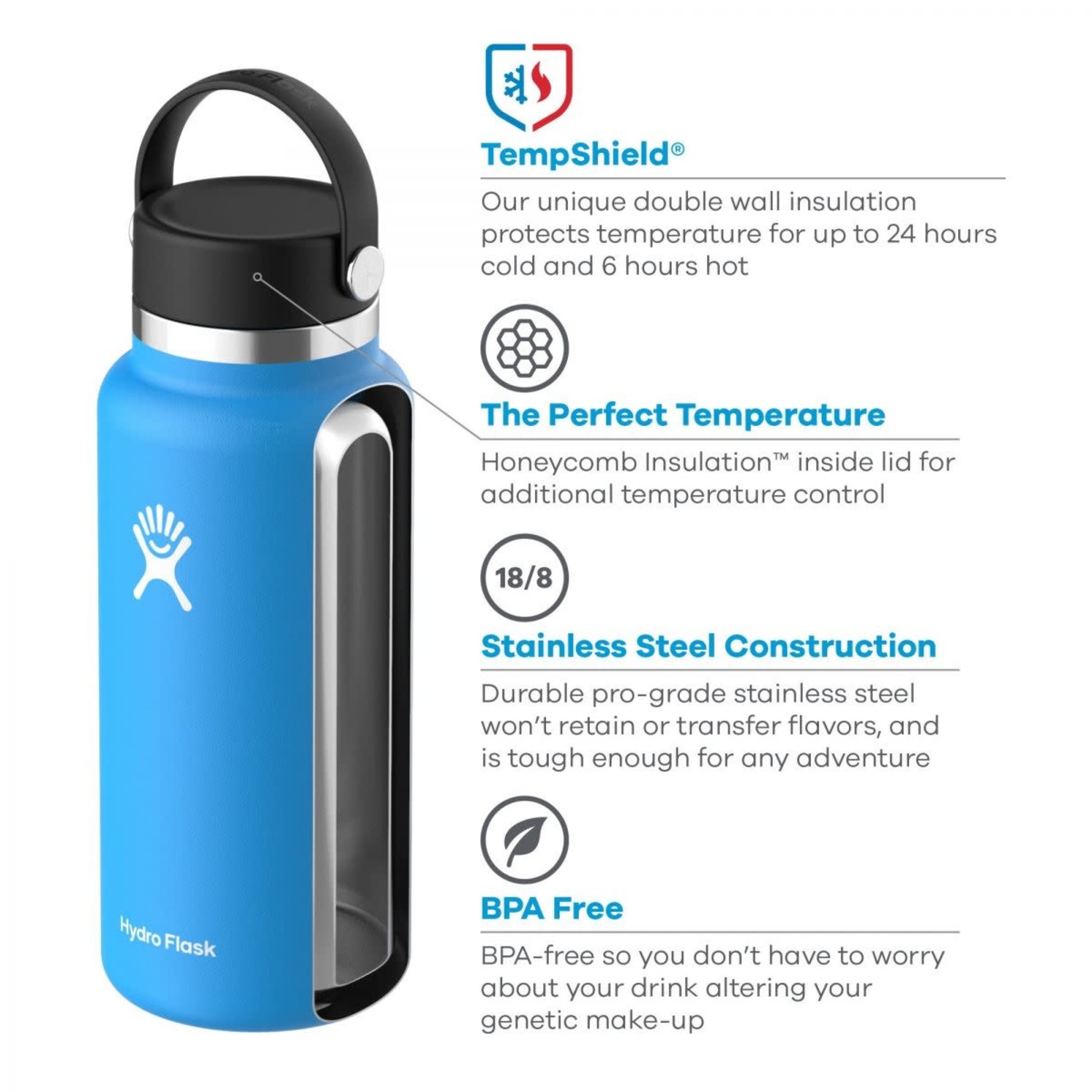 III. Yeti Rambler Bottle
Again, the Yeti Rambler bottle is listed in KingStar's top insulated water bottles. The Yeti Rambler bottle is the most durable one among the listed quality water bottles. The Yeti Rambler is equipped with puncture- and rust-resistant stainless steel to obtain the remarkable durability. What's more, the thickened stainless steel walls of this bottle further upgrade the anti-impact performance. For example, if you run over the rambler with a car, the Rambler bottle is still insulated despite an inevitably big dent on its shell. Really incredible.
Capacity: 36 oz
Weight: 24 oz
Price: $56
IV. Hydro Cell Wide Mouth Water Bottle
Hydro Cell wide mouth water bottle is recommended by KingStar. This bottle with wide mouth makes it easier for customers to consume water. In general, the wide opening is more likely to reduce the insulation capability. Hydro Cell has taken that into consideration and provided steel lids and a layer of plated copper for the wide mouth series. In this way, the negative effect is greatly reduced and the heat retained.
The main body of Hydro Cell water bottle with big opening is made from food-grade stainless steel SUS304 (18-8). This material is resistant to rust, scratch and oxidation, enabling customers to stay away from hazardous chemicals while enjoy healthy hydration. The Hydro Cell bottle can keep cold contents cold for 24 hours and piping hot water warm for nearly 12 hours.
In addition, Hydro Cell offers a variety of matching parachute cord handles, protective boots and replaceable lids/caps. According to this brand, every purchase from customers is virtually supporting Food & Water Projects across the globe. While making their business lucrative, they are also making contribution to supporting the sustainable growth of the entire human society.
Capacity: 32 oz
Weight: 2 pounds
Price: $22.99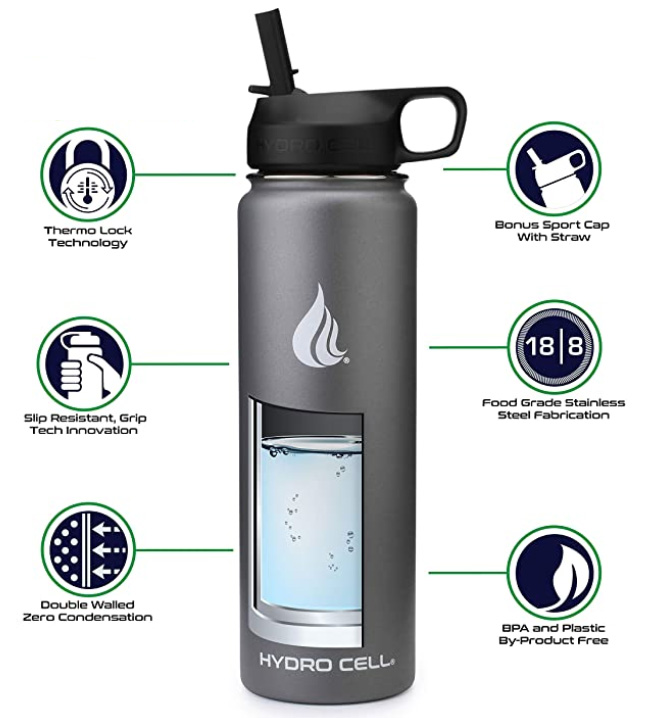 V. Simple Flask Cola-shaped Water Bottle
Simple Flask is a new-born water bottle brand that was established in the United States in 2016. This brand sells premium cola-shaped water bottles. Their drinking bottles are all made by stainless steel 18-8 (SUS304) containing no harmful chemicals such as BPS and BPA.
Simple Flask Cola-shaped water bottles have agreeable insulation outcomes. The heat-retaining function owes to the narrowing neck that minimizes the escape of heat, the steel lid that further seals the bottle, and the double-walled stainless steel structure together with a layer of copper. This triple protective mechanism is loved by customers across the world.
Simple Flask Cola-shaped water bottles are sustainable and eco-friendly, safe for hydration and the environment. The competitive price of this brand is unparalleled. A stainless steel insulated bottle of 25 oz only sells for $23.99, almost half the price of a Hydro Flask water bottle.
Capacity: 25 oz
Weight: 12 oz
Price: $19.99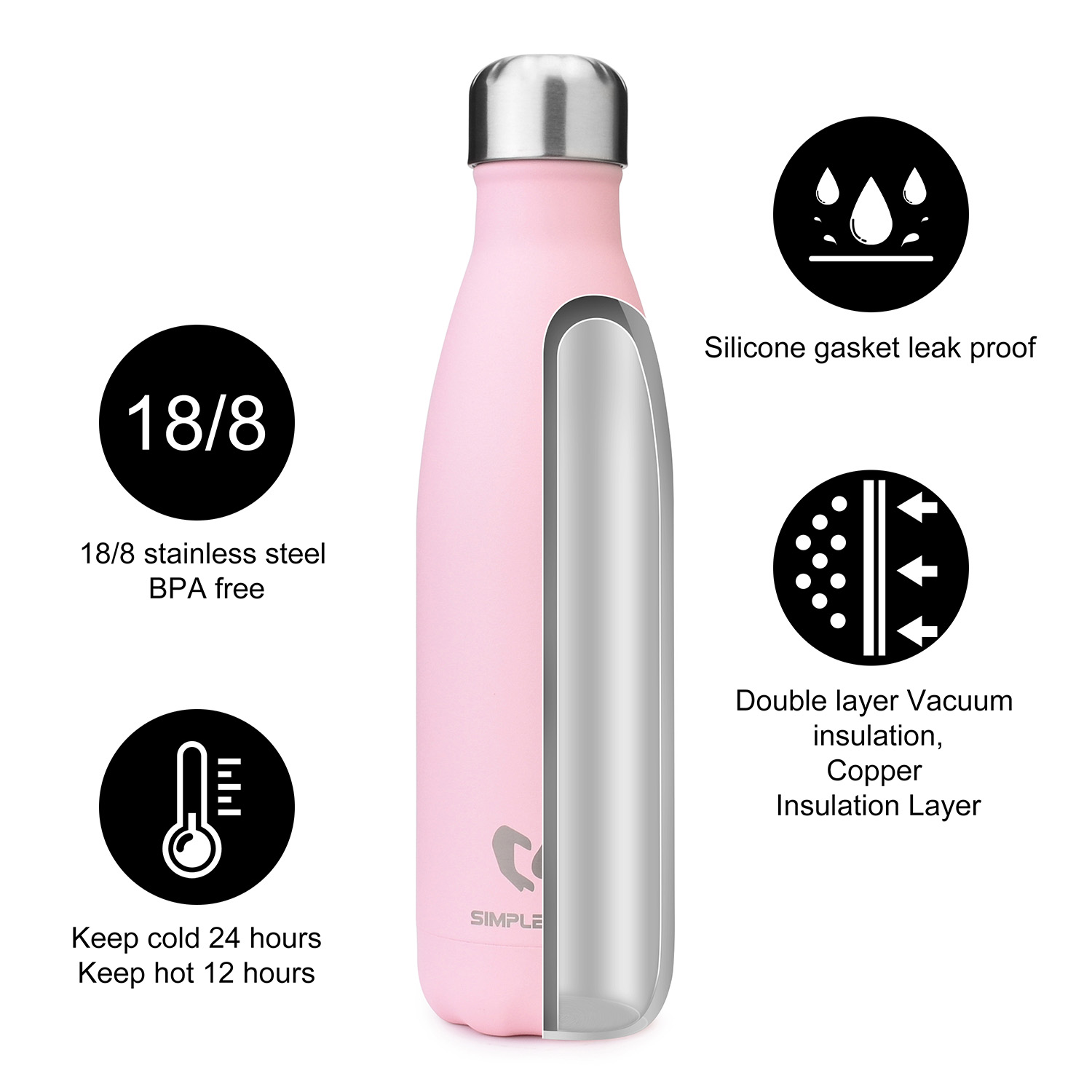 VI. Klean Kanteen Classic Water Bottle
From KingStar's perspective, the Klean Kanteen Classic water bottle is the most sustainable bottle. This time-honored brand was the first to promote BPA-free stainless steel water bottles. At that time, some water bottle company used eco-friendly stainless steel as the main body yet adopted BPA-included plastic material as the lid. Klean Kanteen didn't tolerate the presence of BPA in drinking bottles and managed to remove it from their stainless steel insulated bottles.
In fact, Klean Kanteen built up long-term cooperation with a Chinese insulated stainless steel cup manufacturer that is capable of offering sustainable and BPA-free drinking bottles, hence the success of Klean Kanteen. Compared to Hydro Flask lightweight water bottles, the Klean Kanteen Classic water bottle has a weaker insulation performance. The tested results are that a Classic water bottle can keep drinks cold for 20 hours and piping hot liquids warm for 10 hours.
Capacity: 20 oz
Weight: 12 oz
Price: $32
Order Custom Water Bottles & Tumblers
Get competitive price and premium custom drinkware from KingStar — Short lead time, door-to-door global shipping, strong Engineering support!