Nothing will be better than enjoying a delicious, healthy and hot meal made by ourselves, our friends or our families. But we have to spend our weekdays in the office. By this way, our lunch choices are limited by canteens, takeaways and fast food due to their convenience.
The problem is that takeouts and fast food will do harm to one's health in the long term and the meals in canteen may not be our tastes. Therefore, bringing meals to office or school becomes the trend for many workers or students today. On this occasion, food containers especially the insulated ones tend to be the hot sale products.
Another questions comes that which insulated food container is suitable for you with numerous dazzling choices for you on sales? Now you can follow this passage to have a comprehensive and clear understanding to the insulated food containers. KingStar hopes this guide can be helpful for your selection.
1. What is food container?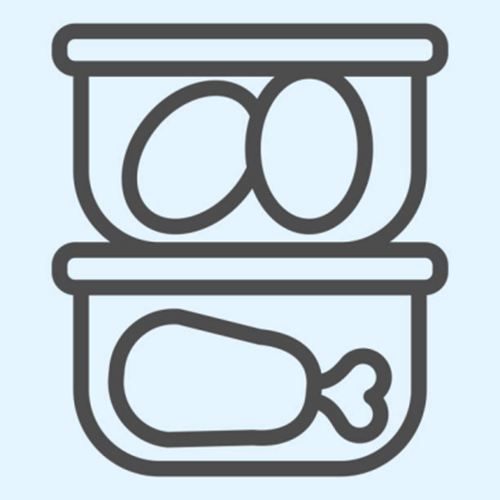 To store, transport and preserve different food in an efficient way, varied food containers are invented. With food containers, we can package dishes outdoors, making life more and more convenient. Food containers are distinguished by materials, plastic, glass, metal or even paper commonly seen in the market. Some materials are excellent thermal insulators, enabling the containers to retain heat as well.
2. How many types of food containers are on market?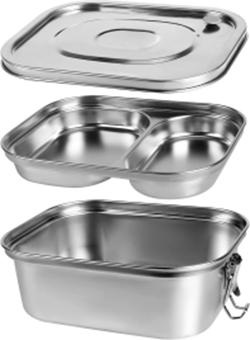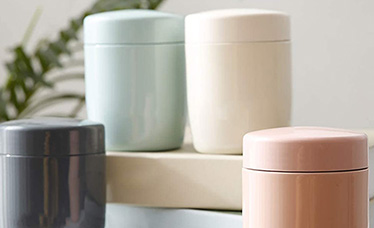 Based on raw materials, food containers are usually divided into four categories. That is plastic food container, disposable foam or paper food container, metal food container and glass food container. In the following part, KingStar would like to present the pros and cons of these types respectively.
Disposable Food Containers
Material: Foam; paper; polypropylene; degradable materials like natural starch.
Usage: Package drinks or foods, like ice cream, instant noodles, meat, vegetables, takeouts or cooked dishes from restaurants.
Pros: Lightweight; convenient; cheap; a good thermal insulator(foam)
Cons: Containing harmful chemicals; odor; non-resistant to high temperature; non-biodegradable ones like foam damaging environment; cannot be reused (except paper) ; BPA; plastic pollution
Glass Food Containers
Material: Glass
Usage: Microwave heating; refrigeration; preserve food fresh like meat, vegetables, fruits and so on; prevent moisture and odors build-up; liquid container; taking meals to office or school
Pros: Recycled; BPA free; non-toxic; cheap; stable
Cons: Heavy; hard to clean oil stains; easy to break; not portable
Metal Food Containers
Material: Aluminum; stainless steel; iron
Usage:Protecting food; lunch box; store oils or liquids; moisture and aroma prevention; long-term conservation; taking meals to office or school
Pros: Recycled; BPA free; non-toxic; a good thermal insulator; stable; sturdy; easy to clean
Cons: Easy to get rust without proper maintenance; higher cost; no microwave heating
Plastic Food Containers
Material: Food-grade plastic; polypropylene; polyethylene; polyester
Usage:Preserve food; idea airtight container for smaller storage of dry food; taking meals to office or school
Pros: Recycled; cheap; lightweight; portable; microwave(only part); stable
Cons: Not eco-friendly; odor; harmful chemicals like BPA; plastic pollution
3. What is insulated food container?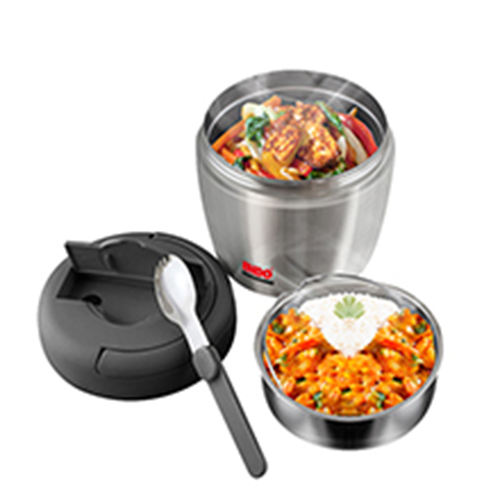 Suppose that you get drink or food which is not at the right temperature, what's your feeling will be at present? I believe most of people cannot bear this, a terrible experience! In order to keep food or drinks stay at right temperatures, people are willing to pay for insulated food containers.
Insulated food containers cannot only help you keep food or drinks warm or cold as you want, but also help prevent perishable products from going bad by providing a right temperature for it. Food containers with the function of insulation are widely used, in individuals, stores like Pizza shop or Coffee shop, takeaway services or even the catering business. Insulated food containers are superior practical and convenient to keep your meals at proper temperatures or hold your food fresh. They are perfect tools for people to take meals to school, office or even picnics! Also, you can use them to store the leftovers! Insulated food containers has varied shapes and sizes for you to choose in the market. Such containers are the must-have items for everyone wanting to enjoy fresh food or meals at right temperatures.
4. How does insulated food container work?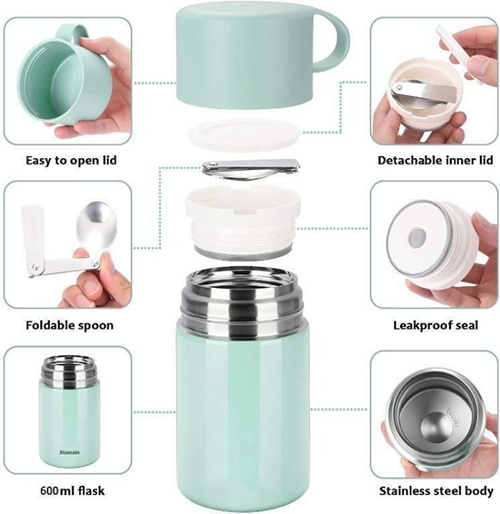 Insulated food containers usually use plastic, foam, stainless steel or glass as materials, good thermos conductors. Among them,  stainless steel have best insulated performance, much more popular in the market.
Now, the food containers combined with stainless steel and food-grade plastic are hitting the market, which adopt the technology of double-wall vacuum insulation, thus your meals can be kept hot for up to 8 hours or cold for over 13 hours on average. Featuring with durability and rust-corrosion, such insulated food containers are bought by many parents for the usage of lunch boxes for their children.
5. Why do more and more people choose insulated food container nowadays?
When you search food containers online, you'll find that the insulated food containers always have best selling on different sales websites. This isn't surprising at all cause insulated food jars own numerous benefits. Now follow KingStar to take a look at these pros!
Keep food at right temperature: Stainless steel belongs to outstanding thermos conductor. Single-wall insulated food container usually keeps food hot or cold for around 3 to 5 hours. But double walled vacuum containers are able to keep meals hot for up to 10 hours or keep beverages cold for more than 16 hours.
Used in different scenes: No matter what you are gonna to do - hiking, picnics or camping, insulated food jars make it simple and convenient for you to take food with you. Of course, you needn't worry that your meals will be cold before eating time with the assistance of insulated food containers. By this way, many young people also will use these food jars to bring meals to office!
Easy to use: Insulated food jars don't have complex introductions. Everyone can use them. You can also put your favorite snacks into the jars to enjoy!
Available in diverse designs and sizes: Besides brands, insulated food jars also vary from sizes, colors or shapes. People can choose the one perfect for themselves based on their own needs among so many choices.
Eco-friendly: Compared with those disposable food containers, stainless steel insulated food jars can be reused for years with right maintenance. Even discarded, these food jars can be recycled, which not only prevents resource wasting, nut only protects environment. What's more, it saves you a lot of money in the long term.
6. What are the best insulated food containers to keep meals warm in the market?
AS the leading vacuum food jars manufacturer in China, KingStar will show you three best-selling insulated food containers on sales as follows.
The Lunch Box Bento: Bento box is a kind of lunch box with Japanese style. It is usually made from heat-resistant material of food standard. Compared with other lunch boxes, bento boxes are divided into six parts where you can put food in directly. Each part is for a kind of food to provide you a healthy meal. But bento boxes can only retain heats for 2-3 hours. They are usually used as delicate gifts!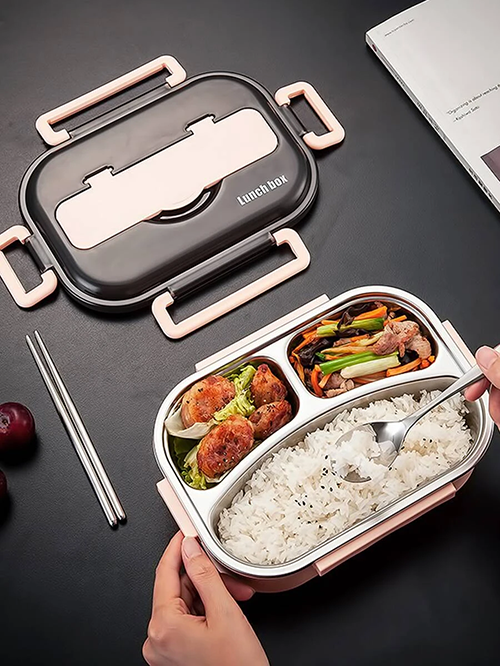 The Compartmented Insulated Lunch Box: This kind of insulated food container has two tiers. The upper tier is usually for snacks or fruits. While the below tier, based on 304 stainless steel insulation,  is for food need long-time conservation. The whole food jar is totally airtight, you can use it to store the cooked dishes like soups, meats or beans.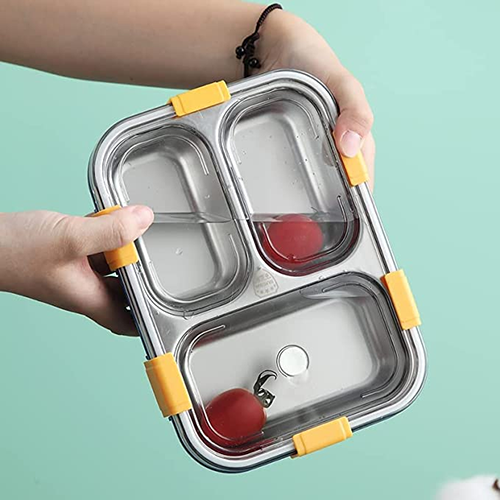 The Isothermal Lunch Box: This lunch box can keep temperature longest. Such insulated food container can keep meals warm for at least 10 hours. Wherever you are or whatever you are doing, you can enjoy hot soup by this container.  Actually, the isothermal food container is composed 6 layers of protection. What's more, it's equipped with a food grade and reusable PVC-free plastic bowl inside, which enables the whole container's insulated time longer.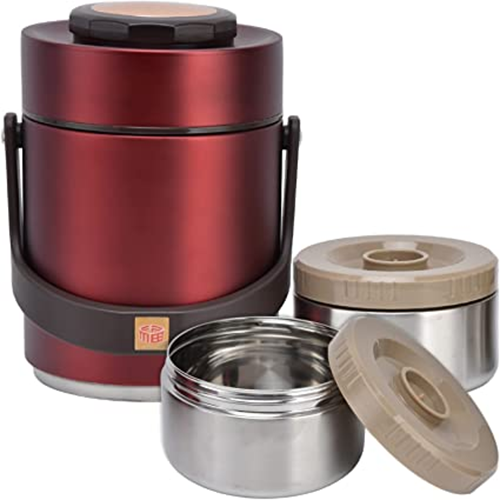 7. How to choose a right insulated food container?

Now comes a question for many people, that is, what kind of y confusion, please look at the following things needing thinking about provided by KingStar.
Consider the durability: Before purchasing, it's necessary for any buyers to know the quality of raw materials, which determine the durability to a large extent. Generally speaking, material with the best performance to keep food warm is stainless steel, especially the 304 stainess steel. But asking for stores for assurance, quality certification as well as food use certification before paying for that in lest products of bad quality are sold on the market.
Consider the Thermal insulation:  To check how long the insulated food jar can keep food warm or cold is of significance while buying. For better insulated performance, isothermal food containers will be your best choices. However, be careful and don't be cheated by sellers who would like to exaggerate the effects of products.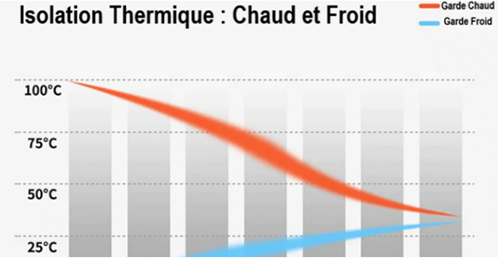 Consider internal compartments and sizes: An insulated food jar of proper size is also a key factor for you to take food to office. A suitable lunch box should be neither too small nor too large. So before buying, consider how big container you really need. Besides, a food jar with tiers and compartments will be better if you wanna put different food in your lunch box. Food jars of 2-4 compartments are commonly seen on the market for food like fruit, vegetable, gratin or cheese. However, if you like simple life, a food jars without any compartments will be your best choice!
Consider accessories: Last but not least, choose a set of accessories for your insulated food jars, like cutlery or rubber band for better effect of airtight.
8. What are the cautions while using the insulated food container?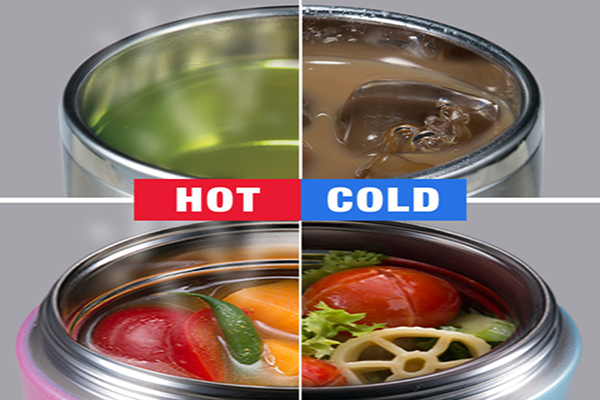 8.1 Notices for packing hot food.
The spoon or fork you use should be resistant to high temperature.
Put a container which is heat-resistant inside the jar, in order to avoid any damages to the container itself or the lid.
Use tools or wera an oven mitt when taking the hot food out of the container. This can prevent your hands from being burnt.
8.2Notices for packing cold food.
Put the cold food in the jar.
Put the lid on the jar and screw it tightly. Make sure that no leaking and no air.
Put this jar in the freezer for about two hours. By this way, all the food will be frozen, preventing any leaks when you open the jar later.
Check whether the lid is tight before taking it out from the freezer.
Clean the food jars carefully after every usage.
8.3 What food can we put in the insulated food container?
Food which is not too liquidand easy to pack.
Food which is nottoo sticky.
Food which is nottoo greasy.
Food which is nottoo acidic, like tomatoes and citrus fruits which may cause corrosion to the metal of your food jar.
Food which is nottoo sweet/sour/spicy. Sweet sauces like BBQ sauce may cause damage to the interior coating of your insulated food jar since they tend to stick too much on any surface they land on inside your meal container during storage.
9. How to maintain the insulated food container?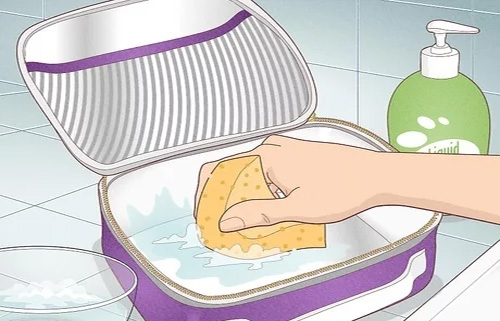 If you want to extend the use fixed number of year, the following are the notices for you.
Avoid putting the insulated food container in the sunlight directly. Otherwise, the function of insulation will be much less effective.
Stop exposing the insulated food containers at places of high temperatures. This may cause damages to the layers of containers as well as bring other contamination-related problems.
Keep the insulated food containers away from humidity and high pressures.
Avoid putting the insulated food containersnear sharp objects.
Remove the plastic lid while using microwaving.
Don't clean it with the dishwasher.
Clean the insulated food container regularly.
10. FAQ - Some questions you may wanna know
10.1 How to retain heat as much as possible with the insulated food jar?
Keep the food container horizontally.
Keep the food container closed tightly.
Avoid packing your food container too full. 80% will be the best rate.
Put the insulates food container at proper temperatures.
10.2 How to sanitize a stainless steel food jar?
Add two teaspoons of bleach into 2 liters of water in a bowl.
Put the whole food container in the bowls for over twenty minutes. Then rinse it with clean water and dry it with clean napkin.
10.3 What are the tips to remove stains on the insulated food jar?
Clean it with warm water first.
Then use a soft cloth or sponge to clean the stains of lids and bodies of the insulated food containers in a gentle way
Lastly, clean it with warm water again, dry it with a clean napkin and put it in a dry place.
Conclusion
Insulated food containers are indispensable in our life. A good one will bring more convenience to our life while a bad one brings more troubles. KingStar, a leading vacuum insulated stainless steel container manufacturer in China, hopes this guide can help you while using or selecting insulated food containers.