In general, stainless steel drinking bottle is valued as a metal container that is used to hold both icy cold liquids such as lemon juice and piping hot contents like hot water. And some people may wonder: can the thermos bottle hold milk without any damage? In this article, KingStar will unveil the answer and introduce the best vacuum insulated stainless steel milk bottle—LARS NYSØM thermos drink bottle.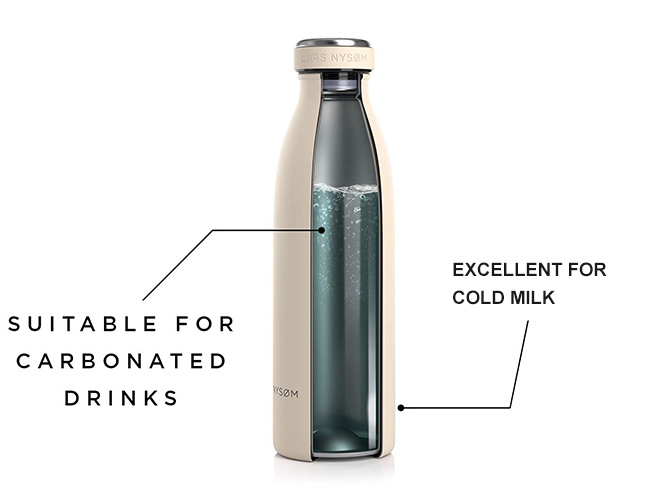 I. LARS NYSØM
LARS NYSØM is an emerging water bottle brand that originally sells vacuum insulated water bottle of different shapes, travel mugs, food flasks, salt & pepper mill sets of different kinds and stainless steel hip flasks. After years of growth, LARS NYSØM has expanded its business covering goods such as bread boxes, knife sets and coffee grinders.
Since its birth, LARS NYSØM has been devoted to bringing beauty into every small piece of people's life. This brand, unlike Yeti or Hydro Flask who are famous for the fashionable and colorful design, chooses to deliver the simplicity as well as the elegance of its products. As a result, LARS NYSØM's products are characterized by clear shapes and lines, highlighting the unique style. The salt & pepper mill set of LARS NYSØM was reddot winner in 2021, further showcasing the great potentials of its products.
As for the color, LARS NYSOM carefully picks up perfect color schemes and apply them onto thermos stainless steel milk bottle. The color combinations are so outstanding that they are pleasing to customers' eyes.
In addition to simple design and perfect color schemes, this emerging reusable water bottle brand also emphasizes the adoption of functionality. LARS NYSØM endeavors to maintain the balance between functionality and design, hence the continuous release of its practical and elegant products.
While making the metal milk bottle business lucrative, LARS NYSØM actively assumes responsibility on protecting the environment. This brand adopts sustainable and reusable material instead of sing-use plastics to make its products and minimizes wastes during the entire operation. Just as LARS NYSØM claims, "It is our goal to reduce carbon footprints gradually." For some unavoidable emissions produced during processes, this company chooses to work jointly with ClimatePartner, supporting environmental projects to offset these inevitable emissions.
II. LARS NYSØM Milk Bottle
LARS NYSØM vacuum insulated milk bottle is made by 18-8 stainless steel that contains no BPA. This bottle features an adoption of double-walled stainless steel structure that greatly enhances the insulation performance. As a reliable insulated stainless steel milk bottle manufacturer, KingStar ensures that, a LARS NYSØM thermos stainless steel milk bottle is capable of keeping milk hot for up to 12 hours and beverages cold for nearly 24 hours. The incredible heat-retaining capability, overshadowing many counterparts in reusable milk bottle market, manages to attract and keep customers. The eco-friendly and premium material allows LARS NYSØM water bottle to present the pure taste, and is easy to clean.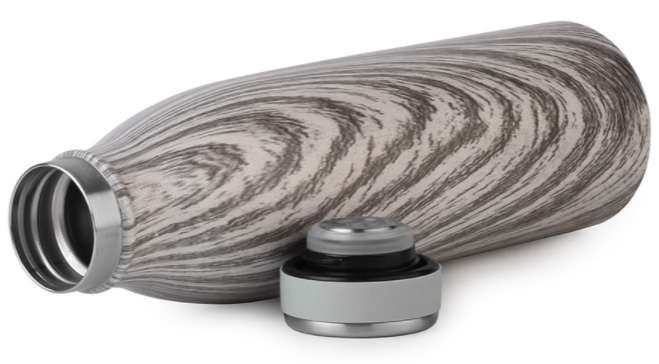 III. Key Takeaways of LARS NYSØM Water Bottle
In this part KingStar lists key takeaways of LARS NYSØM Water Bottle, and will elaborate on every advantage to facilitate your understanding. So scroll down and let's read them one by one.
Versatility
The versatility of LARS NYSØM thermos milk bottle must be mentioned. The compact design and powerful functions allows people to use it everywhere. Whether you work in an office, go for a travel, or just drive a car for living, you can take it for daily hydration. The remarkable insulation performance can make sure that contents in it will meet your hydration needs. Besides, the unique and simple design together with the elegant color schemes will catch people's eyes, offering enjoyable using experience. The durability of the vacuum insulated milk bottle is also appraised by outdoor enthusiasts.
Beach-proof Quality
We have emphasized the perfect insulation performance in the above part, yet still cite an interesting experience to further prove it. We once took a LARS NYSØM metal milk bottle of 17 oz to a beach, and filled the bottle with cold milk to see what would happen after 8 hours. And after being exposed to the scorching sun for 8 hours, we opened the lid and surprisingly found that the milk was still cool, hence the recognition of LARS NYSØM metal milk bottle.
Food-grade Material
LARS NYSØM reusable milk bottle is made by SUS304 stainless steel, a kind of food-grade material that has been widely adopted in our daily life. Most of our kitchen gears (such as forks and spoons) are made by stainless steel, so do some products for babies. The food-grade material contains no BPA, allowing customers to get hydrated carefreely. Besides, compared to plastic milk bottles, LARS NYSØM stainless steel water bottles can retain the original flavor of drinks without adding any other taste.
Unique Lid
Unlike many famous water bottle brands that adopt plastic lids to seal bottles, LARS NYSØM applies stainless steel onto the lid. The bottom of the lid is made by stainless steel, which helps to eliminate germs and further improve the insulation performance.
No any plastic touches your milk or other beverage inside.
Powder-coated Shell
The outer shell is coated with a layer of powder to offer a better grip and minimize the occurrence of scratches and rusts. Similarly, the powder is made by eco-friendly material that poses no threat to people.
Eco-friendly Quality
The LARS NYSØM thermos milk bottle is entirely made by eco-friendly material, safe for hydration. Although the manufacturing processes do generate carbon emissions, LARS NYSØM offset them by virtue of environmental-protection measures.
Leak-proof Quality
The LARS NYSØM metal thermos milk bottle is engineered so perfect that it allows no leak. The lid accurately locks the bottle, avoiding mismatch or leaking.
Sweat-free Quality
Another advantage owing to the satisfactory insulation performance is that the LARS NYSØM metal milk bottle is 100% sweat-free. This trait enables people to enjoy a comfortable touch while getting hydrated. Also, it is quite safe for children to hold in hands as they will not be scalded when the bottle is held with piping hot liquids.
Multiple Color Range Options
Currently, for Milk Bottle of 17 oz, LARS NYSØM offers customers color options including Baby Blue, Bayberry, Berry, Blue Stone, Buttercream, Coffee, Capulet Olive, Navy, Niagara, Nude, Sage, Spicy Mustard, Whispering Blue, Cool Gray and White. So it is clearly shown that the color options provided by LARS NYSØM are not bright ones, instead, they are very high-end and reflect business-related style.
Beverage Companion
LARS NYSØM is suitable for holding a variety of liquids including milk, coffee, lemonade juice, soda drinks, and of course, water. It can be a perfect beverage companion that meets customers' tastes.