I. Tal Hydration Overview
Tal Hydration is a drinkware brand selling water bottles, coffee mugs and tumblers, antimicrobial bottles, Jumbos and accessories of varied types. This brand focuses on presenting well-designed and versatile water containers for outdoor enthusiasts to enjoy hydration during every adventure.
The most striking feature of Tal Hydration is that it has invented the UV Ultra bottle series. An Ultra bottle is equipped with a cutting-edge ultra violet technology to eliminate germ, mold and bacteria. The cleaning setting on the lid of the bottle helps to purify the water sterilizing germs, thereby ensuring the safety of every sip or swill.
There are three highlights of a Tal Ultra bottle: self-cleaning, UV-C LED light, and Anti-microbial finish. The self-cleaning function of the bottle is conducive to preventing the growth of viruses and proteins. The UV-C LED light, as mentioned above, shoulders the responsibility of sweeping microorganisms both in the stainless steel walls and in the water/drinks. What about the anti-microbial finish? Unlike traditional finish that lays an emphasis on the durability, color match and good appearance, Tal aims to further make the bottle stay away from annoying germs and bacteria, hence the creation of this innovative finish.
In fact, Tal Hydration, the water bottle supplier, has ushered in a new era that combines stainless steel water bottles with advanced sterilizing technology, followed by other water bottle brands later.
Quoted from Youtuber: Michael B
II. Tal Water Bottles, Tal Coffee Tumblers Review
Here KingStar picks up five Tal water bottle & Tal coffee tumbler reviews for your reference.
I definitely love this bottle! It can keep my water cold for a relatively long time without assistance (I mean ice). And when I do put ice cubes in the bottle on my way home, this magic bottle keeps them for really a long time, too. The little handle is easy to carry and I can hang it on many places. Really a convenient and smart design!
The insulation performance of it is so incredible. In the morning I poured hot coffee into my tumbler and went to work. And that was a really really busy day and I forgot to sip my coffee. When I was about to leave for home I saw the Tal tumbler on my table. Waste is a shame so I opened the lid and took a sip, and it surprised me. My coffee was still warm and tasted good. I recommend you to have it.
I bought a mint Ranger tumbler and drink water with it every day. I can't tell you the reason why I love it so much, but one thing is for sure: the Tal tumbler may be the last one in my life lol.
I bought a Ranger Sport series as I am an adventure lover. I have to say that this one is the most durable and versatile stainless steel insulated water bottle I have ever had! Considering the low prices, I can't ask it to do more! And it really does a good job. I took it to Yellowstone National Park where I accidentally dropped it for three times (my bad), and the Ranger remained intact with only slight scratches. The insulation performance was not affected, nor did the dislocation of the lid. All in all, it is worth it.
One of my colleague bought the Tal water bottle and recommended it to me. So I followed his suggestion, because it is not expensive compared to products of other famous water bottle brands. After a certain time of use, I think the agreeable price does not indicate a poor quality, instead, I am quite satisfied with it in many aspects. I love its big volume, good appearance and light weight.
III. What Are Tal Water Bottles Made out of?
Tal water bottles and tumblers are made by food-grade stainless steel SUS304, an sustainable material that overshadows plastics in many respects. Plastic water bottles, though convenient in use, pose threat to both the environment and us human beings. These disposable ones are not 100% bio-degradable, which means the land (or the sea) fails to decompose them in a very short period of time.
Tal Hydration uses reliable and eco-friendly material to deliver a safe and enjoyable hydration experience for every customer, so it would be impossible for this company to adopt plastics to make water bottles, tumblers or coffee mugs. Stainless steel is a kind of alloy that features good properties, and has been applied to drinkware products since the last century. As people awareness towards a sustainable growth increases, more and more customers are expected to choose stainless steel water bottles for hydration.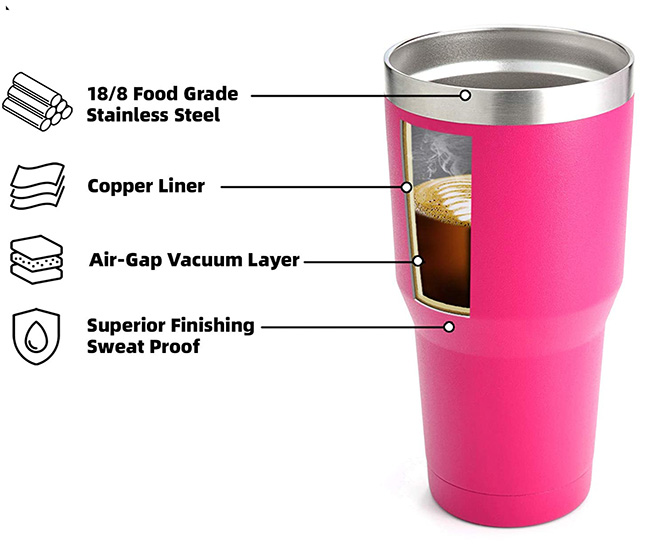 IV. Is Tal Brand Bottle Tumbler BPA free?
Yes, Tal water bottles, coffee mugs and tumblers are completely BPA-free. Tal Hydration focuses on a sustainable living and adopts stainless steel rather than plastics to make their drinkware products. As it is known to all, unlike plastics that inevitably contains BPA, stainless steel is quite clean and environmentally friendly, suitable for making bottles, mugs and tumblers.
Tal Hydration gives priority to the safety of their products and tolerates no addition of BPA in their products. In order to improve the quality of hydration, they have also invented UV Ultra bottle that sterilizes the bottle thoroughly for a safe and quality hydration. In a word, all of Tal water containers are 100% BPA-free.
As the water bottle manufacturer, KingStar can assure that, all Tal water bottles and tumblers are BPA free.
V. Can I Put Hot Water in Tal Water Bottle?
Yes, you can put hot water in Tal water bottle. Tal bottles are made by stainless steel, a unique material that withstands high temperature. A Tal water bottle is equipped with a double-walled stainless steel structure that is capable of both holding hot water and cold drinks and maintaining the temperature inside of the bottle for quite a long time. This insulation structure enables the bottle to keep drinks warm for 10 hours or cold for 18 hours. The hot liquids will never damage the bottle as the highest temperature of them (100 degrees Celsius) fails to reach the ceiling of stainless steel (approximately 1398 to 1494 degrees Celsius).
VI. Are Tal Water Bottles & Cups Dishwasher Safe?
Despite the above mentioned strengths, Tal water bottles, tumblers in bulk and coffee mugs are not dishwasher safe. In other words, customers have to wash Tal drinkware by hand. Dishwasher offers convenience saving time and labor, yet it does harm to the insulation function and the finish (powder coating) of Tal bottle at the same time. Washing them manually is advisable as the cleaning job won't take customers too much time.
KingStar suggests you wash them in warm water with baking soda, distilled vinegar, or ready-made cleaning solutions. The following is a brief guide:
Separate each part of a Tal water bottle before washing.
Wash them in warm water with the above introduced cleaning solutions.
Rinse each part completely in case of residual solutions.
Dry them in the shade before recollecting, assembling and storing.
VII. What Is the Biggest Tal Water Bottle?
The biggest Tal water bottle is 3L ZEUS. As the name has told you, this big guy has an amazingly big capacity of 3 L (about 100 oz). This big bottle is equipped with dual opening, a large and convenient flip-up handle and a screw-on cap on the top.
The large volume enables customers to bring it to the beach where people may be dehydrated without sufficient water intake due to direct exposure to the sun. Besides, the 3L ZEUS is also favored by gym enthusiasts who need a great amount of water before, during and after strenuous workouts. Also, outdoor lovers think highly of the 3L bottle as it is perfect for outdoor activities such as barbecues, tailgate parties and all kinds of races.
Just like other insulated Tal water bottles, tumblers and coffee mugs, the 3L ZEUS also features an adoption of a double-walled stainless steel structure, and is quite durable, anti-scratch and anti-impact at the same time!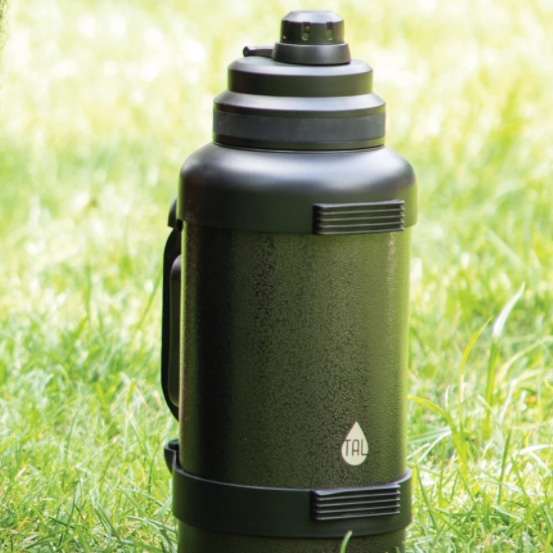 VIII. Where Are Tal Water Bottles and Coffee Tumblers Made?
World-famous stainless steel water bottle brands like S'well, Hydro Flask and Yeti all do not manufacture stainless steel water containers by themselves, instead, they seek for cooperation with Chinese water bottle manufacturers who are responsible for either the OEM or the ODM. Yes, you may have known that all the Tal water bottles and coffee tumblers are made in China.
Why are there so many famous brands establishing long-term cooperation with Chinese water bottle suppliers? In reality, Chinese drinkware manufacturers boast a complete and advanced producing equipment, years of manufacturing experience, and the price edge. Although it costs a lot for overseas brands to ship water bottle products from China, the entire expenditure is still lower than making bottles in their own country.
Additionally, the high quality and competitive prices of Chinese water bottles further sweep all their rivals across the globe. And as you may have seen, Tal water bottles and tumblers are characterized by durability, high quality and versatility, which partly owes to its strong backing in China.
As a leading custom stainless steel water bottle manufacturer, KingStar provides one-stop water bottle manufacturing service from design support, tooling fabrication, mass production to global shipping. Want to start your own water bottle tumbler brand? Write to sales@waterbottle.tech now! You will get response within 24hours.