In recent years, people have gradually cultivated a healthy hydration habit by replacing single-use plastic water bottles with reusable and sustainable drinking gears. This helps to avoid the intake of harmful elements hidden in plastics while protecting the environment reducing plastic-related pollution.
In the water bottle market there are a spectrum of water bottle brands. Some brands (like Yeti, Hydro Cell, Hydro Flask, etc.) promote and sell premium drinking containers, but some don't. Today we will introduce to you another capable water cup brand, namely, Swig Life.
I. Swig Life, Swig Cup Overview
Swig Life is a promising water bottle brand that mainly sells can coolers, travel tumblers, mugs, cups and wholesale water bottles. This brand is most famous for the elegant pattern & color employed in Swig drinking products. The colorful drinkware manages to catch customers' eyes and wins their trust by virtue of the reliable quality.
At present, Swig Life has released four product collections, each featuring corresponding traits. The Solid Collection adopts monochromatic color, or the so-called classical color match, and is favored by business professionals who love and need drinking gears that showcase a kind of simplicity and formality. The Prints Collection, the most welcomed series of Swig Life, displays the elegance as well as the possibility of Swig water bottles, tumblers, can coolers and mugs. Customers are exposed to gorgeous prints such as Sand Art, Cherry Blossom and Wanderlust.
The Set Collection provides customers with favorable prices on set products. Picking up a Partial Animal travel tumbler together with a mug saves at least $7. Swig Life names these set products AM+PM Set. The mug is a perfect container holding hot coffee in the morning and the tumbler aims to meet people's daily hydration in the afternoon. The fourth collection is the Shimmer. As the name has implied, the Shimmer Collection includes glittering products that are decorated with a layer of shimmering finish. This collection is often pursued by fashion lovers.
Apart from the fancy look, Swig Life cups are also characterized by durability and reliability. These cups, mugs and tumblers are all made by food-grade stainless steel (18-8) that is safe for hydration and is quite durable. Although some cups are equipped with a plastic lid, the lid is entirely BPA-free and helps to reduce the overall weight.
II. Are Swig cups reusable?
Yes, Swig cups, bottles, mugs, tumblers and can coolers are 100% reusable. They are made of stainless steel SUS304, a healthy material that can be used repeatedly. Unlike plastic water cups that are discarded after use, customers are supposed to employ Swig cups for water intake for at least 5 years. In the long run, staying hydrated with a reusable stainless steel water cup is a much more economical way, which saves the money spent on buying single-use plastic water bottles.
In addition, Swig Life has released its new reusable Refillable Cups to further sparkplug the campaign of Protecting the Nature. And there are red and blue Refillable Cups available at both Swig locations and Swig website.
III. Can you put hot drinks in a Swig cup?
Swig cups are made of premium stainless steel SUS304 and are engineered with a double-walled insulation structure. The strong and durable material is capable of withstanding high temperature (up to 1300 Celsius degrees), and when the bottle is equipped with double-walled stainless steel, it then becomes insulated. Between the two stainless steel walls there is an airless space that succeeds in minimizing the incidence of conduction, convection and radiation, hence the agreeable insulation functionality.
So, can you put hot drinks in a Swig cup? Yes, of course. The same goes for icy cold drinks. Swig cups are suitable for holding both steaming coffee and cool drinks. According to our temperature tests, a Swig Life cup of 18 oz can keep hot drinks warm for at least 6 hours, and cold drinks cool 12 hours.
IV. How many ounces are in a Swig Life cup?
How many ounces are in a Swig Life cup? In order to figure out the answer, it is required to know the capacity of Swig Life cups. The complete capacity data of Swig Life drinking gears are shown as below:
Tumbler: 22 oz, 32 oz
Mug: 18 oz, 22 oz
Can cooler: 12 oz
Water bottle: 20 oz, 30 oz
For example, once you have finished a tumbler of 22 oz, you have consumed that amount of liquids.
V. Can I put my Swig cup in the dishwasher?
Swig Life water cups are dishwasher-safe. A quality Swig water bottle is coated with a layer of durable finish made of premium molding powder. This finish is rust-proof, scratch-resistant and puncture-resistant, capable of protecting the bottle from potential damages. And it is this superior coating on the shell that enables the Swig bottle to be entirely dishwasher-safe.
However, it should be noted that this layer of coating can not withstand the impact exerted on the bottom of the bottle. In other words, dents may appear on the bottle, which requires a silicone boot to offer extra protection.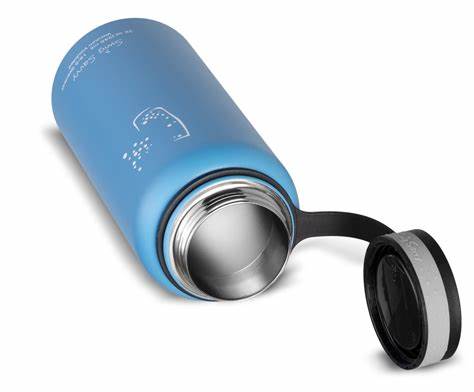 VI. Are Swig bottles vacuum insulated?
Yes, Swig bottles are completely vacuum insulated. Just like other capable vacuum-sealed water bottles, Swig Life water bottles adopt a double-walled stainless steel structure, which helps the bottle to boast an incredibly outstanding heat-retaining outcome. As mentioned above, a Swig water bottle of 30 oz can keep water hot for up to 12 hours, or cold for up to a day!
VII. Where are Swig Life water bottles made?
Just like Yeti, Swell, and Hydro Cell, Swig Life does not make drinking gears (including water bottles, mugs, can coolers, cups and tumblers). This brand only designs its water bottle products and cooperates with a Chinese water bottle supplier who is responsible for manufacturing quality water bottles. In this way, Swig can guarantee the quality of its products, save costs, and optimize the utility of capitals at the same time.