Hydro Cell VS S'well, which water bottle is better? This is a question that fans of custom vacuum flasks often email us. As a leading vacuum mug manufacturer, we will discuss it in detail in this article.
Do you want a water bottle without worrying that it may leak when you put it into your bag? Are you looking for a water bottle that keeps your drinks cold or hot for a certain time? Water bottle is an indispensable part of our life. And a good, reliable and refillable water bottle is an important accessory for everyone, whether you are at work, relaxing at home or travelling. But water bottles made of poor materials may leak or produce harmful smell. When looking for a water bottle, you should take many factors into consideration in order to help you find the best one.
Hydro Cell is a company that makes premium stainless steel bottles, which are designed to keep the beverage cold for tens of hours. While S'well is another brand making similar products. Both companies have gained a large number of followers because of their durability and quality. They are also attractive, durable and easy to drink. Before buying, you should have a brief understanding about both brands and some differences between their drinkware.
The S'well Water Bottle
 The S'well water bottle, like some other sustainable water bottles, is designed to protect the environment and help create a sustainable lifestyle. Many plastic water bottles have been proved to be a health hazard for humans and environment. The company makes water bottles of 18/8 food grade stainless steel which is a high-quality material that will not leave any taste or smell inside the container or to the drink. Besides all of its bottles and cups are BPA-free and quite durable.
The S'well bottles have a double-wall stainless steel insulation layer. The company states that their insulated water bottles can keep drinks hot for 12 hours, while cold drinks for 24 hours in hot weather. This is more or less in line with the claims of most competitors.
The structure of the bottle ensures that there is no condensation on the surface, which means that you do not need to worry about leaving stains on the bottle!
S'well bottles come in 3 different sizes: 9 oz, 17 oz and 25 oz, so generally everyone can find a suitable size here. They also come in various colors and price ranges. S'well bottles are more suitable for people who travel frequently, because they are light in weight and small in size.
The S'well bottle can last for several years with proper maintenance which can be one of the biggest requirements for stainless steel water bottles. However, the patterns on these bottles may not last long because they are susceptible to daily use. The visibility of random scratches and dents depends more on the pattern of the bottle than the material itself. Though it will not have a negative impact on the performance of the bottle, if the pattern and design are important to you, it is worth considering before you decide to buy these bottles. Like all double-layer stainless steel vacuum bottles, Swell is not suitable for dishwasher cleaning, so you'd better clean it by hand.
Pros
All kinds of colors and patterns
Some choices of shapes.
Great insulation
Durable
Sleek, stylish feminine designs
Cons
Not dishwasher safe.
Limited size options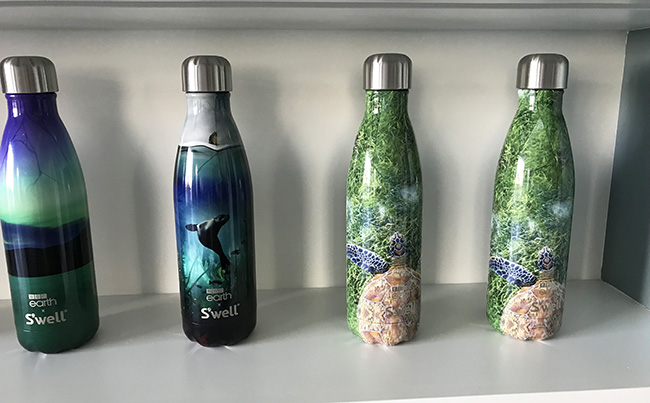 The Hydro Cell Water Bottle
Hydro cell water bottle is very popular among fashion seekers. Its design is sleek and stylish. The Hydro Cell water bottle has anti-overflow mechanism. Its bottle cap is durable and firm, which can prevent leakage and overflow. Leak-proof design is a favorable design for people who like outdoor sports such as hiking, climbing and jogging, because it can be easily put into a bicycle stand or a bag. Safety is really important, and everyone should make sure that the products they use are harmless.
Like its counterpart S'well, Hydro Cell water bottles are BPA free and is made of stainless steel. But unlike S'well water bottles, Hydro Cell water bottles have a lid with a built-in straw, which makes it ideal for kids and people who love outdoor activities. The Hydro cell water bottle can keep your cold drinks cool for 24 hours, while hot drinks can stay warm for 8 hours.
Hydro cell water bottle is antioxidant and corrosion resistant. 8/8 stainless steel provides powder coating to ensure sweat-free mechanism. This feature is very suitable for gym, running or cycling.
The nozzle of Hydro water bottles is very efficient. There is little trouble in cleaning the nozzle and its small mouth makes drinking easy and comfortable. The Hydro Cell bottles come in various sizes such as 14, 18, 24, 32, 40, 64, which makes it a better choice for many people and different activities, whether you are on a trip, in the gym or at the workplace.
Pros
Hydro Cell water bottle is equipped with top insulation layer to ensure the best temperature of the drink for you.
Double wall vacuum
BPA-free
Stainless steel structure
A variety of colors
Sweatless bottle
Durability
Smaller Mouth
Cons
A little expensive
May not be suitable for any cup holder
It's a little heavy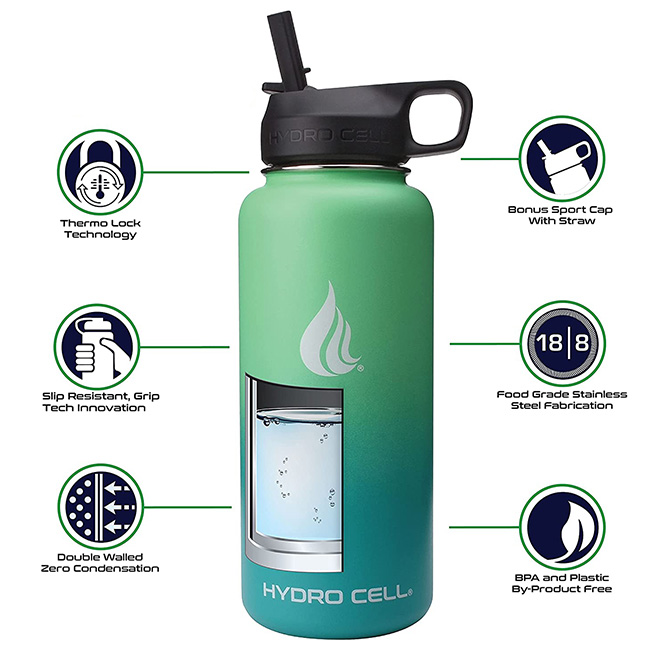 Which One is the Best?
Both Hydro Cell and S'well bottles are premium drinkware and made of insulated stainless steel. Hydro Cell bottles adopt a double-layer insulation structure, while S'well bottles adopt a three-layer insulation structure albeit with the same technology. As far as heat preservation is concerned, both of them are able to keep cold drinks the same for 24 hours, but you should make sure you are using cold water instead of room temperature water.
However, due to the three-layer insulation structure, S'well bottles perform slightly better in keeping the temperature of hot drinks. If you prefer hot drinks, then a S'well water bottle may be ideal for you.
The bottles of both companies are coated with anti-slip coating, which means that the bottles won't slip out of your hands easily, even if you have sweaty hands after exercising for a long time.
These two bottles are equally durable that gives them a longer lifespan comparing with other insulated water bottles. The surface of S'well water bottles is, though, more susceptible to scratches and dents which will not affect the performance of the bottle at all, but it may have an influence on the appearance.
What's more, unlike various sizes provided by Hydro Cell, S'well bottles come in only three sizes: 9oz, 17oz, and 25oz. therefore, if you're looking for more size options, Hydro Cell absolutely wins.
That is a brief comparison between the S'well water bottle and Hydro Cell, we believe after reading it carefully, you may have a better understanding about which bottle is best for you. Welcome to contact us if you have more questions about these two water bottles!