There are many stainless steel water bottle brands well-received by outdoor sports enthusiasts around the world. But even so, it is not an easy job to tell which one is the best because they all make reusable bottles with similar functions and materials. This also applies to the two brands mentioned in this article: Hydro Cell and Owala. The insulated water bottles offered by these two companies have won worldwide customers over the years, here we are going to discuss similarities and differences between these two water bottles and choose one that works better than the other.
Story of Owala
Launched in 2020, Owala is an America-based company that makes stainless steel products like water bottles and pet bowls. Owara believes that everyone needs a reliable water bottle, a water bottle that is good enough for you to use in any activity. The company advocates " Do more of what you love" which has helped design its stylish and creative bottles such as its Flip and Freesip series and had won a large number of customers.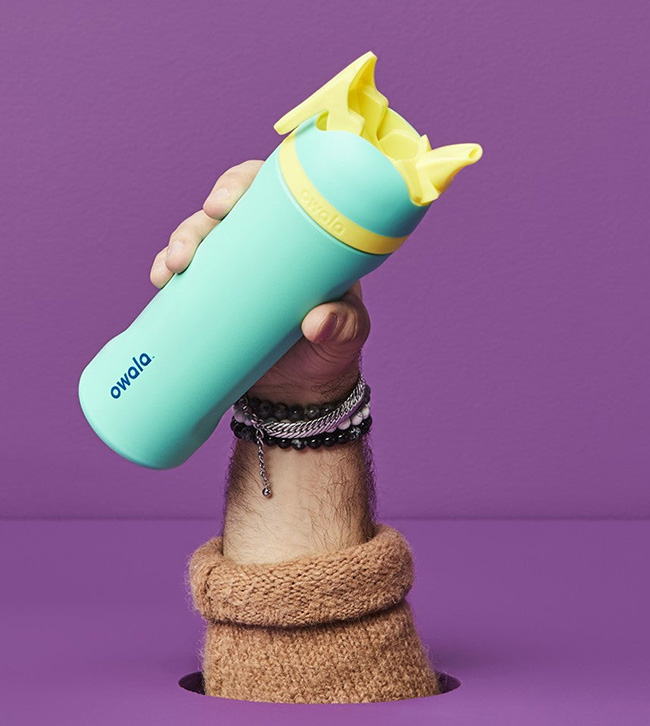 Story of Hydro Cell
Hydro Cell is a San Diego-located stainless steel water bottle company. Hydro Cell provides high-quality, cost-effective insulated water bottles with distinctive modern design through creativity. Hydro Cell water bottles are made of 100% harmless materials with cutting-edge technologies and supported by lifetime after-sale service. Hydro Cell water bottle is specially designed for the most adventurous outdoor activities; besides, the company is the top ten water bottle seller on Amazon with over thousands of five-star reviews.
Similarities and Differences
There are many similarities as well as differences between Hydro Cell and Owala water bottles. You may want to know about them before deciding which one suits you better, so here we are going to make a comparison between these two products.
Similarities
Both bottles are vacuum sealed to prevent leakage.
They all come in various colors and have great designs.
They are all made of stainless steel, which makes them more environmentally friendly and safer to recycle.
They can keep your drinks warm or cold for several hours.
They are all good partners for gym exercises and daily life.
None of them contain BPA, a chemical known to disrupt normal hormone function.
Both have a built-in straw
They can help prevent leaks and spare you the worry of getting your bag soaked.
These two bottles are non-condensing which means the surface will stay dry.
Both bottles are very popular.
Both bottles offer a limited lifetime warranty.
Rust-proof
Sweat-free
Scratch-resistant
Differences
The 64 oz Hydro Cell wide mouth water bottle can make sure you have enough water which does not need to be refilled for the rest of the day. Its standard mouth insulated water bottle is specially designed to prevent any spillage and splash, even being put upside down in your backpack.
Owala stainless steel water bottles are made with triple-layered insulation. It has two designs for their lids and openings and the bottles have various sizes and colors; two materials are used which include stainless steel and Tritan (a kind of plastic).
Owala FreeSip allows you to sip from the built-in straw without tilting the bottle and the wider opening makes it convenient to pour in ice cubes. The design effectively helps to prevent germs and makes it easy to use, just pushing the button to open the lid and pushing back down to close it. The Flip bottle is even easier to open and you can do that easily with one hand or even a finger. There's a loop that makes it easy for you to carry the bottle whenever you are going to the gym or doing outdoor activities such as biking or hiking. The Flip comes in the same sizes and colors as the FreeSip.
Hydro Cell water bottle is a lot cheaper than Owala bottle.
Hydro Cell comes with an extra cap which can also save you several dollars if you want to buy a separate one.
Hydro Cell has a straw while Owala's FreeSip offers both a straw and wider mouth.
Hydro Cell offers more color options and even has gradient colors.
Owala has fewer color and size options including 19, 24 or 32 ounces and blue, white, pink, purple, black and basil.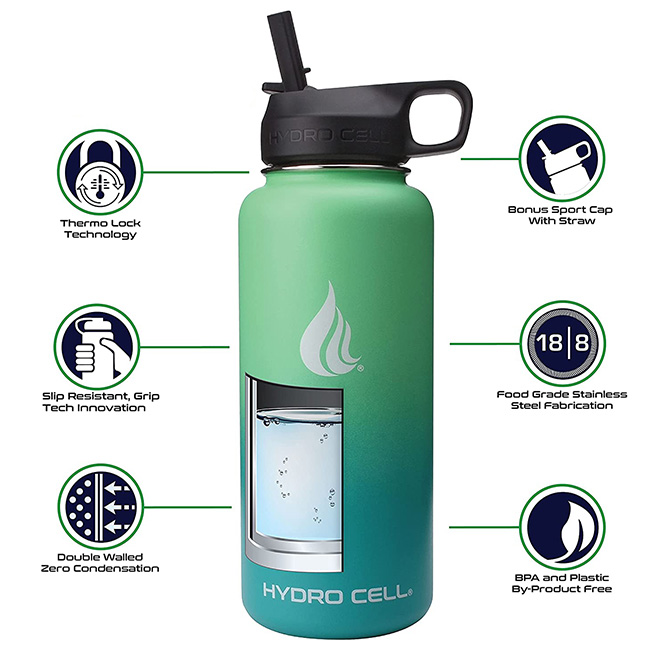 Which Water Bottle is Better
As is mentioned above, Owala and Hydro Cell are two famous and popular water bottle companies and both have their upsides and downsides. In addition to the high-quality stainless steel and advanced technology, both firms promise that their product can keep you drinks hot or cold for a relatively long time. Furthermore, as the leading insulated stainless steel water bottle manufacturer, KingStar ensures that both Hydro Cell and Owala are made of high quality & BPA free materials.
However, more size and color options certainly give Hydro Cell a leg-up and lower prices are also more attractive to customers when two products provide similar functions. Hydro Cell's wide-mouth bottles makes it easier to clean the bottle, and it also has a powder coating providing a safe grip and gives an extra lid. Simply put, Hydro Cell water bottles are something really worth buying.
Want to purchase custom water bottles in bulk? Want to establish a great new water bottle brand like Owala or Hydro Cell? You are at the proper place. KingStar provide one-stop OEM/ODM water bottle manufacturing service from product design, mass production, quality control and global shipping.