Many of our clients are laser engraving business in the United States and Europe offering custom logo services to their clients who need custom logo water bottles and tumblers in bulk.
Laser engraving company owners need to buy blank water bottles and blank tumblers in bulk. They used to source from local wholesalers. That's not a good way. The best way is to buy directly from the water bottle tumbler manufacturer in China. The quality is guaranteed and the price is low.
Do you know where these quality water bottles and tumblers made? How to purchase directly from water bottle factory? In order to answer these questions, we here compile this water bottle tumbler buying guide hoping to facilitate your business. In this guide you will be exposed to stainless steel drinkware industry regions, major water bottle fairs, ways of finding capable water bottle manufacturers, tips for sourcing and also insulated water bottle tumbler production processes.
I. Stainless Steel Drinkware Industry Region in China
It is easy to figure out the source of stainless steel water bottles and tumblers from this secondary heading, right? As we have introduced in the previous articles, approximately 95% of the world's stainless steel drinkware products are made in China, with the rest 5% in Southeast Asia. China is home to major stainless steel drinkware industries dwarfing that of other regions in this line. And when it comes to importing stainless steel water bottles and tumblers, most American and European laser engraving entrepreneurs would seek cooperation with Chinese water bottle suppliers. In this way, these business owners only have to print customers' logos or texts onto the quality bottles based on their clients' requirements without worrying about making bottles themselves.
What are the strengths of Chinese water bottle manufacturers? China is abundant in mine, steel and labor resources that enables this big country to hold an incredible production capability. The comparatively cheaper labor force and a variety of plentiful materials are indispensable for making reusable water bottles and tumblers in bulk and with low prices. In addition, Chinese government has been supporting the operating of stainless steel drinkware industries for decades, hence the thriving of some regions in China.
So which regions in China are in charge of making quality tumblers and water bottles?
Shanghai
Shenzhen
Zhejiang Province
Shanghai, Shenzhen and Zhejiang Province are three major regions that engage in the manufacturing of quality water bottles and tumblers. These places are also characterized by convenient transportation that greatly facilitates international business. And according to authoritative data provided by the Chinese government, stainless steel drinkware products are shipped to the United States via large ports including Shanghai Port, Shenzhen Port and Ningbo Zhoushan Port.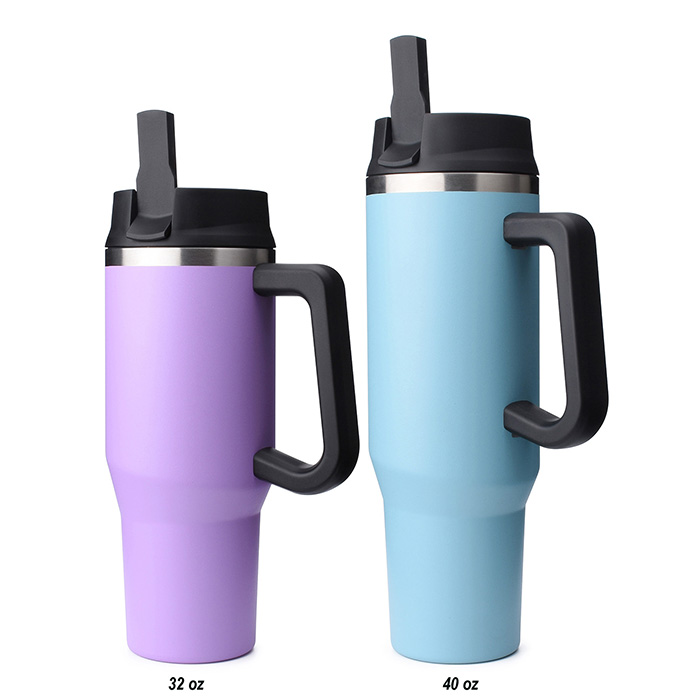 II. Water Bottle Tumbler Fairs
You can also find reliable drinking glass manufacturers through the fairs. Comprehensive exhibitions, houseware trade shows or gift exhibitions are places where you can find blank water bottle manufacturers. Listed below are top water bottle fairs in China:
2.1 Canton Fair (The China Import and Export Fair)
Address: 382, Middle Yuejiang Road, Haizhu District, Guangzhou City
Web: https://www.cantonfair.org.cn
Major products: Covering nearly all lines and types of products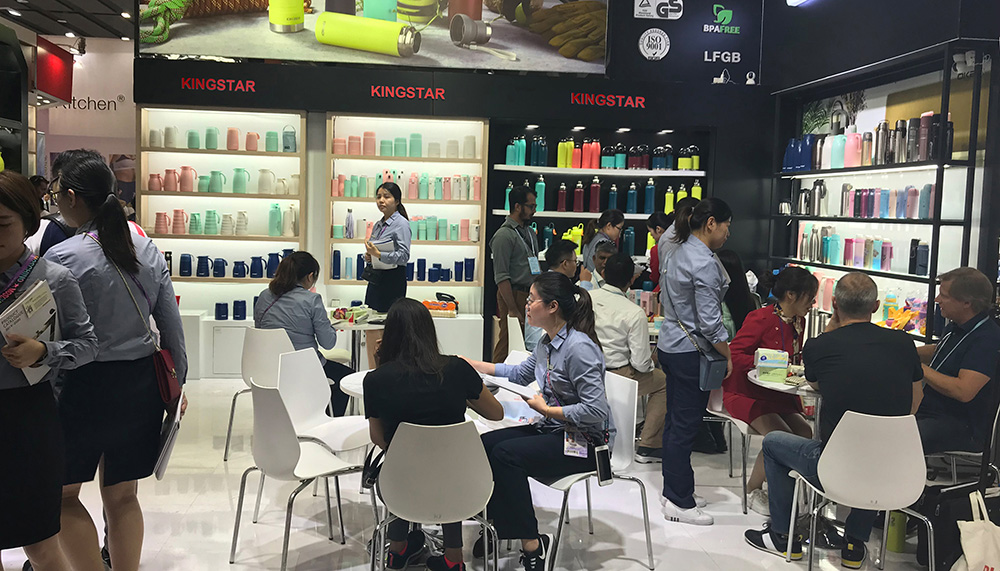 2.2 East China Fair
Address: 2345, Longyang Road, Pudong New Area, Shanghai
Web: https://www.hjh.org.cn
Major products: Apparel, Textiles, Decorative Gifts, Daily Use Goods
2.3 China Daily Use Articles Trade Fair
Address: 2345, Longyang Road, Pudong New Area, Shanghai
Web: https://www.reedhuabai.com
Major products: Ceramic Products, Glass Products, Household Plastic Products, Kitchenware, Cookware, Tableware, Bathroom Supplies, Home Decoration/Crafts/Ornaments, Disposable Household Appliances, Home Textiles, Luggage, Stainless Steel Products, Pet Supplies and so on
2.4 Shanghai Jiabo
Address: 2739, West Guangfu Road, Putuo District, Shanghai
Web: https://www.jiashifu.cn/jiabo_sh
Major products: Home Improvement Service, Kitchen Facilities, Furniture Upholstery,
Bathroom Ceramics, Floor Doors and Windows, Comprehensive Building Materials and so on
2.5 MAISON Shanghai
Address: 2345, Longyang Road, Pudong New Area, Shanghai
Web: https://www.maison-shanghai.cn/
Major products: Ceramic Products, Stainless Steel Products, Premium Carpets, Home
Appliances, Home Decorations, Construction Materials, Artistic Furniture and so on
The above five water bottle fairs are highly recommended, especially Canton Fair where you can be exposed to various strong and capable Chinese water bottle tumbler manufacturers. It would be advisable for you to fully use the precious opportunity during Canton Fair so as to make your laser engraving business lucrative and promising.
III. Ways of Searching Water Bottle Manufacturers Online
Apart from fairs of different types, you can also turn to online searching engines & platforms to find a reliable and trustworthy water bottle supplier. For example, platforms like YouTube and searching engines like Google and Baidu are ideal ones that offer you business opportunities.
Baidu is a Chinese searching platform where you can find a lot of information about Chinese water bottle makers. However, for the best water bottle manufacturer, he must have his own website that facilitates the communication and showcases the capacity as well as the strengths of the business, which may enlighten you to find such a sensible water bottle tumbler supplier. In addition, such a good partner may also post videos on YouTube.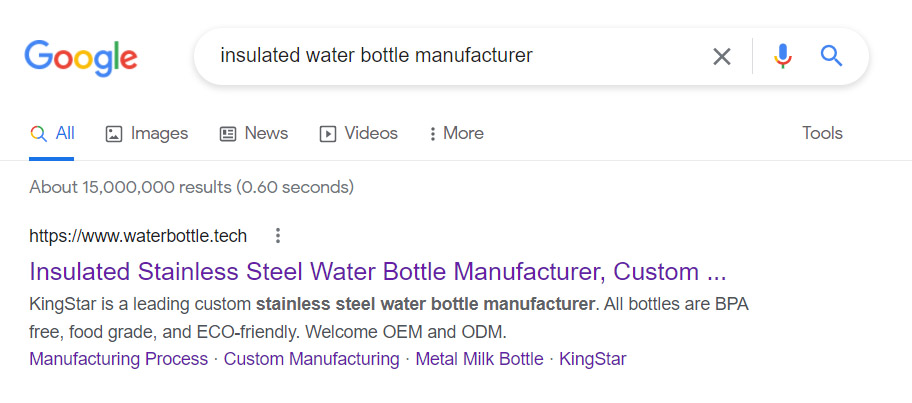 IV. Tips For Sourcing / Importing Water Bottle
Know what you want is the first thing for you to do when it comes to sourcing from China. If your customers ask for wide mouth stainless steel water bottles with laser engraving logos, then you should contact Chinese suppliers consulting information about wide mouth reusable water bottles. Make sure that what you source and receive must be exactly what your clients need, otherwise you would waste your money.
Find suppliers via possible channels
As we have introduced int the previous parts, you can attend offline fairs, trade shows and wholesale markets to find Chinese water bottle tumbler manufacturers in the flesh or adopt online methods to contact them. Online platforms including Bing, Linkedin and 360 Search are also recommended.
Evaluate and verify the supplier
While doing international trades, it is a must for you to evaluate and verify the qualification of your chosen water bottle tumbler maker. Simply skip this process may result in failure! You are suggested to check the business license or invite factory audit for assessment.
Negotiate with the supplier in detail
Do not jump to sign a business contract. The ideal way is to negotiate quantities, prices, delivery times and payment terms in advance before moving to the next stage. It should be noted that different payment terms (like FOB price and CIF price) imply different responsibilities, which means you need to master corresponding knowledge to embrace potential risks and also a promising business
Checking the quality of water bottle samples helps you to know whether your designated Chinese water bottle maker has the capability to meet your requirements. If the sample is of good quality yet does not entirely meet your needs, you can ask for resampling. Such situations are tolerable and you are advised to give the manufacturer a second chance. While checking samples, you are supposed to carry out appearance inspection, reliability tests and functional tests.
Place orders and arrange logistics
Once you have determined the purchasing detail, you can place orders and then arrange logistics in advance to receive the goods. There are different transportation methods and you are advised to choose the one that is most economical.
Prepare documents for custom clearance
This is the last step/tip for you to follow. You will need the following documents to receive your reusable stainless steel water bottles: Contract, Commercial Invoice, Packing List, Bill of Lading and Certificate of Origin. Once you have gathered these indispensable documents, go and welcome the arrival of your semi-products! Congratulations, you can eventually print your clients' logos or texts onto bottles by laser engraving.
Robotic Production of Stainless Steel Water Bottle Manufacturing