One question has been frequently emailed to us: Are any insulated stainless steel cups tumbler made in the US or Europe? In fact, many international business starters may know little about the source of insulated stainless steel cups tumblers, hence the importance of sharing the knowledge.
According to stainless steel thermos cup industry annual statistics, 95% of the world's stainless steel water bottle/cup/tumbler is made in China, with the rest 5% made in the Southeast Asia regions. So the answer is no. There is no insulated stainless steel cups tumblers manufactured in the United States or Europe.
In this artile we will share with you information about insulated stainless steel tumbler cups, introduce to you three best stainless steel tumblers in the United States and Europe, and unveil where these tumblers and cups are made.
I. What is insulated stainless steel tumbler cup?
Similar to wholesale water bottles and travel cups/mugs, bulk vacuum sealed stainless steel tumblers are an ideal option for travel enthusiasts who love adventures and who need adequate water intake.
Quality insulated stainless steel tumbler cups are usually made by 18-8 stainless steel and BPA-free plastics (like Tritan). They are engineered with a double-walled stainless steel structure to insulate themselves, offering good heat-retaining performance and a comfortable touch without sweating. In this way, a premium tumbler cup is capable of keeping contents in it hot for 6 hours or cold for up to 12 hours.
Compared to an insulated water bottle, a vacuum-sealed stainless steel tumbler loses a little ground to it in terms of the insulation performance, which is quite understandable due to the plastic cap.
II. How does insulated tumbler work?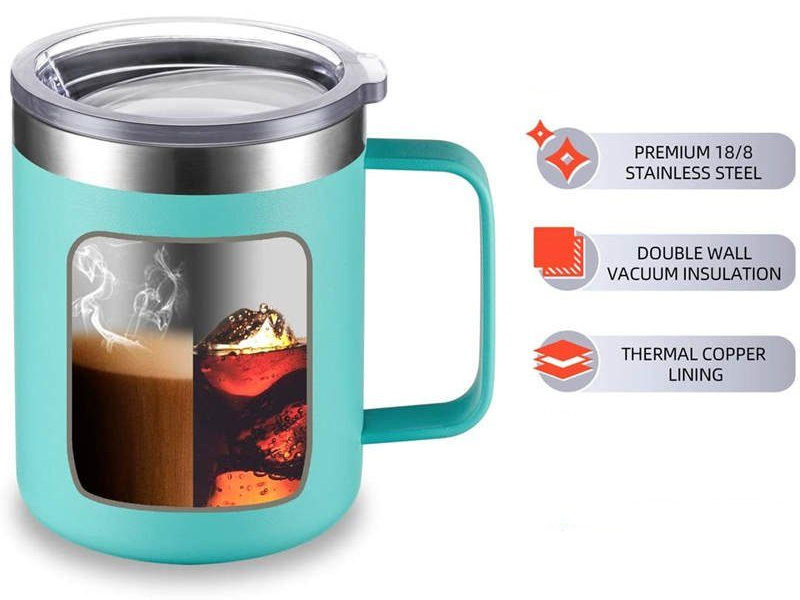 The structure of the vacuum insulated cup perfectly prevents all heat transfer methods.
Click and read more about How Do Insulated Cups Work?
III. Why are insulated stainless steel tumblers cups so popular?
So here comes a very interesting and vital question: Why are insulated stainless steel tumblers cups so popular?
The first reason is that a superior insulated stainless steel tumbler can keep icy cold drinks cold for up to 12 hours or hot coffee warm for 6 hours, which dwarfs plastic tumbler cups or glass tumbler cups. Such a quality tumbler is equipped with a double-walled insulation structure that succeeds in preventing the inside heat from radiating. This mechanism is similar to that of an insulated water bottle. In the so-called airless space air is taken away, and heat fails to be transferred as it relies on air to radiate and conduct. As a result, the tumbler can yield agreeable heat-retaining performance eliminating condensation and sweating. Again, the same goes for icy cold liquids.
Secondly, drinking coffee or water with an insulated stainless steel tumbler cup is healthy. Compared to plastic tumblers, the one made of stainless steel 100% contains no chemicals like BPA. BPA does harm to people's health, compromising their endocrine systems as time goes by.
The third reason is that insulated stainless steel tumbler cups are also pleasant to eyes. In the market there are different shapes, color matches and models available. And recently many famous tumbler cup brands have released new bulk custom tumblers that feature elegance and functionality. It is the combination of practicality and good appearance that makes a different.
IV. Best Stainless Steel Tumblers in USA & Europe
Yeti Rambler is one of the most durable tumblers in the market. It is made of stainless steel (the body) and Tritan (the lid), a kind of BPA free plastics that is expensive. All Yeti Ramblers, regardless of the type and volume, are dishwasher-safe, rust-resistant and scratch-proof, and can withstand strong impact. It is designed for adventures.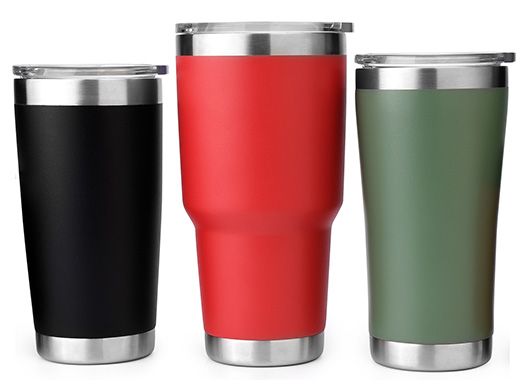 The BrüMate tumbler adopts double-walled insulation structure and adds an extra layer of copper that greatly enhances the overall insulation performance. As a reliable bulk tumblers manufacturer, KingStar can ensures that, a BrüMate tumbler can make icy cold drinks cold for 6 hours or hot water warm for up to 5 hours. Just like Yeti Rambler Series tumblers, BrüMate tumblers are also cup holder friendly and offer a spectrum of color options.
S'well stainless steel tumblers are one of the most popular ones in the tumbler market. S'well drinking gears are equipped with TempShield technology that enables them to have outstanding cold-retaining capability. Apart from high insulation performance, S'well tumblers are characterized by mass options of colors, fashionable styles and nice appearance. They are pursued and loved especially by the young.
V. Are any insulated stainless steel cups made in the US or Europe?
Some water bottle business starters may seek cooperation with American or European tumbler suppliers, but their efforts are not paid off. Under that circumstances, some may try to figure out that are there any bulk insulated stainless steel cups made in the United States or Europe? Well, they are hard to find as no such cups are manufactured in these two regions.
World-famous water bottle brands including Yeti, S'well, Hydro Flask, Klean Kanteen and BrüMate do not manufacture drinking gears, instead, they only design them and designate some certain Asian (mostly Chinese) water bottle manufacturers for production. Sometimes, their business partners may take over either OEM or ODM works.

VI. Why no stainless steel tumbler made in USA or Europe?
Now you have known that there is no vacuum-sealed stainless steel tumbler that is produced in the United States or European countries. You must try to understand the reason why these drinking gears are not rooted in the above stated regions. And in this part KingStar will unveil the answers in order.
Making stainless steel tumblers consumes a lot of energies and requires a gigantic number of labor force. Although the products made of stainless steel will not pollute the environment, the entire production processes unavoidably contaminate the nature, during which waste water and many other kinds of wastes are discharged into the environment. The United States and many other European countries have introduced environment-related policies to restrain such production behaviors and that's an important reason why these two regions do not make reusable stainless steel tumblers themselves. In addition, manufacturing 18-8 stainless steel cups is labor-intensive. And it is much more cheaper and lucrative to purchase these products from other regions than make them in the United States or Europe.

VII. Where is stainless steel tumbler made?
95% of the world's vacuum-insulated water bottles are made in China, and stainless steel tumblers are no exception. China has abundant labor force and manufacturing resources, a complete set of production equipment, and decades of manufacturing experiences. The combined strengths of Chinese stainless steel tumbler suppliers overshadow that of other manufacturers across the world, hence the insurmountable and unshakable position in the line.
Currently, Chinese tumbler makers are capable of providing clients with quality products in bulk and with low prices, meeting large orders in a comparatively short period of time, and even offering guidance on promotion. It is worthy of collaborating with Chinese tumbler suppliers.
VIII. How to purchase bulk stainless steel tumblers?
KingStar provide one-stop custom tumbler manufacturing service from idea generation to final product launch, greatly facilitating your work. If you long for our premium insulated stainless steel tumblers, just contact us and our team will go all out to meet your rational requirements. We have worked with world-famous bottle brands for years, and it is believed that we together can make a difference!