Hydro Flask vacuum insulated water bottles come in different sizes and shapes. The company now offers a variety of products, including cups, jars, beer and wine containers, coffee bottles and all kind of outdoor accessories. In the drinkware industry, Hydro Flask offers standard and wide mouth water bottles as well as those especially designed for children.
There are two main types of Hydro Flask bottles, standard mouth and wide mouth. How do you know which one you should buy and what is the difference between these two types of bottles?
As the leading insulated water bottle maker, KingStar will share you the inside comparison between the two types of Hydro Flask water bottles, as well as in-depth discussion about the differences and which type you should get.
Hydro Flask Wide Mouth Water Bottles
Compared with the standard version, Hydro Flask wholesale wide mouth bottles are equipped with a relatively large mouth. The wide mouth version is currently available in several sizes, including 18 oz, 32 oz, 32 oz with straw caps, WSL 32 oz, 40 oz, 40 oz with straw caps, and 64 oz. Most of them offer a various of color options. It allows you to but a separate lid in case you break or lose the original one.
The wide mouth bottle was originally designed to enable you to carry cold drinks with ice cubes, because the wide mouth makes it easier for ice cubes to slide into the bottle. The 32 ounces water bottles are quite popular, because it is the perfect choice for outdoor activities, such as hiking, climbing and biking. Hydro Flask ensures its customers that the wide mouth water bottles can keep ice water cool for 24 hours and hot drinks for 12 hours.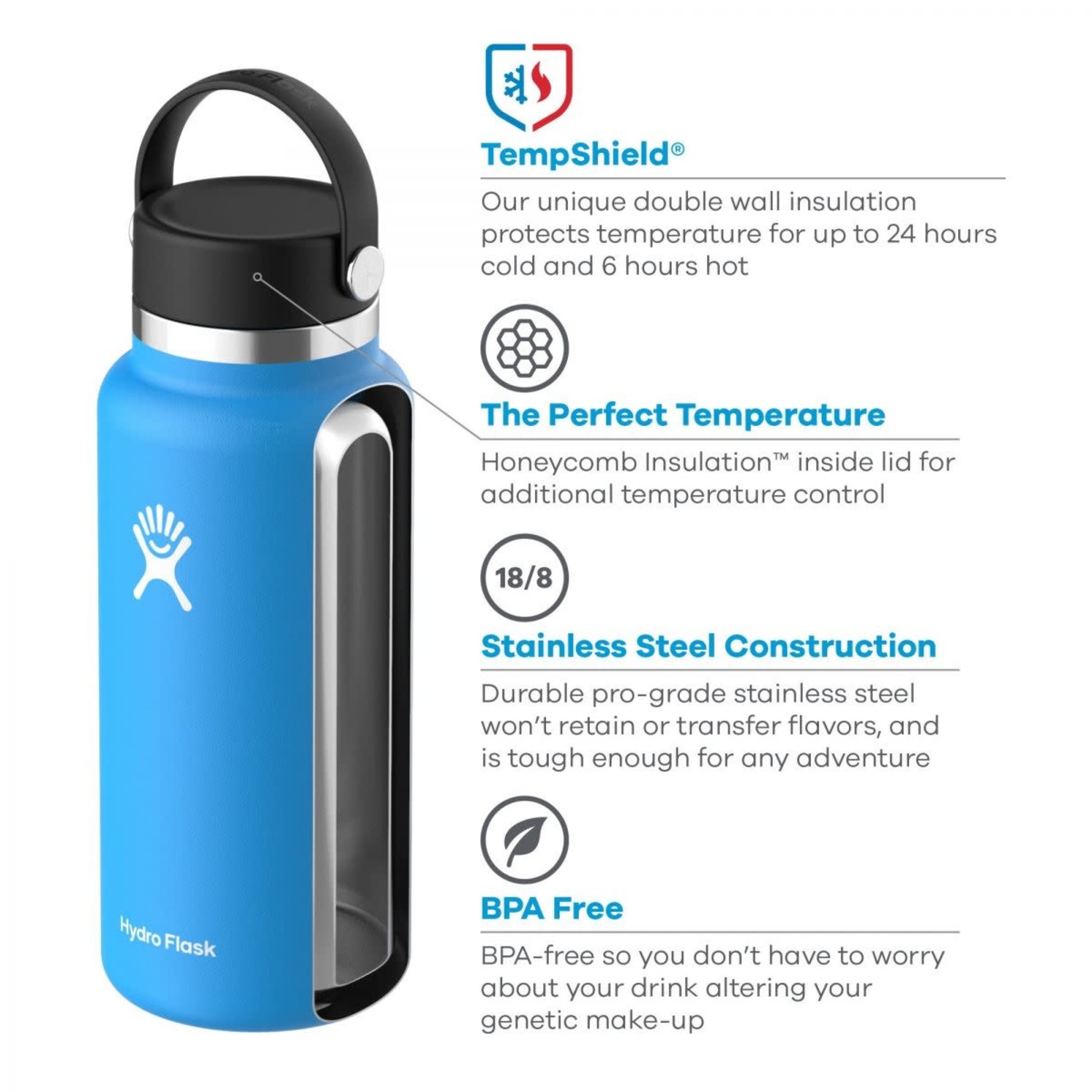 Features of Hydro Flask Wide Mouth Bottles
Hydro Flask bottles are made of BPA-free material. Its sturdy design is a dent-resistant and can spare you the worry of scratches and most damages to its appearance. The 18/8 stainless steel will not leave any funny taste in your drink. The Hydro Flask bottles consist of two layers which helps to keep the temperature inside the bottle.
Hydro Flask Standard Mouth Water Bottles
Hydro Flask Standard Mouth, as the name implies, is a water bottle with a standard bottle mouth, which is smaller than the wide bottle mouth mentioned earlier. The sizes of standard mouth bottles include 12 oz, 18 oz, 21 oz, 21 oz with sports cap, WSL 21 oz and 24 oz. Like the wide mouth bottles, the standard mouth come in various colors and it is also possible for customers to get a separate cover.
Likewise, Hydro Flask Standard Mouth can be used to keep your hot and cold drink for a long time, so you can enjoy your drink with the pleasant temperature. This water bottle works as good as the wide mouth bottle and even better because the smaller mouth helps limit the air entering the bottles and thus gives it a better performance.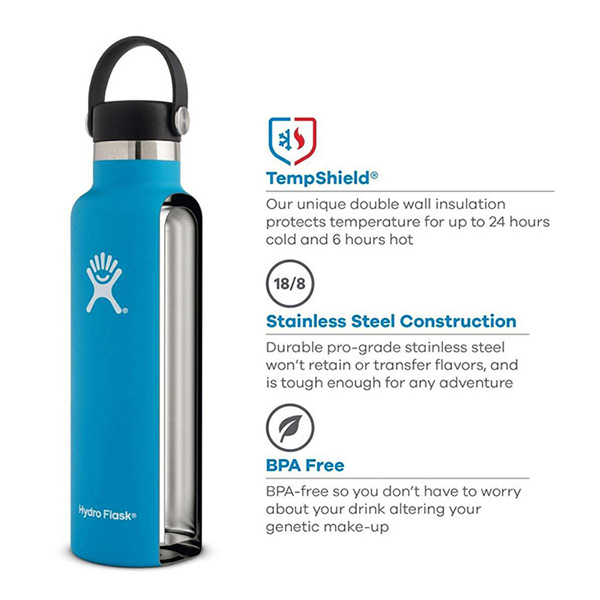 Features of the Hydro Flask Standard Mouth Water Bottle
Hydro Flask Standard Mouth also employs the sturdy 18/8 stainless steel, which will not produce any smell to your drink. The material is BPA-free and healthy. The double wall technology can keep your drink at a certain temperature for a long period of time.
The Comparison Between the Two Water Bottles
Obviously, one of the most striking differences between the two bottles is the width or diameter of the bottle mouth. Hydro Flask wide mouth has a wider mouth diameter and is designed for putting ice cubes easier when you are having cold drinks, while the standard mouth is more friendly for kids. Then it's the size design, the wide mouth bottles are normally larger than the standard mouth ones.
Design: With its wider mouth and larger volume, the bottle can hold more water and more ice for cold drinks like beer. Besides, we are using water bottles for our health so the non-toxic and BPA-free material makes it an ideal option.
On the other hand, the standard mouth bottles are a better choice for sipping and kids who find it hard for them to drink from a large water bottle. Like the wide mouth water bottles, the same material is used in this bottle and you can also put smaller ice cubes in your drink.
Straw Lid: The Hydro Flask wide mouth has a straw lid and the standard mouth bottle does not.
Size: Both bottles offer different sizes for customers, which can meet your daily water intake. There are also many features available and the design allows you to put the bottles in almost any cup holder.
Insulation technology: Both are using the double-walled, vacuum insulated TempShield Insulation, the technology that you can find in most of Hydro Flask products. This will help keep your drink cold for as long as 24 hours and warm for about 7 hours.
Conclusion
In brief, both products are quite similar and it all depends on your own requirements for a water bottle. If you like outdoor activities and enjoy cold drinks, we suggest you get the wide mouth bottles because you do not need to consistently refill the bottle and you can slide ice cubes easily into your drink. But if you are looking for a water bottle for your kids or you prefer warm drinks, a standard mouth one that allows you to sip would be a better choice, in addition, there are more size and lid options for the wide mouth bottles, so if you are not happy with the limited choices offered by the standard mouth bottle, you can always consider a wide mouth water bottle.