1. What is coffee cup or coffee mug?
Coffee cup also called coffee mug is a kind of container used for coffee or coffee-related drinks. Generally speaking, coffee mugs have handles, easy for users to hold.
There are many types of coffee cups: ceramic coffee mugs, glass coffee mugs, melamine coffee mugs, stoneware coffee mugs, stainless steel coffee mugs and disposable paper coffee cups, varying from their materials and functions.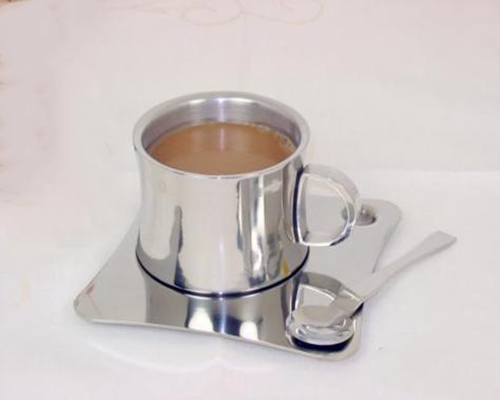 2. What is insulated coffee cup or mug?
After knowing the types of common coffee cups, here comes a question. That is, what kind of coffee cups or mugs are insulated? As a rule, cups or mugs made by double walled stainless steel are able to retain heat. These cups are called insulated cups or mugs by people.
Insulated coffee mug or cup can be regarded as improved coffee cups, featuring with numerous pros like durability, sturdy and insulation. Besides, an insulated coffee mug is made from stainless steel of food grade, which is BPA free. (BPA, a kind of chemical from plastic, is harmful to human bodies.)
3. Why is an insulated coffee cup or mug different from a tumbler?
Tumblers are a kind of cups with a flat bottom but no handle or stem, making them easy to put in the bags. They are commonly seen in outdoor activities. Tumbles are usually used for keeping drinks cold and cooler. As a leading custom water bottle manufacturer, KingStar will show you the differences between stainless steel tumblers and insulated coffee mugs.
Shape: An insulated coffee cup may be straight but a tumbler's bottom is narrower than its top.
Insulation: Insulated coffee cups are able to keep beverages cold or warm for hours, while tumble only can keep drinks cool.
4. Why do people like to use insulated coffee cups or mugs nowadays?
Eco-friendly: Unlike disposable paper coffee cups, insulated coffee cups or mugs are made from stainless steel, which can be 100% reused or recycled. This action can not only avoid resource waste but also reduce environment pollution to some extent.
Convenience for carrying: Insulated coffee cups or mugs would be a great choice for travelers. These cups have tight lids to prevent liquids splashing and leaking. Besides, handles make these mugs easy to hang on your bags without covering extra space.
Keep drinks at suitable temperatures: Insulated coffee cups or mugs can retain heat for your beverages. Generally speaking, these cups are great to keep drinks icy cold in summer and warm in winter for you!
Safe and non-toxic: Insulated coffee cups or mugs are made by food-grade stainless steel, no containing any chemicals like BPA from plastic. Before sales, these food-grade insulated coffee cups must achieve the standard of food security. Thus, you can put your mind at ease that the insulated mugs do no harm to your health!
Anti-shock and durable: Glass is widely used in the cup manufacturers due to the fact that it's safe and stable. Besides the benefits of glass cups, stainless steel is much more sturdy, difficult to broken even dropped to the hard floor. The insulated coffee mugs can be used for may years with proper maintenance.
5. How do insulated coffee cups or mugs keep drinks cold or warm actually?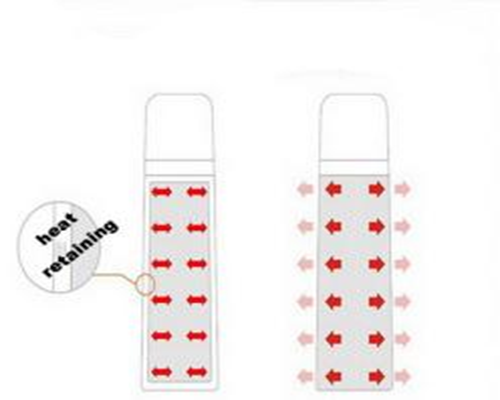 Insulated coffee cups or mugs adopt the double-wall insulation technology to retain heat. Between the two stainless steel layers is vacuum, preventing heat from being transferred to the outside and achieving constant temperature inside.
In addition, the lids of insulated coffee cups are generally made by plastic or cork, materials hard to conduct heat. The two main designs are able to keep the right temperature in the cups.
6. What materials are used for insulated coffee cups or mugs?
Ceramic: Some people think that coffee in the ceramic cups tastes more authentic. So a few insulated coffee cups will use ceramics for their inner walls to cater for a group of people's needs. But such cups have poorer ability for insulation. And the inside wall is easy to break as well. Also, ceramic cups cost more!
Plastic: Insulated coffee cups of plastic are lightweight and cheap. However, plastics cups with double wall can only retain heat for a while. Besides, you cannot whether harmful chemical are leaching while putting hot water in plastic cups.
Glass: Compared with plastic insulated coffee cups, glass cups are much safer. And glass cups are able to keep temperature longer. But glass insulated mugs are heavy and easy to break, which is not convenient for people to carry around.
Stainless steel: Featuring with numerous pros like stability, durability and insulation, insulated coffee cups made by stainless steel will be the perfect choices for you. Such coffee cups can keep your beverages cold for 12 hours at most and warm for 6 hours at least. Besides, stainless steel cups, not as heavy as glass ones and not easy-broken, are convenient for you to take outdoors.
7. How many types of insulated coffee cups or mugs are on sale?
There are numerous insulated coffee cups and mugs on sale, varying from designs and functions. KingStar here would like to show you three hot coffee mugs in the market:
Insulated coffee mug with clear flip lid: This insulated coffee cup has a special shape for people to hold. It also has double walls to retain the temperature efficiently. This mug has transparent lid with can also be slipped, which giving you convenient drinking experiences while knowing how much water remaining in the mug.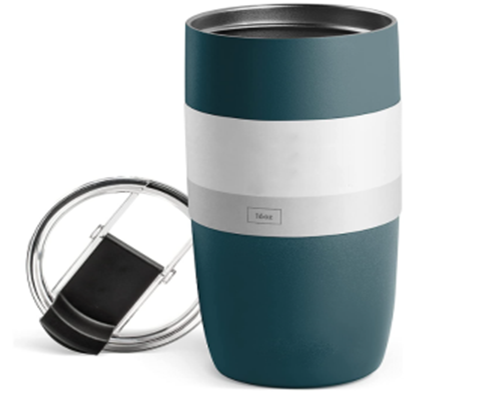 Thermal coffee mug with non-slip protective lid: This kind of coffee cup or mug has two-layer stainless steel, usually keeping warm for 4-6 hours and cold for 6-8 hours. The non-slip protective cover lid is 100% leak-proof so that you can carry this mug in your bag without worrying its splashing or leaking.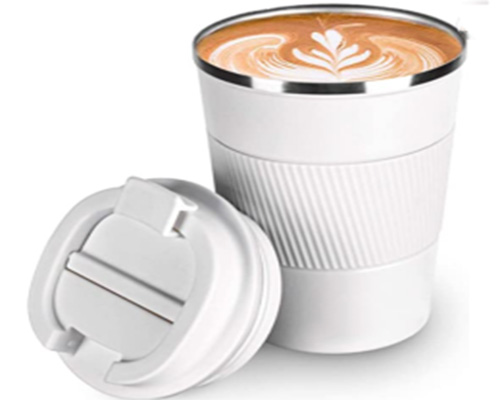 Portable coffee mug with handle: This coffee mug now is very popular in the market, which attracts a large amount of customers for water bottle stores with such cups in stock. It looks like traditional coffee cup, but it is insulated, keeping the drinks cold or warm for hours. Also, the lid is for avoiding leaking and splashing. With handle, you can hold the mug easily as well as hang it anywhere you like conveniently.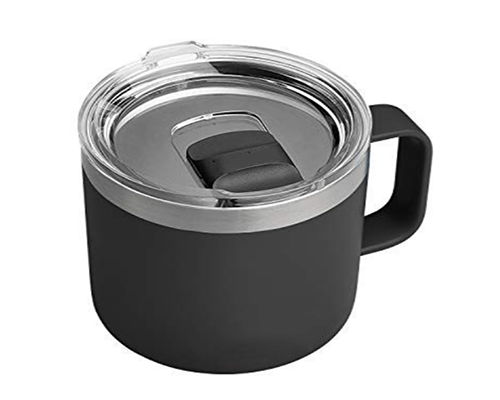 8. How do people choose suitable insulated coffee cups or mugs? – Consider the following questions.
Before buying an insulated coffee mug or cup, you have to consider several factors which have a direct influence on your using experience later! Now follow KingStar to explore what these influential factors are.
8.1 How long can this insulated coffee cup or mug keep right temperature?
Generally speaking, the insulated coffee mugs can keep your beverage hot for 6 hours and cold for about 10 hours on average. But the exact insulated time varies from different mugs.
Below is a picture of insulated length of four different hot-sale coffee mugs throughout the day from KingStar. As a leading water bottle manufacturer, KingStar hopes this format can give a clear introduction.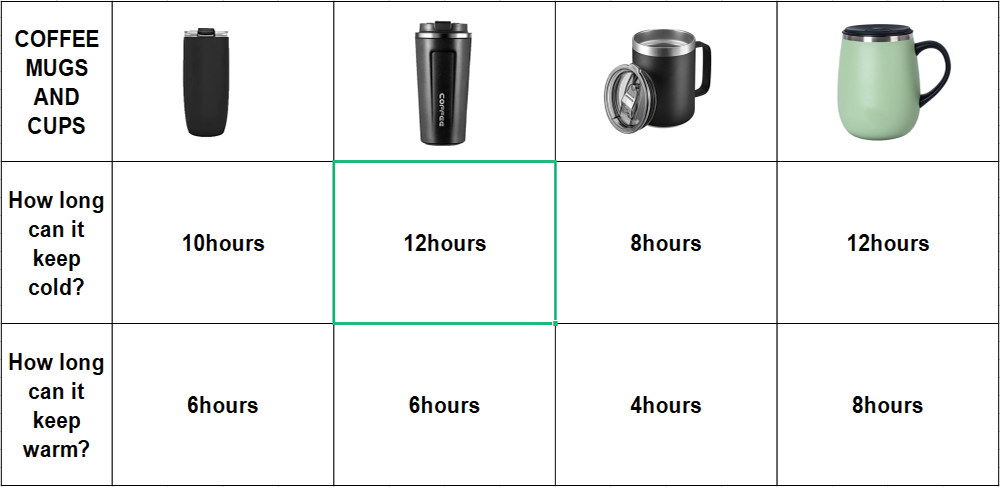 8.2 What material is this insulated coffee cup or mug made from?
In the 6th part of this passage, we have discussed three main materials for making insulated coffee mugs or cups. The pros and cons have been talked above. You can choose based on your own favors and needs. But if you ask for our advice, KingStar is willing to tell you which kind of material is best for insulated coffee mugs in our eyes.
Needless to say, insulated coffee mugs made by stainless steel are the ones of highest performance and lowest price! It has the pros like durability, rust and acid resistance, safety and eco-friendly of other materials. Also with double-wall metal layers, stainless steel cups keep drinks hot or cold for longer than other materials like glass and ceramic.
8.3 What kind of lid does this insulated coffee cup or mug haveand which lid is suitable for your drinking habits?
Besides the insulated length and material, the lids together with your drinking habits cannot be ignored either. Everyone has his or her own lifestyle, the product fits one can be the best product!
KingStar makes a format of mugs' three kinds of lids as well as their functions as follows: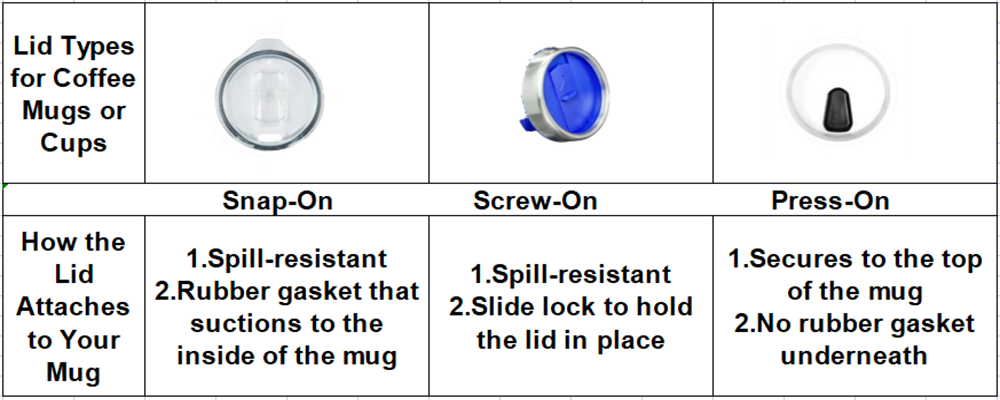 Then follow KingStar to see how different drinking openings of mugs bring people different drinking lifestyles:

8.4 Is this insulated coffee cup or mug easy to clean?
No matter what products we buy, they all need proper maintenance if you want them to last for a long time. So does the insulated coffee mugs. Hard-clean cups bring you much troubles in the daily life.
Generally speaking, stainless steel and ceramic are both easy to wash. But you need to take care while washing, because the cups' inner side may be broken if the hot water stays for a long time.
As an experienced water cups manufacturer, KingStar will teach you how to clean you coffee mugs in a safe an d efficient way!
We suggest you to wash your double-wall insulated coffee mugs with your hands. Stop putting the whole cup in the water so as to prevent water leaking from the seams. Then a soft scrubbing brush or a towel is needed to clean the inside of the cups. Good caring of your coffee mugs can maintain them for more time.
9. Try a Custom Travel Mug
Insulated coffee mugs or cups can also be great gifts for the people around you. You can print have your own designs on these cups like color, text or pattern. The customized cup will be unique in the world. KingStar provides various kinds of insulated coffee cups as well as customized services. If you want more information, please contact us!