When it comes to being a pet parent, you have to take on all kinds of responsibilities. You need to purchase a lot of supplies to take care of your pet as best as you can. Your dog needs food, toys, leashes, crates and dog bowls. These are just a few of the most important items on your shopping list. Then, you have to consider what are the best options when you start buying those items. Even some seemingly simple things, such as dog bowls, have a bunch of different styles and materials, and some of which are better than others.
Let's take a look at some wholesale dog bowls made of different materials, including ceramic, stainless steel and plastic, and their upsides and downsides.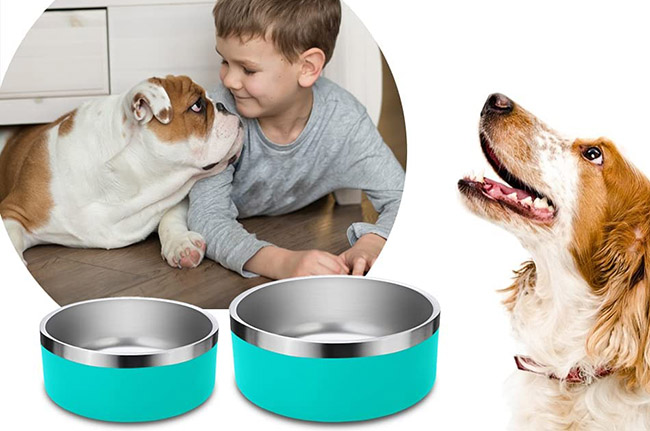 Plastic vs Metal Dog Bowls
 Plastic dog plates are very popular because they are easy to find and quite affordable. The plastic dog food bowl won't break easily when dropped, and it can be washed in the dishwasher. However, this is not always the best option for your dog. They are easily scratched and may carry bacteria. However, metal dog food bowl is probably the most practical way to put dog food. They are durable, inexpensive, and suitable for dishwashing. They don't have attractive colors or patterns, but they will endure for a long time and protect your dog from bacteria. Some bowls have anti-slip rubber bases, which can prevent the bowls from moving around when dogs eat.
Plastic dog bowl
Plastic dog bowls are widely used and can be found in almost any store that sells the most basic pet products. Partly because plastic is elastic, you can get plastic dog bowls of almost any shapes. Besides, these bowls will be the cheapest and lightest. When it comes to dog bowls, there are few disadvantages in choosing plastic. One disadvantage is that it may leak BPA and other dangerous chemicals into food, posing a risk to your dog's health as well as the environment. Therefore, we do not recommend to use plastic as the main bowl to feed your dog.
Here are some of the pros and cons of using a plastic dog bowl:
Pros   
Comes in all sort of colors and designs
Light-weight
Relatively affordable
Dent-proof
Dishwasher-safe
Cons
Scratches may breed bacteria
May cause an allergic reaction
Cannot come near heat
BPA is unsafe to your pet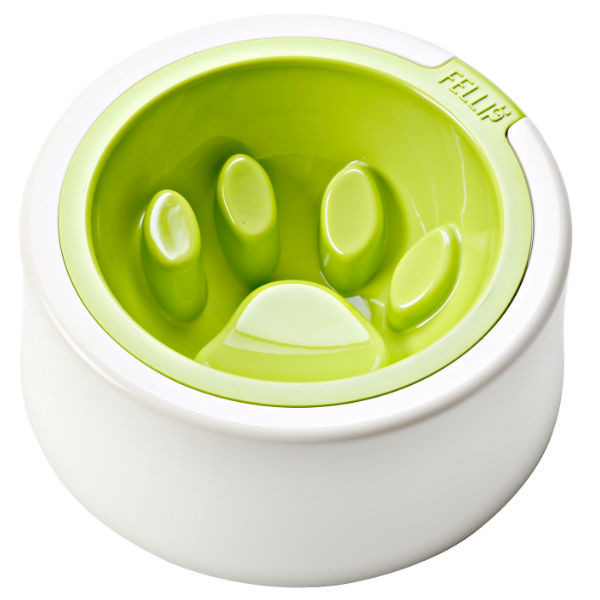 Metal dog bowl
Metal dog food bowls, mainly stainless steel dog bowls, are usually much stronger than plastic ones, and dogs don't chew metal like plastic ones. There are various designs of metal, but metal bowls are most commonly used as the inner container for larger plastic bases. Its cost is higher than that of plastic, but it will not release dangerous chemicals into food, and it is less harmful to the environment.
It is recommended to use aluminum or stainless steel bowls instead of plastic ones, because it lasts longer and safer. However, when the external coating starts to wear out or rust, you should stop using it immediately.
Pros   
Resistant to high heat
Dishwasher-safe
Long-lasting and durable
Safe and does not breed bacteria if kept properly
Cons
Clunky and unattractive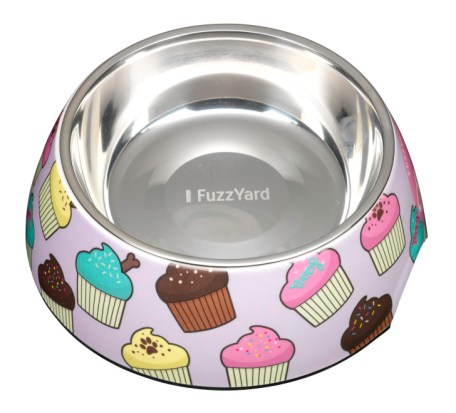 Ceramic Dog Bowls vs. Stainless Steel Dog Bowls
Ceramic dog bowls
Ceramic dog bowls have been rising to popularity because of its various sizes and swanky designs. The surface of these ceramic bowls is usually glazed, which makes it easy to clean them and makes them dishwasher-safe. Besides, ceramic dog bowls can be heavy, so it's unlikely that the dog will play it around on the floor or to take it far away from your house.
When you consider buying ceramic dog bowls, remember to check if the bowl is safe for food use and free from the chemical lead, because some glazes used in the bowl may contain some harmful chemicals. Ceramic bowls are easily cracked or broken if dropped accidently, and those fragments can house some bacteria that harm your dog's health even after thorough cleaning. Besides, these chips may have sharp edges, which can hurt your dog. Ceramic bowls are relatively expensive, especially when you choose those with exquisite patterns. Ceramic is usually better than plastic, but it has its own problems. Compared with other materials, such as stainless steel, ceramics are relatively susceptible to dents and cracks. Historically, the glaze applied to coat ceramics contains lead, which may pose a threat to your pet's health. In fact, lead has not been banned for its use in ceramic glazes.
In addition, please remember that ceramics can only be kept safe if the coating is not worn out. If you spot cracks on the surface, you should consider getting a new one.
Pros
Easy to clean
Dishwasher-safe
Can withstand high temperatures like boiling water
Attractive artistic styles
Cons
Ceramic bowls can be broken or cracked easily
Micro-cracks in ceramic bowls may be breeding grounds for bacteria and germs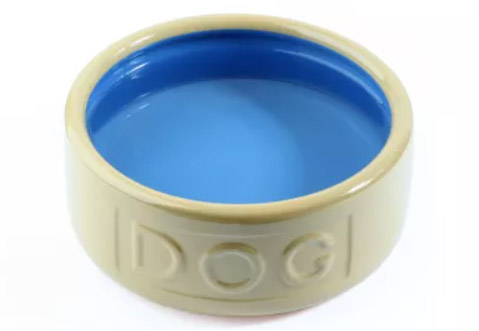 Ceramic Dog Bowls vs. Stainless Steel Dog Bowls
Metal/stainless steel pet cat dog bowls
The stainless steel dog bowl is probably the most durable, and it can also be washed in the dishwasher just as the ceramic ones. These bowls sometimes have non-slip edges at the bottom to prevent spillage. Unlike its ceramic counterparts, stainless steel bowls usually do not have fancy colors or patterns. If your pet pushes the bowl while eating, it may be loud and even scratch the hard floor. However, this can be avoided if you buy one with a non-slip rubber bottom.
In brief, they are more practical and cheap supplies for your dog and can stand the test of time.
Pros
Sturdy and durable
Affordable
Dishwasher-safe
Safe in boiling water for sterilization
No toxic chemicals released into food like plastic ones, and they don't contain lead paint like ceramic bowls.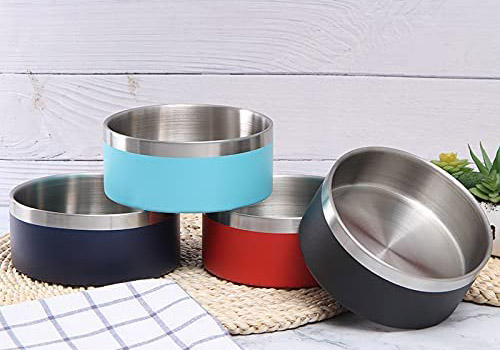 Tips for Selecting the Best Dog Bowls
 Can be washed into the dishwasher
How often do you clean your dog's food or water bowl? Studies have found that the dog's food bowl is one of the breeding grounds with the most bacteria in the whole family. However, some people often forget to clean the bowl for their pets, so a dog bowl that is dishwasher-safe can make the cleaning easier.
Made of non-porous material
Similarly, non-porous materials (such as stainless steel) are also necessary to minimize the risk to illness. For example, plastic bowls can produce scratches, which provide a perfect hiding place for bacteria and germs. In addition, dogs that tend to chew are less likely to chew stainless steel and ceramic bowls compared with plastic ones. However, if you clean plastic plates every day and replace them as soon as you find any grooves or scratches on them, then plastic plates are a safe choice.
Raised feeder
Avoid freestanding dog bowls, as they tend to be moved on the floor by your dog. Look for a bowl that can be installed to the raised feeder. When your dog eats with a raised feeder, he or she will be more comfortable because it is easier for them to swallow food and also good for digestion.
Finally, when you buy a bowl for your dog, you should keep safety and convenience in mind. The bowl should be made of materials that are easy to clean, safe and non-porous.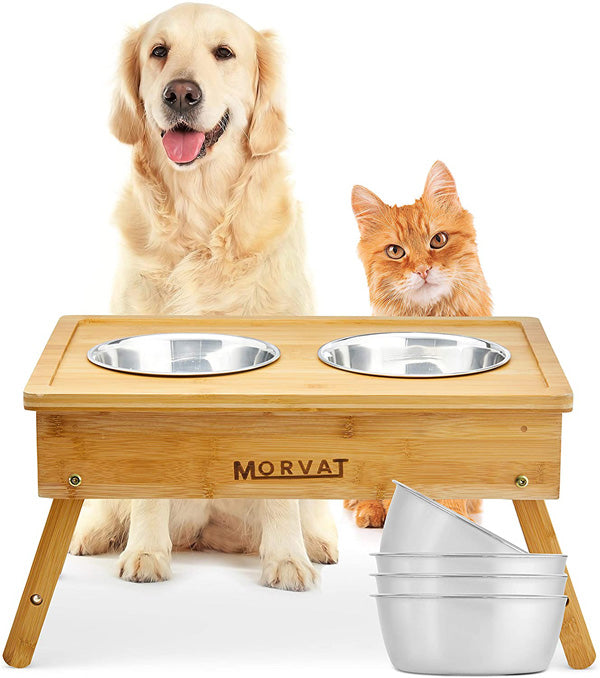 KingStar is leading custom stainless steel dog bowl manufacturer with one-stop OEM service from concept design, 3D printing prototype, tool fabrication, mass production to global shipping. If you want to purchase dog bowls in bulk establish a famous dog bowl brand like Yeti, you are at the right place. Send us an email to sales@waterbottle.tech, you will get quick reply within 24 hours with professional engineering support.