What Materials Are Used to Make S'well Water Bottles?
S'well water bottles are made by food grade 18-8 (SUS304) stainless steel. This durable and sturdy material is highly resistant to both scratch and rust, and eliminates the need for a liner. The premium quality of S'well water bottles can be guaranteed as they are certified to pass corresponding tests performed by accredited and authoritative testing facilities & organizations. Apart from that, their water bottles meet all the requirements of Title 21 of the FDA Code of Federal Regulations and comply with California Prop 65 regulations. As a result, the S'well water bottles are entirely BPA, offering a sustainable and eco-friendly options for people's daily hydration.
S'well Water Bottle Manufacturing Process
S'well insulated water bottle manufacturing process video
The main production process of S'well water bottle is shown below:
Prepare the stainless steel tube
Cutting stainless steel tube
Shape forming
Mouth forming with threads
Matching and welding tumbler mouth
Welding tumbler bottom
Vacuum process
Polishing
Surface decorating (powder coating, spray painting, water transfer printing or sublimation transfer printing)
Laser engraving logo
Assemble caps
Packing
How Do S'well Work to Keep Beverages Cold/Hot?
S'well water bottles rank first in temperature tests. S'well's stainless steel water bottle scores higher than its counterparts on the water bottle market in terms of both hot water tests and cold water ones. Why? Because S'well water bottles feature a triple-layer insulation structure that does a really good job in retaining temperatures. Stainless steel walls shine bright when it comes to preventing heat from transferring while the inner stainless steel wall is plated with a layer of copper that further bolsters the insulation property.
In fact, this unique and high-efficient triple-layer design minimizes the possibility of radiation, conduction or convection, three main factors responsible for the lowering of temperature. And it is expected that S'well water bottles are characterized by remarkable insulation performance.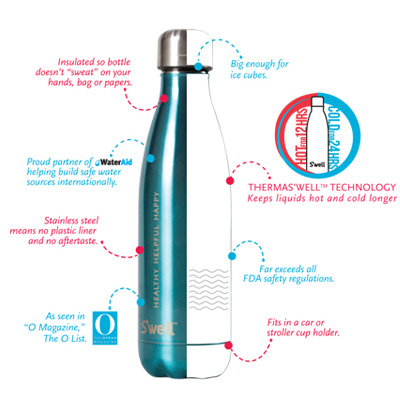 As the top insulated drink bottle manufacturer, KingStar ensures that a S'well stainless steel water bottle of 17 oz can keep water cold for 24 hours and warm for 12 hours. After 24 hours sitting on the table, the temperature of the icy cold water inside rose 5.7 degrees, overshadowing its counterparts on the market. And the hot water test also presented agreeable outcomes: after 12 hours the temperature of the piping hot water only dropped 42.1 degrees Fahrenheit!
S'well's dominance in controlling the temperature has won customers' trust and admiration. This magic water bottle thoroughly eliminates the occurrence of condensations appearing on the outer stainless steel walls.
Are S'well Water Bottles Durable?
Actually, compared with Yeti, S'well water bottles are not so durable as they are prone to impact. After three drops either on the lid or on the body from 5 feet above the ground, the S'well insulated water bottles were confronted with a crushing defeat. Dents could be observed clearly and sometimes the tinkling sound could be heard. Dents are definitely bad as they lower the nice appearance of the bottle itself and the bottle may go wobbly. However, when the tinkling sound occurs, the water bottle can not be used as the insulation layer is destroyed.
So why do people keep complimenting the durability of S'well water bottles? It is guessable that their conclusions come from the durable and sturdy finish/coating plated on the outer stainless steel wall. S'well adopts high quality moulding powders to form the coating, which is designed to offer a lifelong service without flaking or fading. And if these water bottles are used carefully without dropping or knocking, the poor anti-impact performance of S'well bottles will hardly be sensed.
To conclude, the coating of S'well water bottles is worth the reputation while the bad anti-impact performance is the reason why some people think S'well's products are not durable.
Can the Quality of S'well Water Bottles Be Surpassed?
The answer is yes. S'well water bottles are famous for the fancy & fashionable design and excellent insulation performance. It has durable coating yet the anti-impact property of the S'well water bottle is not satisfactory.
As long as the above strengths can be modeled and the shortcomings be improved, you are supposed to have your own competitive water bottles, and the quality of S'well water bottles are surpassed for sure. Here KingStar shares with you key takeaways about the requirements for reliable water bottle manufacturers that can produce quality stainless steel water bottles:
Materials: stainless steel 18-8 (SUS304) as the body and BPA-free material like Tritan as the lid
Thickness of stainless steel: the thicker, the better (in a proper range)
Complete manufacturing process
Advanced processing techniques
Rich manufacturing experience
Professional R&D team
Professional QC team
OEM &ODM services
Caring after-sales services
How Can I Build a Water Bottle Brand Like S'well
S'well's water bottles are by all means good as they have sustained the trials of time and won the loyalty as well as the trust from customers all over the world. But, S'well does not manufacture water bottles themselves, where do they come from? In fact, 95% of the world's stainless steel water bottles are made in China. China is home to abundant resources and complete water bottle manufacturing equipment & process. The unique advantages enable this country to become the major water bottle supplier globally. So if you want to set up a successful and profitable water bottle brand like S'well, it is then suggested to find a reliable and trustworthy water cup manufacturer like KingStar in China as a solid backing.
Quality water bottle products together with well-targeted marketing is key to making your own water bottle business profitable and promising! KingStar can offer you premium drinkware products with agreeable prices in bulk, and with our good products, you can make your brand strong and competitive.
Order Custom Water Bottles & Tumblers
Get competitive price and premium custom drinkware from KingStar — Short lead time, door-to-door global shipping, strong Engineering support!