24Bottles, founded in 2013, is headquartered in Italy. This well-loved brand has successively launched several high-quality, portable and sustainable stainless steel drinking water solutions for daily travel. 24Bottles donated 10% of the revenue of The Reef series of vacuum flasks to the non-profit organization "The Clean Ocean Project".
Many vacuum flask enthusiasts wrote to ask about how 24Bottles are made? Why are 24Bottles drink bottles excellent in quality? This article will explain in detail.
What Materials Are Used to Make 24Bottles Insulated Cups?
Bottle Body Material:
24Bottles water bottles are made by premium quality stainless steel 18/8 (SUS304). This material, highly resistant to scratch and rust, boasts great durability and does not need a liner.
Cap Material:
Caps of 24Bottles are made of PP plastic and SUS304. PP is BPA free plastic and safe.
Sealing Ring Material:
Food grade silicon.
Insulated drinkware of 24Bottles goes through a series of strict tests carried out by special testing facilities, which means the high quality of their water bottles, tumblers and pots can be assured. Like most of the famous water bottle brands, 24Bottles bottles also comply with the requirements of Title 21 of the FDA Code of Federal Regulations and with California Prop 65 regulations. Some types of 24Bottles bottles use Tritan, a BPA free material developed by Eastman, to make lids, while their classical Clima Bottles are made by stainless steel in lids.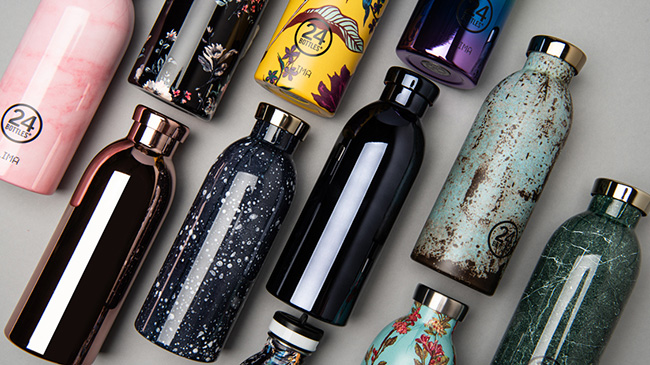 Why 24Bottles Clima is the Healthiest Drink Bottle?
24Bottles Clima drink bottle has been well received by consumers since its launch. Its stylish design, excellent insulation performance, and very durable performance are all its advantages that are difficult to replicate.
From the perspective of the vacuum flask's R&D and manufacturing engineer, Clima is the healthiest and safest water cup in the world today for the following reasons:
All materials of Clima do not contain BPA
Clima's bottle body is made of premium 18/8 food grade stainless steel
The beverage in the Clima bottle does not touch any plastic, thanks to the fact that the lid of Clima is all covered by 18/8 stainless steel.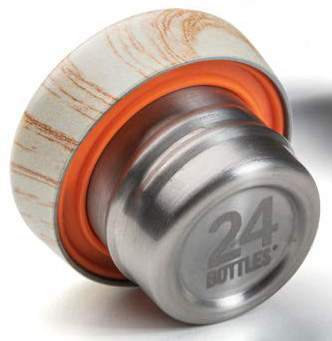 How Do 24Bottles Thermos Cups Work to Keep Beverages Cold/Hot?  
24Bottles stainless steel water bottles of varied collections score high on temperature tests. Stainless steel water bottles such as Clima Bottles are equipped with a double-walled stainless steel structure. This structure is conducive to delivering excellent heat retaining performance as heat can hardly transfer from the inside to the outside, and vice versa. A comparative vacuum space is formed with the help of two stainless steel walls in which activities like radiation and convection are minimized. What's more, an additional layer of copper is plated on the inner stainless steel wall, greatly enhancing the insulation capability of 24Bottles water bottles.
In fact, this thickened and high-efficient double-walled stainless steel structure minimizes the occurrence of radiation, convection and conduction, three major factors responsible for the lowering of temperature. And it is well anticipated that 24Bottles stainless steel water bottles are characterized by remarkable insulation performance.
A 24Bottles Clima water bottle of 500 ml is able to keep drinks cold for up to 24 hrs or warm for 12 hrs. After 12 hours sitting on the bench, the temperature of the original piping hot water dropped 43.2 degrees Fahrenheit, and when it comes to the cold water tests, the water temperature of the Clima bottle only rose 6.8 degrees! In addition, the leak-proof guarantee of 24Bottles water bottle is proved during out tests.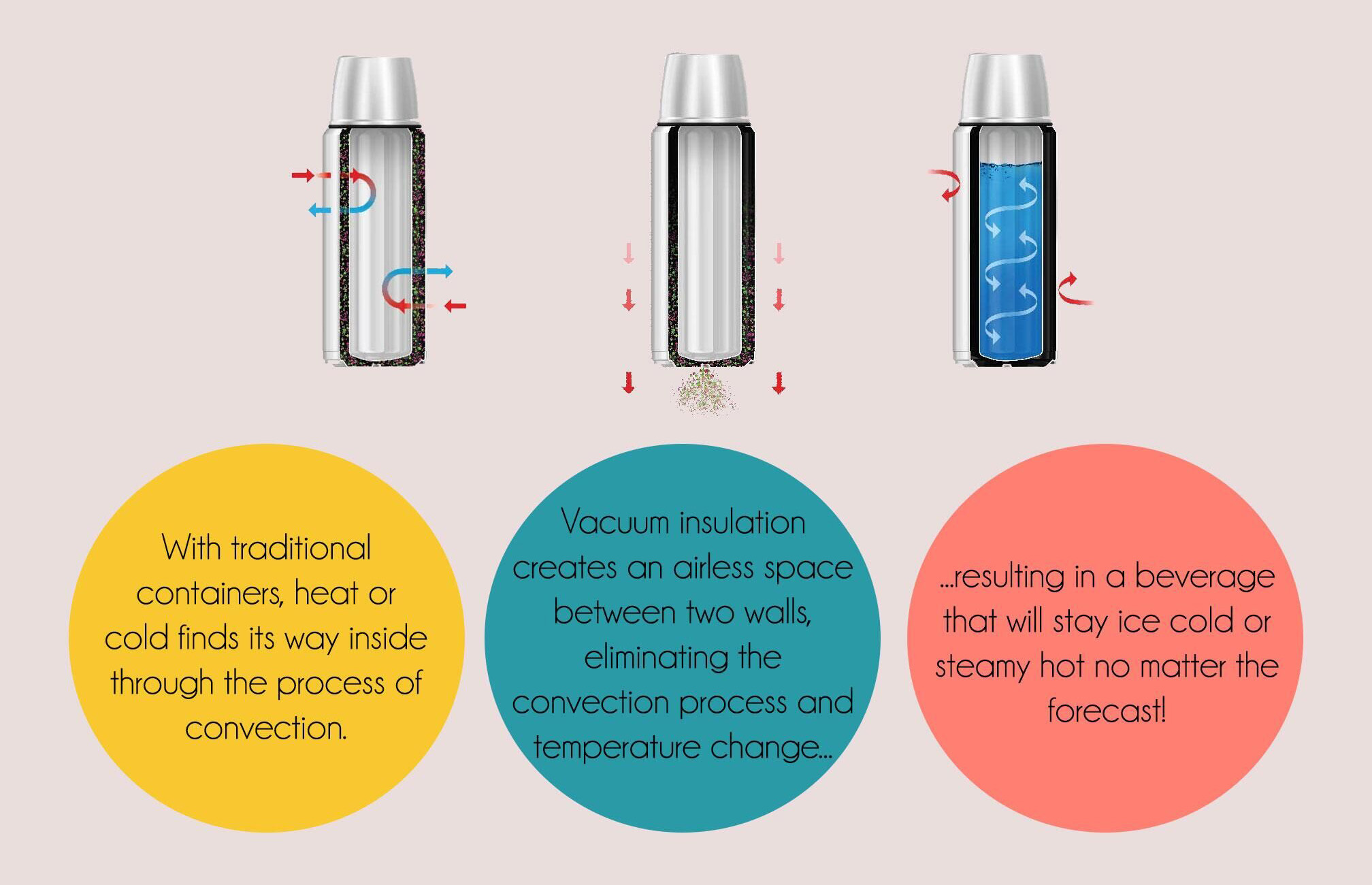 Why Are 24Bottles Water Bottles Durable?
Compared with quality water bottles of other well-known brands, 24Bottles water bottles' durability is no less perfect. A Clima water bottle is capable of withstanding dropping for 5 consecutive times, quite a satisfactory result.
24Bottles water bottles' excellent durability comes down to two factors: the thickened stainless steel walls and the solid coating. The strengthened stainless steel walls have a better anti-impact capability to prevent the appearance of annoying and ugly dents. Dents are to be blamed as they force the outer insulation wall to get close to the inner wall and eventually result in the crash. As long as the two insulation walls meet together, the so-called vacuum space is gone and the insulation function thus fails. Although dents appeared on the outer wall during dropping tests, the Clima water bottle functioned well in terms of insulation. Boots are helpful to eliminate the occurrence of dents, so if you intend to further prolong the service life-span of 24Bottles water bottles, it is advised to pick up protective boots made by natural rubber to enhance the anti-impact performance of the bottle.
The solid coating also helps 24Bottles water bottles to form an extra strong layer of protection. The coating is made by premium quality moulding powders that are resistant to either scratch or rust, offering a nice look, comfortable touching and additional protection. The long-lasting coating is designed to offer a lifetime service and is worth the money.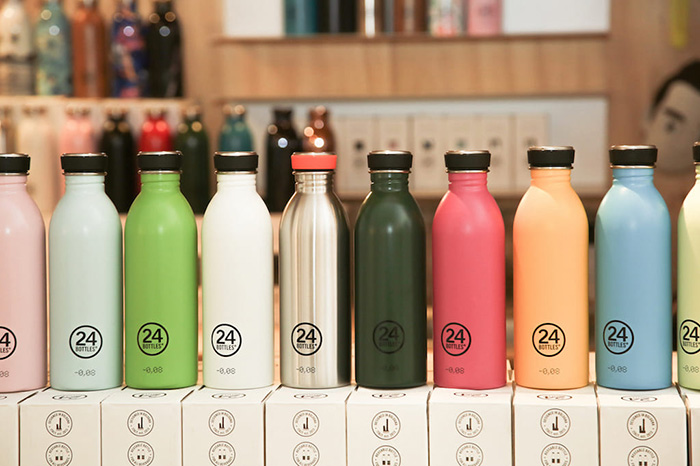 Is 24Bottles Manufactured in Italy or Europe?
No. 24Bottle is not manufactured in Italy or Europe. It is manufactured in China.
24Bottles Water Bottle Manufacturing Process
The main production process of 24Bottles water bottle is shown below:
Bottle Body Manufacturing:
Prepare the stainless steel tube
Cutting stainless steel tube
Shape forming
Mouth forming with threads
Matching and welding tumbler mouth
Welding tumbler bottom
Vacuum process
Insulation performance testing
Polishing
Powder coating or sublimation transfer printing
Silk screen "24Bottles" logo
Cap Manufacturing:
Plastic part injection
Stainless steel shell stamping
Stainless steel shell polishing
Assemble caps
Assembly and Packing
Insulation performance testing
Assembly cap, accessories, and bottle together
Packing
Can the Quality of 24Bottles Water Bottles Be Surpassed?
The answer is yes. 24Bottles water bottles are characterized by fashionable and stylish design and precious efforts of reducing CO2 emissions (the "-0,08" lettering). Water bottles of this brand are coated with premium quality moulding powder that is capable of resisting rust and scratch.
As long as the above strengths can be modeled and the shortcomings be improved, you are supposed to have your own competitive water bottles, and the quality of 24Bottles water bottles are surpassed for sure. Here KingStar shares with you key takeaways about the requirements for reliable water bottle manufacturers that can produce quality stainless steel water bottles:
Materials: stainless steel 18-8 (SUS304) as the body and BPA-free material like Tritan as the lid
Thickness of stainless steel: the thicker, the better (in a proper range)
Complete manufacturing process
Advanced processing techniques
Rich manufacturing experience
Sublimation transfer printing technology
Rich manufacturing experience
Professional R&D team
Professional QC team
OEM &ODM services
Caring after-sales services
How Can I Build a Water Bottle Brand Like 24Bottles
24Bottles water bottles are by all means good as they have sustained the trials of time and won the loyalty as well as the trust from customers all over the world. But, 24Bottles does not manufacture water bottles themselves. There are several top insulated cup manufacturers in China. If you want to set up a successful and profitable water bottle brand like 24Bottles, it is then suggested to find a reliable and trustworthy water bottle manufacturer like KingStar in China as a solid backing.
Quality water bottle products together with well-targeted marketing is key to making your own water bottle business profitable and promising! KingStar can offer you premium drinkware products with agreeable prices in bulk, and with our good products, you can make your brand strong and competitive.
Get competitive price and premium custom drinkware from KingStar — Short lead time, door-to-door global shipping, strong Engineering support!