There are many dog bowls on the market that claim themselves to be the best. Some are equipped with really good properties while other inferior ones may only bring about troubles. As one of the most famous water bottle brand, Yeti succeeds in hitting the market with their premium drinkware products, and now, this brand has released dog gears for pets.
Many dog owners write to us asking questions about the Yeti Dog Bowl. One of the questions is, " Does the Yeti dog bowl keep water cold?"
1. What Is the Yeti Dog Bowl?
The Yeti dog bowl, also called Boomer, is designed for pets like dogs and cats. It is characterized by durability and dependability, and its scratch-resistant feature along with the rust-resistant property enables the bowl itself to be used both indoors and outdoors. Currently, the Yeti dog bowl comes in two sizes, one of 32 oz (3.1 x 6.75 x 6.75 inches) and the other of 64 oz (3.5 x 8 x 8 inches). The big one is often adopted by big dogs like Golden Retriever while the smaller bowl is designed for small puppies, say, Schnauzer. Despite their sizes and weights, the bowls of two different sizes share the same quality stainless steel that is used in Yeti's bottles and tumblers.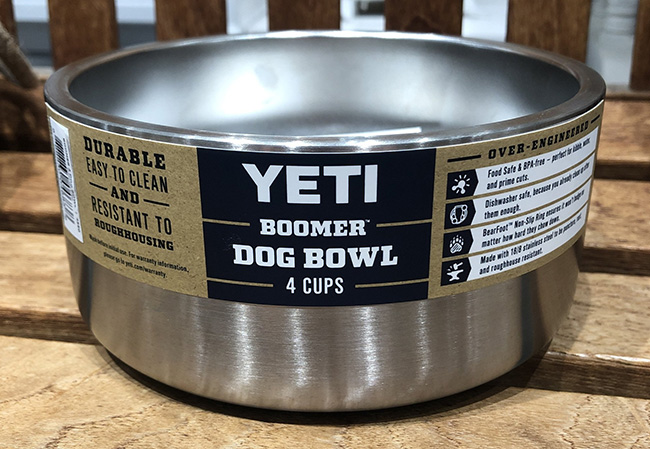 2. Key Strengths of the Yeti Boomer Dog Bowl
2.1 Easy to Clean
It is often the case that the dog bowl gets grimy after being used for a long journey and should be cleaned thoroughly. Dogs may enthusiastically enjoys their meals in the bowl, leaving dust and saliva on the bowl, which may make the bowl smelly and unhygienic. When this happens, the bowl definitely needs tender loving care.
The Yeti dog bowl is entirely dishwasher safe, a considerate design that saves both time and energy for dog owners. As for hand cleaning, a few drops of detergent together with a cloth is enough to wash off dusts and food residuals. In a word, the Yeti dog bowl is quite easy to clean.
2.2 Durability
Yeti is famous for its durability of drinkware products. The Rambler tumbler of this brand boasting excellent wear resistance is pursued by people across the world. Likewise, the durability of Yeti dog bowls is also guaranteed. Their dog bowls are made by food-grade stainless steel 18-8 (SUS304) that is resistant to both scratch and rust. And that's partly the reason why this amazing bowl is dishwasher safe. The tough and sturdy material enables the bowl to fight against dents, and the round design of the bowl leaves little space for dogs to flip over it during eating.
Also, there is a silicon foot at the bottom of the bowl protecting the bowl from being damaged. The bear foot, apart from offering extra protection, plays an important role in stabilizing the Yeti dog bowl. The durable coating made by premium molding powders will not peel or fade with time going by.
2.3 Various Color Options
Another strength of Yeti dog bowl comes from its various color options. Yeti now has released 9 colors of Yeti Boomer 4 and 8 including Navy, Black, Brick Red, Highlands Olive Green, Ice Pink, King Crab, River Green, Seafoam and Stainless Steel. It is expected that Yeti will promote more color options of dog bowls in the days ahead.
The color is so durable and wear-resistant that Yeti claims that they would be as bright as the day customers bought them after years of use. Customization of color/design/lettering is also welcomed in Yeti, which means theoretically each bowl can carry its unique features.
2.4 Hygiene
The Yeti Boomer dog bowl is made by food-grade 18-8 stainless steel that is 100% BPA-free, perfect for holding food and water. Due to its easy-to-clean feature, the bowl can be kept hygienic without too much efforts. The BPA-free bowl allows pet's owners to let dogs use it carefreely as harmful chemicals can never find their way into dogs via the food-grade material.
3. The Yeti Dog Bowl Keeps Dog's Water Cold
Does the Yeti Dog Bowl Keep Water Cold? Yes, it does. The Yeti Boomer dog bowl is engineered with a double-walled stainless steel structure that contributes to keeping water cold longer than a single-walled or a plastic bowl. Although the bowl is not an insulated one, it has an amazing capability of keeping water cold for a long time.
The Yeti dog bowl is a lifesaver especially during the hot summer when dogs are languid due to the high temperature. Therefore, such a stainless steel bowl offers a perfect option to pets to relieve their thirst by getting adequate hydration. Dogs are supposed to drink warm or cold waters rather than hot liquids, so in fact there is no need for the bowl to become insulated. In order to make the water in the Yeti dog bowl cooler, it is advised to leave several ice cubes in it .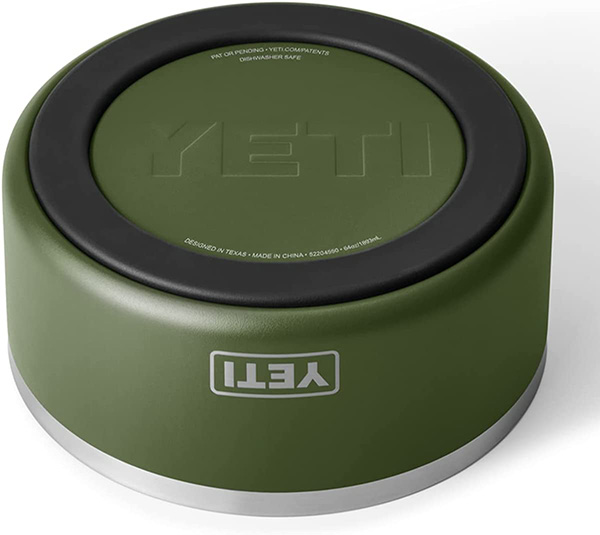 4. The Yeti Dog Bowl Sizes
At present, there are two types of Yeti dog bowls, namely, Yeti Boomer 4 of 32 oz and Yeti Boomer 8 of 64 oz. Yeti Boomer 8 is heavier than Boomer 4, and is often thus left at home for convenience. On the contrary, Boomer 4 is always taken to various outdoor adventures such as hiking, mountain-climbing and camping. In general, the smaller one is suitable for small puppies while the bigger bowl is designed for large dogs.
There is no difference between Yeti Boomer 4 dog bowl and Boomer 8 dog bowl in terms of the quality & material. They are both made by premium stainless steel and adopt BPA-free silicon as the base. The chart below shows the detailed information of Boomer 4 & 8.
| | | | | |
| --- | --- | --- | --- | --- |
| Item | Outside | Empty Weight | Volume | Prices |
| Yeti Boomer 4 | 3.1 x 6.75 x 6.75 inches | 1.2 lbs | 32 ounces | $39.99 |
| Yeti Boomer 8 | 3.5 x 8 x 8 inches | 1.93 lbs | 64 ounces | $49.99 |
5. Characteristics and Specifications of the Yeti Boomer Dog Bowl
The following characteristics and specifications are shared by both Yeti Boomer 4 dog bowl and Boomer 8 dog bowl. They are:
Double-walled stainless steel 18-8 (SUS304)
BPA-free guarantee
Dishwasher safe guarantee
Durable coating
5-year warranty against quality issues
Rust-resistant design
Scratch-resistant design
Puncture-resistant design
Non-slip silicon ring
9 color options
Custom lettering/logo/monogram
Free shipping
Free returns
6. Final Judgement about the Yeti Dog Bowl
To conclude, the Yeti dog bowl is worth purchasing. It keeps water cold longer with the double-walled stainless steel structure. It is amazingly resistant to rust, scratch and puncture, and the silicon foot/ring helps to stabilize the bowl from being flipped over by pets. What's more, the 5-year warranty offered by Yeti against quality issues reassures the customers.
More questions about Yet dog bowls? You are welcome to contact KingStar, the top dog bowl manufacturer that has been producing quality dog bowls for decades.
Order Custom Pet Dog Bowls
Get competitive price and premium custom drinkware from KingStar — Short lead time, door-to-door global shipping, strong Engineering support!