1. What Is Double Wall Stainless Steel Insulated Water Bottle
When equipped with vacuum insulation technology, an insulated stainless steel water bottle can yield better insulation performance. In general, a premium vacuum insulated water bottle adopting double wall stainless steel structure is capable of keeping icy cold drinks cold for up to 18 hours and hot ones warm for nearly 8 hrs. Therefore, this kind of water bottle is also called "thermos flask".
The vacuum insulation technology varies from one company to another. But the core working principle remains the same: there is an airless layer between the double stainless steel walls that can minimize the convection and radiation inside of the bottle. As a result, such a water bottle is free from condensation and sweating issue, and can achieve satisfying insulation outcomes. Applying unique and advanced vacuum insulation technology (such as TempShield of Hydro Flask), many famous stainless steel water bottle companies can win customers' trust and even loyalty, bringing companies much more wealth continuously.
2. How Vacuum Insulated Stainless Steel Water Bottle Works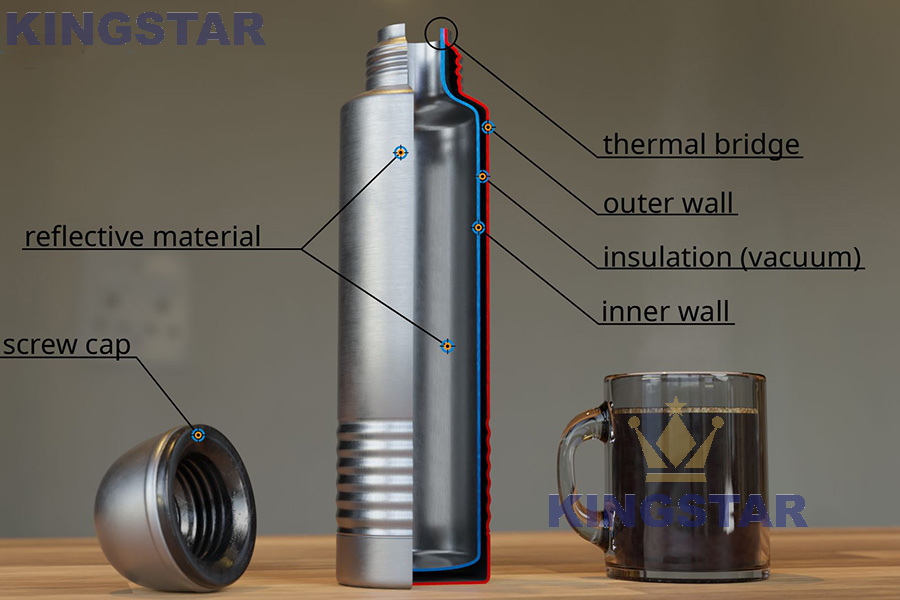 How does a double wall stainless steel water bottle keep water hot for 12 hours or icy cold for 24 hours?
There are three ways of heat transmission:
Radiation
Convection
Transmission
The silver-white surface inside the thermal insulation cup can reflect the radiation of the hot water, the vacuum layer between the double-layer stainless steel walls can block the heat transfer, and the bottle cap that is not easy to transfer heat can prevent the heat convection.
Copper plating of the inner tank can significantly enhance the heat preservation effect. Please refer to this article for details: Insulated Water Bottle: Thermal Insulation Effect of Copper Plating on the Inner Wall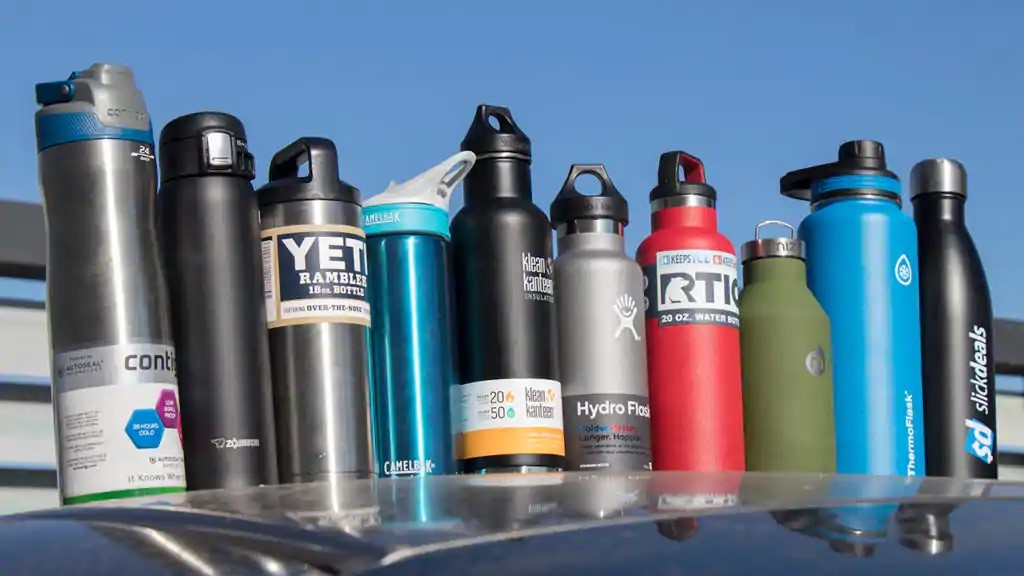 3. How Can I Customize Stainless Steel Insulated Water Bottles
People may need custom stainless steel insulated water bottles for different demands, such as corporate gifting, business gifting, advertising,  event gifting, promotion gifting, holiday gifting, branding, having fun etc. Custom gifts for a variety of demands can be seen everywhere, especially during special occasions such as holidays and events. You may receive a water bottle with custom logo or pattern from your company, or purposefully create your own water bottle to surprise other people with the unique design/pattern/color/logo exclusive for you. Actually, custom stainless steel water bottles have gained increasing popularity among both individuals and organizations. It's time to have your own customized corporate gifts / business gifts / event gifts / holiday gifts.
Custom water bottles are made with different approaches and techniques. Let have a look at the details.
4. Custom Water Bottles with Graphics / Patterns / Pictures   
4.1 Custom Water Bottles with Stickers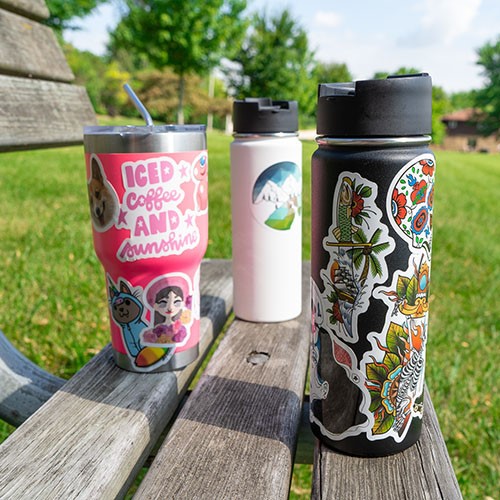 Sticking stickers or labels onto your loved bottle is the simplest and the most convenient way to decorate your bottle. You can buy them from the local shops with low price or just make your own if you have such an amazing skill. It should be noted that the stickers/labels you've bought must be water-proof and anti-scratch, and have strong adhesion, otherwise they may roll up or even peel off the bottle after a certain period of use. KingStar can offer you personalized stickers with good properties.
4.2 Custom Water Bottles with Water Transfer Pattern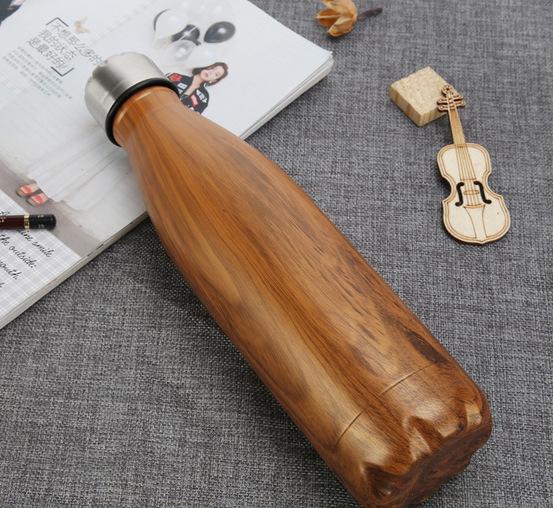 Water transfer glasses with wood grain patterns and marble patterns have been very popular in the market in recent years.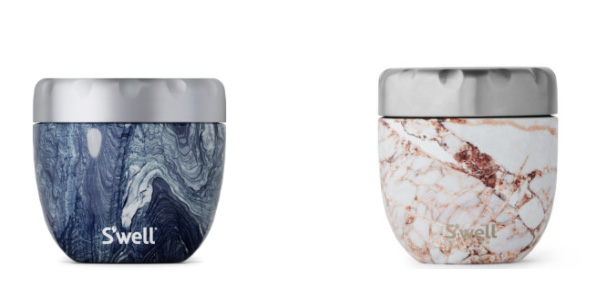 KingStar is the first to introduce water transfer printing technology in the custom water bottle manufacturing industry and has decades of experience in water transfer printing water bottle manufacturing. We can print the wood grain or jade pattern you design on the stainless steel water cup. If you do not have a pattern designed by yourself, it does not matter, our designer can help you design it, or you can choose from our existing artwork library.
4.3 Custom Water Bottles with Sublimation Printing Pattern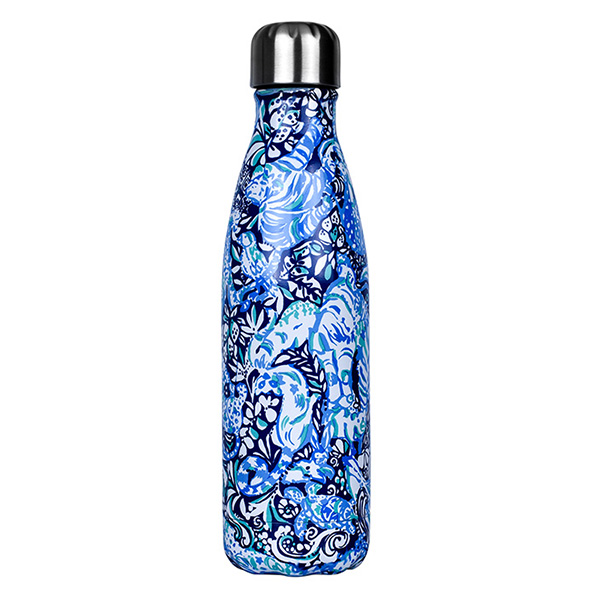 The custom design artwork is printed on paper with special layers with special air-stained ink. Such paper is called air-stained paper. Then wrap the stainless steel water cup tightly with air-dyeing paper and bake it at high temperature. After this process, the pattern on the air-dyeing paper is transferred to the stainless steel water cup. One disadvantage of this printing is the presence of seam lines.
4.4 Custom Engraved Thermos Water Bottles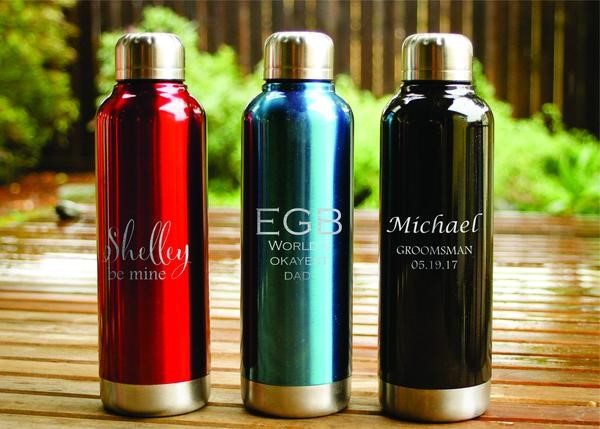 Engraved water bottles are also welcomed by customers as they are fashionable and look high-end. Laser engraving technology has been widely adopted in the customization of stainless steel water bottles. This surface process is complicated and is reasonably pricy compared with other techniques, but the engraved patterns/phrases on the bottle will considerably make your bottle unique and unparalleled.
4.5 Custom Embossed Thermos Water Bottles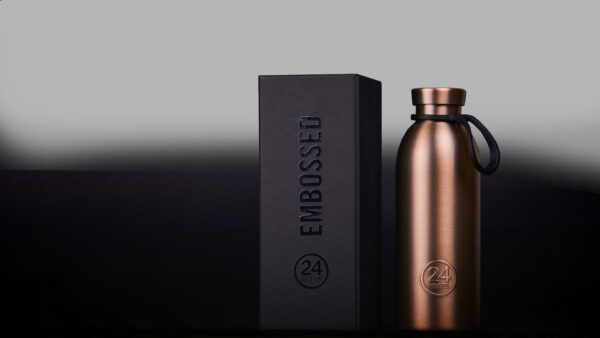 Like the engraving technique, the embossing process also requires high technology and is a little bit expensive. This surface treatment adopts punching or stamping to produce elegant and vivid patterns/phrases/signatures. Custom embossed water bottles are suitable for holiday gifts and company souvenirs. These bottles are usually much more durable with high-end design, generating in people a feeling of luxury and dignity. In consequence, custom embossed stainless steel water bottles are preferred by major companies who are eager to showcase their power and status at all respects. Many well-known brands currently use embossed logos, including Yeti and 24 Bottles.
The way to manufacture custom embossing water bottles / tumblers in bulk requires a custom stamping tooling. You can contact KingStar Team to check how to start.
4.6 Custom Color Insulated Metal Water Bottle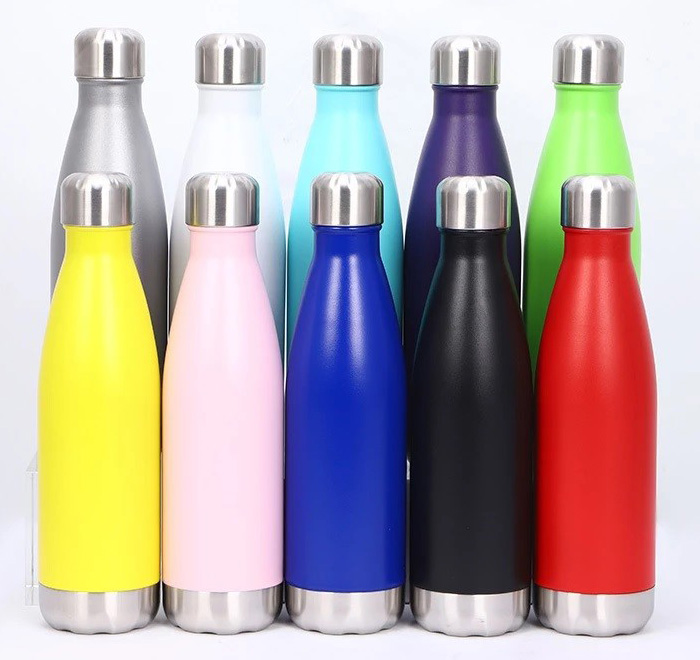 If you intend to have your own custom color water bottles, you are supposed to know the following three basic points about the custom color firstly:
Custom color can be realized through an array of surface treatments including spray painting, powder coating, ceramic coating, polish, electroplating and glitter painting and so on.
Different surface treatments are charged accordingly due to varied costs.
The color of stainless steel is a natural one that is only realized by polishing.
By adopting spray painting, the color of a stainless steel can be dazzlingly bright and vivid.
Powder coating is always applied as it can make the stainless steel water bottle much more durable, anti-rust and anti-scratch.
KingStar matches Pantone code system and is capable of producing any color according to Pantone code.

4.7 Custom Packaging Insulation Metal Water Bottles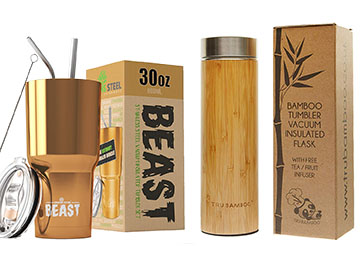 KingStar offers the whole range of packaging materials including gift boxes, display boxes, bubble bags, UPC sticker labels, hang tags, etc. to help boost our clients' brand value. And all these packaging materials can be customized as per clients' requirements. The following is a part of KingStar's packaging solutions:
Custom Gift Box Design
Custom Cylinder Box Design
Custom Set Box Packaging
Custom Set Box Design
Egg Crate Board/Foam Packing
4.8 More Personalized Graphics & Colors & Designs for Custom Insulated Water Bottles
You can never count up the number of custom patterns and designs, why? Because the unlimited imagination fuels us and drives us to create untold numbers of ideas. And with the help of computer aided design, it is now attainable and convenient to print unbelievable patterns onto the bottle, which makes your water bottle beautiful and distinctive. As long as you have new and ingenuous ideas, KingStar, with all its manufacturing process and techniques, can let them come true, and our professional team can help you throughout the manufacturing process. Here we list some of our custom treatments available.
Silk Screening/Silk Printing
Sublimation Transfer
Heat Transfer
Water Transfer
Air Transfer
Digital Printing
Water Decal
3D Printing
The above processing methods all require well-designed graphic patterns. So if you do not have such a drawing document, contact KingStar Team and we can help and work it out for you.
5. What Is the Cost of Manufacturing Custom Insulated Water Bottles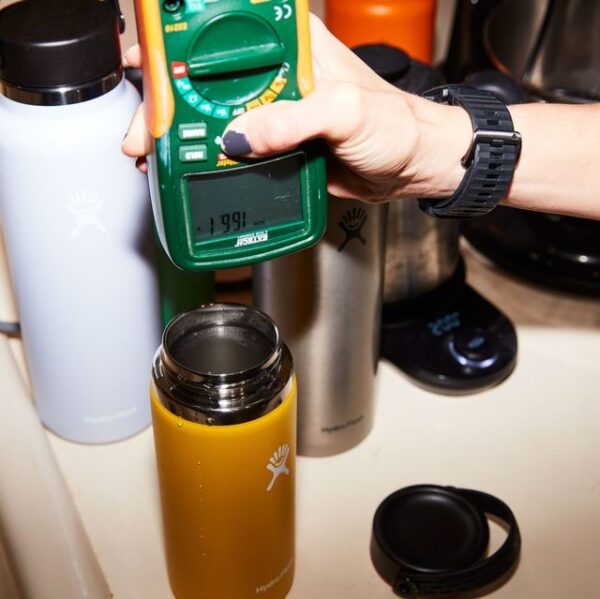 Let's move on to the cost of manufacturing custom insulated water bottles. The final choice of certain custom method will be influenced by the budget.
Custom sticker label: USD 10.00 for sticker plate
Custom logo silk screen printing: USD 20.00 for screen plate
Custom logo laser engraving: 0
Custom embossing logo: USD 500.00 for stamping tooling
Custom debossing logo: USD 500.00 for stamping tooling
Custom color: USD 40.00 for fine tuning color
Custom full graphic printing: USD 600.00 for plating
Custom packaging: it depends on which packaging you choose
Custom shape: it will cost more due to new tooling / molding required
The charge mode of custom stainless steel water bottles also deserves your attention: The cost of product design starts when you launch the project, regardless of the fact that the production has not started yet. The material you choose to make the custom water bottles can not only influence the quality of the final products, but also determine the major cost to a large extent. Your order quantities also exert influence on the entire cost of custom water bottles. Generally speaking, the larger the order, the cheaper the price (shipping rates are no exception).
Besides, you also have to take into consideration the following factors:
Labor costs
The timing of the order
The expenditure of surface treatments
Additional costs such as custom packaging cost
logistics cossts
If you are still confused with the cost of manufacturing custom stainless steel water bottles, you can email or phone us. KingStar has been devoted to producing custom water bottles/tumblers/mugs/beer growlers/can coolers for years.
6. Custom Design with New Tooling Process
Start from a design idea, a sketch, a 3D drawing, a sample, or only an image to make a custom shape insulated stainless steel water bottle with new tooling, KingStar R&D and Engineering team support from design to quality, from tooling development to final shipment for global customers. Hereunder we list the important steps for your better understanding:
With our engineering team support, you need to provide such list before project start officially:
3D design file (.stp format or step format) or CAD drawing
Purchasing quantity
Color (Pantone Number)
Surface Decorating (spray painting, powder coating, ceramic coating, stainless or transfer printing.  –To know more about custom water bottle decorating: https://www.waterbottle.tech/custom-decorating/)
Logo file in .ai format
Process of printing logo (screen printing, laser marking or embossing)
Packaging requirement
Delivery address
The complete purchasing procedure will be:
Client sends RFQ (request for quotation)
KingStar receives drawing and release Design for Manufacturing
Client updates the drawing accordingly if necessary
KingStar releases quotation
Client confirms pricing and payment terms
Client places order and pay deposit
KingStar sends out 3D printed sample to client for approval
KingStar starts tooling production
Tooling completion
KingStar sends out 1st shot sample to clients for checking
Client releases comments on 1st shot sample
2nd shot sample ready
Client provides artwork for packaging
KingStar send 2nd shot samples, complete packaging samples to clients for final approval
Sample approval
Pilot run
Production start
Production finish
Shipping
It usually takes longer than 10 weeks to build tooling and 15 weeks to make custom insulated water bottle lauched.
stainless steel water bottle manufacturing video
Vacuum Insulated Stainless Steel Bottle Tumbler Manufacturing Process
Brief description: Stainless steel arrives at the factory in the form of pines and sheets –> Produce outer bottle and inner bottle –> Assembly and welding –> Vacuuming –> Decorating.
1. Manufacture Outer Bottle
1.1 Pipe cutting: Cut raw material – stainless steel pipe – to the appropriate length.
1.2 Expansion
There are basically two different ways to make stainless steel into the shape of a bottle: water expansion and stretching.
Water Expansion: Stainless steel pipes are raw material for this method. First, stainless steel pipe is put on the water expansion machine. The pipe swells into a bottle shape under the huge pressure of the water. With this method, the bottle formed is with no bottom, so a round stainless steel plate will be welded onto it to form a complete bottle.
Stretch: Stainless steel sheets are raw material for this method. First, the stainless steel sheets are cut into round plates at appropriate size, and then we use a punch press to stretch the stainless steel plate into a cylinder with a bottom.
The outer bottle can be formed by any of these two methods. Water expansion is more popular.
1.3 Separating: If using water expansion process to form outer bottle, then separating process is a must.
1.4 Shaping: Use a large press and follow the "Bottle Shaping Guide" to ensure that the pits, size and shape of the outer bottle meet the requirements.
1.5 Necking: Use a machine to squeeze the upside of the bottle to be a bottle neck.
1.6 Thread Rolling/Making: Threads are made with a special threading machine. Ensure that the thread meets requirements.
1.7 Cleaning: Removes lubricating oil and dust during molding.
1.8 Inspection
2. Manufacture Inner Bottle
2.1 Pipe cutting: Cut raw material – stainless steel pipe – to the appropriate length.
2.2 Expansion. Water expansion or stretch. The inner bottle can be formed by any of these two methods. Water expansion is more popular.
2.3 Separating
2.4 Shaping
2.5 Necking
2.6 Thread Rolling/Making (Normally if outer bottle is designed with thread, there's no thread on inner bottle)
2.7 Cleaning
2.8 Inspection
3. Assembly (Bottle Mouth Matching)
Assemble the inner bottle and the outer bottle together by pressing machine.
4. Bottle Bottom Assembly
Assemble the bottom to the bottle by pressing machine.
5. Assembly (Bottle Mouth Welding)
Weld the inner bottle and outer bottle together to prepare for vacuum insulation. Ensure smoothness, no bumps or solder joints.
6. Assembly (Bottle Bottom Welding)
Weld the outer bottle and the bottle bottom to prepare for vacuum insulation. Ensure smoothness, no bumps or solder joints.
7. Leaking Test
Check whether inner bottle and outer bottle were well welded.
8. Vacuuming
Vacuuming with a vacuum machine.
9. Temperature Test / Insulation Test
Blow hot air into each bottle. If the outside of the bottle is kept cool, it means that the heat from the hot air will not be diverted and the bottle is vacuum insulated. On the contrary, if the bottle gets hot, there is a problem with vacuum insulation.
10. Electrolysis Polishing
Through the interaction of current and electrolyte to improve the micro-geometry of the metal surface, reduce the surface roughness of the metal, so as to achieve the purpose of bright and smooth surface of the stainless steel bottle. Surface of inner bottle to be bright and even, no watermark, yellow dot.
11. Mechanical Polishing
Polish the surface of outer bottle to ensure it is smooth and bottle mouth is smooth and bright. There must be no obvious drawing, scratching, black wire and pits.
12. Cleaning
Clean the bottle and dry it. Make the bottle ready for external coating / decorating.
13. Temperature Test / Insulation Test
Blow hot air into each bottle. If the outside of the bottle is kept cool, it means that the heat from the hot air will not be diverted and the bottle is vacuum insulated. On the contrary, if the bottle gets hot, there is a problem with vacuum insulation.
14. External Coating(surface decorating)
The bottle is now ready for external coating –powder coating or spray painting. KingStar is capable of doing both spray printing and powder coating process.
15. Pattern and Logo Printing
Print the pattern design and logo on the bottle with various techniques – screen printing, thermal transfer printing, water transfer printing, laser etching and so on.
16. Temperature Test / Insulation Test
Blow hot air into each bottle. If the outside of the bottle is kept cool, it means that the heat from the hot air will not be diverted and the bottle is vacuum insulated. On the contrary, if the bottle gets hot, there is a problem with vacuum insulation.
17. Packing
After inspect each bottle, including visual inspection and lid leak test, the bottle is place in a separate bag for packaging.
Order Custom Water Bottles & Tumblers
Get competitive price and premium custom drinkware from KingStar — Short lead time, door-to-door global shipping, strong Engineering support!