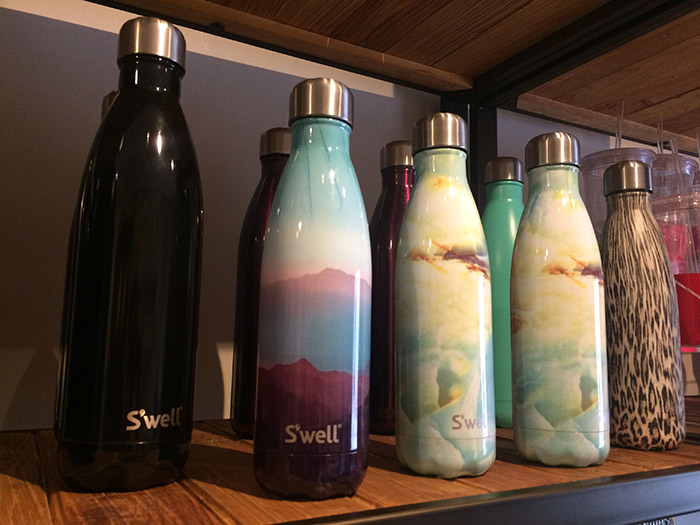 What Material Is Cola Shape Water Bottle Made Of
Cola shape water bottles are made by premium stainless steel 18/8 (SUS304). In general, such a bottle is equipped with a double wall stainless steel structure that enables the bottle itself to have a powerful insulation capability. Stainless steel is a perfect material that tolerates no rust, is able to retain the original taste of drinks, and does not react with most of the liquids. Apart from stainless steel, there is a silicon ring in the stainless steel lid to seal the bottle, which is also BPA free.
The lid of a cola shape water bottle is divided into two types in terms of the material, namely, stainless steel and plastics. A stainless steel lid boasts better insulation performance while a plastic one fails to achieve that. It should be noted that some plastics are not entirely BPA free.
The cola shape further helps to enhance the heat-retaining performance due to the narrowing bottle mouth. Besides, the small opening makes it easier for people to get hydrated and will not give them a heavy face wash in some cases.
Who Owns the Design Patent of Cola Shape Water Bottle?
It is quite obvious that almost every big water bottle brand sells cola shaped water bottles, so who owns the design patent? In fact, cola shape water bottle enjoys a time-honored history and no one owns or will own the design patent, which has also been accepted by the whole line. In other words, selling bottles of such a design does not infringe on the patent right. And when picking up bottles of different brands sharing the same cola shape design, customers seem to lay more focus on the quality, durability and color options of stainless steel bottles.
Why Is a S'well Cola Shape Water Bottle 15 Grams Heavier Than That of a Chilly's?
If you weigh two cola shaped bottles belonging to S'well and Chilly's respectively with the same size and volume, you will find that a S'well water bottle is averagely 15 grams heavier than a Chilly's water bottle. Why?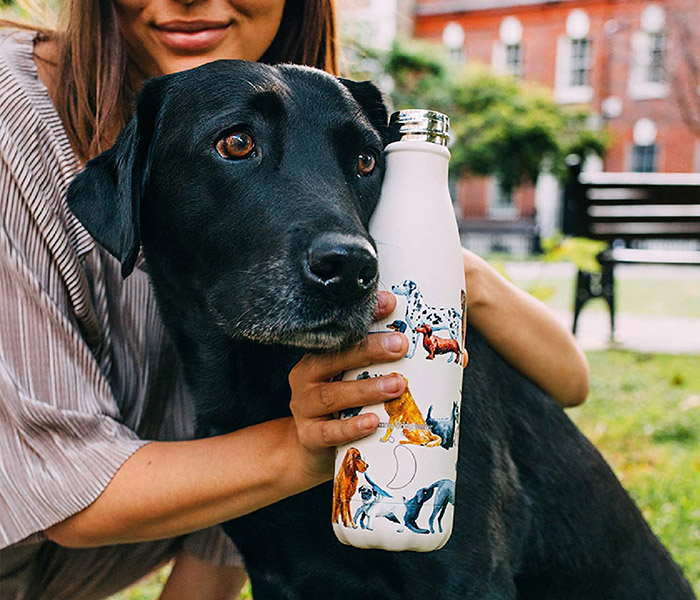 Different Target Markets
Another key difference between S'well wholesale drink bottles and Chilly's water bottles is the main market. S'well takes a good position in the U.S. market while Chilly's is pursued by customers in European countries like the UK. A proper and targeted marketing strategy is crucial to the success of a business, and thus deserves your close attention.
Apart from the classical cola shaped water bottles, these two brands also sell water bottles and tumblers of different types, which should be given close heed to for the cola shape bottles alone can not exactly reflect people's drinking habits. American customers prefer drinking icy cold liquids and use wide mouth water bottles to contain cold water or ice cubes. Therefore, if your targeted market is the US market, you are supposed to cater for their hydration needs to make your business into a lucrative one.
Cola Shape Water Bottle S'well VS Chilly's, Which One Is Better?
Both S'well and Chilly's are renowned water bottle brands whose products have hit the market resoundingly. And when it comes to cola shaped water bottles, S'well's bottles are slightly better than that of Chilly's.
S'well adopts triple-layer insulation technology to achieve an efficient heat-retaining performance. The cola shaped water bottle of this brand is plated with a layer of copper, which enhances the heat preservation function. As for Chilly's, their bottles, also plated with copper on the inner stainless steel wall, are well-insulated ones, too.
S'well bottles are famous for their exquisite and elegant patterns & color options. Appealing colors like Supernova, Angel Food, Blue Granite, Frozen Quest and Milky Way are also given proper and vivid names. Chilly's cola shape water bottles are not to be outdone. The color options of their quality products are endowed with picture-related names: Retro Zigzag, Giraffe, Elephant, Leaves, Flowers and so on. Frankly speaking, S'well seems to be more fashionable while Chilly's exudes the beauty of simplicity.
According to the dropping test, S'well cola shape water bottles do a better job compared to bottles of Chilly's. And the reason has been discussed above — the thickened stainless steel walls. But it should be noted that Chilly's bottles are also durable. The sturdy finish made by quality molding powders is both anti-rust and anti-scratch.
The prices of these two bottle brands are also varied based on different volumes and colors & patterns. The following is a brief price chart for your reference.
| | | | |
| --- | --- | --- | --- |
| Brands | Colors & Patterns | Volume | Price |
| S'well | Supernova | 17 oz | $24.45 |
| S'well | Geode Rose | 17 oz | $34.95 |
| Chilly's | Grey | 17 oz | $25 |
| Chilly's | Flowers | 17 oz | $46.21 |
| S'well | Blue Suede | 25 oz | $33.75 |
| S'well | Calacatta Gold | 25 oz | $45 |
| Chilly's | Elephant | 25 oz | $35 |
| Chilly's | White | 25 oz | $67 |
Note: Figures in the above chart are real-time prices.
In general, Chilly's water bottles are expensive than that of S'well when they are of the same volume. But the price gap between Chilly's water bottles of different colors & patterns is quite large. The White of 25 oz is $32 expensive than the Elephant of 25 oz!
Do Chilly's and S'well Have Their Own Manufacturing Factory?
No, they don't. In fact, approximately 95% of the world's stainless steel water bottles are made in China. Over decades of development, Chinese water bottle manufactures have mastered the complete production of drinkware products and now boast rich manufacturing experience as well as advanced techniques. More than anything, Chinese water bottle suppliers are capable of offering quality stainless steel bottles in bulk with the lowest price, so that's why major water bottle brands across the world turn to China to seek qualified and reliable water bottle manufacturers.
Leading water bottle manufacturer in China, such as KingStar, have produced products for these top brands for many years.
How to Establish a Successful Water Bottle Brand Like S'well and Chilly's?
Building up your own water bottle brand is never an easy task during which you may encounter a variety of issues. There are many procedures and problems ahead waiting for you, which may to some extent drain you. Therefore, it is a must for you to grasp several tips so as to be well-prepared and embrace challenges confidently.
Here KingStar shares with you 3 tips in order to facilitate your understanding. Hope our experiences can really help you.
Tip 1 Research the Targeted Customers, Markets and Competitors
As mentioned above, it is foremost for you to dive into the water bottle market in search for proper audiences as well as competitors. You are supposed to figure out what kind of water bottles your potential customers will purchase based on their hydration habits & shopping habits. In addition, your competitors sometimes can help you as they are the forerunners, so it is advised to adsorb their strengths and business experience to smooth your own.
Choose a good brand name, logo and style for your water bottle business is also important. For example, Yeti promotes the durability of their tumblers, and S'well boasts the insulation performance of cola shaped water bottles. KingStar believes that you can lay the focus on protecting the environment by offering reusable stainless steel water bottles in place of single-use plastic ones. People love living a healthy hydration life, and what they need is a perfect drinking gear to meet their needs. As for the brand name and logo, it is advised that you should pick them up seriously as they may accompany with you for a lifetime and have an impact on your sales. 
Tip 3 Find a Quality Water Bottle Manufacturer
Since you have known who your targeted customers are, what products they want, and what kind of style your brand is, it's time for you to find a reliable water bottle manufacturer so as to meet your customers' orders. KingStar is your best choice. We have been manufacturing above stainless steel cola shaped water bottles for decades and provide one-stop service for you from product concept design to mass production.
Order Custom Water Bottles & Tumblers
Get competitive price and premium custom drinkware from KingStar — Short lead time, door-to-door global shipping, strong Engineering support!