You may have heard of filter water bottles and the well-known brand of filter bottles Brita. But perhaps you do not know how Brita water filter bottle works or where they are manufactured. In this article, KingStar, the water filter bottle manufacturer, aims to share the knowledge of Brita stainless steel water filter bottle with you. Keep reading this article!
What Is Brita?
Brita is a family business originally established in 1966. After more than 50 years of development, this company has become one of the leading giants in the field of water optimization. Brita is an expert in household and professional water filtration products. At present, Brita headquarters has been involved in the four continents of America, Europe, Asia and Africa.
What Are Brita Stainless Steel Water Filter Bottles?
The Brita stainless steel water filter bottle has a capacity of 32 oz, offering adequate water for your hydration. This bottle, different from other normal water bottles that can not filter impurities, is magically enhanced with a replaceable Brita filter. This filter, fitting in the straw, can adsorb water and help to get rid of unpleasant impurities, presenting you a quality drinking experience. Besides, this replaceable one can also to some extent improve the taste of water as it reduces chemicals like chlorine!
The Brita stainless steel water filter bottle has a remarkable heat retaining capability that is able to keep water warm for 24 hours or cold for up to 12 hours. The excellent insulation performance comes from the double-walled stainless steel and a leak-proof lid. The lid also plays a vital role in sealing the temperature inside of the Brita bottle.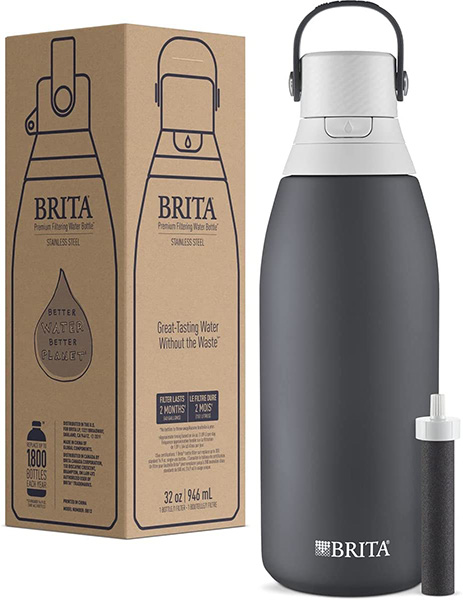 It is suggested by Brita that the bottle filter should be replaced about two months or after 150 liters of hydration.
How Do Brita Water Filter Bottles Work?
In terms of the insulation function, Brita water filter bottles adopt two walls of stainless steel to construct a vacuum space from which the heat can hardly escape. In an ideal setting, Brita water filter bottles can keep water warm for up to 24 hours (cold for 12 hours).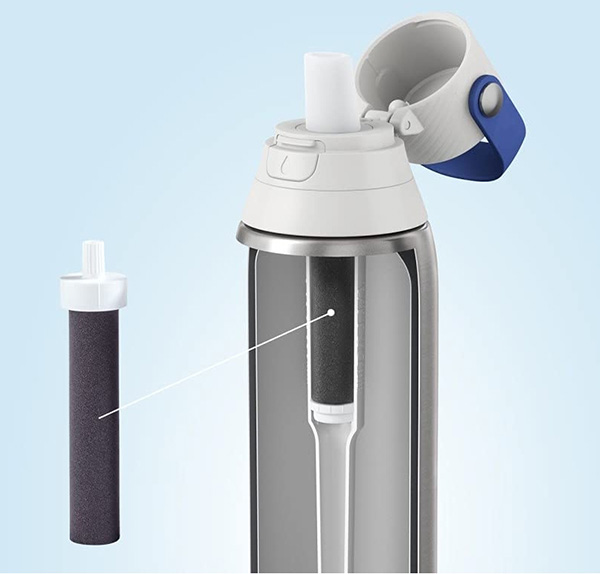 In terms of the filtering function, Brita uses replaceable BPA-free plastic filters to remove impurities in the water. This innovative design really helps you to enjoy your hydration carefreely, and you can consume clean and tasty water to your hearts' content.
How to Use Brita Filter Bottles?
In fact, it won't take you a minute to set up a Brita stainless steel water filter bottle. You can simply follow the 5 steps below.
Step 1: Rinse the filter with cold tap water for 15 seconds.
Step 2: Carefully insert the filter into the straw and make sure you lock it.
Step 3: Twist the straw into the bottom of the lid. You can pull the straw back softly to check
whether it is in position.
Step 4: Fill the Brita stainless steel water filter bottle with cold tap water.
Step 5: Slightly shake the bottle and wait for 5 to 10 minutes before getting hydrated.
Note: Do not rinse the filter overtime as you are actually shortening its service life.
Do Brita Filters Really Work?
The importance of drinking clean water has already been known to the public. However, water pollutants such as chlorine and mercury may be contained in the water we consume everyday. Once they are adsorbed into our body, these bad elements may pose threat to our physical health and affect our metal state as well. Therefore, we do need water impurity filters to better clean "the origin of life".
Brita claims that their water filters can help to get rid of harmful stuff in the tap water, making it clean and healthy for daily hydration. Besides, they also point out that buying Brita water filter bottles is actually saving money and much more environmentally friendly compared to repeatedly buying filtered bottled water that is often packaged in plastic.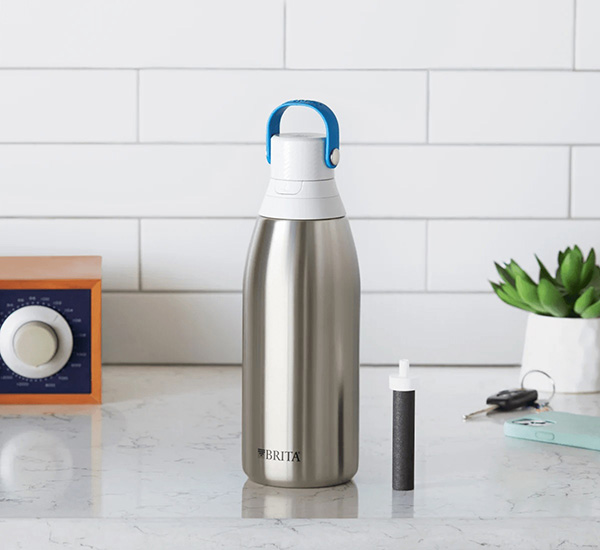 When it comes to the cost, purchasing Brita water filter bottles is quite economical. Brita offers you a stainless steel water bottle bundled with a free filter (the original filter fee is actually contained in the entire price), and advises you to replace the filter about two months or after 150 liters of hydration. The extra filters are sold in a pack of 6, exactly meeting a year's requirement for hygiene/regular cleaning.
Therefore, if you want to make that expenditure worth or aim to live a healthy hydration life, you have to use the Brita filter water bottle on a regular basis. Just as most of the health experts suggest, you are supposed to consume adequate water for your daily activities so as to minimize the possibility of potential diseases such as cardiovascular disease and constipation.
It is guessable that people may worry about the actual performance of Brita filters as they can not observe the tiny and nearly invisible impurities in the tap water by the naked eyes. This filter bottle does reduce the amount of impurities such as lead, mercury and chlorine. What's more, the comparison test also indicated that the amount of bacteria also dropped to a considerably small degree. The actual performance of Brita stainless steel water filter bottle is great and you should leave your redundant worries behind.
What Chemicals Do Brita Filter Bottles Remove from Water?
Brita filter uses activated carbon technology to adsorb chemicals such as chlorine, lead and mercury. Activated carbon is produced by raw materials that contain carbon (like wood, coal and petroleum coke) through pyrolysis and activating process. The practical activated carbon is home to both advanced pore structures and chemical surface groups that are in charge of the heavy task of catching/adsorbing impurities. Brita filters are BPA free and are compatible with all the hard sided and sport soft sided kinds of Brita bottles. You just have to choose the appropriate filters and you can then enjoy the great fitness of these magic sticks.
One filter can offer 2-month service. If you do not replace it or forget to install a new one, the filter would function ill as there is little space for the activated carbon to catch and store chemicals. It is suggested that if you want to meet one year's need for hygiene, you can simply pick up a pack of 6.
How to Clean Brita Filter Bottles?
Before KingStar shares you with the cleaning method, you are supposed to bear in mind that Brita stainless steel water filter bottles are NOT suitable for dishwasher. So please clean your bottle by hand!
 Things you may need to prepare for the cleaning method:
Baking soda
Bowl
Mixing bowl
Spoon
Stirrer
Towel
First, you should take down the lid and the filter before starting the washing job as the filter should not be washed in case of failure (the filter may be over used). You can fetch an empty bowl and put the filter into it, leaving it aside. You have to prepare baking soda, a natural cleaning material as well as a household material that has been widely adopted in cleaning products and will not generate any side effects. It also has a whitening capability that can help you to remove the stains and mould on your Brita stainless steel water filter bottle.
Take several spoons of pure baking soda and put it at the bottom of the mixing bowl before pouring water into the bowl. It should be noted that you cannot add too much water into the mixing bowl, which may dilute the mixture and can not produce a qualified paste. But if you have poured that amount of water into the bowl, then you must add extra baking soda to thicken the mixture.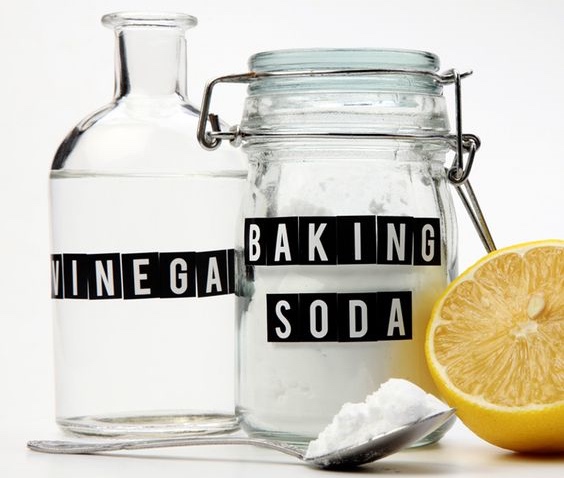 After that, you are supposed to use the stirrer to mix them until they become a paste. Spread the paste both inside and outside of your Brita stainless steel water filter bottle comprehensively and then use a towel to wipe off the paste. In an ideal situation, most of the stains and mould would be removed together with the paste and the only thing you are going to do is rinse the bottle and its lid completely. But if some smelly stains continue to stick to the inner wall, you can repeat the above process for another time to get rid of the residues.
Eventually, you should dry the bottle, the lid and your cleaning tools in a well-ventilated place before assembling the Brita bottle. Also, make sure your bottle is kept out of direct sunlight.
Note: If you want to enhance the cleaning performance, you can add several drops of lemon juice into the water. It works quite well!
Brita Water Filter Bottles Reviews
Here comes 6 typical reviews about Brita stainless steel water filter bottle for your references and some come from our followers.
I definitely love this Brita bottle and bought it long before watching related blogs.
I will recommend you to buy this bottle. This one is amazingly good! If you want to improve the flavor of your water, you can buy some flavors from other brands and add them to this damn good baby. Really, it can make your drinking much more interesting. Yes, I hope Brita can release their own flavor cartridges ASSP!!!
I bought Brita and have kept buying their replaceable filters for years. Their innovative and smart design is the best I have ever seen in water bottle products.
WOW, I haven't seen any products that can be so healthy and clean like Brita filter bottle before!
Your blog really helped me a lot. When I did not know whether I should pick up a Brita plastic water filter bottle or a stainless steel one, I came across your articles about the benefits of stainless steel. Luckily, I made my decision before jumping into purchase. I will regularly read your blogs now and wish you will post more quality ones!
Yes, Brita filter bottles are good for our health.