When you're preparing for a relaxing and healthy holiday with loved ones on camp, what will be the definite necessities for everyone? The answers might not be the same, but there is definitely one essential – Drinking water filled in a robust water bottle, of course. And it's better to be warm – or chilly, according to your various needs. So here comes a wonderful choice for you – an insulated bottle. However, within all those dazzling water containers on Amazon or in supermarkets, which seems to be the perfect one for you? As the leading camping water bottle manufacturer, KingStar will share our picks here.
Why We Pick Metal over Plastic?
Of course, a ceramic or glass travel mug won't be the one for a camping, but you might wonder – why do we kick plastic bottles out?
The answer is pretty simple – for durability. Plastic bottles, unlike those made of stainless steel, comes into scratches after falling onto a hard rock. It might not crack and leak, but why don't we avoid the risk once and for all? After all, this is strolling between woods and stiff rocks we're talking about.
Factors of Picking a Satisfying Stainless Steel Camping Water Bottle
Appearance – Polish or Powder Coating?
This one is not only listed here for eye-catching during camping. (But then again, it's still nice to catch some eyes with a stylishly designed, elegantly coated metal water jug standing out in regular ones.)
Compared to classic yet simple polished surface, powder coating involves spray guns for attaching powder particles onto surfaces of insulation bottles, and thus creates a protective layer against abrasion and other wearing issues caused by accidentally falling. Thus, powder-coated insulating water bottles survives longer than those with regular polished.
Opening – Narrow or Wide?
It's a tough question – different people, different views. For certain people, the drawback of wide mouth insulated stainless-steel bottles lies in spilling during drinking.
But on the other hand, narrow mouth insulated water jugs are comparatively harder to clean up, not to mention fill or refill. And for those who prefer fruits or ice cube in their drinks, they will almost certainly turn to wide mouth thermos flasks.
Wall – Single or Double?
Double layers inside hydro water jugs help in sealing temperature. This advanced design creates a vacuum environment, in another words, nicer temperature retention, inside water bottle. For hot beverage lovers and those who prefer a nice and warm soup by fire during camping, a hydro flask vacuum water bottle will be a wonderful companion.
And not only a vacuum flask seals warmth – it also keeps the chilly flavor of your drink. If you can't say no to a beautiful night sitting in forest, sipping icy beer and surrounded by loved ones, then don't miss a fashionably designed hydro vacuum water bottle.
Handle – With or Without?
The answer to this seems undoubted – it's better to come with a handle. It's easier to carry, besides, how do you move your thermos flasks away from a heating plate without handle, if you have to heat your dinner and night snack with this hydro flask?
No matter which, water bottles with handles will be an excellent choice for a relaxing camp – in another word, travelling light.
Capacity – Large or Small?
Similar with the question of openings, this is also a choice of opinion.
A camping lasts for 2 to 3 days as usual, which is comparatively a long term that requires enough hydration, aka, enough water store, for health and more enjoyable activities engagement.
But does it mean the bigger the better? Not exactly. Larger insulated water bottles weighs more than those with smaller volumes, and thus causes inconvenience in certain extent. Our suggestion is to make a practical judgement based on personal situation before jumping to the conclusion.
Conclusion – Which Type Suits Hiking and Camping Most?
Hiking – It will be in field or on mountain, so the first factor will be durability. And a comparatively big capacity for water supplement.
Camping – Obviously it takes much longer than hiking and it involves spending nights in a hand-made tent. For these reasons, an ideal choice of stainless-steel beverage bottle should be fitted with these features below – durability, big volume, effective temperature perseveration, and last but not least, convenience.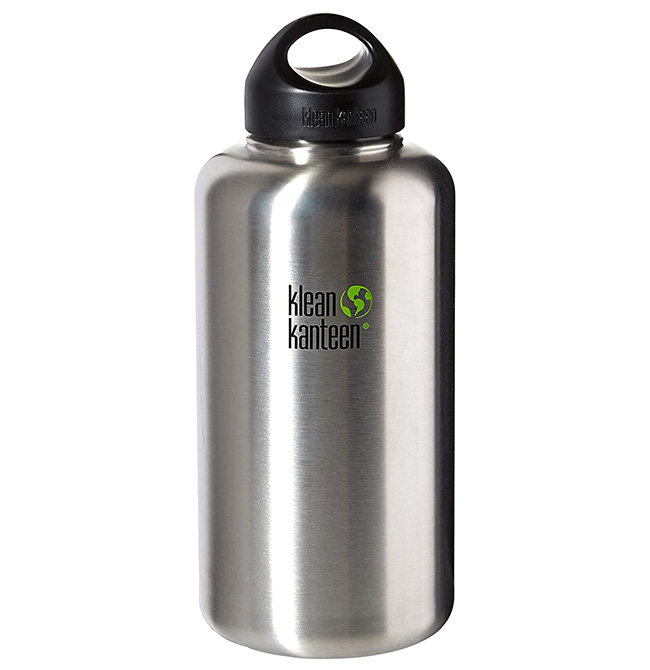 Five Best Stainless Steel Water Bottles for Camping and Hiking
Klean Kanteen Wide Mouth Insulated Water Bottle
Let's begin with a classic one. Don't be fooled with its stainless steel of an appearance – this flask is totally light to carry. And after your vacation, you will find it easy to wash and clean, and if you're worn-out from a long hiking/ team building travel or desperate to take a shower, just put it inside your dishwasher and voila – it will get itself cleaned-up!
Disadvantages – it cannot keep your beverage chilly for long time, and as we mentioned, it comes without the protective layer of spray coating.
Simple Modern Stainless Steel Vacuum Insulated Wave Bottle
What a shiny, gradient bottle! And its lid is attached tightly to avoid leakage. As for insulation, this water bottle is sealed with vacuum so your soda will remain chilly and you tea will stay warm.
Disadvantages – Your first using might have to be companied with a taste of metallic, which could be hardly avoided. And its narrow mouth might not suit ice cube putting and fruit adding during camping – or maybe just one or two.
Hydro Cell 64oz Wide Mouth Water Bottle
Impeccable – this is the first impression this bottle leaves in us. Its large, wide mouth allows shoveling a large quantity of ice cube into your refreshing carbonate beverages which remain chilly even after 12 hours; its inner technology comes with two layers ensuring vacuum; and here comes the best part – it's also with convenient handle and leaking-avoiding lid!
Disadvantages – It's relatively a little large for hiking – 64oz.
Glacier Point Stainless Steel Water Bottle
Medium appropriate size for carrying, food grade material that guarantees quality and safety, and this vacuum water flask punchlines itself with a unique feature – there's a straw! Imagine sipping refreshing drinks from a portable bottle without any effort pulling out the lid – how enjoyable it is.
Disadvantages – It's design of a straw inside could have been the finishing touch. But to be fair, the suction power lacks a bit.
Healthy Human Water Bottle
Isn't this title appealing? So does how it look. It's easy on the eyes with streamlined appearance and gradient color.
And its beauty does not only show on the outside – it's with big league insulation of maximumly 24 hours for icy drinks! Its leak-proof is also worth trusting, not to mention a bigger advantage – it will be sweat-free, so don't worry about spilling.
Disadvantages – its capacity is only with maximum of 40oz.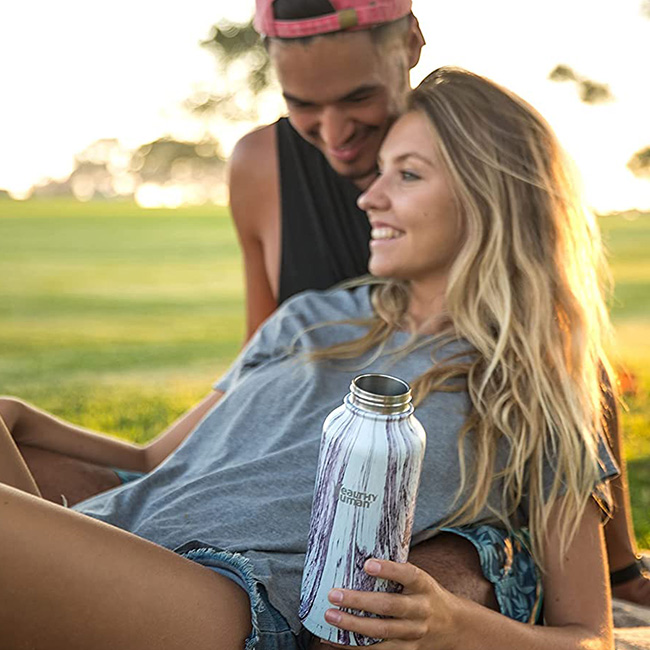 KingStar's Recommendation
Hydro Cell 64oz Wide Mouth Water Bottle
For camping – This one owns all fantastic features we're looking for – bright and diverse colors, delicate spray coating, easy-to-carry design, handles for convenience, and so on. Its robustness allows long termed using, not to mention its vast volume that accommodates enough delicious drinks (or soup, who knows?) for everyone.
For hiking – It's slightly big for a relatively short hike (for like a few hours), but compared with all those advantages, doesn't it seem totally innocuous? Besides, hiking in the upcoming summer comes certainly with vast sweat and even exhaustion – which, could be perfectly relieved with a whole bottle of chilly water with a little salt for electrolyte supplement.
Get competitive price and premium custom drinkware from KingStar — Short lead time, door-to-door global shipping, strong Engineering support!