I. What is a Hydro Flask
Hydro Flask is a water bottle brand in the United States. A Hydro Flask water bottle is made of kitchen-grade stainless steel 18-8 (SUS304) that contains no BPS or BPA, safe for hydration and recycling. Premium stainless steel prevents bacteria from growing inside of the bottle (when well cleaned), and this material tolerates no stink once cleaned. Unlike plastic water bottles that are disposable, Hydro Flask stainless steel water bottles are 100% eco-friendly and recyclable. Therefore, drinking with such a bottle is making contribution to the sustainable growth of the world.
This brand has invented a triple-layer insulation technology that features a double-walled stainless steel structure. And it is this powerful tech that enables a Hydro Flask bottle to keep contents cold for up to 24 hours or warm for 12 hours! The outstanding temperature-maintaining capability overshadows many water bottles on the market.
The durability Hydro Flask water bottles is highly touted. A Hydro Flask adopts thickened stainless steel walls to better withstand impact, which also directly enhances the insulation performance. The medal disk inside of the bottle is in charge of absorbing moisture, bolstering the anti-condensation function of the bottle itself. The durability of a Hydro Flask also partly owes to the quality molding powder that makes up the finish (coating).
Additionally, Hydro Flask water bottles are characterized by incredible portability, allowing customers to bring them to a variety of adventures. The bottle is also designed with a comfortable touch and a good grip. When it comes to the personalized options, Hydro Flask offers customers custom sizes and models.
II. Is it necessary to wash a Hydro Flask?
In the previous part KingStar has pointed out that stainless steel tolerates no bacteria when a Hydro Flask is thoroughly cleaned. So if not maintained properly, will a Hydro Flask be home to germs, mold and bacteria? The answer is undoubtedly yes, it will.
Germs will kick in the Hydro Flask bottle (actually, all the bottles in the world succumb to them) when it is used for hydration without a proper maintenance. Every sip and swill helps to the accumulation of annoying bacteria. At first, you may not observe the presence of them, but later they may bring about health-related issues like diarrhea and headache as they are multiplying! In addition, the growing germs and bacteria lead to discoloration of a Hydro Flask water bottle, which means the good look of the bottle is also seriously affected. The rarer it is cleaned, the worse it will become.
Here is a good news. Compared with a plastic water bottle, a Hydro Flask stainless steel water bottle is much easier to maintain when it comes to the cleaning. The hard and sturdy material is both anti-scratch and anti-rust, leaving no crack for bacteria to hide. And the natural function of this alloy (stainless steel is actually a kind of alloy) is conducive to pushing bacteria away.
If a Hydro Flask is used to store liquids such as tea, juice, coffee and soft drinks, it is advised to carry out a complete cleaning once the liquids are drunk off at once. If the bottle is filled with water, then the washing period can be extended to a week.
III. Are Hydro Flasks dishwasher safe?
Our conclusion goes first: the answer is yes and no.
Traditionally, Hydro Flask water bottles (like the yellow one in the picture below) are not dishwasher safe. After being washed in the dishwasher, the insulation function of the Hydro Flask water bottle is weakened, and the powder coating is ruined. Things become worse when the cap and straw are washed in this machine.
However, in 2020, with KingStar's engineering support, Hydro Flask has released a new model. It is so called Hydro Flask 2.0, which is entirely dishwasher safe. A small change of the neck makes a difference. Currently, the hot temperature no longer damages the external finish, and the insulation performance will not be negatively affected, either. This new Hydro Flask stainless steel water bottle saves both time and labor!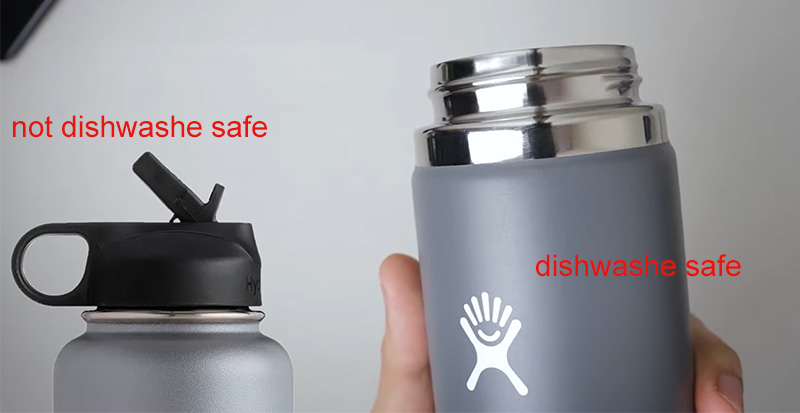 IV. Are Hydro Flask caps, lids, and straws dishwasher safe?
What about other parts? Are Hydro Flask caps, lids, and straws dishwasher safe now?
Unfortunately, although Hydro Flask has upgraded its products and promoted the new one that is 100% dishwasher safe, the cap, including the flex cap, flat cap, sports cap, and the loop cap, continues to be safe only for hand wash.
So why does KingStar make a list about caps that are not dishwasher safe? Yes, you have known the answer – there are Hydro Flask lids & caps that are applicable for dishwasher: the Hydro Flask flip lid, wide mouth straw lid and flex sip cap.
V. Cleaning a Hydro Flask manually
Apart from using a dishwasher to clean a Hydro Flask, it is also feasible for customers to wash it by hand. Here KingStar, the Hydro Flask manufacturer supplier, shares with you an easy and useful cleaning method.
Remove all the components: Before washing a Hydro Flask water bottle, you are expected to remove all the dismountable parts including the lid, the straw, the parachute cord handle and the boot. Removing the components can eventually achieve an in-depth cleaning of the water container.
Use warm water with a soap: You are supposed to wash each part of the Hydro Flask bottle with warm water. KingStar suggests you use a wet cloth dipped in soap to wipe both the interior and exterior of the bottle, which makes the cleaning job much more effectively. Rinse the Hydro Flask bottle to get rid of the residual soap foam before putting it onto a dish rack for dry.
Clean the straw and the lid: These two parts should be cleaned carefully as they offer places for germs and bacteria to hide. Cleaning the straw and the lid manually directly retains the service life span. Again, rinse them with warm water, because hot water brings permanent damage to these comparatively vulnerable parts.
Dry each part: The drying process is of vital importance as the remaining moisture will provide living conditions for molds, germs and bacteria to grow. It is advisable for you to dry them in the shade without exposing them directly to the sun, and make sure each part remains apart before recollecting and installing them.
Other alternatives: If the cleaning outcomes are not agreeable, try vinegar, baking soda or ready-made cleaning solutions.
Use vinegar: Distilled white vinegar is a naturally bacteria killer who is capable of removing annoy molds/bacteria/germs easily from the Hydro Flask water bottle. Pour 3 to 5 teaspoons of vinegar into the water and mix them for half a minute a day before applying the home-made solution to wash the bottle. Although vinegar is edible, it would be better for you to rinse the bottle thoroughly in case of the smell of it.
Use baking soda: Baking soda is a household kitchen supply and works quite well when applied to clean the Hydro Flask water bottle. Fetch a certain amount of water and 3 to 5 teaspoons of baking soda to create a paste for scrubbing. And use the paste to remove the remaining stuff in and on the bottle.
Use ready-made solutions: Go and get them from the local shop and follow the product instruction step by step.
VI. Common mistakes when cleaning/using a Hydro Flask
Soaking a Hydro Flask water bottle with hot water is the worst thing you can do. Please do not underestimate the severity of wash the bottle with hot water, which weakens the insulation function by lowering the effectiveness. Also, the coating that sticks to the outer stainless steel wall may peel off due to the high temperature.
It would be bad to freeze the Hydro Flask bottle in the refrigerator. Some people may seek for a further temperature drop inside of the bottle and choose to put Hydro Flask bottles in the refrigerator or freezer. Well, if it is a plastic water bottle, then their actions are acceptable and feasible as the temperature inside of a plastic water container can be easily affected. However, Hydro Flask adopts triple-layered insulation technology that minimizes activities such as radiation and convection, in other words, the bottle will not be affected by the external temperature.
According to KingStar's experiment data from Customer Service Department, a Hydro Flask can remain piping hot water warm for almost 8 hours when placed in a refrigerator! If customers really want to make their drinks cooler, try to pre-chill the bottle with ice cubes instead of wasting the time putting bottles in the freezer.
It would be bad to heat up the Hydro Flask bottle in the stove. Likewise, some people may try to heat up the water in the bottle to make it hot again, thus putting the bottle in the stove. Their labor ends in vain, too. The good sealing together with the unique insulation structure prevents it from happening.
Washing Hydro Flask water bottles in bulk with chlorine and bleach are not recommended. These strong solutions do clean the bottle, yet they will damage the bottle reducing the effectiveness of it.
VII. Where are Hydro Flask water bottles made?
Hydro Flask water bottles are made in China.
Want to establish a water bottle brand like "Hydro Flask"? You are the right place. KingStar is the leading insulated water bottle manufacturer who provides one stop custom water bottle manufacturing service. Our strong R&D team will help you from product design, molding fabrication, mass production, quality control to globally shipping.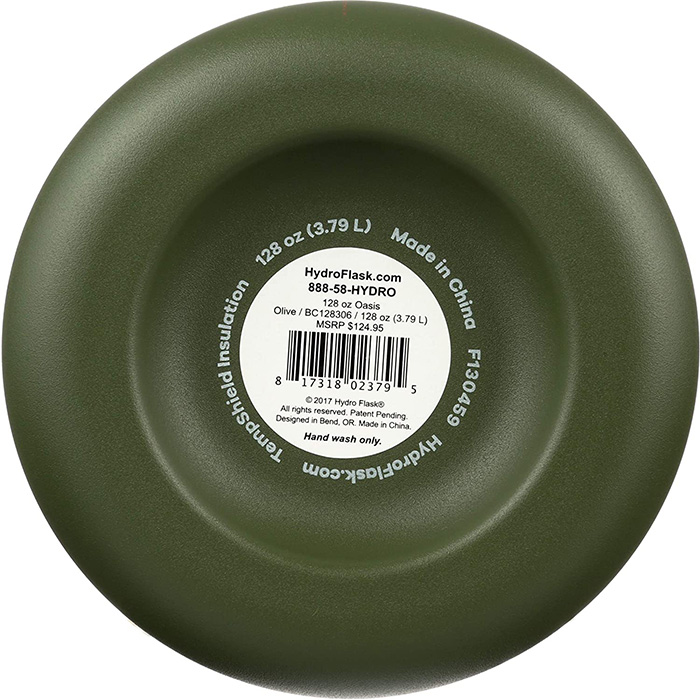 Order Custom Water Bottles & Tumblers
Get competitive price and premium custom drinkware from KingStar — Short lead time, door-to-door global shipping, strong Engineering support!