Are you in the market for a 40 oz tumbler with a handle and straw lid? If so, you may have already come across the popular Stanley brand. However, if you find that they are currently out of stock or you are looking for a more budget-friendly option, you might want to search for other 40 oz tumblers. This is where the KingStar 40 oz tumbler comes in. Not only does it offer a similar design and functionality to the Stanley tumbler, but it also comes at a lower cost, making it an attractive option for those on a budget. And in this article, we will take a closer look at both the Stanley and KingStar tumblers, highlighting their similarities and differences, to help you decide which one is the right choice for your needs.
1. What is Stanley 40 oz tumbler with handle?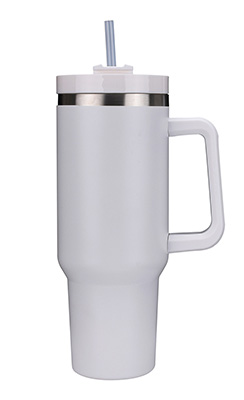 When it comes to Stanley 40 oz tumbler, Stanley adventure quencher travel tumbler is most likely to appear in our minds. This series hit the market and different social platforms. And they are even out of stock on the official website for a long time. But customers are willing to wait and pay for the high price of Stanley tumblers cause they all know that Stanley is worth of its best quality as well as design. This series of Stanley 40 oz tumblers have two versions, named as Stanley original adventure quencher travel tumbler and Stanley adventure quencher travel tumbler H2.0. As for the two versions, we have two detailed articles to introduce them. If you are interested, you can take a look at them. (Why is the Stanley Adventure Quencher so popular? / Stanley Adventure Quencher Travel Tumbler VS Quencher H2.0)
2. What is KingStar 40 oz tumbler with handle?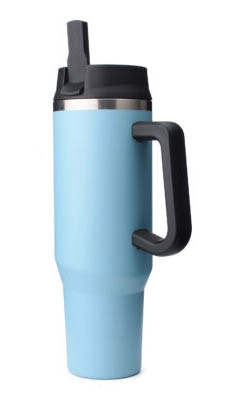 This tumbler, a highly-regarded insulated drinking containeris a hit product in KingStar. It has been expertly designed to meet the needs of discerning consumers. Crafted from top-grade stainless steel, this tumbler is built to last, providing you with a long-lasting and reliable drinking vessel that can withstand the most demanding environments and usage patterns.
One of the key features that sets the KingStar 40 oz tumbler apart from other insulated tumblers is its perfect fit for cup holders. This is a detail that may seem small, but it can make a big difference in terms of convenience and ease of use. Whether you're commuting to work or embarking on a long road trip, the tumbler's ability to fit snugly into most cup holders means you'll always have easy access to your drink, without having to worry about it spilling or tipping over.
In addition to its convenience, the KingStar 40 oz tumbler also offers superior insulation performance. Thanks to its double-walled construction, this tumbler can keep your drinks hot or cold for extended periods of time, without affecting the temperature of the exterior. This means you can enjoy your beverages at the perfect temperature for much longer, whether you're sipping on iced tea on a hot summer day or savoring a hot cup of cocoa on a chilly winter night. Also, the tumbler comes with a handle, making it easy to carry around. It is also equipped with a leak-proof lid that prevents spills and ensures that your drink stays fresh for longer. The tumbler is suitable for use at home, in the office, or while on the go, and is a popular choice for outdoor activities such as camping, hiking, and picnics.
3. Comparison between Stanley 40 oz tumbler and KingStar 40 oz tumbler.
Reading here, you can find that our 40 oz tumbler has similar design together good performance to the one from Stanley. To verify what we say and to give you a clearer comparison, we get our professional engineering team to do a test for the two cups. And we will show the outcome as follows.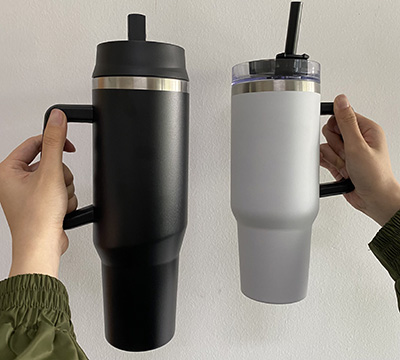 Appearance
The two tumblers with the same capacity are both perfect for the cup holders. But their dimensions vary a little bit from each other as well as the lids. The test from our engineer shows as follows:
| Brand | KingStar 40 oz Tumbler | Stanley 40 oz Tumbler |
| --- | --- | --- |
| Height | 12.5  (straw height included) | 12.3 inches  (straw height included) |
| Mouth Diameter | 3.74 inches | 5.82 inches |
| Bottom Diameter | 2.95 inches | 3.86 inches |
Tumbler bodies Materials
Both KingStar and Stanley adopt the food-grade stainless steel for their products, 18/8 stainless steel which can be recycled as well as BPA-free. You don't need worry about whether the water would be toxic while using the two tumblers. Besides, the high-quality 316? features the two drinking ware with durability. From our engineers, it won't do any damages to the both tumblers if you drop them on the floor from a table whose height is around 1.5 meters.
Lids
Apparently, the two lids in the above picture look different, a black all-in-one straw lid for KingStar and a clear lid with straw apart for Stanley. If the straw is dirty, you can change it with a new one for Stanley while you need to change a new lid for KingStar. But KingStar's lid gives the tumbler better sealing ability than Stanley's. Even you turn the whole tumbler with water around, no water will drop onto the floor.
| Brand | KingStar 40 oz Tumbler | Stanley 40 oz Tumbler |
| --- | --- | --- |
| Materials | Food-grade plastic | Food-grade plastic |
| Colors | Black | Clear |
| Straws | All-in-one | Apart |
| Leak-proof | Yes | No |
| Spill-proof | Yes | Yes |
| Rotating | No | Yes |
Coating
Our engineer team shows us that both tumblers from Stanley and KingStar are coated by powder, which is highly durable and resistant to chipping, fading, and scratching, making it ideal for tumblers that are meant to be used on a daily basis. The powder coating also creates a protective barrier that helps to prevent rust and corrosion. In addition, powder coating can create a smooth, even finish that looks professional and uniform. It can also be applied in a wide range of colors and finishes, including glossy, matte, metallic, and textured.
Insulation Time
This part must be the most important one for you. According to our engineer team's test, both the KingStar 40 oz Tumbler and the Stanley 40 oz Tumbler are effective in keeping drinks hot or cold for extended periods of time. However, there are slight differences in their insulation abilities. The Stanley tumbler has been found to keep drinks hot for 7 hours, which is slightly longer than the KingStar tumbler, which keeps drinks hot for 6.5 hours. The Stanley tumbler also keeps drinks cold for 11 hours, which is again slightly longer than the KingStar tumbler's 10-hour cold retention. When it comes to ice retention, the Stanley tumbler performs slightly better than the KingStar tumbler, as it can keep ice for almost 2 days, while the KingStar tumbler can keep ice for 1.5 days.
| Insulation Time | KingStar 40 oz Tumbler | Stanley 40 oz Tumbler |
| --- | --- | --- |
| Cold | 10 hours | 11 hours |
| Hot | 6.5 hours | 7 hours |
| Ice | 1.5 days | 2 days |
4. Which one is better?
When it comes to deciding between the Stanley 40 oz tumbler and the KingStar 40 oz tumbler, it ultimately depends on your personal preferences and priorities.
If you prioritize brand recognition and are willing to pay a higher price for a well-known brand, the Stanley tumbler may be the better choice for you. The Stanley tumbler is a popular choice among outdoor enthusiasts and has a reputation for durability and quality.
On the other hand, if you are looking for a more affordable option that still offers great performance and allows for customization, the KingStar tumbler may be the better choice. As a wholesale tumbler manufacturer, KingStar offers the ability for customers to customize their tumblers with designs and logos, which can be a great option for businesses or organizations looking for promotional products.
Ultimately, both the Stanley and KingStar tumblers offer great insulation performance and are durable options for keeping drinks hot or cold on the go. It's important to weigh factors such as brand recognition, cost, and customization options before making a decision.
Want to purchase wholesale 40oz tumblers with handles? Please feel free to send an email to sales@waterbottle.tech, you will get free quote within 24 hours. KingStar is the leading custom stainless steel tumbler manufacturer with good quality and pricing.