It has been well-proved that seven days without food intake results in death, and three days without hydration does the same thing. Water accounts for 70% of body weight, and it is water that vitalizes us human beings. So, on no account should we underestimate the significance of hydration, which is key to maintaining the proper functioning of our bodies. It is true that we have been using stainless steel/glass/plastic water bottles for generations, however, the smart water bottle that has come out with high technology is not in common use currently.
Some people may not be familiar with these newly-created bottles and choose to take a wait-and-see attitude. Others may think it is not smart at all and is just a simple industrial water bottle under the pretense of high technology. Luckily, there are still believers that supports smart water bottles and are dedicated to publicizing these hydration products. For these smart water bottle fans, the benefits of smart water bottles are shining. Most of the smart water bottles are equipped with tracking devices to monitor the hydration data of users, and these data later sync to the smart water bottle apps so that users can check out many information about their own health. These intelligent water bottles can remind users of hydration so that people will not forget or ignore drinking water due to bad memory, busy work or bad hydration habits. The notification or so-called motivation along with the connectivity makes intelligent water bottles worth purchasing.
Smart water bottles offer you a spectrum of colors, sizes, shapes, prices and technologies. They boast their unique functions from self-cleaning to personalized data analysis. Some of them are lithium battery powered and some adopt solar cells…
Time to have your own smart water bottles! Here we list 4 best smart water bottles for you, and wish all of you will enjoy your hydration with your favorite intelligent ones.
Hidrate Spark Smart Water Bottle
The Hidrate Spark was one of the first intelligent water bottles that hit in the market. This brand has just released the third generation of its smart water bottles, giving up ticks of bottles of the previous generation. Syncing via Bluetooth, the sleek intelligent water bottles of Hidrate Spark track your hydration data and upload them to the Hidrate app, on which you can see clearly how much water you have consumed. Besides, this service can also be realized by other famous apps such as Apple Health and Fitbit. In other words, the service provided by Hydrate Spark is good enough to be accepted by App Store!
Its high technology calculates your body figures as well as activity level and adjusts your personal hydration volumes accordingly. The smart water bottle of Hidrate Spark has location tracking function, enabling you to find your bottle the same way as you find your iPhone. This bottle with built-in chips can remind you of drinking water on a regular basis via the app. What's more, it will also glow different lights (purple, pink, green, blue, white and black) to attract your attention in case of your ignorance. It should be noted that the lid is dishwasher safe but the rest of the bottle must be washed by hand, otherwise the sensor may be broken due to water damage.
The Hidrate Spark water bottle is made of eco-friendly material that is durable and contains no BPA. The sleek design allows you to hold and use it easily wherever you go. It has a wide application and compatibility, suitable for many smart devices such as Under Armor Record. And the only shortcoming of Hidrate Spark intelligent water bottle may be its high price.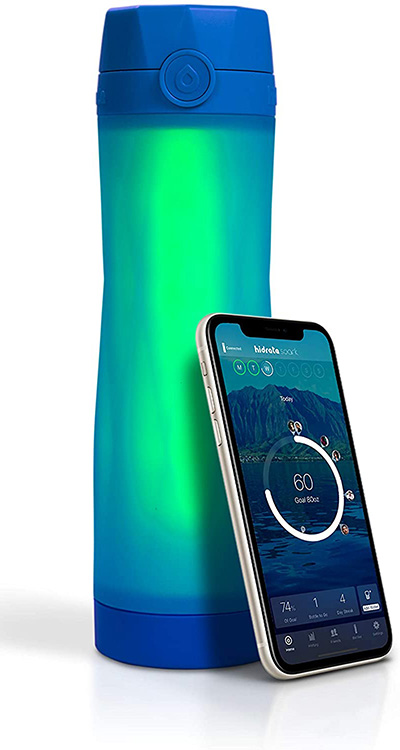 2. Sportline Hydracoach Intelligent Water Bottle
It is advised that everyone should drink 8 cups of water per day. However, this argument is not so correct. The specific hydration volume varies from person to person because people cannot have the same weight/height/gender/activity level. Even if two of them meet all the conditions, there will still be other factors that lead to the different water intake.
So here comes the Sportline Hydracoach Intelligent water bottle that aims to tailor your own water consumption goals. The smart water bottle of Sportline Hydracoach calculates your body data and activity level before presenting you the set water intake volume. You have to upload your personal information such as height and weight first on the display on top of the bottle for further recommendation.
The Sportline Hydracoach Intelligent water bottle also allows you to customize the settings by yourselves. This impressive function is helpful when the user is different from the ordinary men.  For instance, a male NBA basketball player needs more hydration than a normal person with the same weight/height, which means the water consumption must be adjusted manually to deliver correct outcomes. As for daily cleaning, this smart water bottle, designed with a PC (polycarbonate) shell, is easy to be cleaned. You can wash it by hand or let a dishwasher do the job. Here we list three points of the strengths of water bottles of Sportline Hydracoach:
PROGRESS DISPLAY: The display on top of the lid gives you information about your hydration consumption as well as your progress of achieving a day's goal.
PERSONALIZED SERVICE: The data calculator exclusive for you offers you guidance about the time and volume of hydration based on the real situation.
COMFORTABLE MOUTH: The mouth is made by silicone, a material that is eco-friendly and comfortable to use. You can easily take a sip on your favorite drinking.

3. Ozmo Smart Cup
The Ozmo smart cup, as its name has told you (see the picture around), is not a typical water bottle. If I purposefully cover the name of it, you may regard it as a coffee cup with lid. The Ozmo smart cup is actually designed for outdoor activities like hiking, camping and mountain climbing. It allows you to fill it with nearly any kind of beverages, and can automatically seal the cup itself when filled with coffee or water. On the basis of several vital metrics, the Ozmo water bottle recommends you accurately how much water you are supposed to consume each day. And in this way, your consumption of coffee will accordingly drop as you gradually drinks more water, indirectly enabling you to live a healthy hydration life.
The charging station is pretty practical. You can put the smart cup at your desk and enjoying piping hot water or coffee at ease. The Ozmo smart cup has flashing LED lights to tell you how much volume you have done and also serves as a reminder for your further water drinking. Like Hidrate Spark Smart water bottles, Ozmo smart cups also are suitable for other fitness trackers and have an unique app for the brand itself.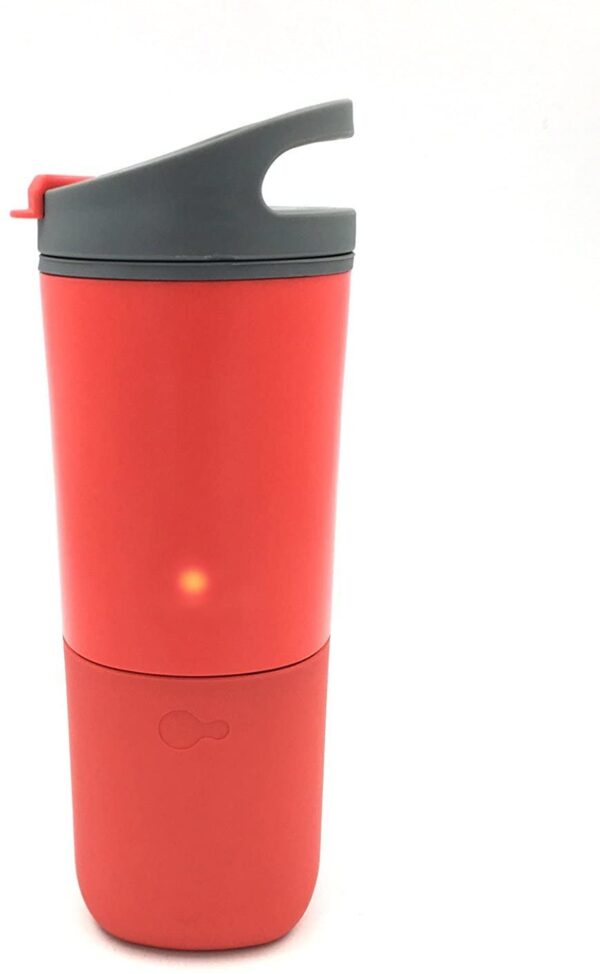 4. LARQ Bottle
Unlike most of the intelligent water bottles that provide you with data tracking service and personalized guidance, the LARQ water bottle does not have such a "basic" function. LARQ adopts ultraviolet rays to clean the inside of the bottle, removing harmful bacteria that are attached to the inner wall. Amid the current pandemic situation, the sanitization function of LARQ has gained increasingly popularity and its smart water bottles are almost sold out of stock!
So how to use the LARQ smart water bottle? There is no much difference in terms of drinking, but you have to pay close heed to the function of UV rays. You are supposed to push a bath button and wait for one minute of sanitization. After that, you can enjoy your hydration carefreely. If you do not use it on a regular basis, the bottle itself will activate the self-cleaning function every 2 hrs to make sure that every sip is pure and safe. It should be admitted that the LARQ smart water bottle is heavy as it adopts double-walled insulation structure. But the good thing is that this structure can keep your water piping hot for whole day long.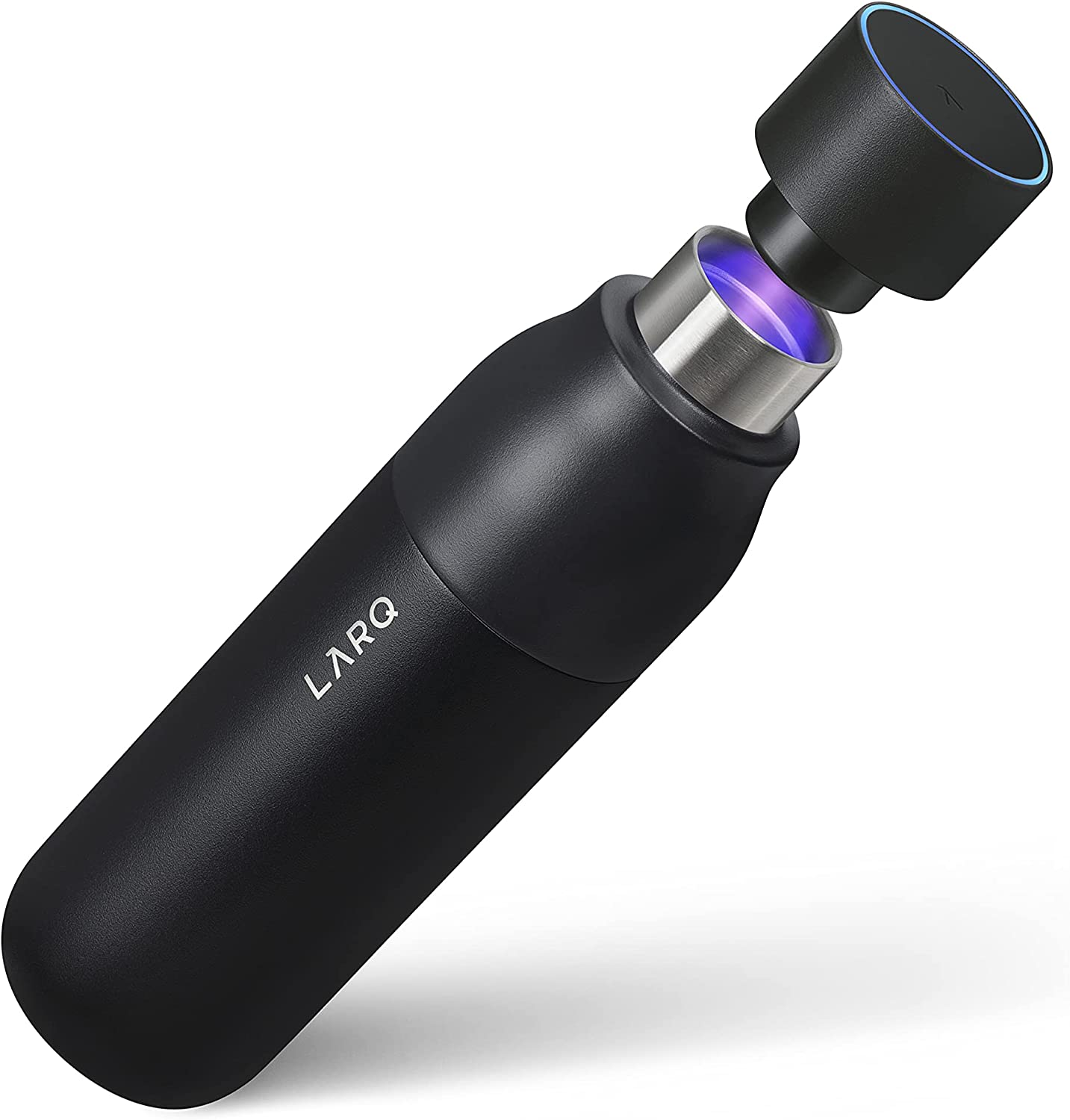 Apart from the listed 4 best intelligent water bottles, there are still many good quality ones in the market, so how to choose a smart water bottle that won't disappoint you? Here we offer you 3 tips about picking up the correct intelligent water bottle.
What function do you want in a smart water bottle? This question is a must for you to answer. Only after you have known what kind of intelligent water bottle you want will you purchase the right one.
Reading reviews is the next thing you have to do. By reading other's reviews (just like this one), you can quickly grasp the performance & price & using experience of a certain water bottle without buy it. But do not follow others' reviews blindly! Some reviews may be wrote by people with malicious purposes.
Smart water bottles of reliable and trustworthy brands are worth buying. Although such a bottle may be way more expensive, but its quality is guaranteed anyway.
Want To Make Your Custom Design Smart Water Bottles?
You are now at the right place. KingStar the leading smart water bottle manufacturer. Both OEM and OEM are welcome. KingStar has devoted to design, manufacture and sell innovative and stylish high-end drinkware such as smart water bottles, tumblers, koozies, and food jars to customers all round the world. You are welcome to contact us, our team will reply your email within 24 hours.