Currently, there are many types of water bottles on the market. According to the material, they can be divided into stainless steel water bottles, ceramic water bottles, plastic water bottles and glass drink bottles. They can be grouped by function, so the corresponding results for insulated water bottles and non-insulated water bottles. In addition, water bottles can also be divided into wide-mouth water bottles and narrow-mouth water bottles according to the width of the opening. The classification results follow certain classification rules. Today's article, we on the wide-mouth water bottle, and strives to let everyone have a deeper understanding of this kind of water bottle.
Technically, wide mouth water bottles are water containers with an inner diameter of the mouth or the so called opening larger than 2 inches. Wide mouth water bottles are quite common and we may use them drinking beverages such as milk, coffee and lemonades. Compared with narrow mouth water bottles, wide mouth water bottles are easier to pour, refill, and clean. And that's way there are so many people across the world preferring to get hydrated with water bottles with a larger opening.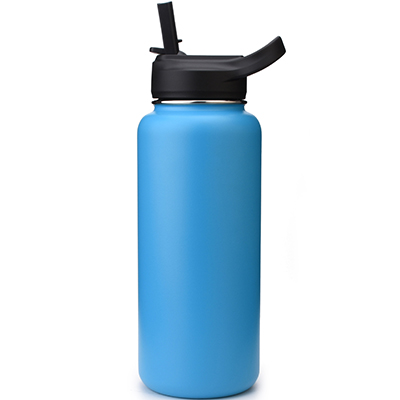 II. Four Types of Wide Mouth Water Bottles
Here, KingStar specifies the type and will discuss the material of wide mouth water bottles to tell you the advantages as well as the shortcomings of each type of wide opening water bottles. The material of wide mouth water bottles include stainless steel, plastics, ceramics and also glass, each featuring unique properties.
2.1 Wide Mouth Stainless Steel Water Bottles
Wide mouth blank stainless steel water bottles in bulk boast outstanding performances and are regarded as the best water bottles with wide opening. Stainless steel water bottles are often equipped with a double-walled stainless steel structure that is in charge of insulation issues. This type of quality wide mouth water bottles are capable of keeping hot liquids such as coffee and water warm for 24 hours, and cold drinks like lemonade and wine cold for up to 12 hours. The great heat-retaining capability of wide mouth stainless steel water bottles dwarfs water bottles of other materials on the market, contributing to their greatness to some extent.
In addition, the excellent insulation property together with the wide opening allows you to store ice cubes in stainless steel water bottles. In hot summer days, outdoor sports enthusiasts are willing to bring wide mouth stainless steel water bottles to the wild so that they can enjoy cold beverages and ice cubes wherever they travel. Besides, the durability of stainless steel can prevent the bottle from being damaged during adventures. In fact, you can also simply use such a bottle as a compact and portable refrigerator!
2.2 Wide Mouth Plastic Water Bottles
Wide mouth plastic water bottles are also pursued by outdoor sports fans who love to use them to hold cold drinks as this kind of bottles are quite portable. However, unlike stainless steel ones that are suitable for holding both piping hot and icy cold liquids, plastic water bottles can only be filled with cold beverages due to the properties of the material itself. If you put hot water into a plastic water bottle with a wide opening, the bottle may go through deformation and release harmful elements invisibly!
Compared to a stainless steel water bottle, a plastic water bottle of the same volume is much more lighter and fragile. The light weight enables travelers to use them during their trips while the fragility also repeatedly warns people that they should be used really carefully in case of leakage and breakage.
Plastics are by no means an environmentally friendly material, and when they are made into plastic water bottles, things remain the same. Plastic water bottles inevitably contain harmful ingredients such as BPA, and are thus not recommended for daily hydration. This type of wide mouth water bottles truly has distinctive merits yet its disadvantages totally outweigh them.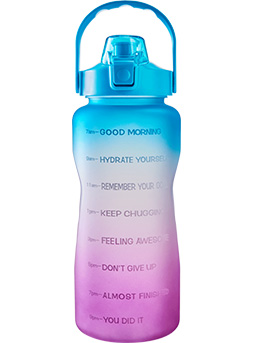 2.3 Wide Mouth Ceramic Water Bottles
Wide mouth ceramic water bottles are characterized by nice appearance and an adoption of eco-friendly material. Water bottles of this kind are elegant and exquisite, but they are not so practical compared with stainless steel water bottles and plastic ones.
Ceramics, made by pottery, quartz and felspar at the temperature of 1200℃, have an incredible resistance to high temperature and are thus perfect for holding piping hot water. Cheap, eco-friendly and pollution-free, this material boasts extraordinary wear resistance, corrosion resistance and thermal stability. Unfortunately, ceramics are extremely susceptible to impact and are considerably fragile, otherwise it may have gained a greater popularity.
Ceramic water bottles with wide mouth are not portable as they are vulnerable and heavy. They are usually put on the desk for hydration or even serve as a vase for plants. Water bottles of this type often use cock lids to prevent the heat from escaping. The cock lid is natural, reliable and healthy, but it may go mouldy and smell bad after a certain period of time. It should be noted that a cock lid does a better job than a plastic one in terms of both insulation performance and environmental protection.
2.4 Wide Mouth Glass Water Bottles
Wide mouth water bottles made by glass are attractive and suitable for office use. Glass water bottles are easy for cleaning due to the smooth surface and transparent design, and the unique material minimizes the breeding of bacteria and dirt. So when it comes to the hygiene, glass water bottles even do better than their stainless steel counterparts!
Again, just like ceramic bottles, traditional glass water bottles are not durable and tough enough, either. That' s why they are often used in some fixed locations such as home and office. Since glass has good thermal conductivity, you can always sense the heat of water through the bottle, which also indicates that wide mouth glass water bottles have a bad insulation property. In view of that, modern water bottles of double glass walls are designed and innovated to achieve a better insulation performance and offer a comfortable and pleasant touching. It should be noted that wide mouth glass water bottles usually adopt plastic caps, so if you hate plastic parts, forget about them.
The Comparison Chart
| | | | | |
| --- | --- | --- | --- | --- |
| | Stainless Steel Water Bottles | Plastic Water Bottles | Ceramic Water Bottles | Glass Water Bottles |
| Durability | ★★★★★ | ★★★☆☆ | ★★★☆☆ | ★★★☆☆ |
| Portability | ★★★★☆ | ★★★★★ | ★★★☆☆ | ★★★☆☆ |
| Easy Cleaning | ★★★★☆ | ★★★☆☆ | ★★★★★ | ★★★★★ |
| Hygiene | ★★★★★ | ★★☆☆☆ | ★★★★★ | ★★★★★ |
| Safety | ★★★★★ | ★★☆☆☆ | ★★★☆☆ | ★★★☆☆ |
| Insulation | ★★★★★ | ★★★☆☆ | ★★★★☆ | ★★☆☆☆ |
| Smell | ★★★★☆ | ★★★☆☆ | ★★★★★ | ★★★★★ |
| Anti-impact | ★★★★★ | ★★★☆☆ | ★★☆☆☆ | ★★☆☆☆ |
| Sweat-free | √ | × | × | × |
| BPA-free | √ | × | √ | √ |
| Dishwasher-safe | √ | × | × | √ |
| Totals/40 | 37 | 24 | 30 | 28 |
III. Why Are Wide Mouth Water Bottles So Popular?
There are mainly three reasons why wide mouth water bottles are so popular.
Firstly, the wide opening of water bottles enables people to get hydrated smoothly and merrily. This kind of water bottles is really helpful in summer during which people sweat a lot and thus need to adsorb adequate water for water-and-salt balance. Compared with narrow mouth water bottles, the wide mouth ones obviate the need for frequent refilling, saving people both time and energy.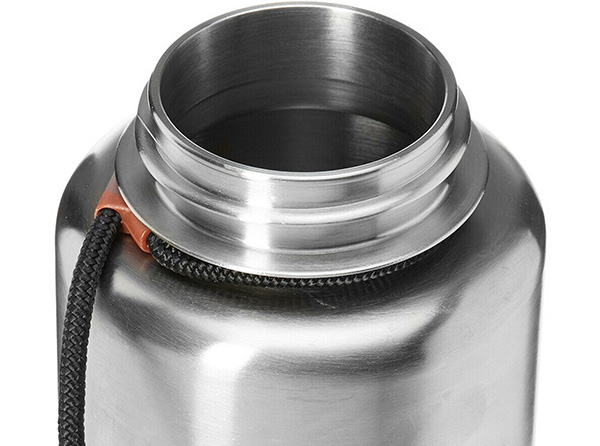 On the other hand, people may use a wide-mouth stainless steel water bottle as a portable refrigerator and put ice cubes in it. If you have a narrow mouth bottle, you cannot eat ice everywhere, because the narrow mouth cannot let the ice pass.
Lastly, wide mouth water bottle is a great corporate gift or event gift.
IV. Reusable Wide Mouth Water Bottles
There is another interesting phenomenon in the society: reusable wide mouth water bottles are gaining increasing popularity. In fact, this trend can be expected as people's awareness towards environmental protection has increased a lot and as people start to pursue a healthier lifestyle.
Wide mouth stainless steel water bottles are typical reusable bottles. Such a bottle contains no poisonous ingredients such as BPA, an unavoidable elements adopted in plastic water bottles. In addition, the healthy and eco-friendly material of wide mouth stainless steel water bottles allows people to get hydrated carefreely, which is another reason why people are pursuing and admiring the reusable ones.
V. Best Wide Mouth Water Bottles
In the water bottle market, you can see wide mouth water bottles of untold brands. So do you know the best wide mouth water bottles? The following is a comparison chart in which KingStar lists the three best wide mouth water bottles for your reference!
Hydro Flask Reusable 32 oz
Hydro Cell Sports

32 oz

Yeti Rambler

26 oz

Durability
★★★★☆
★★★★☆
★★★★★
Portability
★★★★★
★★★★★
★★★☆☆
Insulation
★★★★☆
★★★★☆
★★★★★
Anti-impact
★★★☆☆
★★★★☆
★★★★★
Anti-scratch
★★★★★
★★★★★
★★★★★
Price
★★★★☆
★★★★★
★★★☆☆
Smell
★★★★★
★★★★★
★★★★★
Cost-effective
★★★★☆
★★★★★
★★★★☆
Dishwasher-safe
×
√
√
Sweat-free
√
√
√
BPA-free
√
√
√
Totals/40
34
37
35
As is shown clearly in the above chart, all of them are endowed with remarkable properties. Well-known and time-honored brands Hydro Flask and YETI never let us down yet the emerging brand Hydro Cell gets the highest score of 37 stars. If you care more about your budget, the cost-effective Hydro Cell is unquestionably the most recommended among the above three brands.
VI. Wholesale Wide Mouth Water Bottles in Bulk
You may also wonder that "where can I buy wholesale wide mouth water bottles in bulk?" In fact, in front of you are two approaches featuring different advantages as well as defects.
The most convenient way is to pick up wide mouth water bottles from local wholesale dealers. This approach is suitable for urgent orders as they have stock in their warehouses. However, their prices are normally high and you may have little margin profits.
The other way is to order wide mouth water bottles from water bottle manufacturer in China. The advantage is obvious—you can buy them in bulk with agreeable prices so as to obtain higher margin profits. However, you may have to wait for a longer time as the bottles should be shipped from China.
Order Custom Water Bottles & Tumblers
Get competitive price and premium custom drinkware from KingStar — Short lead time, door-to-door global shipping, strong Engineering support!