Why should we buy insulated tumblers? According to the report released by the National Coffee Association in 2020, nearly 64% of Americans drink coffee on a daily basis, and almost 87% of people born in 1980s consume tea regularly. Therefore, you definitely need an insulated tumbler, which is the best option for your coffee & tea & cold water hydration.
What Is An Insulated Tumbler?
An insulated tumbler is often made by stainless steel 18-8 (SUS304), a kind of food grade material that has been widely used in many industries and is eco-friendly. Basically, an insulated tumbler is a beverage container that is suitable for holding liquids such as carbonated drinks, coffee, tea and of course, water. It is normally equipped with a straw (either of stainless steel or BPA-free plastics), allowing you to consume the liquids in it more conveniently. Nowadays, wholesale insulated tumblers are designed into fashionable and slender shapes, and with benefits such as portability, versatility and durability, they are also adored by office men & ladies as well as outdoor sports enthusiasts.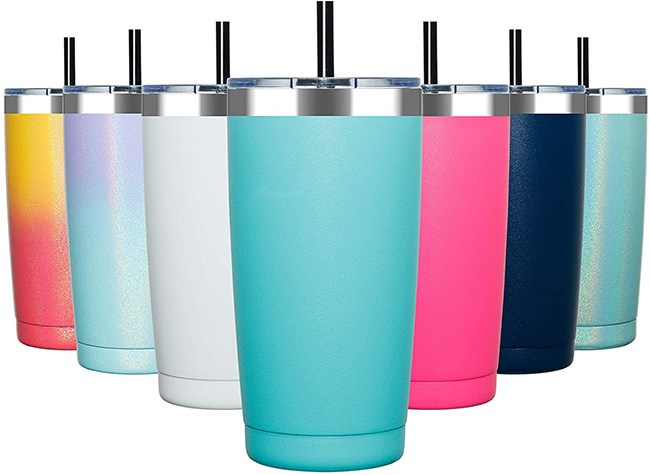 What Are Insulated Tumblers Used For?
If you want to enjoy hot coffee or cold carbonated drinks, an insulated tumbler is the best choice. A tumbler of premium quality is capable of keeping piping hot coffee warm for three hours or icy cold drinks cold for nearly 6 hours. It would be ideal for you to drink up during this length of time and refill the tumbler with your favorite beverages.
The straw attached to the tumbler provides you with convenience when it comes to hydration. A straw made by plastics is lighter and more portable than a stainless steel one. It also contains no BPA, but a straw lid always fails to present the authentic flavor of drinks and can not offer you a clean taste. In a word, the choice of tumbler straws lies in your own preference. If you yearn for flexibility, then you are supposed to pick up a plastic straw, while if you are captivated by the original pure flavor of your drinks, a stainless steel straw may suit you better.
Most of the insulated tumblers have a lid, which prevents the drinks from spilling or brimming when these tumblers in bulk are placed correctly. Therefore, you can put your insulated tumbler onto the cup holder at ease and enjoy every sip of the drinks. But it should be noted that some tumblers with a slip lid is fairly flexible and you must not put it in your bag, otherwise the drinks may wet your bag abruptly!
Key Advantages of KingStar's Tumblers:
A variety of sizes ranging from 6 oz to 30 oz.
Food grade stainless steel SUS304 contains no BPA, offering satisfying durability and security.
Applicable for most cup holders in the market.
Easy to use design allows you to get hydrated conveniently.
Well-matched accessories available.
A spectrum of color options available.
Custom size/color/packaging available.
Custom shape
Excellent for corporate gifts and event gifts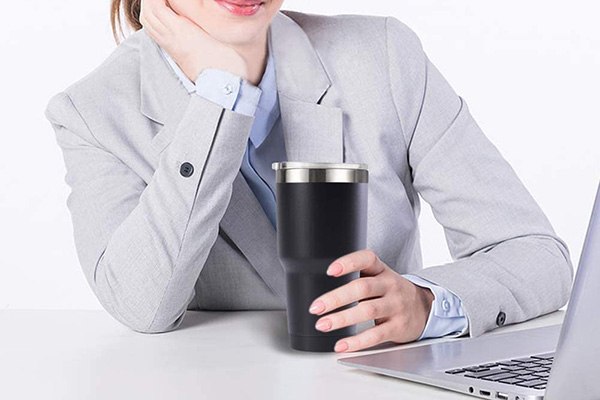 Five Reasons You Should Have An Insulated Tumbler
If you are looking for a vessel for holding hot beverages such as coffee and tea, or if you decide to add some gears to your office essentials, here are five reasons why you should pick up an insulated stainless steel tumbler:
Stainless Steel
Although vacuum insulated stainless steel tumblers are not thermos flasks, they can still basically maintain heat-retaining performance due to advanced vacuum technology. For a high quality stainless steel tumbler, it is able to keep drinks warm for 3 hours or cold for up to 6 hours, enough for you to finish one mug. The benefits of stainless steel also include:
The best material for tumblers.
Excellent durability that tolerates no rust or scratch.
No metallic flavor will be imparted.
Applicable for various outdoor activities such as barbecues, picnic, camping and hiking.
Double-walled insulation sweeps sweating and condensation on the external wall.
Environmental-friendly
In the past, we cared more about economic development and overlooked the importance of protecting the environment. As a result, our lives were threatened by many uncertainties brought by nature in turn. Now, as people gradually develop a consciousness of environmental protection, they start to buy things that are eco-friendly and sustainable. Compared with disposable and plastic containers, an insulated stainless steel tumbler is recycled, contains no harmful element such as BPA and polyethylene (a kind of plastic that is detrimental to both human body and wildlife), and is much more durable. The long service life due to its extreme durability indirectly reduces the consumption of raw material, contributing to promoting a sustainable lifestyle. However, for plastic products, it is often the case that they would be abandoned in landfills releasing harmful gases (such as greenhouse gases) to the environment.
To save cost, many coffee shops can not but to provide customers with coffee held in plastic coffee cups. This further intensifies an annoying problem that has vexed people for decades—plastic pollution. Now, we all can relieve the problem by picking up an insulated stainless steel tumbler and sharing this good gear to our friends. Just as the saying goes, "Great things may be done by mass effort."
Economical
In the long run, drinking coffee with an insulated stainless steel tumbler definitely saves your money. For one thing, you do not have to go to coffee shops and buy cappuccino or latte held in plastic cups or paper cups on a daily basis, which drains your finances bit by bit. Now you can start to ask the shop assistant to remove the cup fees as long as you take the tumbler with you, or you can take the coffee break making some coffee yourself! For another, you do not have to frequently replace the single-use mug for drinking coffee as the stainless steel tumbler is easy to clean and is recycled.
More Sanitary
Using an insulated stainless steel tumbler is a good way to stay hydrated and healthy. Why? If you are using a paper cup or a plastic one, you are prone to more germs and even diseases as these materials are not premium. What's worse, it would be easy for you to wrongly take the cup in a sharing space or a dark occasion, which may lead to cross contamination. So if you have bought an insulated tumbler, it is advised to personalize it either by simple ways (e.g. stickers and decorative decals) or complicated process (e.g. embossing and engraving). In this way, your tumbler would be distinctive and unique, and you can enjoy getting caffeinated carefreely. The easy-to-clean feature of stainless steel tumbler also enables you to stay safe after a thorough yet simple washing.
Perfect for Co-branding
Guess what? An insulated stainless steel tumbler offers you a perfect opportunity to showcase your brand & logo & products. But make sure you pick up a tumbler of premium quality. In this contemporary society, people love eco-friendly and practical products, so just forget those single-walled tumblers and plastic ones. If you print your brand logo on inferior tumblers, you are actually making your brand discredited.
Like other water containers (bottles/glowers/koozies), an insulated tumbler is also one of the essentials in people's offices and houses. In other words, branded tumblers will exert subtle influence on customers unconsciously as they are using tumblers everyday. And when they encounter the same brand & logo in other places, they may excitedly say, "I got this logo/brand on my tumbler, too!" The so-called brand effect will in turn promote your own brand.
For companies around the world, customizing tumblers with company's unique marks or logos before sending them to employees as special gifts is a good way to enhance cohesion and showcase the culture of the company. It would be better if this company associates a powerful tumbler brand to achieve co-branding alliance, which is expected to bring more customers from different lines.
Order Custom Water Bottles & Tumblers
Get competitive price and premium custom drinkware from KingStar — Short lead time, door-to-door global shipping, strong Engineering support!